By now, it's no surprise that the fashion world is going through a mid-2000s obsession: From culottes to kitten heels, it definitely appears that everything that was popular back in elementary/middle school is making a comeback–big time!
Therefore, it only makes sense that the preppy look, one of the mid-2000s' signature aesthetics, is making the rounds again as well!
But, before you go reaching into the depths of your closet to pull out those long-lost chinos or polo shirts, it's important to know that the ways of styling these preppy style staples have changed significantly since your childhood/pre-teen years: Nowadays, rather than going head-to-toe prep, influencers are mixing their preppy pieces with pieces of other aesthetics to create a quirky and unique look — something that I like to call the "prep remix."
So, keep scrolling to learn how to get the modern prep look using four preppy staples!
Modern Prep Outfit #1: Chinos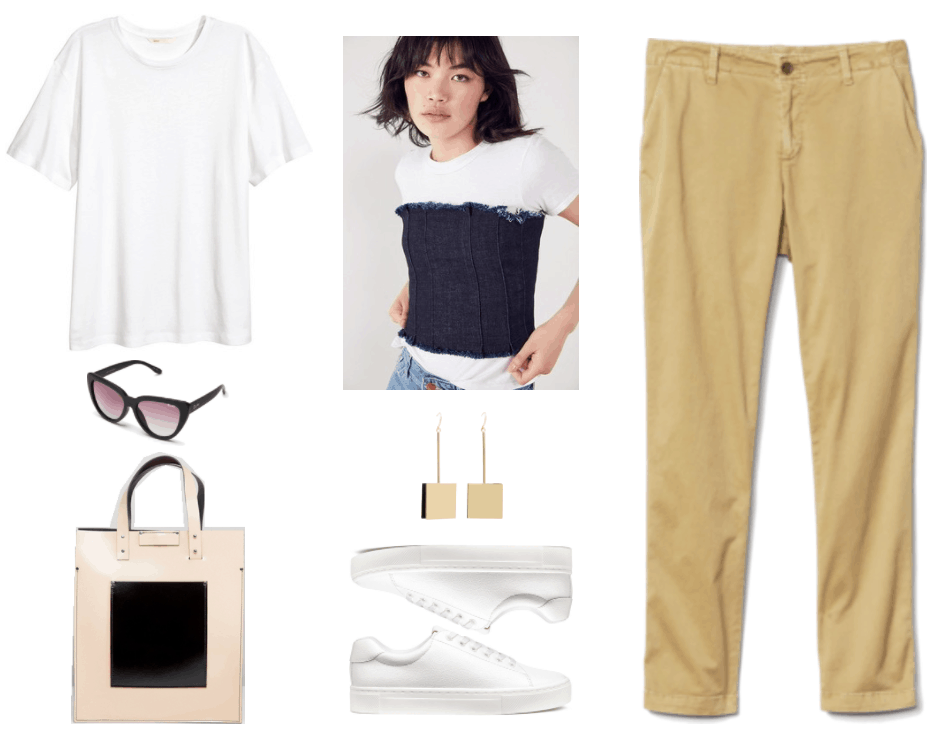 Products: T-Shirt – H&M, Sunglasses – Topshop, Tote – ASOS, Bustier – Urban Outfitters, Earrings – Mango, Sneakers – H&M, Chinos – Gap
When you think of chinos, you might think of the boring pants you wear when you're in a business-casual style rut. Well, I'm here with this look to show you that chinos can not only be worn outside of a work setting, but that they can actually look quite chic.
To get the look, start off by tucking a plain white t-shirt into some girlfriend-fit chinos, rolled up a couple of times so that they fall a few inches above the ankle. Next, layer a fashion-forward denim bustier over the t-shirt for a dose of femininity.
Add a pair of comfortable sneakers and some classy cat-eye sunglasses, and pick up a cool patent tote; I love the contrasting patch pocket detail on this one! Finish the ensemble with an interesting pair of geometric earrings.
Modern Prep Outfit #2: Polo Shirt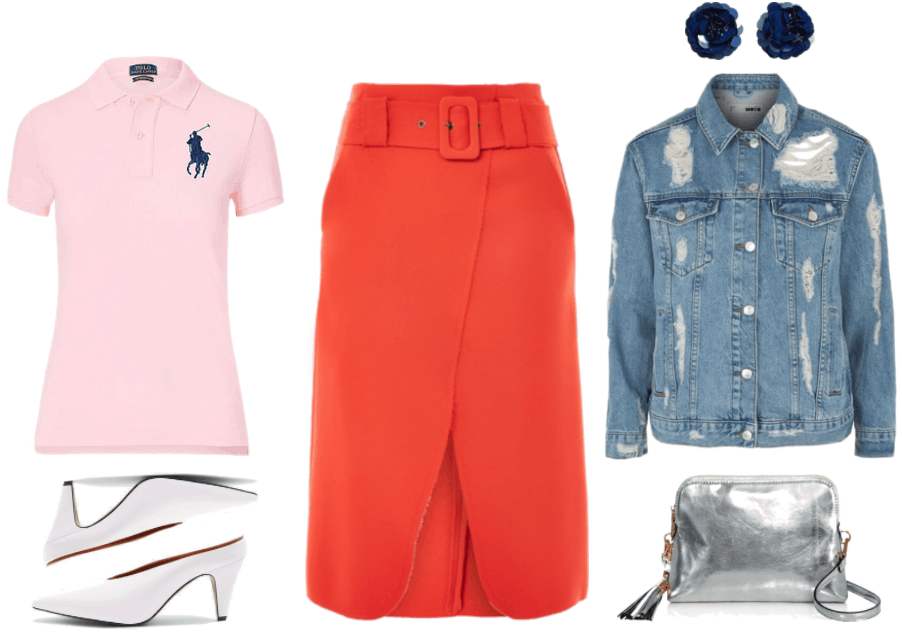 Products: Polo Shirt – Ralph Lauren, Mules – Topshop, Skirt – Topshop, Earrings – Mango, Denim Jacket – Topshop, Bag – Bloomingdale's
What would the mid-2000s have been without the ubiquitous polo shirt?! Whether you wore it by itself, with the collar popped, or layered with another one in a different color, if you were up on current fashion trends in the mid-2000s, you probably owned at least one polo!
And, while the polo shirt will never go out of style, there are definitely ways to style a polo shirt so that it looks current and trendy.
Personally, I like the idea of pairing it with pieces that contrast — both in terms of aesthetic and color, which is what inspired me to create this fun, bright ensemble.
Start off by tucking a pale pink polo into a red belted midi skirt for an unexpected color combo. Next, throw on a destroyed denim jacket to add edge to this otherwise feminine and put-together look. Some white heeled mules will really make this outfit pop.
Lastly, a metallic silver cross-body bag and some sequined navy blue earrings will add just the right amount of shine to this cute and classy look.
Modern Prep Outfit #3: Sweater Set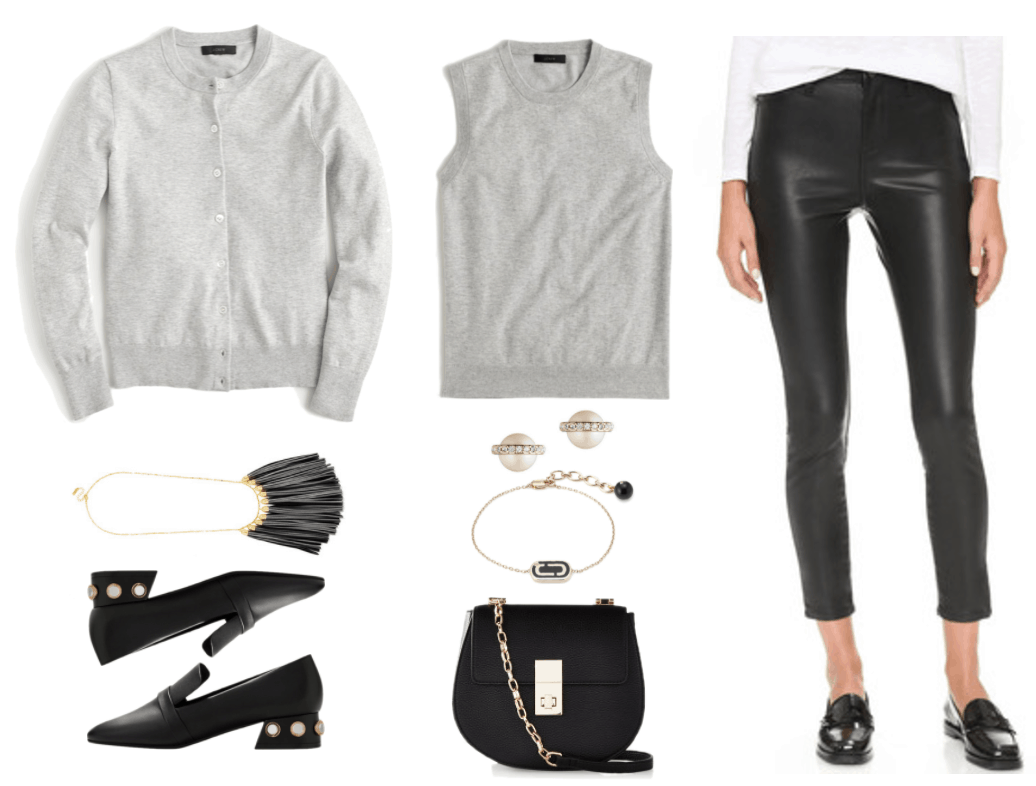 Products: Cardigan – J.Crew, Loafers – Mango, Necklace – BaubleBar, Shell – J.Crew, Earrings – Lord & Taylor, Bracelet – STYLEBOP.com, Bag – Express, Pants – Shopbop
Every true prep has owned a sweater set at some point in her life! And, while for some this staple might conjure up images of stuffy old ladies, let me assure you that you needn't be one to wear it!
In fact, the outfit that I've put together here would be perfect for a job or internship at a creative workplace.
To put a modern spin on the sweater set, start by pairing a neutral pale gray one with some sleek (faux) leather skinny pants. Next, add black loafers with an embellished heel for a unique touch.
As for jewelry and accessories, I've decided to stay with the neutral color scheme to keep the focus on interesting details and textures. For example, I love the fringe on this necklace from BaubleBar, as well as the pavé stones that add a twist to these classic pearl studs.
Also, this modern Marc Jacobs logo bracelet shows that you don't have to be flashy (or spend $$$) to participate in the logomania trend, which, like the preppy trend, has seen a resurgence in 2017!
To complete the look, add a simple yet stylish black cross-body bag.
Modern Prep Outfit #4: Pencil Skirt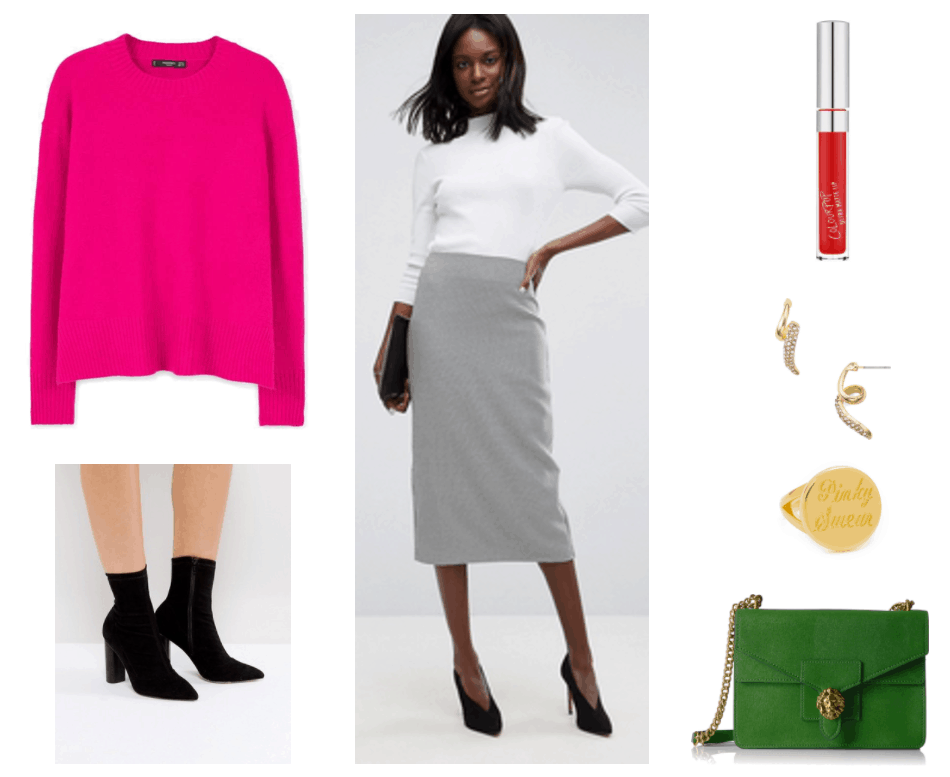 Products: Sweater – Mango, Ankle Boots – ASOS, Skirt – ASOS, Liquid Lipstick – ColourPop, Earrings – Bloomingdale's, Ring – Shopbop, Bag – Amazon
Every preppy fashionista should own a pencil skirt — and an elegant midi-length herringbone one, like this one from ASOS, fits the bill perfectly. (Bonus: It'll look great with black tights once it gets too cold for bare legs.)
I decided to pair the skirt with a loose-fitting bright pink sweater to balance out the proportions. I love the idea of pairing a subdued print with a punchy pop of color. Next, put on some black sock boots for an ultra-trendy yet subdued way to add some height.
A sophisticated green bag contrasts well with the sweater's pink hue, while a classic blue-red liquid lipstick adds one final burst of color without going over the top (as long as you keep the rest of your makeup low-key).
Finish off the look with modern jewelry. I love these cool twisted stud earrings and a signet pinky ring that has "Pinky Swear" engraved in it for a cheeky twist on a timeless piece.
What do you think?
Are you a fan of the "prep remix" look? Do you plan on adding any preppy pieces to your wardrobe this fall? How do you keep preppy items looking fresh?
Let me know in the comments!