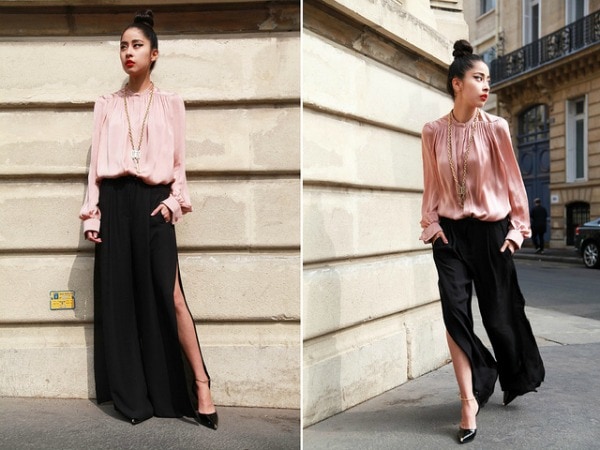 I feel like it sounds weird to say "I'm so into pants right now," like I might as well be saying, "I've been really into oxygen lately." Pants are ubiquitous, a staple, a necessity. And be that as it may, it is a fact that they are actually a trend right now.
To be clear, I don't mean jeans or regular sweatpants (though track pants are having a moment). I mean trousers, which I'm going to loosely define as dressier pants made out of a fabric other than denim, terry cloth, or whatever magic fabric they use to make yoga pants. I feel like young women who don't have a 9-to-5 often forgo this category of pants, opting for jeans to be casual and a dress or skirt over dressy pants whenever we have a more formal occasion.
But this season, pants of all shapes and sizes are suddenly everywhere. Culottes, wide-leg, cropped, tapered, ruffle-embellished, athletic-inspired. Black, printed, bold-hued. You name it.
And I'm so into it. Though, I too, usually stick to either jeans or skirts or dresses (with the occasional jumpsuit), I bought three pairs of pants over spring break. Blame my impending entry into the work world, how much Man Repeller I read, or just the fab selection at Zara. I can't wait to wear my new trousers with everything from booties to pumps to sandals.
As I said, pants are everywhere right now, and there are tons of great options. Fit is important, so you may have to try several different brands to find one that cuts their trousers in a way that fits your body. (And when in doubt, get 'em tailored!) But to get you started, I've picked eight awesome pairs from around the web, each under $100 and each more fabulous than the next.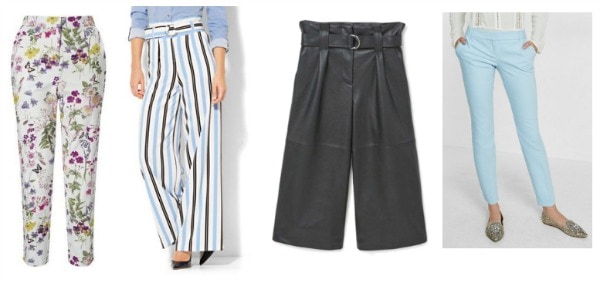 Products: Pants (L to R): 1. Miss Selfridge, 2. New York & Company, 3. Mango, 4. Express.
1. These pretty floral pants are perfect for the transition into spring weather. With the multitude of colors in the print, they're super-versatile, and can be worn with all shades of tops, jackets, and shoes. My advice? Try 'em with a jean jacket, white tee, bright ballet flats, and a pendant necklace.
2. These belted, striped, wide-leg pants are really bold, but would look so effortlessly chic paired with a fitted white tee, black slide sandals, and cool sunglasses on a breezy summer day. They look so high-fashion, but they're on sale for just $30.
3. Wear these black culottes with everything. The cropped, flared shape and high waist are so trendy, but basic black makes them instant classics. They'd be great for wearing to work, to class, to a party, anywhere. Tuck in a leopard blouse. Rock 'em with a crop top. And if you're feeling super bold, team them with fishnet tights and chunky heeled sandals.
4. If you're not feeling the whole wide-leg thing, classic skinny pants get a fresh twist in a bright, springy shade. I love this icy blue, but these perfect-for-your-next-internship pants come in nine different awesome colors.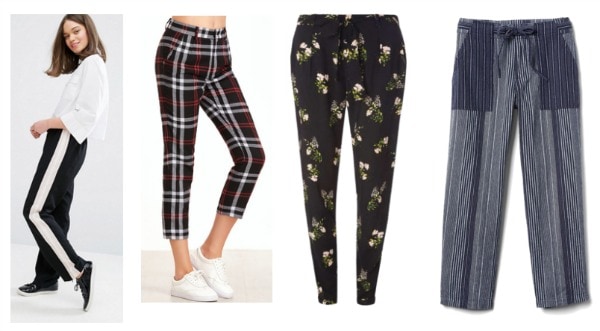 Product info: Pants (L to R): 5. ASOS, 6. Make Me Chic, 7. Dorothy Perkins, 8. Gap.
5. Loose-fitting pants with an athletic stripe are a major street style trend right now. It's like classic black pants merged with your sweats. Style them with a graphic tee and add statement accessories (like a major necklace or oversize clutch), or half-tuck a button-down and pair with cool sneakers.
6. These cropped, plaid pants have a prep-meets-rock-n-roll vibe that I'm so into. Play it up with a tee and a pleather jacket or a button-down and an edgy chain necklace. The cropped silhouette will look great with all kinds of kicks, but I'm particularly partial to pairing these with white sneaks or black booties.
7. These tapered floral trousers look so comfy, but are an upgrade from pajama pants with their flattering shape. They can be as casual as jeans, but are way more interesting. Wear them now with a blazer and booties and later with flats and a tank.
8. Once it gets too hot for your fave jeans, you're going to want to wear these striped, linen pants every day. They're totally made for a tee and flip flops, but are cool for an outdoor party with heeled clogs and a sleeveless blouse, too. Can it just be summer already?
What do you think?
Are you ready to wear the pants? Which of these pairs is your fave? How would you style a cool pair of trousers? Let me know in the comments!