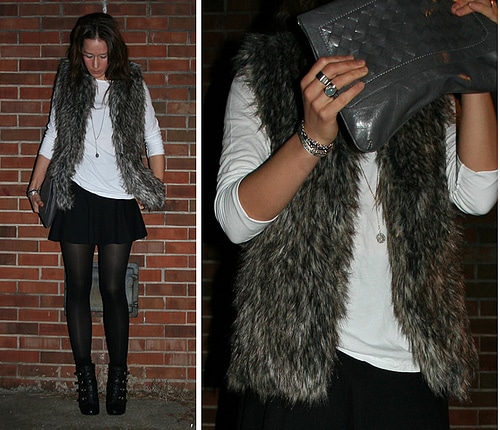 As I noted in a previous article about this winter's hottest trends, faux fur vests are hugely popular this season. As with many super-trendy pieces, however, you walk a fine line between being a fashionista who incorporates the item seamlessly into her personal look, or a fashion victim with the trend wearing you.
So how can you pull off the look without becoming a trend victim? If you're loving the look of faux fur vests but are unsure if one would work in your wardrobe, this post is for you!
Things to Consider When Considering a Faux Fur Vest
Color. Faux fur comes in a variety of shades and patterns. Brown and fox shades are the trendiest, white is a winter standout, and black or chocolate hues are low-key luxurious. When picking a color, it's all about how you plan to wear your vest and the looks you want to create.
Texture. A big reason why faux fur is popular year after year is because it's totally touchable and plush. Not only will you be incredibly warm and cozy when you wear your vest, but you'll also add some fun texture to your outfit: faux fur comes in weaves anywhere from soft and silky to shaggy. Uniquely textured clothing items are often excellent focal points for otherwise basic outfits– just think about the addition of patent, feathers, or studs! A change in texture, like the one that comes with the addition of a faux fur vest, provides a totally new show-stopping look… even if you wear it with your favorite old stand-bys.
Mixing it up. If you're worried about finding ways to incorporate a faux fur vest into your closet, don't be! There are lots of different ways to wear this trend. Skinny jeans, leggings, and dresses can all look adorable under a vest. Concerned about tops? Try pairing your vest with tighter, close-fitting shirts to balance its volume. Loose, peasant-style tops can create a chill, bohemian look. (Mary-Kate and Ashley would be proud.) A final note: don't stress about your sleeves–theses vests look great with any length: whether full, 3/4-length, or short!
Shopping! Faux fur vests are everywhere this season. H&M, Forever 21, and Wet Seal are all offering the style at a totally affordable price. If you're looking for something a bit more luxurious or substantial, Juicy Couture, Rebecca Taylor, and Free People are all offering cute picks to choose from. Also, never underestimate your favorite thrift or vintage store when looking for faux fur–you'll probably score something one-of-a-kind! Fur is always hot for winter, so you'll be making a great investment no matter where you choose to buy!
Cute & Affordable Faux Fur Vests

Product Information: City Style Faux Fur Vest, New York & Company. Tipped Mongolian Gilet, Topshop. Twelve by Twelve Embellished Fur Vest, Forever 21. Faux Fur Leatherette Vest, GoJane.com.
Faux Fur Vest Outfit Inspiration
Effortless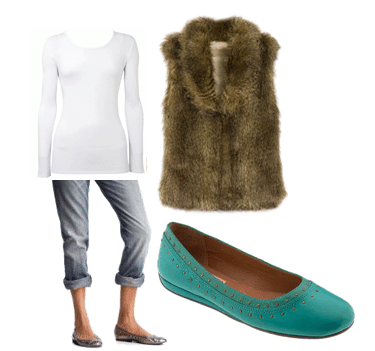 Product Information: Long Sleeve Top, Oasis. Women's The Weekend Jeans, Old Navy. Faux-Fur Rachel Vest, Fred Flare. Lucky Brand 'Alisa' Flat, Nordstrom.
Bohemian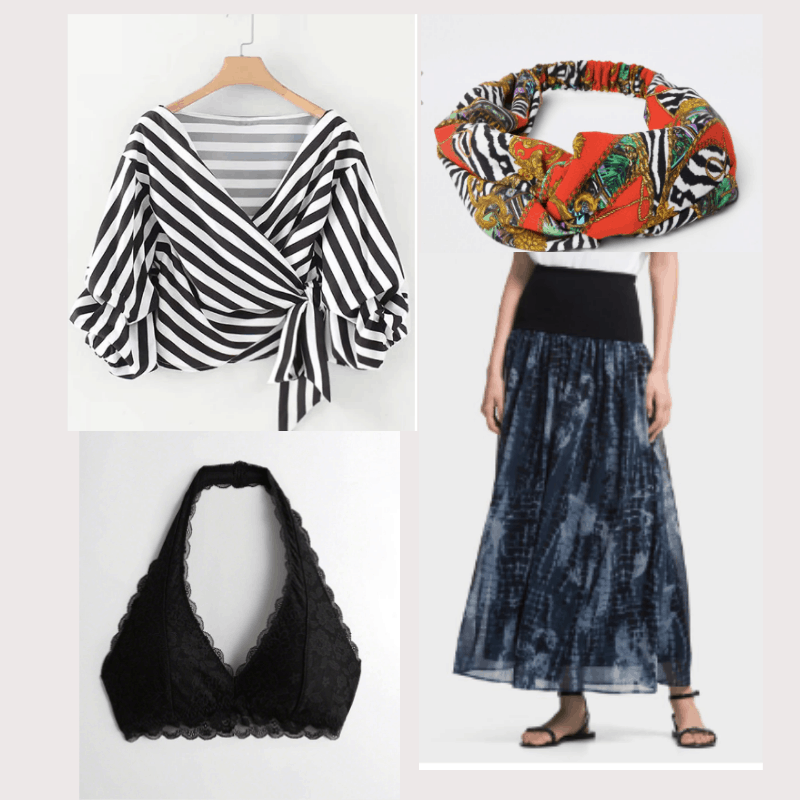 Product Information: Paisley Tunic Dress, Alloy. Urban Faux Fur Vest, Forever 21. Frye Maxine Trapunto Shortie Boots, Zappos. Brass Cuff, Alloy. House of Harlow 1960 Gold Aztec Bangle with Leather, Singer 22. Shimmer Flower Ring, Forever 21.
Sophisticated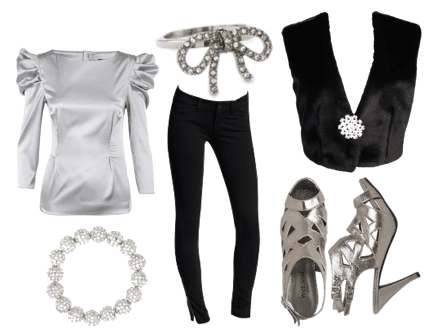 Product Information: Rise Silver Pleat Shoulder Top, Dorothy Perkins. Kenneth Jay Lane Bauble Crystal Bracelet, theoutnet.com. Pave Bow Ring, Juicy Couture. Joe's Jeans Chelsea Stretch Ponte Ankle Zip Pants, Piperlime. Panther Vest with Brooch, Forever 21. Cutout Double Sling Pump, Wet Seal.
Friend or Faux?
What do you think? Are you guys into faux fur vests? Do you have any tips on how to wear them? Let me (and everyone else!) know with your comments.