Lo and behold, we are on our last installment of the 2000s Fashion Icons series. It's been a fun ride as we looked back on the fashion of the decade and the iconic women that dominated 2000s style!
We already took a look at some memorable icons known for things other than fashion, like Britney Spears, Christina Aguilera, and Rihanna. Now we are ending the series with someone whose entire life has revolved around fashion — the one and only Kate Moss.
Let's take a look at Kate Moss's beginnings, her 2000s fashion style, and how to get inspired ourselves.
Kate Moss Biography:
Kate was born on January 16, 1974 in London. She has a younger brother and half-sister.
At the age of 13, her parents divorced and Kate was discovered the next year by Sarah Doukas of Storm Model Management. Her career began with features in culture magazines like "The Face" and a jeans campaign with Levi Strauss.
In 1993, Kate landed a scent campaign for "Obsession" by Calvin Klein, which sparked attention from other designers including Chanel and Christian Dior.
By 1996, Kate's look was famous, dubbed "heroin chic," a counter to the curvaceous and tall supermodels of the day like Cindy Crawford and Naomi Campbell. Kate was repeatedly accused of having an eating disorder due to her fragile figure, which she denied.
Kate's career took off and so, unfortunately, did her partying and wild lifestyle. She spent some time in a clinic for alcoholism in 1998.
In 2005, Kate received the "Fashion Icon" award from the Council of Fashion Designers of America.
Shortly after, Kate was part of a cocaine scandal which lost her campaigns with H&M, Chanel, and Burberry. However, charges were dropped and Kate attended a drug clinic in 2006.
In 2006, Kate united with Topshop to design clothing and started creating her own perfumes.
Throughout even the tumultuous years, Moss appeared in countless campaigns with Chanel, Balenciaga, Burberry, Stuart Weitzman, Versace, rag & bone, Alexander Wang, David Yurman, Givenchy, Roberto Cavalli, Kerastase, Isabel Marant, Yves Saint Laurent, Dior, Gucci, Dolce & Gabbana, Calvin Klein, Alexander McQueen, Equipment, Rimmel, and Bulgari.
2010s
In the years 2010 – 2013, Kate has designed handbags for Longchamp, modeled for Mango and Supreme, performed in music videos for George Michael, performed in the London Olympics, and posed for Playboy.
She also received the Special Recognition award in 2013 at the British Fashion Awards for her contribution to fashion.
In 2014, Kate released her second collection with Topshop.
Kate Moss 2000s Style:
Kate Moss, a fashion model icon in the 1990s, started her career with an aesthetic that was dubbed "heroin chic." Her small frame and edgy coolness was total grunge.
However, in the 2000s, as the model matured, her styled took a chicer turn, although still effortless and easy.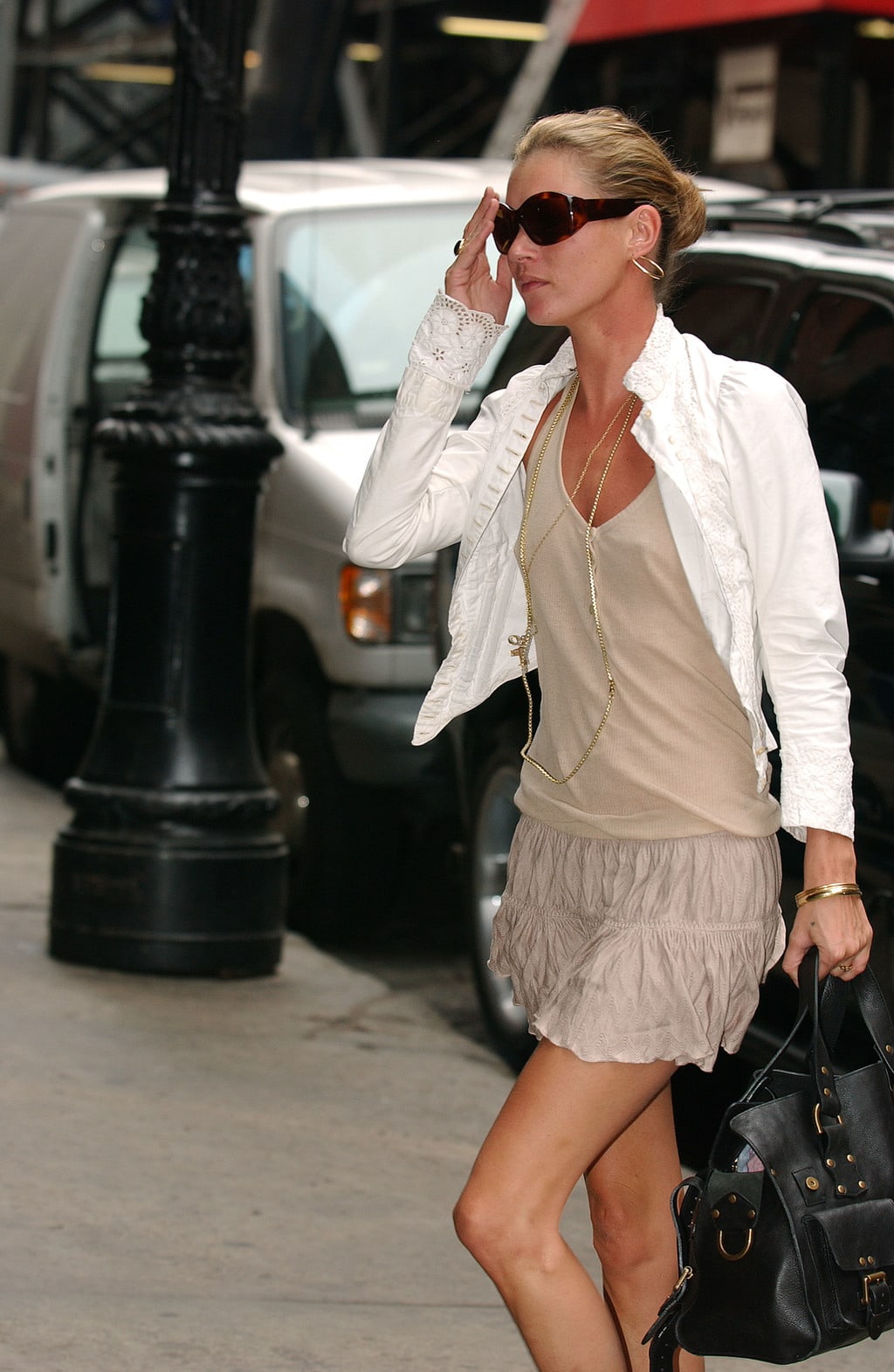 This look is so 2000s-chic. In 2004, Kate pairs a nude-colored mini skirt and tank with neutral tones like black and white to create a stylish look. She adds a pop of gold accessories and oversized sunglasses – she is a celebrity, after all.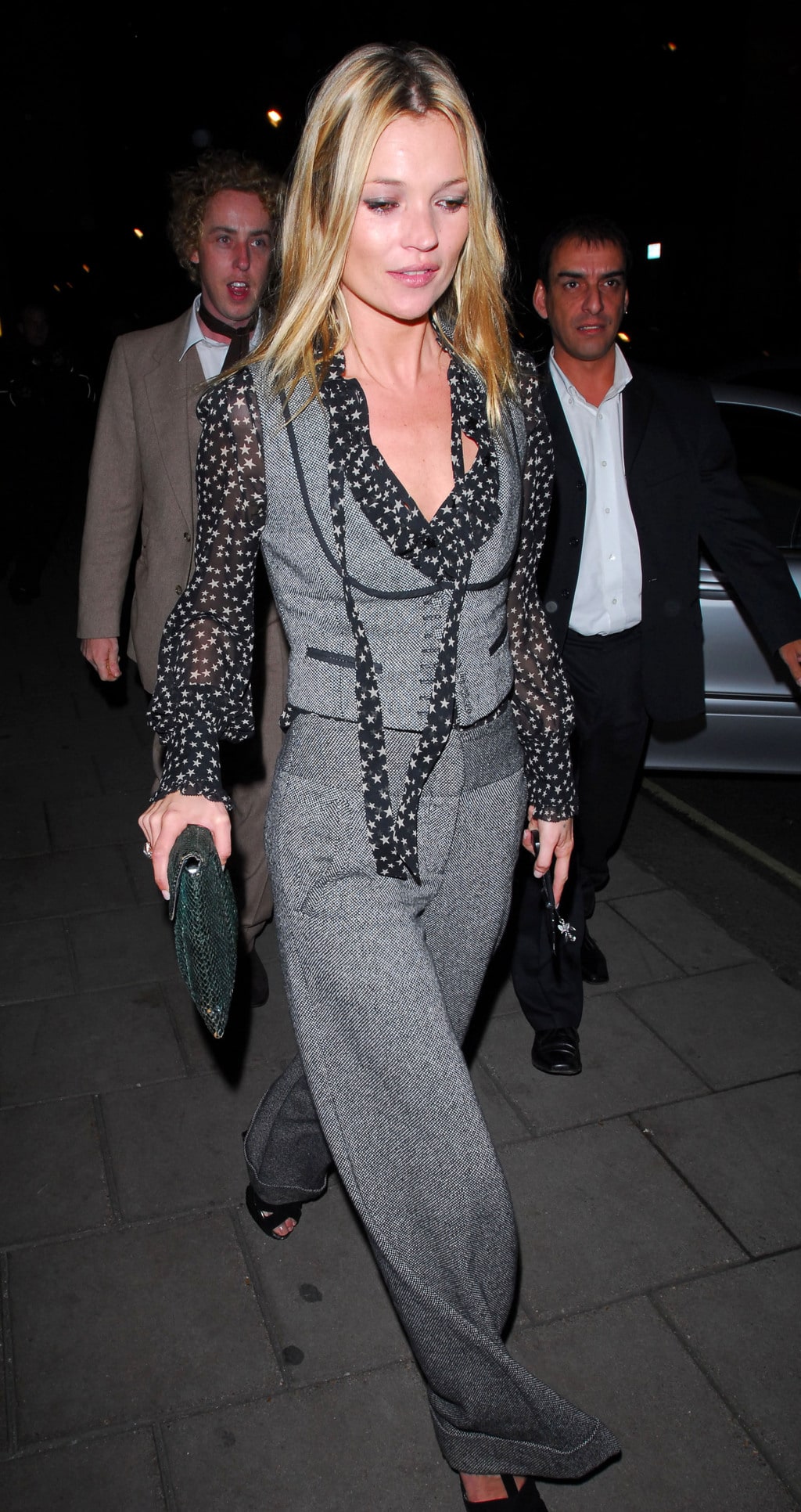 I particularly love this look from 2005. Kate sports a menswear-look with a tailored trousers-and-vest ensemble over a sheer, open, and loose patterned top. I also appreciate the feminine strappy heels and clutch.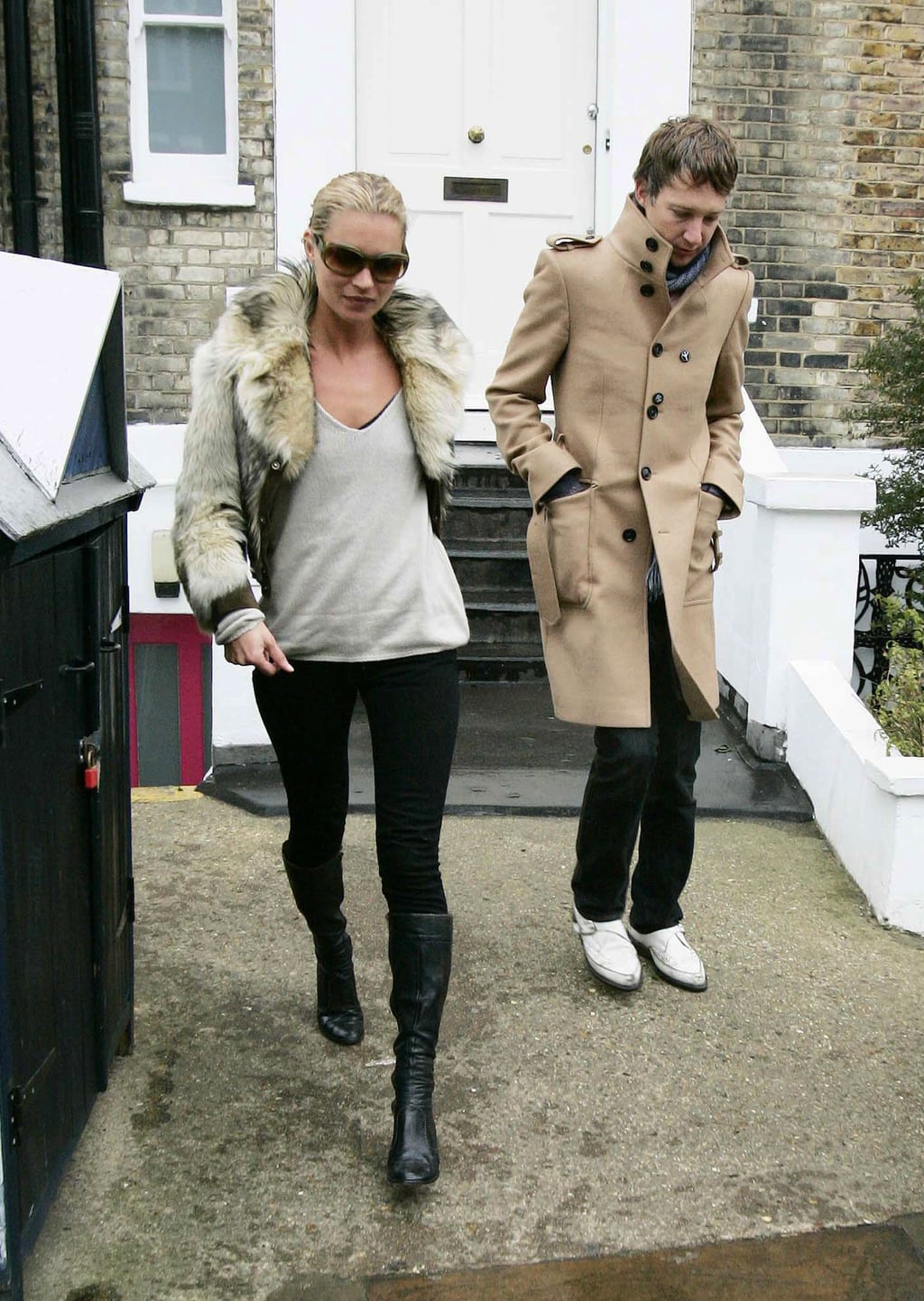 Here is a more laid-back look from 2006 where Kate layers black skinny jeans, black boots, and a great v-neck sweater. The true statement of the look is the sleek fur bomber jacket. And as usual, she rocks oversized sunglasses.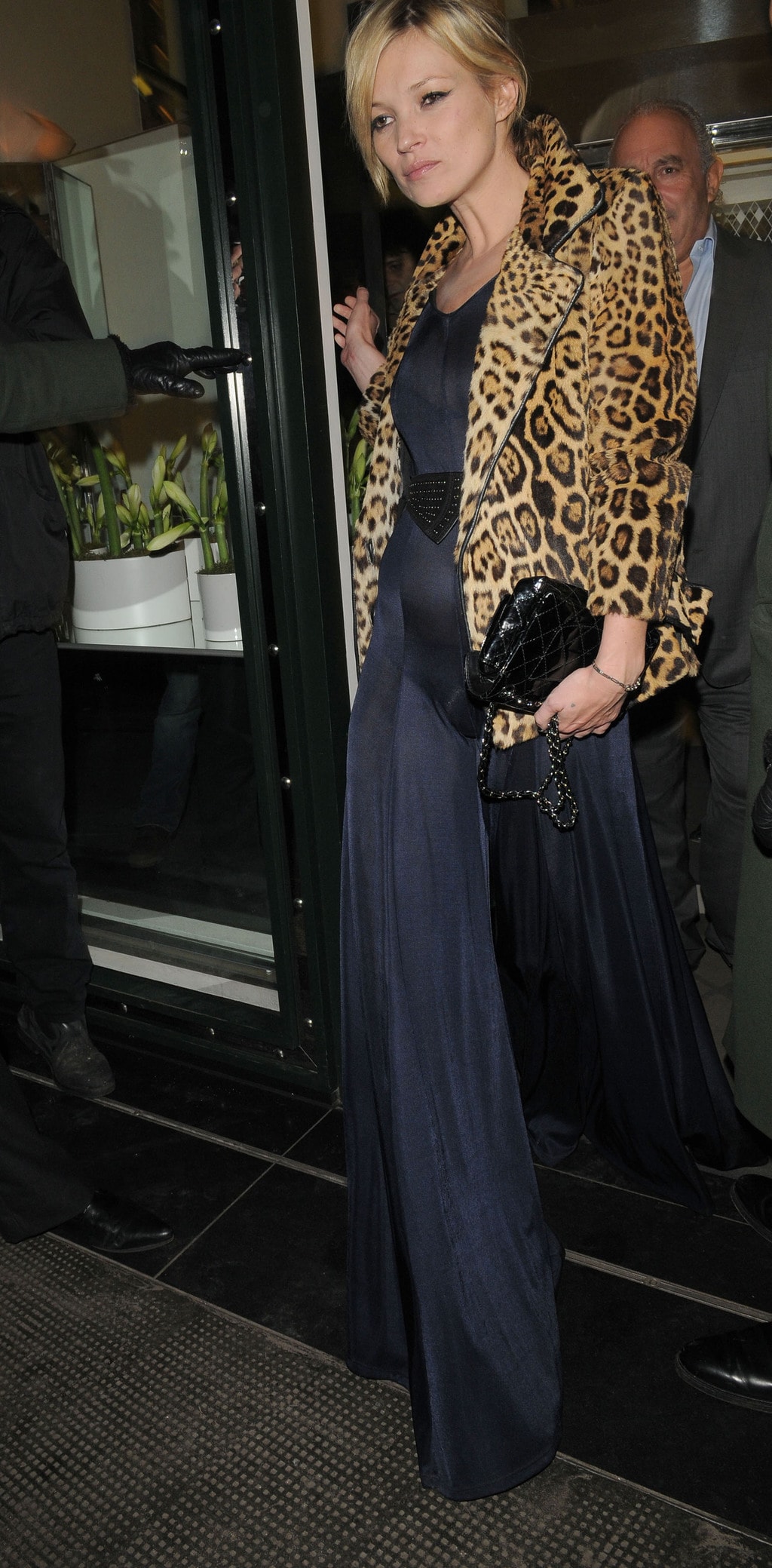 Another highlight outfit of 2000s-Kate was in 2008 when she paired this navy jumpsuit with a leopard blazer. She lightly accessorized with a black belt and clutch.
Kate Moss 2000s-Inspired Looks:
Kate Moss 2000s Style – Outfit 1: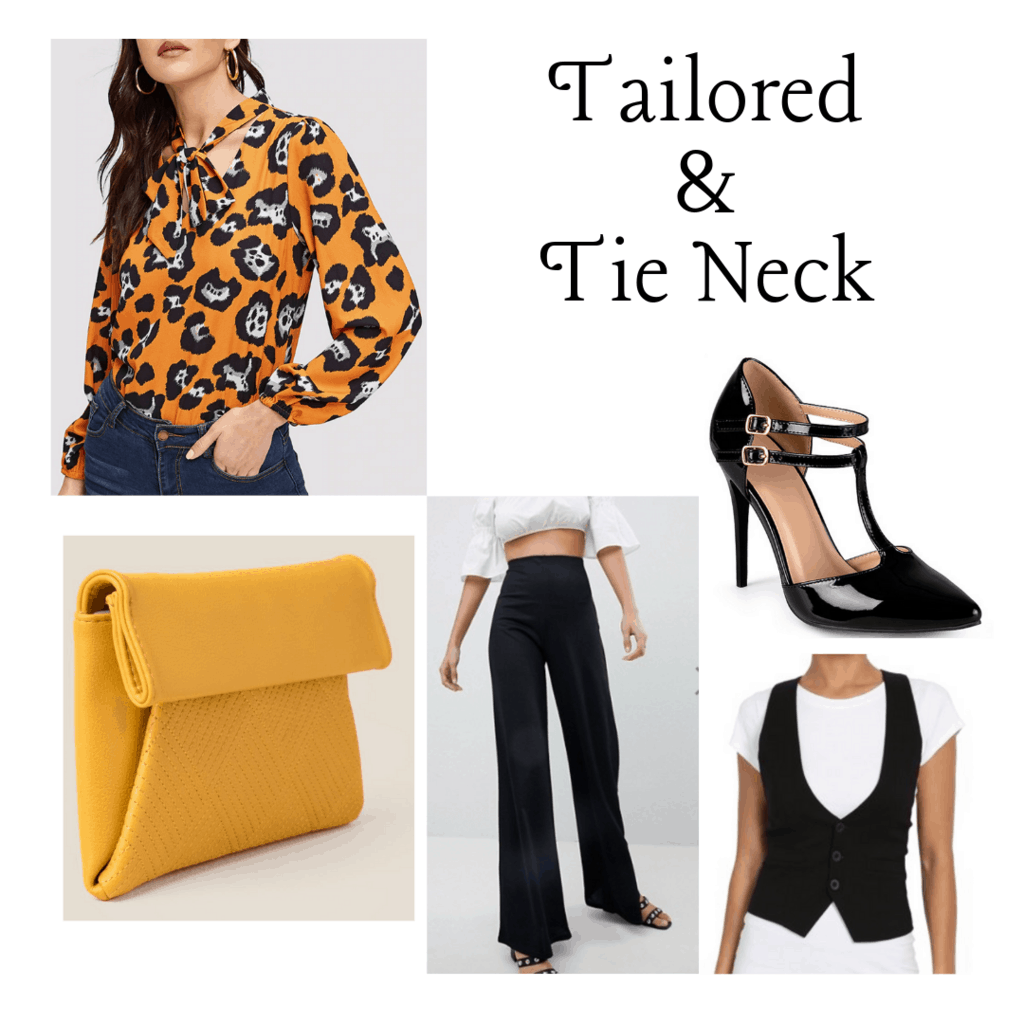 Products: Vest – Walmart, Pants – ASOS, Top – Shein, Clutch – Francesca's, Shoes – J.C. Penney
I really love this menswear inspired look with its tailored vest and flare pants. I totally owned a vest in the 2000s! Did you?
Layer with a fun printed tie-neck top and leave it open like Kate Moss or tie it up for a prim look! Add a pop of color with your bag or clutch and jewelry.
Kate Moss 2000s Style – Outfit 2: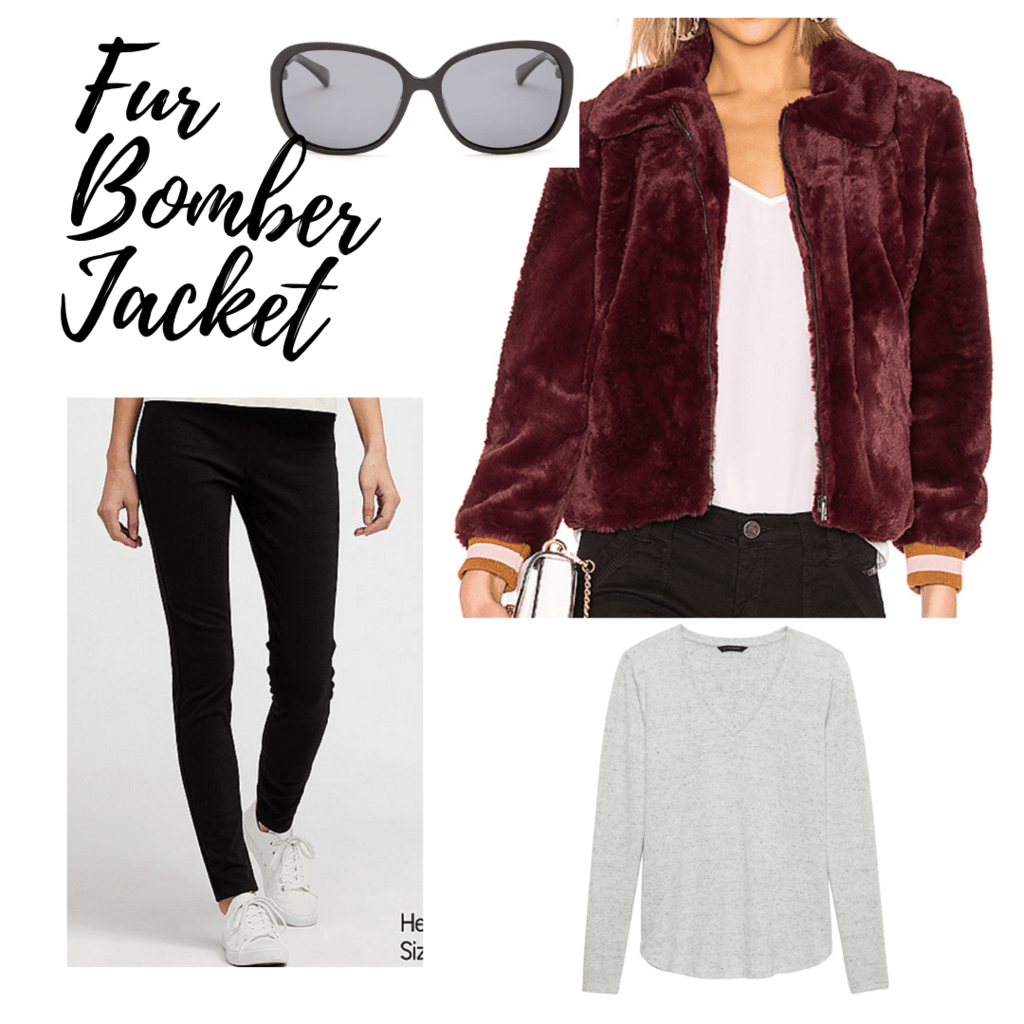 Products: Jacket – Revolve, Top – Banana Republic, Pants – UNIQLO, Sunglasses – Nordstrom Rack
This simple but chic look can be layered with any skinny jean and sweater combo. The look is really about the jacket. So make sure you rock a fur bomber, letterman jacket, or leather jacket.
Accessorize lightly but boldly with oversized sunglasses, knee-high black boots, and dangly earrings. Also consider adding a scarf.
Kate Moss 2000s Style – Outfit 3: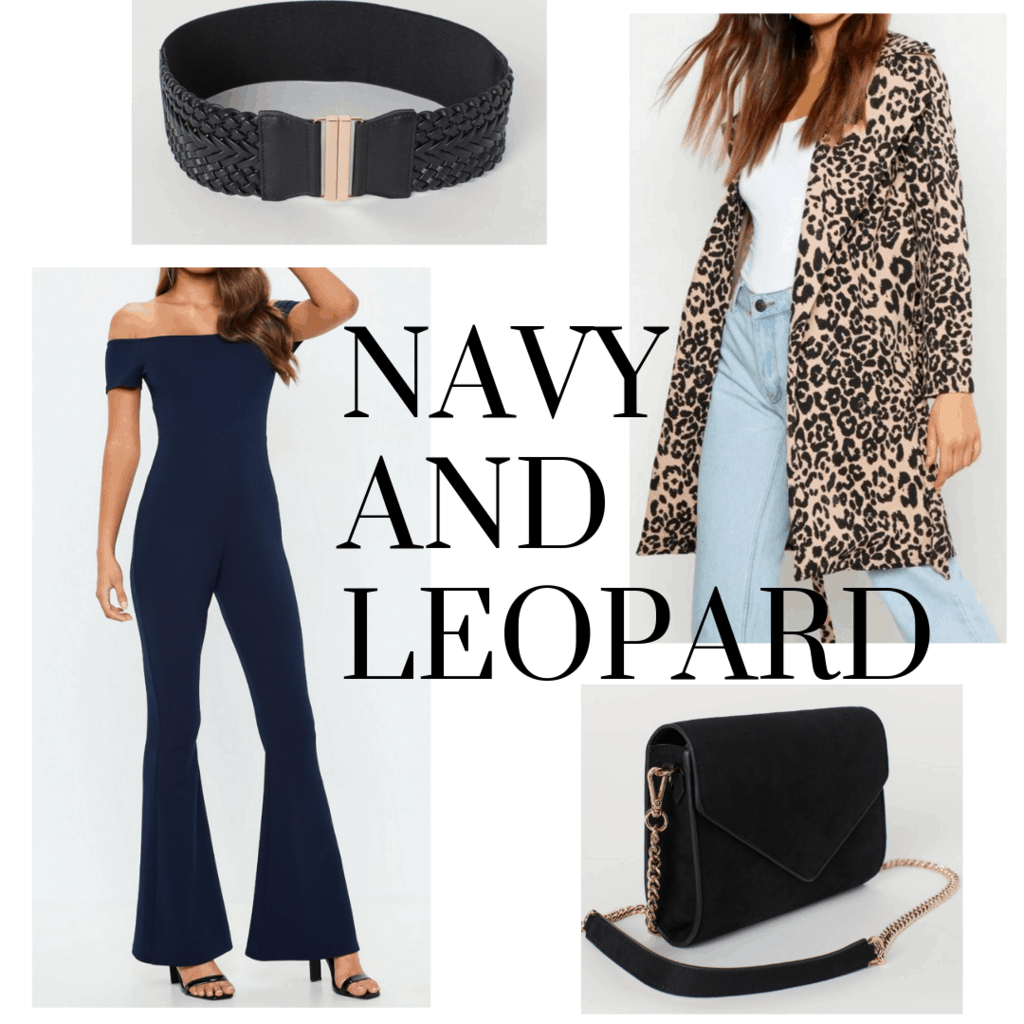 Products: Jumpsuit – MissGuided, Jacket – BooHoo, Belt – H&M, Clutch – H&M
This navy jumpsuit is perfectly paired with a leopard jacket or any other animal skin pattern like zebra, snakeskin, or white leopard.
Accessorize with a belt to split the jumpsuit in two halves and finish with a sleek clutch or crossbody.
What's Your Favorite Kate Moss 2000s Style Moment?
Do you love Kate's style from the 2000s? Let us know in the comments!