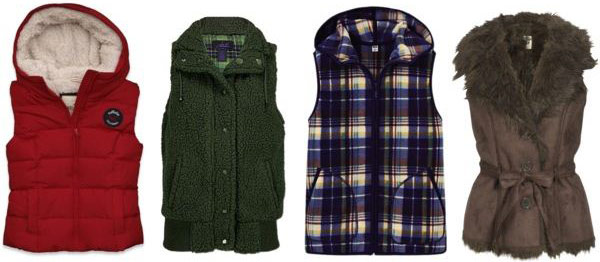 One of my favorite things about fall and winter is the amazing number of outfits you can create by layering. We all know about the chic ways to play with scarves, cropped jackets, and button-down shirts, but oftentimes, girls our age forget about one of the greatest sartorial "arrows in our quill" — the vest.
I know, I know — when you hear the word "vest," you probably automatically think of the cut-off denim variety worn by hair band rockstars and members of the Babysitters Club. In actuality, the possibilities are endless! Read on for a few reason why we LOVE vests — and check out a few of our favorite picks for this season!
Why We Love Vests
They add extra "oomph" to bland outfits. Does your ensemble need an extra kick? Pump up the style by adding a vest. A contrasting layer will create interest, and let's face it — most girls aren't adventurous enough to sport them, so you'll stand out. A denim vest would look rad with a nautical striped shirt, as would a fur vest over a thin cashmere sweater.
The can change the aesthetic of an outfit. Vests are a great way to add a retro, rustic, or even rock 'n' roll feel to a regular outfit. Wear a denim vest with a concert tee for a glam-rock look, or pair a down vest with a flannel shirt for a cozy, campfire-chic outfit!
They keep you warm. This is an obvious biggie. Allowing cold winds to blow against your chest is a great way to freeze. Help your internal organs out and give them an extra layer of protection — your body will thank you!
They can replace a coat. The thickest, fluffiest vests (I have a Northface down puffer vest for super cold days) can actually keep you warm enough to lose the winter coat altogether. This comes in especially handy during football games when I want to rock my school colors but not freeze!
They come in so many styles. Although they peaked in popularity a couple years ago, I love the glamour and elegance that a fur vest can give an outfit. Or, if your style is quirky, urban, or a bit retro, a denim vest is probably one of your staples. And although they're pricey (and some would argue not the most stylish), I can't survive the winter without my down puffer vest. Also, look for vests made from Sherpa, corduroy, leather, crochet knit, and other unique fabrics.
They're unexpected! Look around you. (We know some of you ladies love to read CF while in class!) How many girls do you see wearing vests? Vests are an easy way to shake up "the college uniform" and look stylish and unique.
Hot Picks
Denim Vests
I love denim vests because they can be worn all year long, and they match almost anything you have in your closet! Here are some of my favorites:

(Faux) Fur Vests
They might not be this year's "new and hot" thing, but I love all of my (faux) fur vests and in most parts of the country, (especially "flyover" states like Oklahoma) these vests are definitely still in style.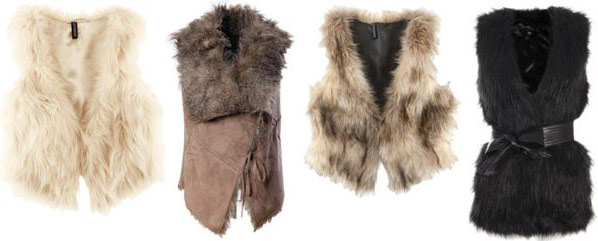 Puffer Vests
These babies aren't exactly cheap, but they're practically essential for any outdoorsy girl. A puffy winter vest is totally worth the investment if you have to spend a lot of time outside in the wind.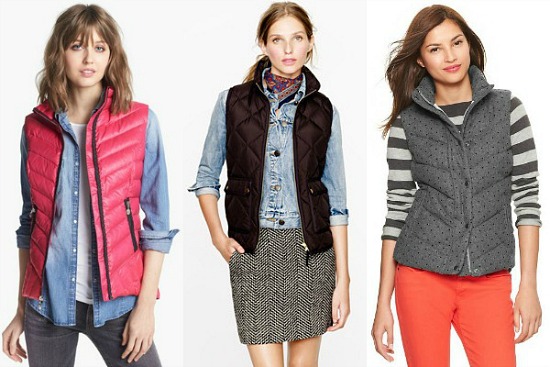 Other Cool Vests
Pick up one or two unique vests that you know will help spice up your wardrobe. I especially love checkered and geometric designs!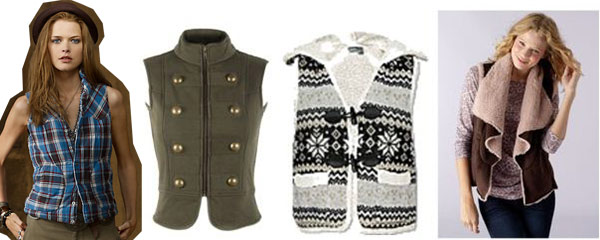 What Do You Think?
How often do you wear vests? What are your favorite styles? What things do you like to pair them with? Do you have a puffer vest, or do you think they're a faux-pas? Would you still wear a fur vest this season? What else would you like to see CF write about? Leave a comment and tell us what you think!