This post may contain affiliate links, which means we may receive a commission if you purchase through our links. Please
read our full disclosure here
.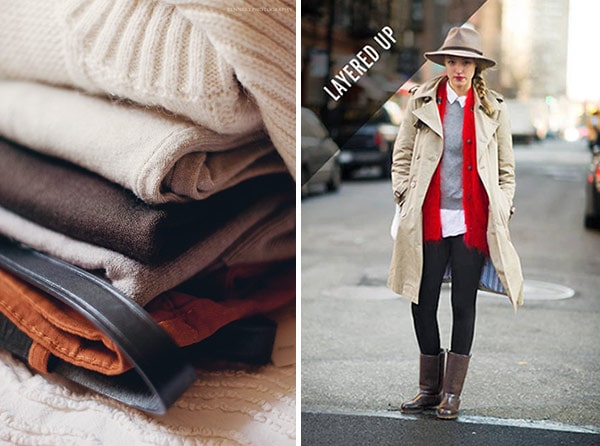 As much as I love summer, I am more than relieved to see the temperatures begin to drop. This is partially because I love Starbucks' pumpkin spice lattes (who doesn't?), but mostly because it signals the season where I get to utilize my favorite fashion trick of all — layering.
"Really?!" you might be thinking to yourself. "College Fashion is supposed to be for trendy girls! If I wanted to read really obvious "tips" written for amateurs, I'd just read that old self-help book my mom gave me when I was twelve about puberty and boy/girl dance parties!" To that, I have a retort.
Yes, I realize that the concept of layering isn't exactly rocket science, nor is it a newly discovered ideology. However, it's also true that even the most dedicated fashionistas sometimes forget that the simple act of layering can produce literally dozens of new outfit combinations, multiplying your wardrobe tenfold.
Ready for a short refresher course on how to leverage your wardrobe with some creative layers? Read on, girls!
Tips and Tricks for Layering During the Fall
It's all about awesome jackets. Luckily for me, jackets, light coats, heavy winter coats, cardigans, blazers, printed hoodies, and, really, all pieces that could be considered "outerwear" just so happen to be my absolute favorite things to shop for. You'll be shocked at how much a jacket alone can change the look of an outfit. Think of a snappy blazer paired with distressed boyfriend jeans, or a military parka worn with a frilly dress – fashion perfection.
Revere your trusty flannel shirt. If you don't already have one, get your butt to Urban Outfitters or American Eagle or pretty much anywhere you can think of and buy a flannel that's one size up from what you usually buy. Wear it open on top of your favorite concert tee. Button it up and layer a chunky knit cardigan over it. Tie the open ends in a knot over a dress. You get the idea.
Tights and leggings are your friends. Make dresses, shorts, and skirts fall-appropriate by pairing them with a trusty pair of leggings or tights. Tights also transform strappy stilettos or peep toed pumps into chic winter shoes.
Don't pack away your favorite summer tops. Cropped tops, graphic tees, lace tanks, and more make great base layers under utility coats and leather jackets.
Mixing prints looks super rad. Geometric prints look awesome with plaid flannel, and leopard print goes with, well, everything. To keep from looking like a hot mess, stick with just two different prints, and make sure neither of those prints are too loud or colorful. This "street style-esque" trick might be scary to try at first, but once you get comfortable with it, the look is rather addicting.
Play with lengths. Cropped jackets look awesome with longer shirts, as do cropped tops with thigh-grazing outerwear.
Accessorize! Layer on the scarves, necklaces, bracelets, hats, and rings for an uber chic look.
Outfit Inspiration
After putting together the tips above, I couldn't help but feel super inspired! Below, I've put together some outfits that I can't wait to rock the next few months. Check them out (and get inspired!) below.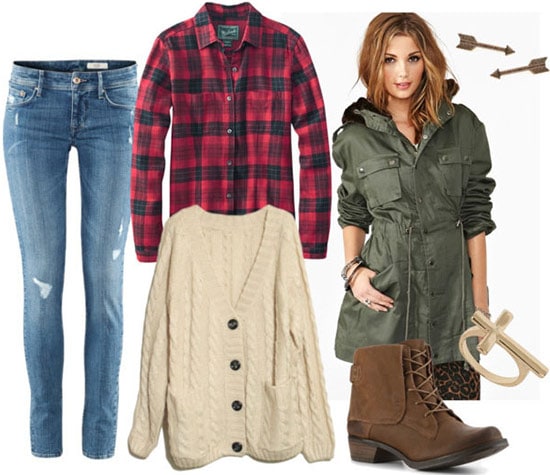 Jeans, Shirt, Sweater, Anorak, Boots, Ring, Earrings
This outfit combines several cold-weather closet staples in a very chic "Urban Outfitters" sort of way. Pair your favorite flannel shirt with your chunkiest knit cardigan. Skinny jeans will complement the outfit without drawing attention away from the overall look. Add a military anorak, and finish with simple jewelry and combat boots.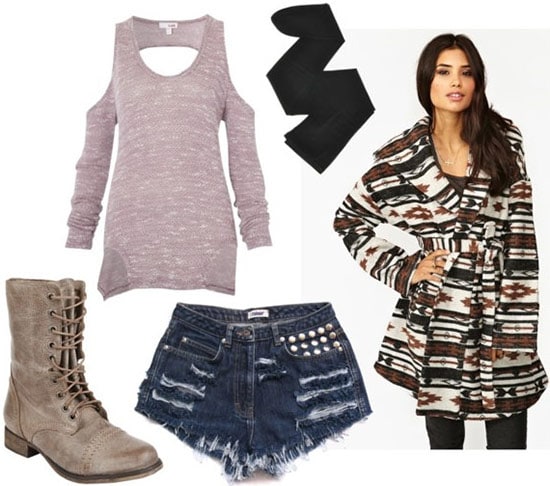 Sweater, Shorts, Coat, Tights, Boots
Don't pack up your favorite booty shorts just yet! Make them fall-appropriate (and a little less revealing) but wearing them over a pair of opaque black tights. Add your favorite cozy sweater and a pair of combat boots. Finish the look with a unique jacket — this BB Dakota geometric printed jacket completely stole my heart the minute I saw it – so comfy looking and the colors go with everything!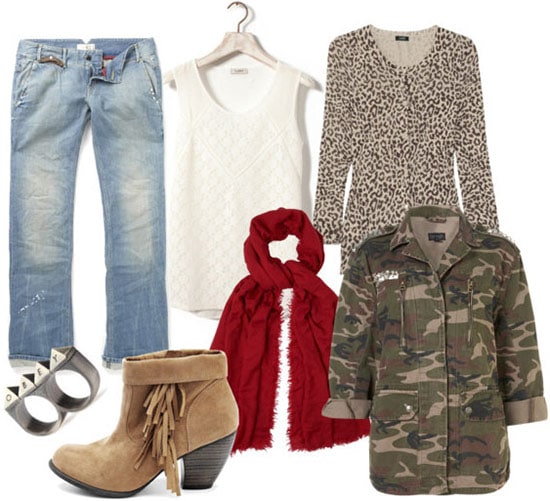 Jeans, Tank, Cardigan, Jacket, Shoes, Scarf, Ring
I'll be honest — it took me awhile to warm up to the whole camouflage trend we've been seeing the last few seasons. All it took was seeing the perfect camo utility jacket to make a believer out of me! A simple base of boyfriend jeans and lace tank top will look great underneath the camo jacket. Make it super chic by adding ankle booties, an edgy ring, a scarf, and a leopard cardigan.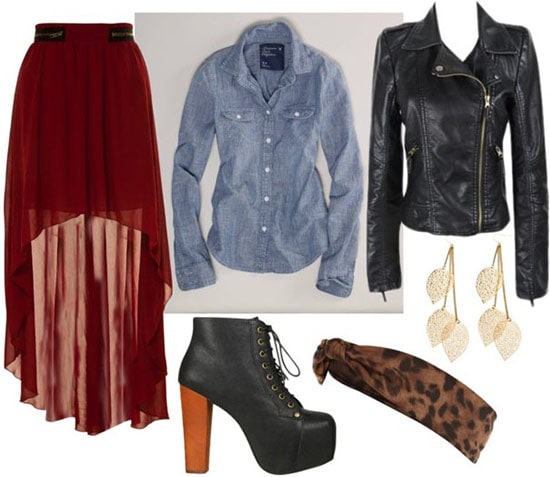 Skirt, Shirt, Jacket, Shoes, Headband, Earrings
High-low skirts are one of my favorite trends this season. A chambray shirt will look awesome tucked into one. Make this outfit perfect for a hot night on the town by adding a fun pair of ankle boots, earrings, a head wrap, and a leather jacket.
Thoughts?
Are you as excited to transition to fall weather clothing as I am? What fall trends have caught your eye this season? What are some of your favorite outfits that incorporate creative layering? Do you have any tips to share with the rest of us? Leave a comment and tell us what you think!!