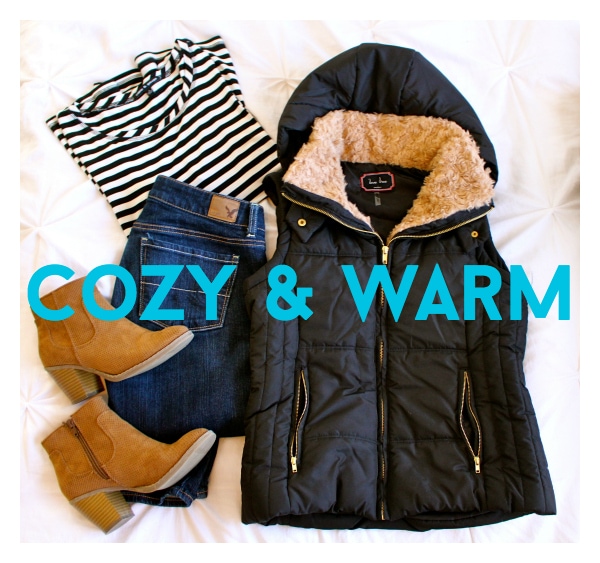 Today may be Sunday, but every day is Sunday Funday while you're on break. For me, that involves catching up with my Netflix, organizing around the house and Googling my future dream dog, the corgi. The best thing about break is that you can wear the same outfits over and over again and no one can judge you. The dream, am I right?
1. Winter in the South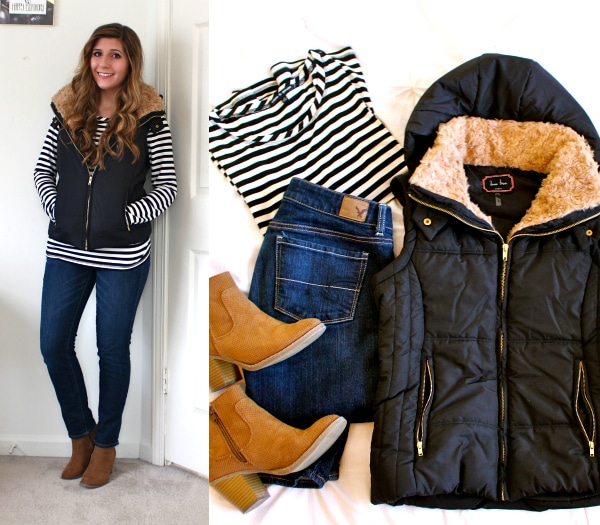 Until recently, I lived my twenty-one years of life treating vests like socks and sandals. Why wear vests when there are cardigans? Who stole the sleeves off this jacket? WHY?!
Reasons to wear a vest:
A) Comfort. 'Nuff said.
B) Mobility. You can still use your arms and not feel like a robot. Vests are basically jackets that can be worn indoors.
C) Fashion. Vests are now officially "in" thanks to the horde of bloggers who have resurrected these dead beings back to life.
I love pairing vests with striped or flannel shirts. Faux-fur vests are all the rage right now, but to be honest, my life isn't glamorous enough to wear a totally fur vest. Maybe someday, when I become a mighty and powerful warrior, I can wear a fuzzy fur vest, but for now, I'm happy with faux-fur on the collar.
2. Cozy Yet Glam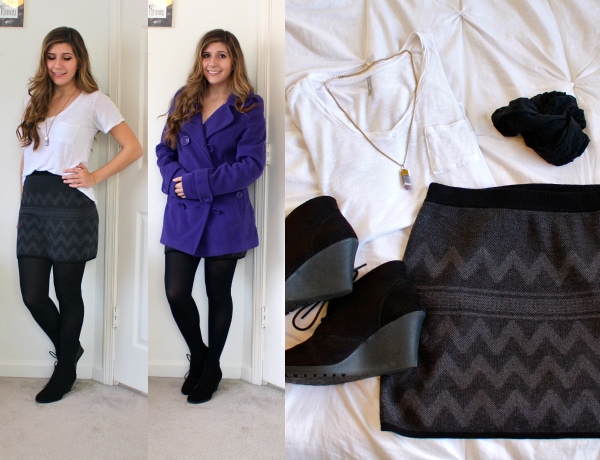 This is my lazy-day outfit formula, for those days when I feel like staying in my pajamas but want to dress up a little. Stretchy knit skirts are my best friend in winter. To keep things casual, I'm wearing my slouchy white tee and my favorite crystal necklace. To elongate my legs, I'm wearing opaque black tights and ankle boots.
Recently, I've been loving the blogs Dallastyle and Le Happy, and both of these ladies swear by colorful statement outwear. With this in mind, I've been experimenting with bold pops of color in my coats.
3. Athletic Chic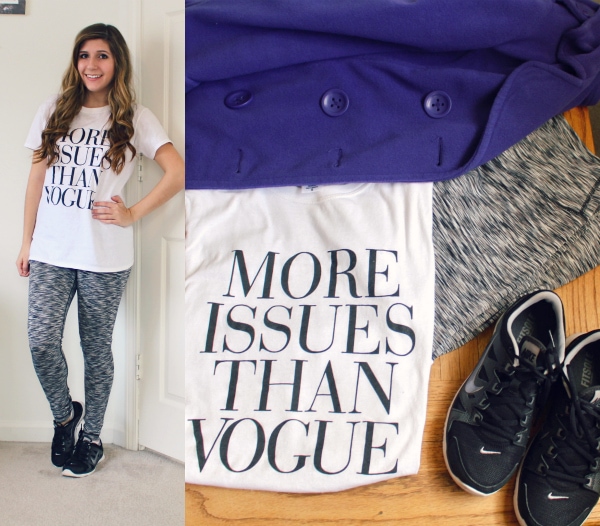 Unless you're Taylor Swift (in which case, hello, I love you, can I visit your closet sometime, pet the cats and meet your manager, Lorde?) most of us don't look polished and poised after the gym. Not that I blame Taylor – if I had paparazzi following me around 24/7 I'd probably put some makeup on, too.
A frequent comment on CF is, "How can I quickly look cute after the gym?" Here's how:
A) Wear cute patterned bottoms to the gym.
B) Unless you're an alien who doesn't sweat, remove your sweaty tank and put on a loose-fitting top. I'm a big fan of the sassy tees over on Etsy.
C) Add your favorite stylish coat.
D) Venture forth into the world with confidence.
Do you love repeating outfits?
Am I the only one who does this, especially during holidays? Would you wear any of these looks? Let me know what you think by leaving a comment.