This post shares 10 clubbing outfit ideas, plus 15+ dresses for clubbing under $50.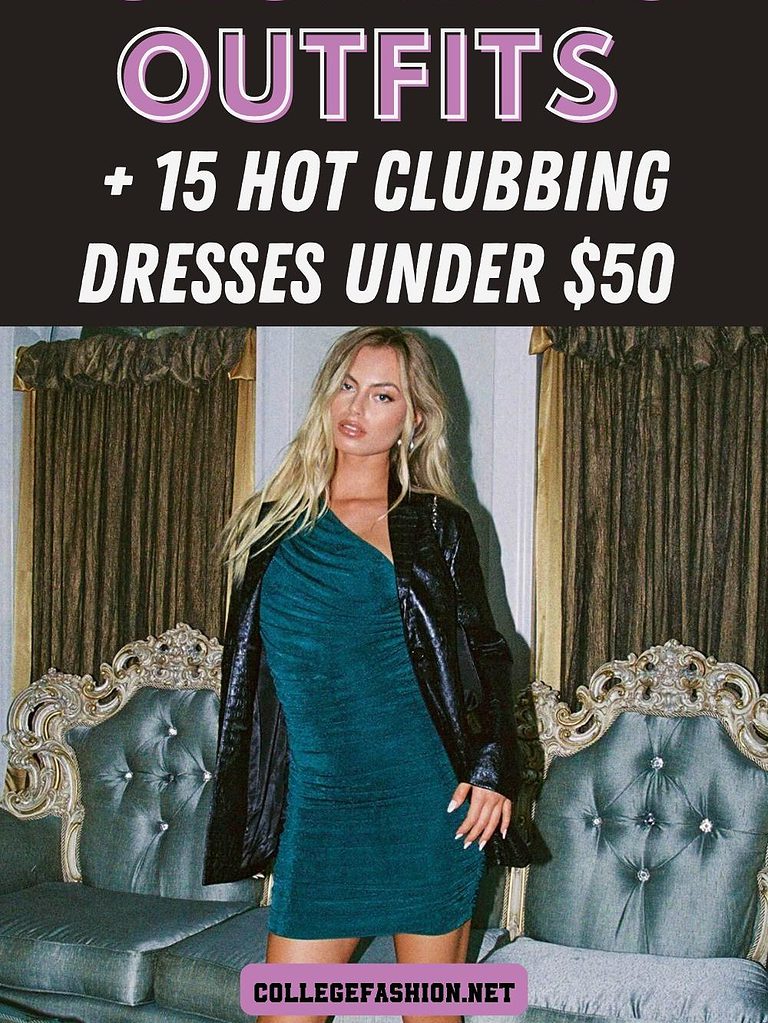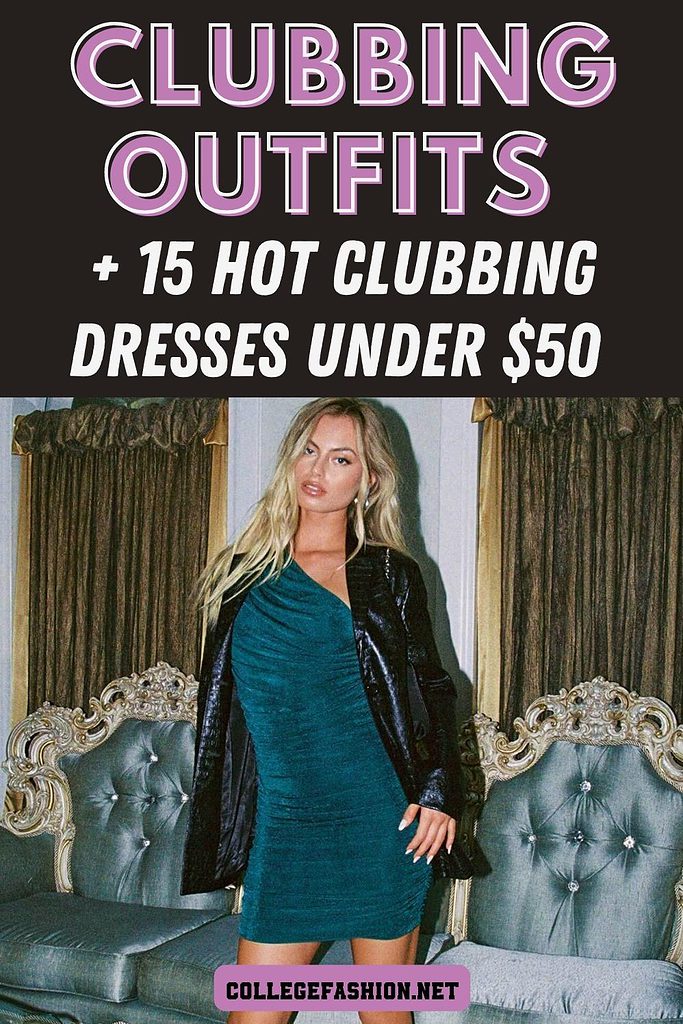 It's Saturday night, and you're hitting the club with your friends, but you don't know what to wear. We've all been there! No need to have a fashion meltdown, though — this guide will help you put together the perfect clubbing outfit.
Nights out are always a blast, but clubs are different than regular bars and require dressier attire.
TBH, part of the reason I love going clubbing is getting all dressed up for the night! When you go clubbing, you can definitely go all out with your outfit and don't need to play it safe with your look. So, if you have a super sequin cute dress that you have been dying to wear but didn't know where it was appropriate to wear, going to a club is the perfect opportunity!
RELATED POST: What to Wear for a Night Out: 10 Cute Going Out Outfits
Keep in mind that clubs will often have dress codes that they either recommend or strongly enforce, so always be sure to check the club's website or social media if you are unsure of what will be acceptable. Generally, they encourage dressy attire and discourage overly casual clothing like athletic sneakers, workout clothing, torn clothing, or excessively baggy clothing.
This means you'll want to pull out your heels, crop tops, mini dresses, and sparkly accessories and ditch the sweatpants (don't worry, they'll be waiting for you when you return home at the end of the night). Try these 10 clubbing outfit ideas, with outfits ranging from girly to edgy and everything in between.
Plus, I've rounded up 15 of the hottest clubbing dresses under $50, so you won't have to break the bank when planning your next night out look.
Trendy Clubbing Outfit
When you go clubbing, you don't have to be afraid of "doing too much" when it comes to your outfit — I say, go bold or stay home! Embrace fun fashion trends by opting for bright colors, interesting textures, and daring silhouettes.
Make a statement in this green faux leather mini skirt and coordinating bustier crop top. Both made of vegan leather, this matching set is sure to turn heads. The skirt has an A-line design with a slit, while the bustier features boning and a pointed hem for added interest.
Platform heels are a major trend this season, so go for some ankle strap platform heels and cool jewelry, like a pair of twisted oval hoop earrings.
Add a pop of print with an eye-catching zebra shoulder bag to complete the look.
Fashionable Clubbing Outfit
This fashionable clubbing outfit is giving major NYC street style vibes with an edgy moto jacket and flirty slip dress.
Style a satin slip mini dress — this one features an open-back and a draped neckline —with a black faux leather moto jacket, which is the perfect jacket to wear with your clubbing looks (which you can coat check at the club if you want).
Knee-high boots are another big footwear trend this season, and look super stylish with this outfit. Add some bling with a pair of silver square hoop earrings and a trendy studded rhinestone shoulder bag which is sparkly and edgy at the same time.
Classy Clubbing Outfit
Want to keep it classy on your night out? It doesn't get more classic than a black midi dress.
This ribbed bodycon midi dress has a one-shoulder design which gives it an eye-catching look while still being classy. A pair of simple ankle strap sandals with a square toe complement the dress perfectly, thanks to their sleek look.
Opt for simple, stylish accessories like some teardrop-shaped hoop earrings and a quilted vegan leather clutch bag (which also comes with a crossbody chain strap).
To bring this look together, consider doing a classic red lip, or try this stunning burgundy liquid lipstick for a modern take.
Y2K Clubbing Outfit
Is the Y2K aesthetic more of your vibe? Luckily, the Y2K aesthetic fits perfectly in a club setting! Have fun with your look by wearing Y2K-inspired clothing like this pink sparkly mini skirt and coordinating corset top, which is practically made for dancing.
Play up the aughts aesthetic with butterfly details, including a pink faux patent leather baguette bag with a butterfly charm chain and some lace-up platform heels with butterfly details — seriously, how special are these sandals?!
Since the heels and the bag have silver metallic coloring, accessorize with some silver dangling chain earrings.
Sexy Clubbing Outfit
The club is the ultimate place to pull out all the stops and go for a sexy look. Tight-fitting dresses, short hem lengths, and cut-out details are all ways to embrace your sexy side, and this halter cut-out mini dress checks all of the boxes.
Complement its dusty blue hue with some silver accessories like hoop earrings and a show-stopping rhinestone bag that was made for nights out on the town.
These white platform heels add to the sexy look with their lace-up design.
Clubbing Outfit with Jeans
Depending on what kind of club you're heading to, you may be able to wear jeans — so long as you dress them up! (Be sure to check the club's dress code before you head out, to avoid getting denied entry).
I would recommend opting for jeans that are not excessively ripped for a more polished look; these high-waisted wide-leg jeans have a clean look and pair well with heels.
In order to dress up your denim, you'll want to wear fancier pieces like a pink satin bustier crop top and some embellished heels. These pointed-toe heels have a lace-up design with sparkly embellishments that will instantly make the jeans look dressy.
Since Barbiecore has been trending, embrace the all-pink color scheme by accessorizing with a matching pink beaded top handle mini bag (which also comes with a convenient removable crossbody strap).
Matching Set Clubbing Outfit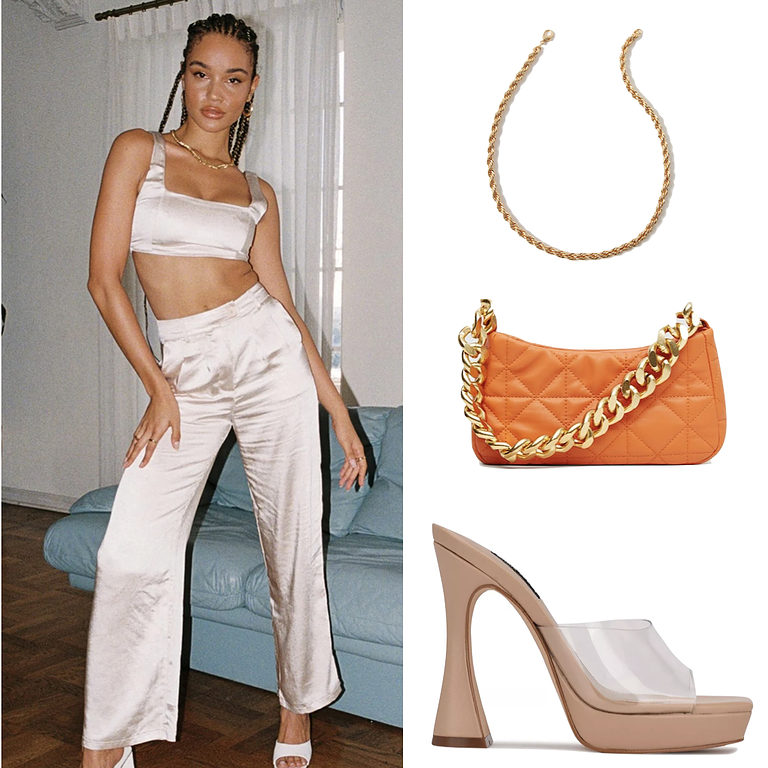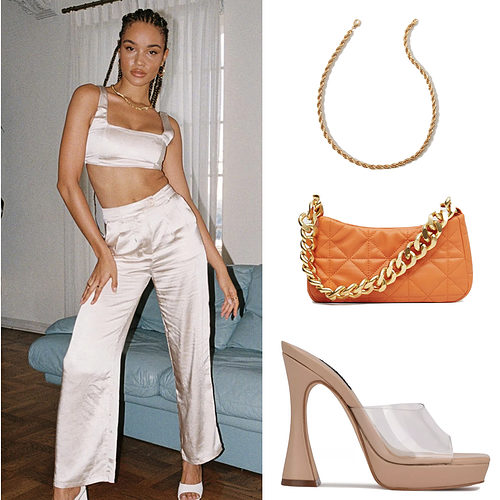 Products:
Wearing a matching set is going to make you look ultra put-together and allows you to get ready for your night out in a flash since you won't have to worry about mixing and matching different items in your wardrobe.
With a matching set, you'll have the complete outfit ready to go and only have to worry about accessorizing. (Of course, you can also wear the pieces individually, making them that much more functional!)
This champagne-colored crop top and pants set looks luxe thanks to its satin fabric and the wide-leg design of the high-waisted pants. Jazz up the look with a gold chain necklace and some platform heels; these nude platforms feature a stylish flared heel and vinyl strap for a barely-there look.
Add a pop of color to this neutral night-out ensemble with an orange quilted bag with a gold chain strap (to match your jewelry, of course).
Cute Clubbing Outfit
It doesn't get cuter than plenty of pink, feathers, and rhinestones! Embrace your girly side with an adorable pink bodycon skirt with a fun feather trim.
A white strapless corset top adds to the outfit's feminine vibe, along with sparkly pink pointy-toe stilettos with an embellished ankle strap and bow design, which give Barbie(core) to the full extent.
Turn up the sparkle with a pair of rhinestone pave medium hoop earrings to accentuate the rhinestone detailing on the heels for a super cute look.
Edgy Clubbing Outfit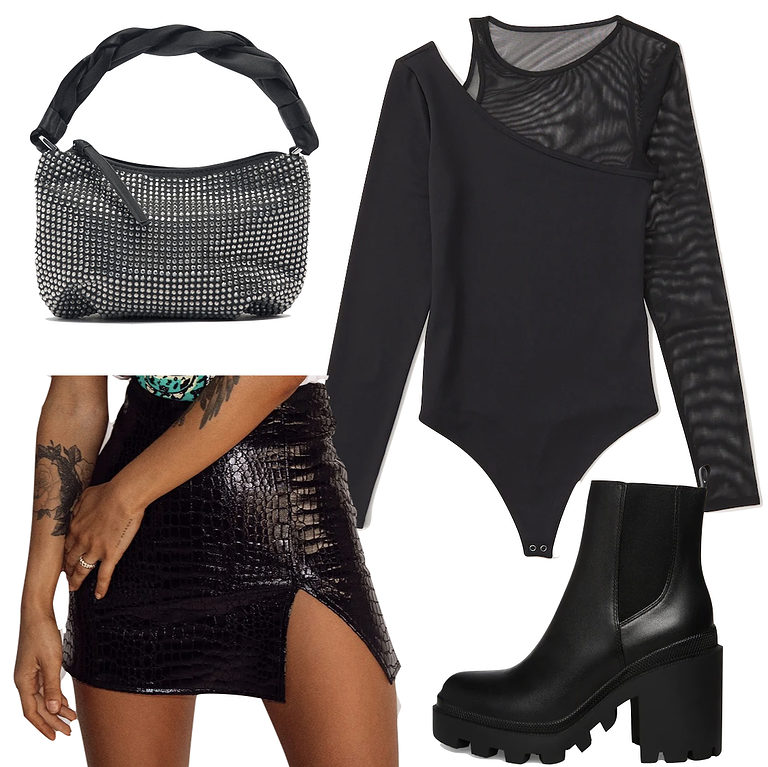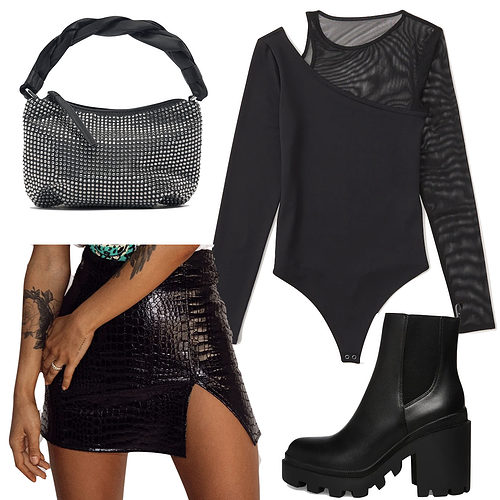 Products:
For an edgier vibe, faux leather is the answer to your clubbing outfit needs. This black croc prints faux leather mini skirt with a side slit is a head-turner and can be worn with everything from crop tops to t-shirts to bodysuits.
Mesh has an edgy look too, so this black mesh bodysuit with an asymmetrical neckline and a one-shoulder cutout detail compliments the skirt perfectly.
Rather than go for girly heels, try some platform-lug sole boots. These chunky Chelsea boots with a lugged sole are dressier (i.e., club-friendly) and take on your everyday pair.
Since you are heading to a club, you'll want to tote an extra-cute bag like this shiny studded bag with a braided handle.
Clubbing Outfit with Pants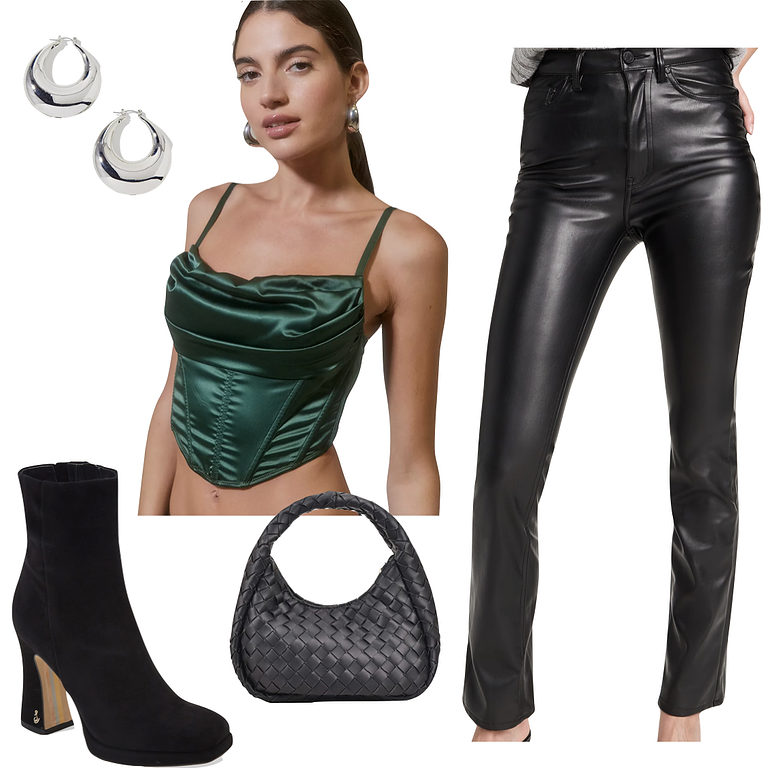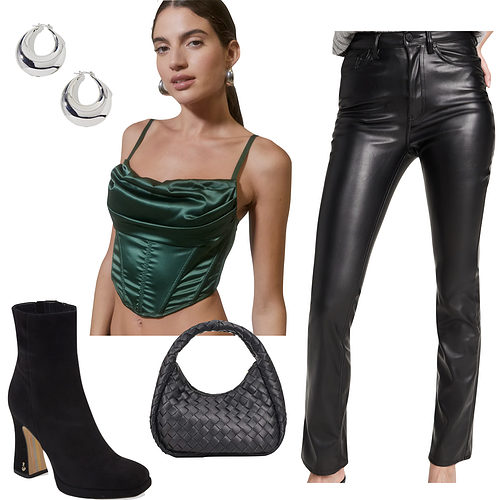 Products:
Even though dresses and skirts are usually the first things that come to mind when thinking about clubbing outfits, you can definitely wear pants instead. My favorite kind of pants to wear clubbing? Faux leather ones!
Faux leather pants have a dressy look (more so than denim) and pair well with going-out tops and heels. In the fall and winter, wear them with heeled ankle boots — this platform pair has a stylish square toe and flared heel.
Any sort of fancy top will do, but I'm loving this green satin corset crop top with a curved hem and cowl neck, which gives the pants a softer look.
Complete the ensemble with some chunky silver tapered hoop earrings and a trendy "dumpling" shaped woven handbag.
Related reading: How to Wear Faux Leather Pants & Leggings
Hot Dresses for Clubbing Under $50
Want more options? I've rounded up 15 of the hottest dresses under $50 that are perfect for clubbing and won't break the bank.
1. Satin Bustier Mini Dress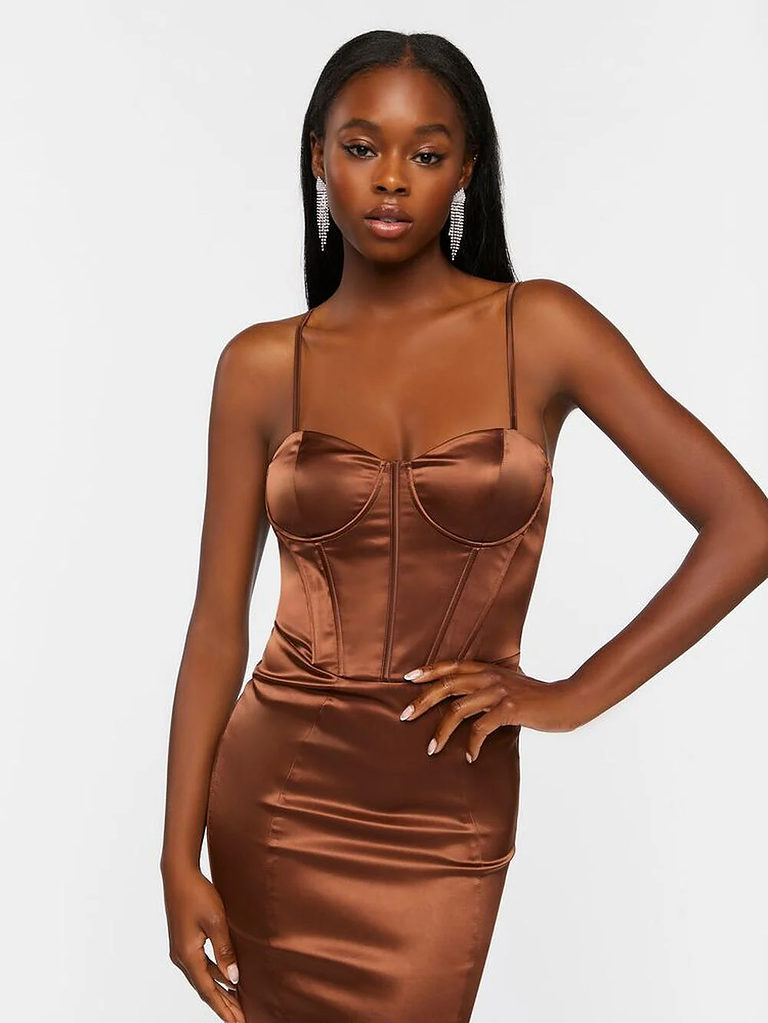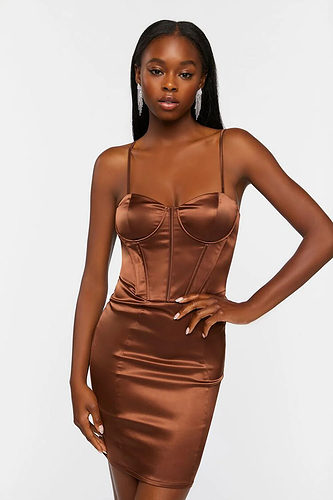 How beautiful is this sleek satin bustier mini dress? Available in chocolate brown and emerald green, its shiny satin fabric and bustier bodice with a sweetheart neckline are sure to stun. It also features adjustable straps, princess seams, and stretch for the perfect fit.
2. Ruched One-Shoulder Mini Dress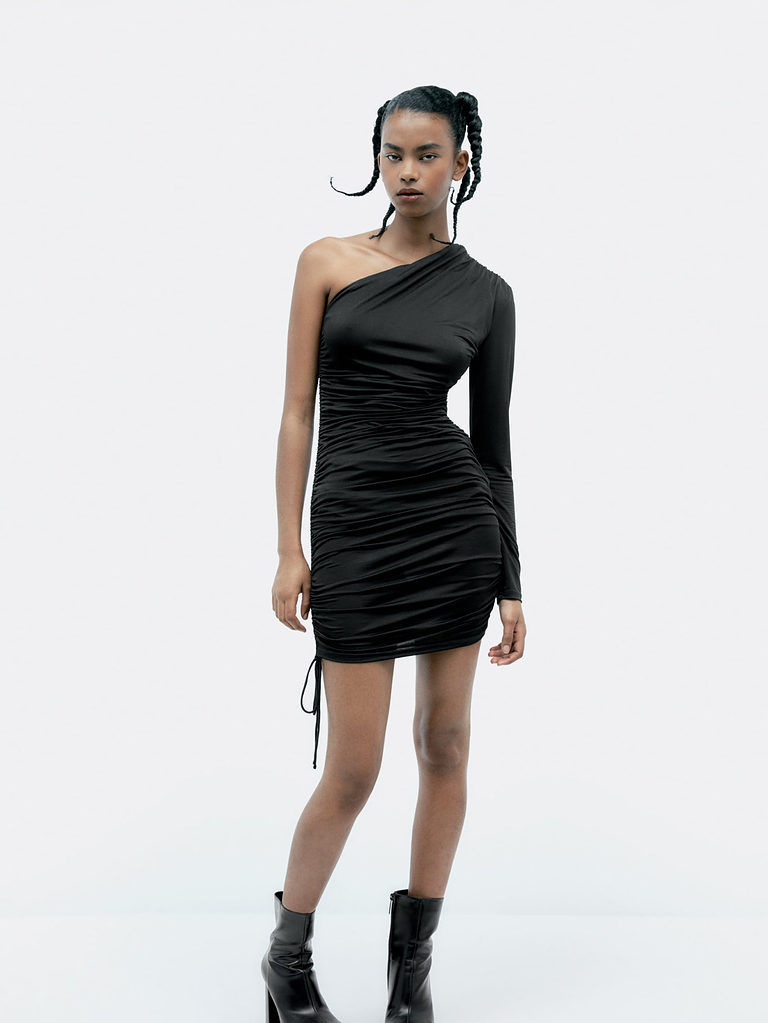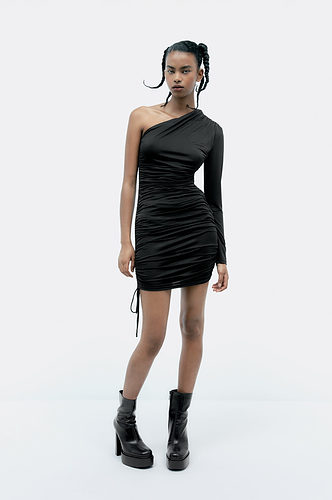 You can never have enough little black dresses, and this one is unique with its one-shoulder design and adjustable ruching down the sides for an extra flattering fit.
It's stretchy, slinky, and going to show off your curves.
3. Mesh Long Sleeve Mini Dress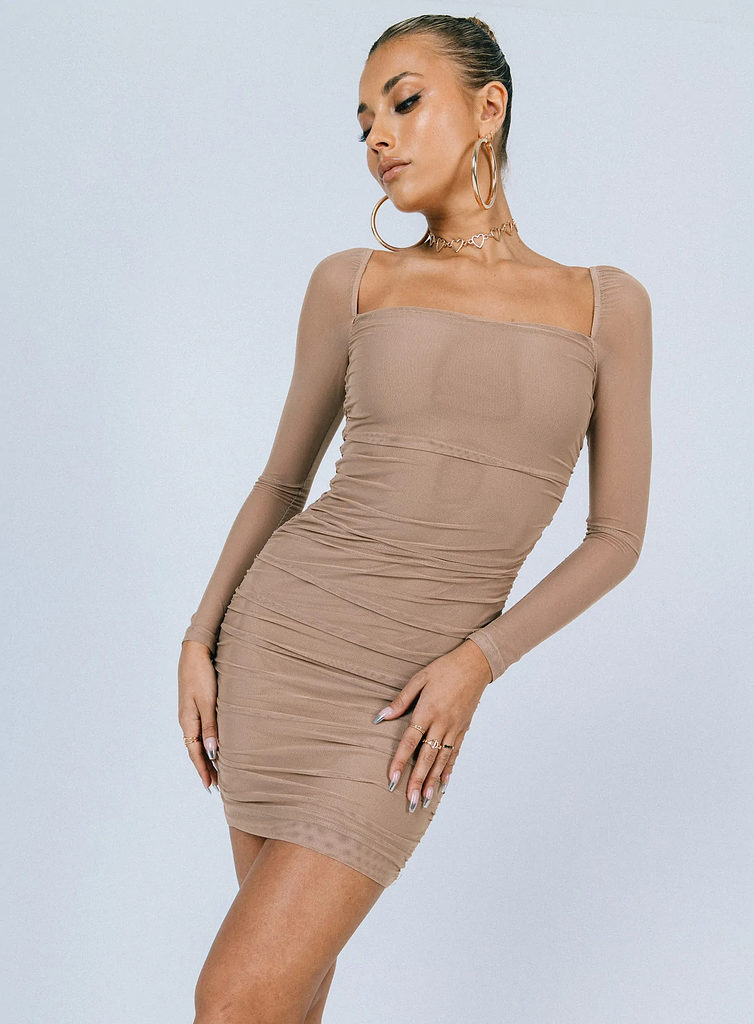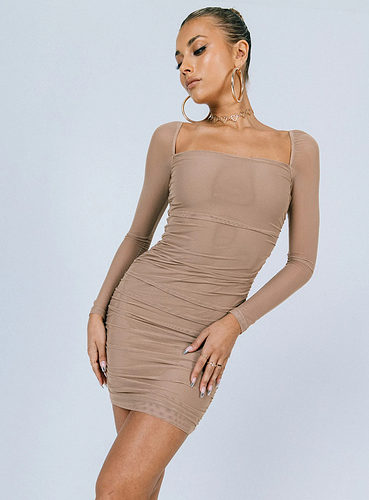 With mesh construction, sheer sleeves, ruching down the sides, plus a stylish square neckline, this mini dress is a winner. It comes in beige or classic black, making it easy to match with just about any of your heels or accessories.
4. Sequin Halter Mini Dress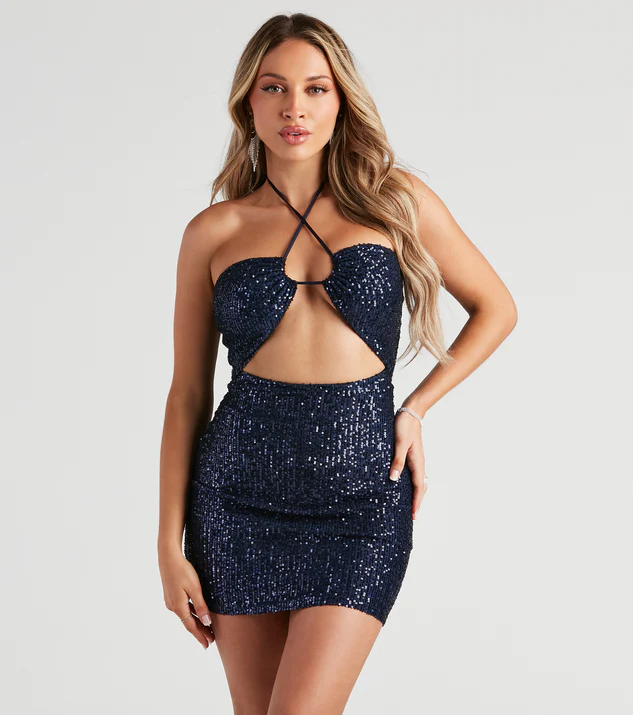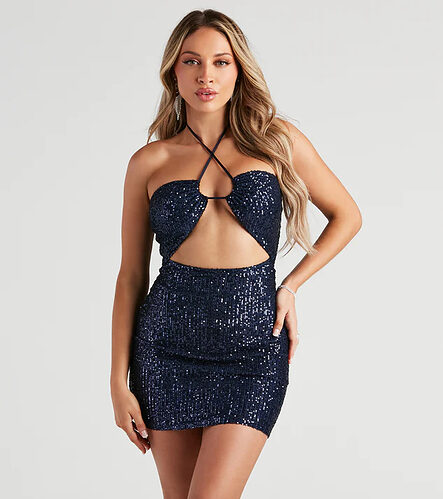 If you want to be the center of attention at the club, this sparkly sequin dress is sure to do the trick. Fully sequined with a halter neck and front keyhole cut-out design, this mini dress is a total show-stopper. It's designed to catch the dance floor lights!
This dress comes in navy blue and gold, and the neck tie can be worn in two different ways.
5. Strappy Diamante Mesh Bodycon Mini Dress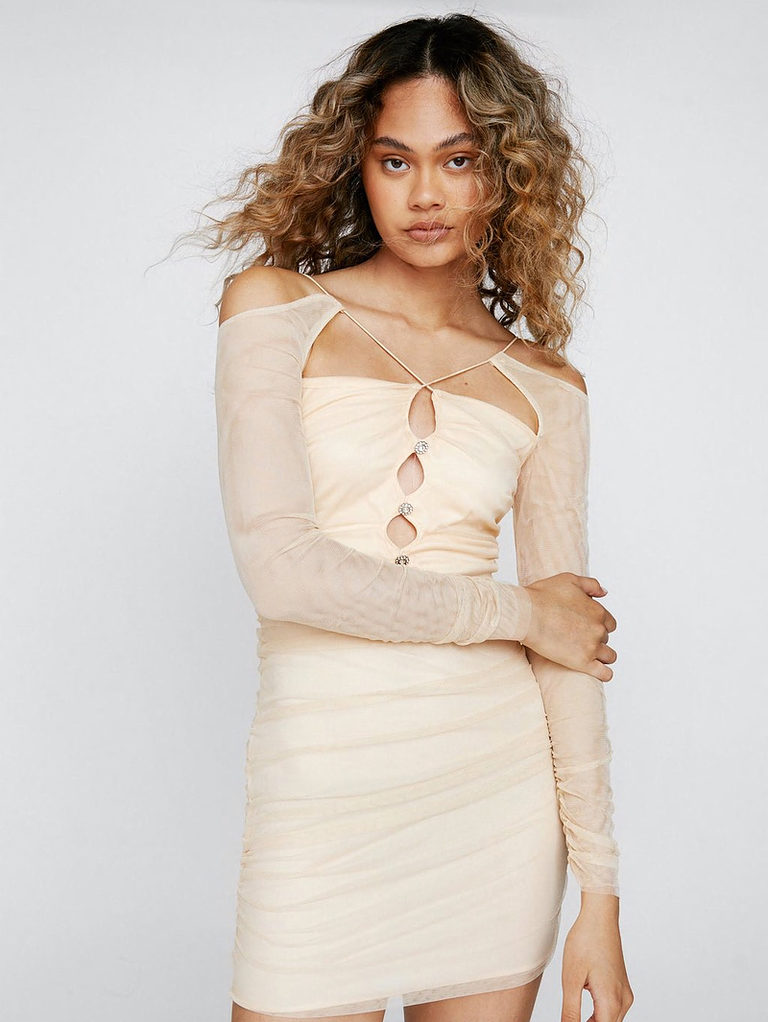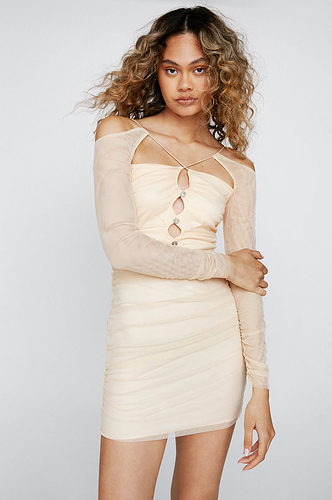 This mesh bodycon mini dress with cut-out and luxe diamante detailing looks way more expensive than it actually is. Its nude color keeps the dress looking elevated, while its cut-outs add a sexy touch. Wear it with heels for your next club night out.
6. Lace-Detail Velour Bodycon Mini Dress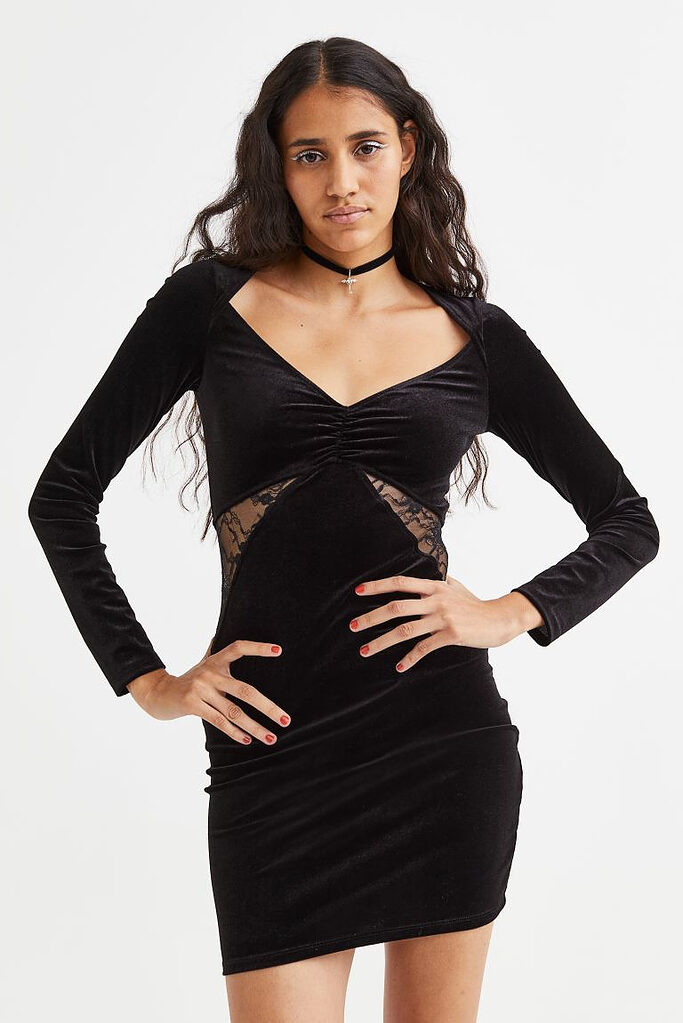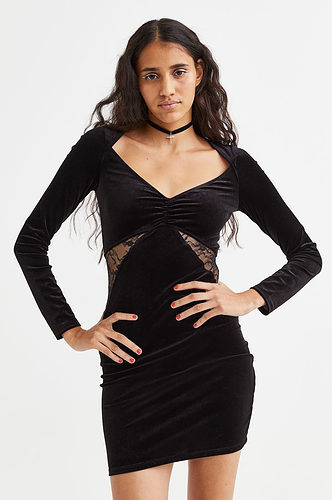 Show a hint of skin with the lace paneling on the sides of this bodycon mini dress for a flirty feel. The dress has long sleeves and is made of soft velour, making it a great option for chillier months — you can wear it with tights and boots to up the warmth factor when you're heading out in the fall or winter.
7. Satin Corset Mini Dress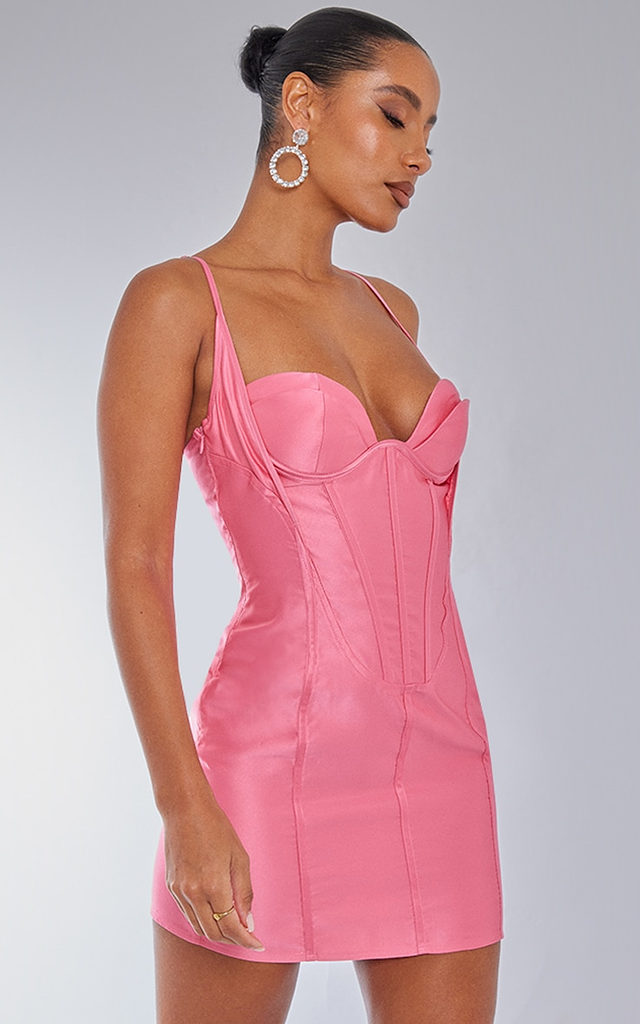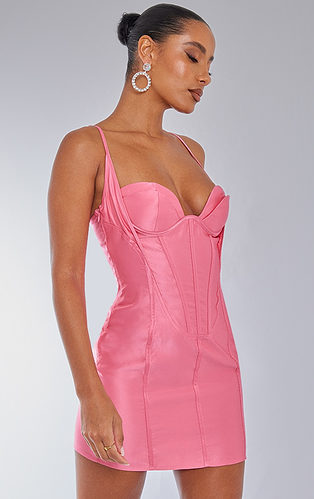 I am in love with this pink satin corset mini dress! It's ultra-girly but its structured bodice with corset cups gives it a tailored, high-end look. You can totally embody the Barbiecore trend in this fun frock. Just be sure to pair it with some fabulous heels.
8. Cut-Out Back Plunge Mini Dress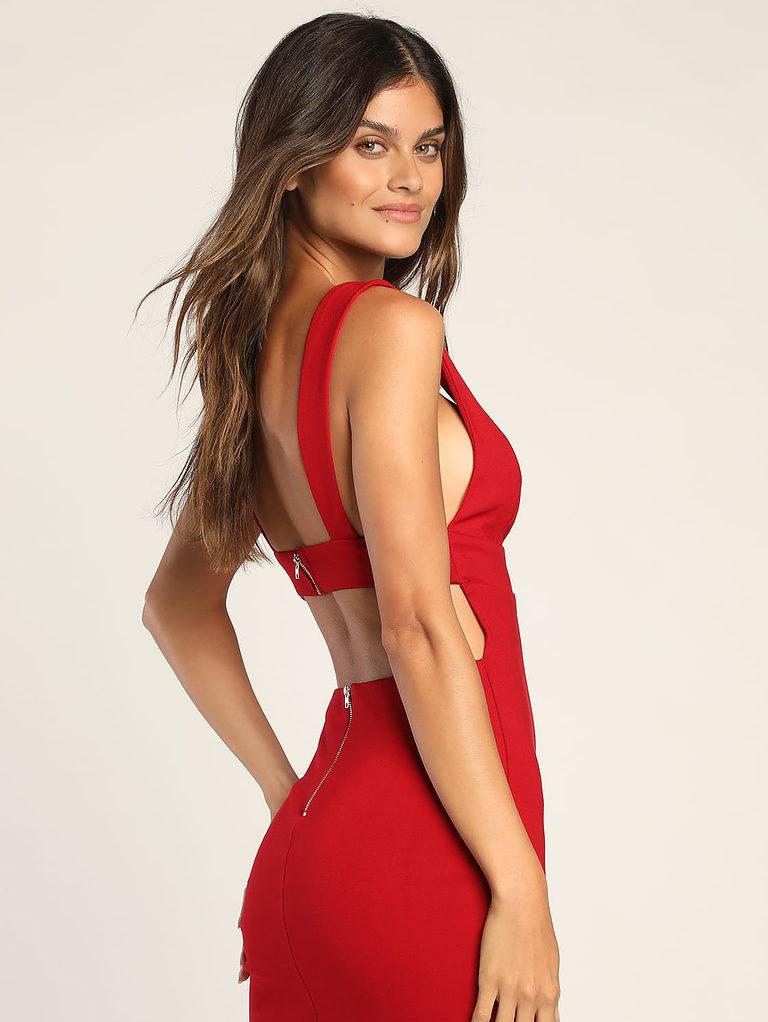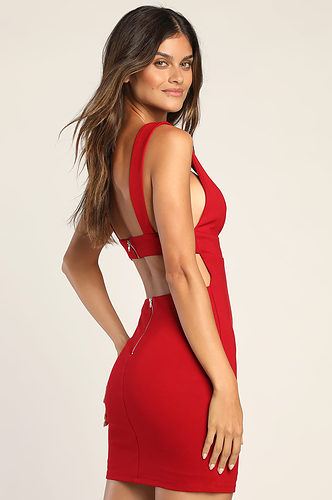 You can't go wrong with a red mini-dress, especially one with a sexy cut-out back design! This sultry dress features a plunging neckline and a wide strap which creates a cut-out effect against the open back, plus exposed zippers that add to its head-turning look.
This stretch knit dress also comes in pink, dark green, and black, giving you plenty of options to pick from.
9. One Shoulder Ruched Mini Dress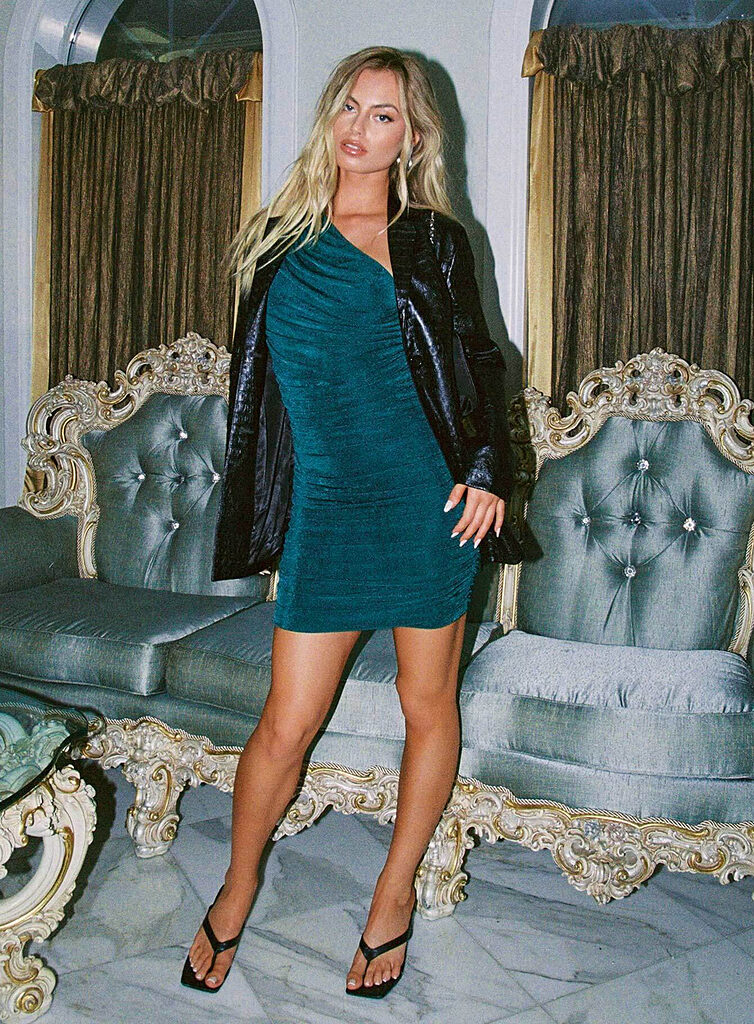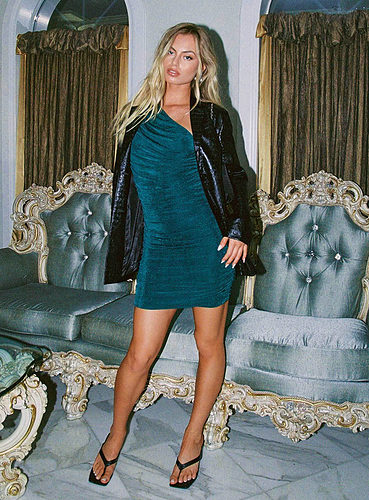 Wear this green ruched mini dress with a stylish one-shoulder design alone or with a faux leather blazer or jacket when it gets chillier out. Its stretchy, slinky material is going to hug your curves just right and makes for a perfect club choice.
If green isn't your thing, this dress is also available in pink, purple, orange, and blue.
10. Ruched Midi Dress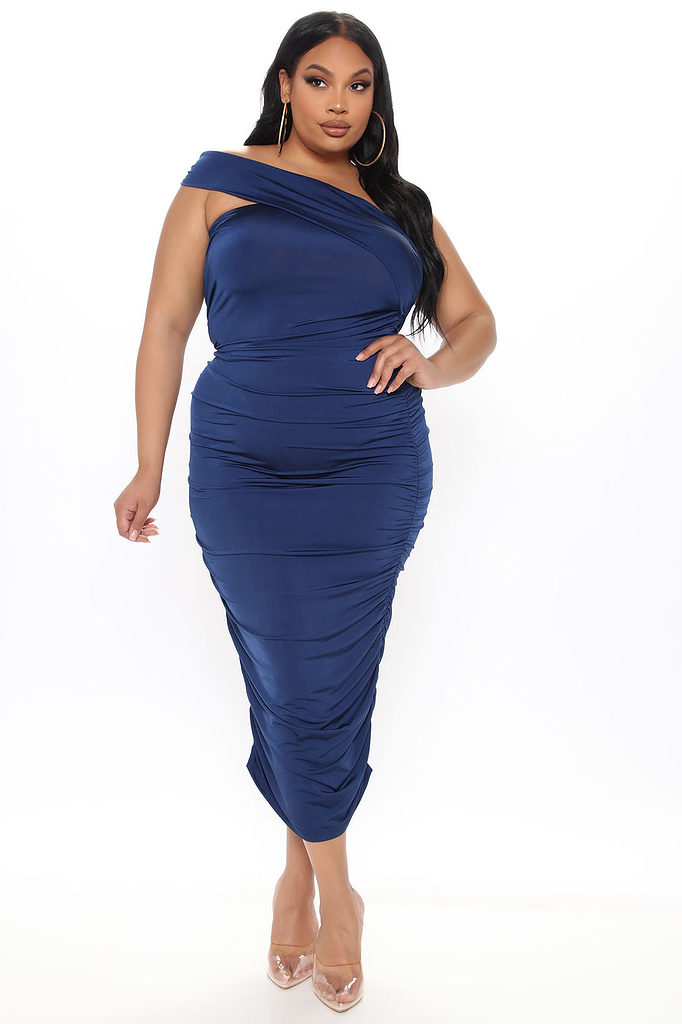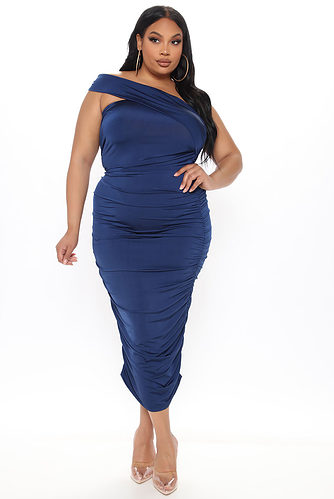 There's something about navy blue that looks so striking, especially in the form of this ruched one-shoulder midi dress (though it's also available in black and red).
It's available in sizes XS – 3X and has tons of positive reviews.
11. Two-Tone Mesh Ruched Mini Dress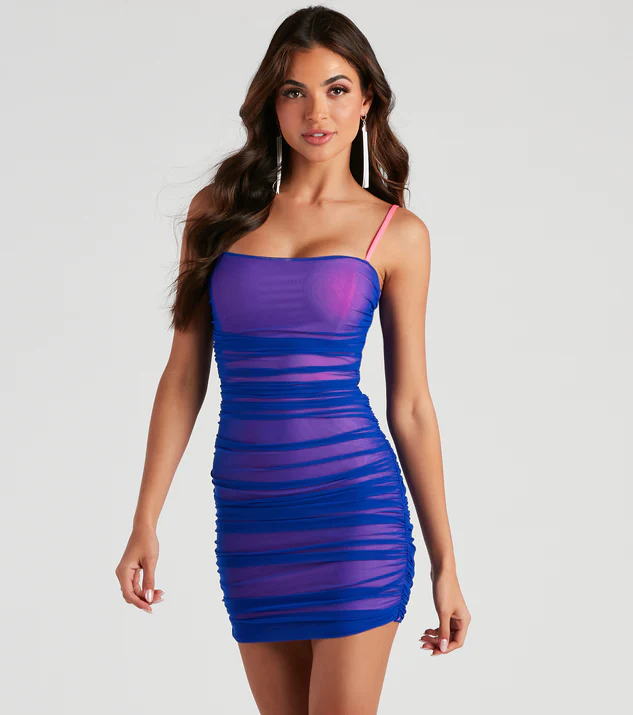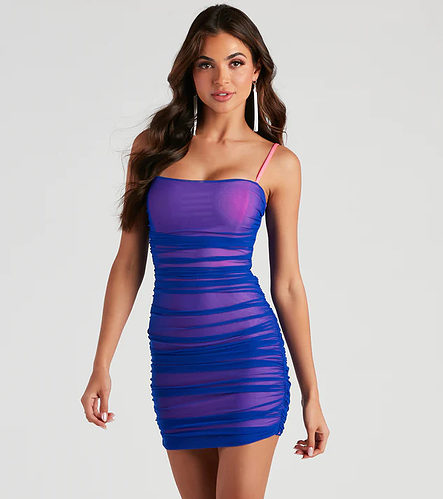 How cool is this two-tone mesh ruched mini dress? Its blue mesh overlay gives this pink dress a two-tone effect that is so unique and will totally stand out on the dance floor.
This dress would be especially perfect for a rave or house/techno concert, and you could definitely pair it with sneakers (think along the lines of Nike Air Force 1's) for that type of event.
12. Diamante-Trim Strapless Mini Dress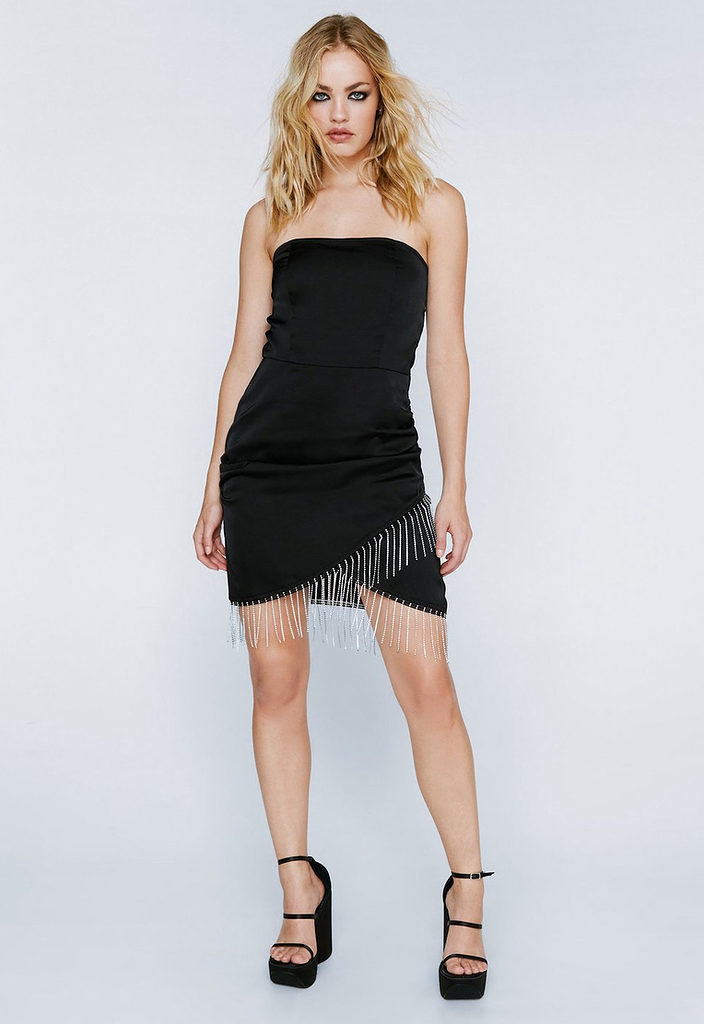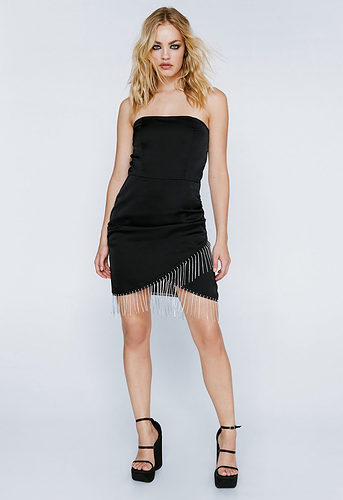 You'll want to dance all night in this adorable black diamante-trim strapless mini dress! It's made with sleek satin fabric and has a wrap-over hem with diamante fringe trim that will move along with you.
Also available in white, this strapless dress will look impeccable with heels; you can also style it with an oversized blazer.
13. Velvet Strapless Mini Dress with Gloves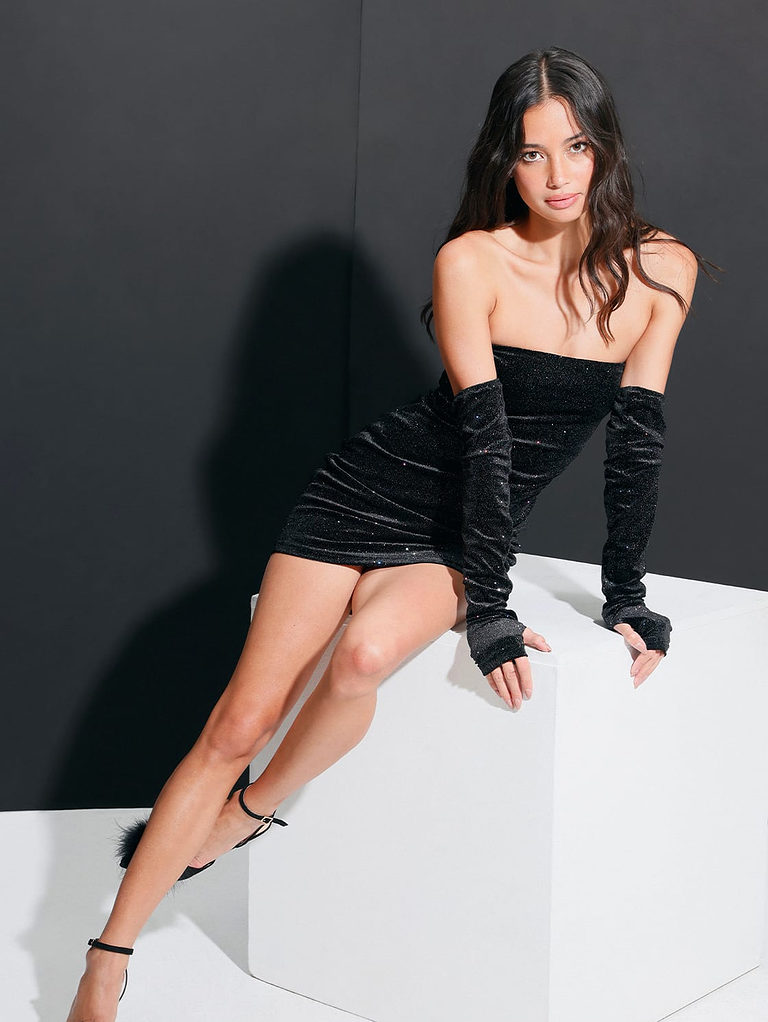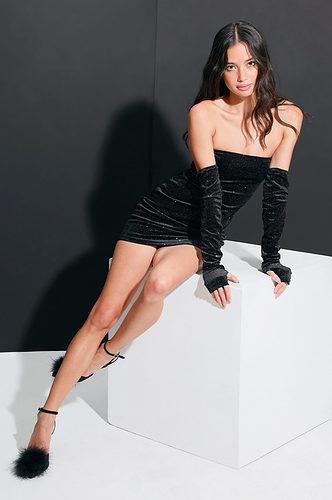 This one is for trendsetters and girls who aren't afraid to take fashion risks. In case you haven't noticed, elbow-length gloves have become a big trend, particularly when worn with dresses (some are even attached to the dress).
This LBD comes with coordinating long gloves for a standout look. Both the dress and gloves are made of stretchy velvet fabric with glittery accents throughout that will sparkle under the dance floor lights. And, of course, if the gloves aren't your vibe, you can always wear the tube dress (which, btw, has no-slip strips for a worry-free fit) on its own.
14. Open-Backed Bodycon Dress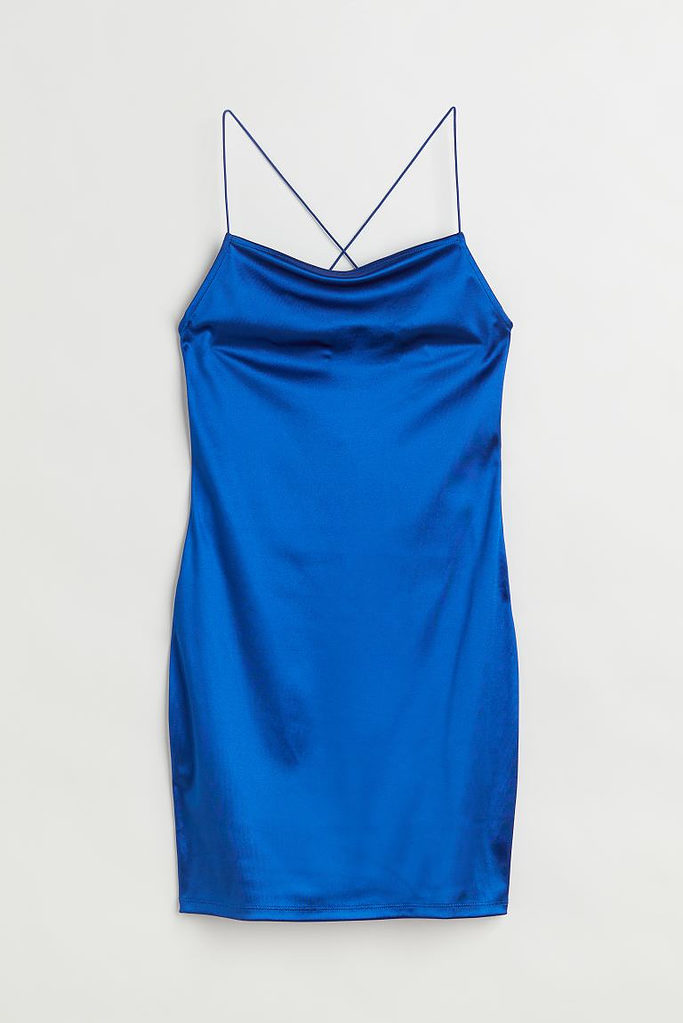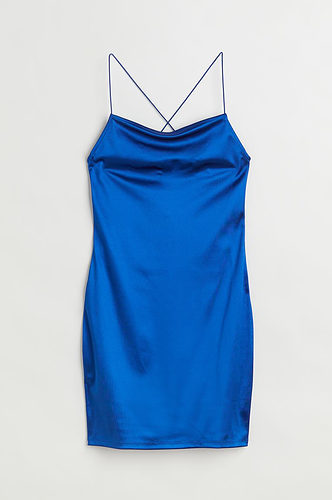 Stretchy, shiny, and with a sexy open-back, this fitted royal blue mini dress is a total steal, coming in under $15! It's such a great find that you may want to snap it up in black, too.
15. Metallic Sequin Mini Dress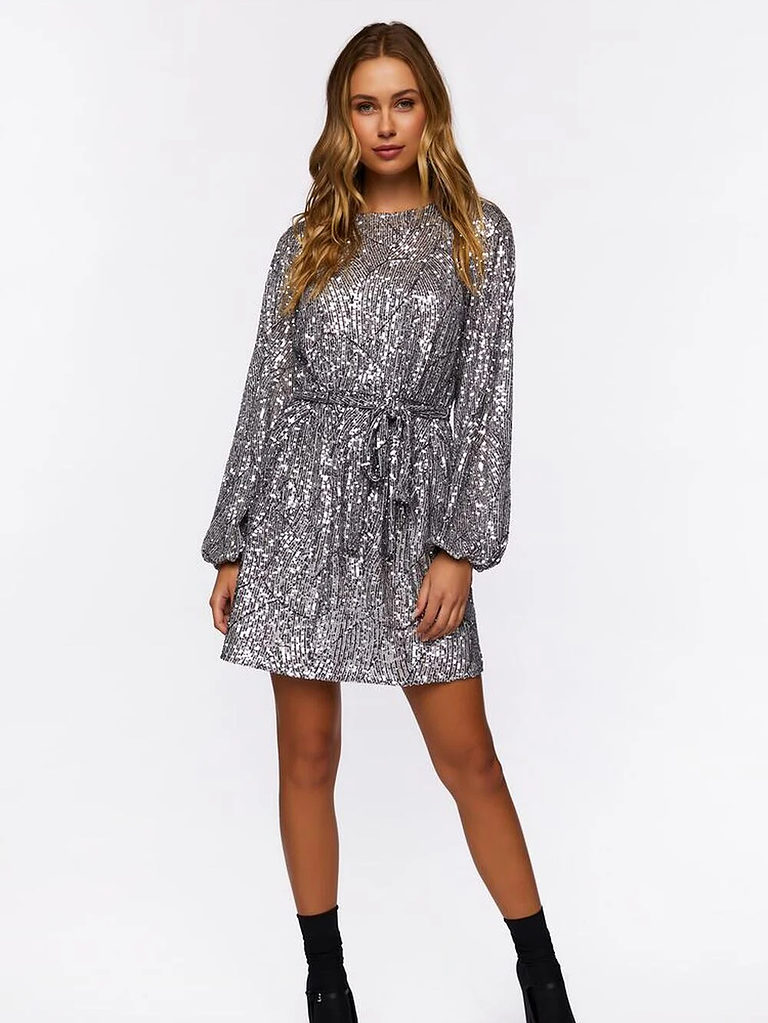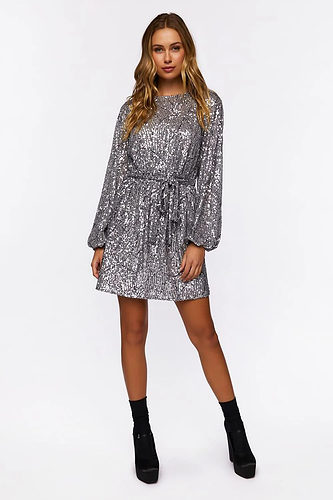 Alexa, play "Mirrorball" by Taylor Swift. Okay, so that might not necessarily be a club anthem, but you'll feel like a beautiful mirrorball in this shimmering silver sequin mini dress. It has long peasant sleeves and a self-tie waist sash to accentuate your silhouette. Time to hit the dance floor!
What do you think of our clubbing outfits guide?
Would you wear these outfits to go clubbing? Which look is your favorite? Leave a comment and let us know!
If you liked our list of the best clubbing outfits, you might want to check out our related posts below —