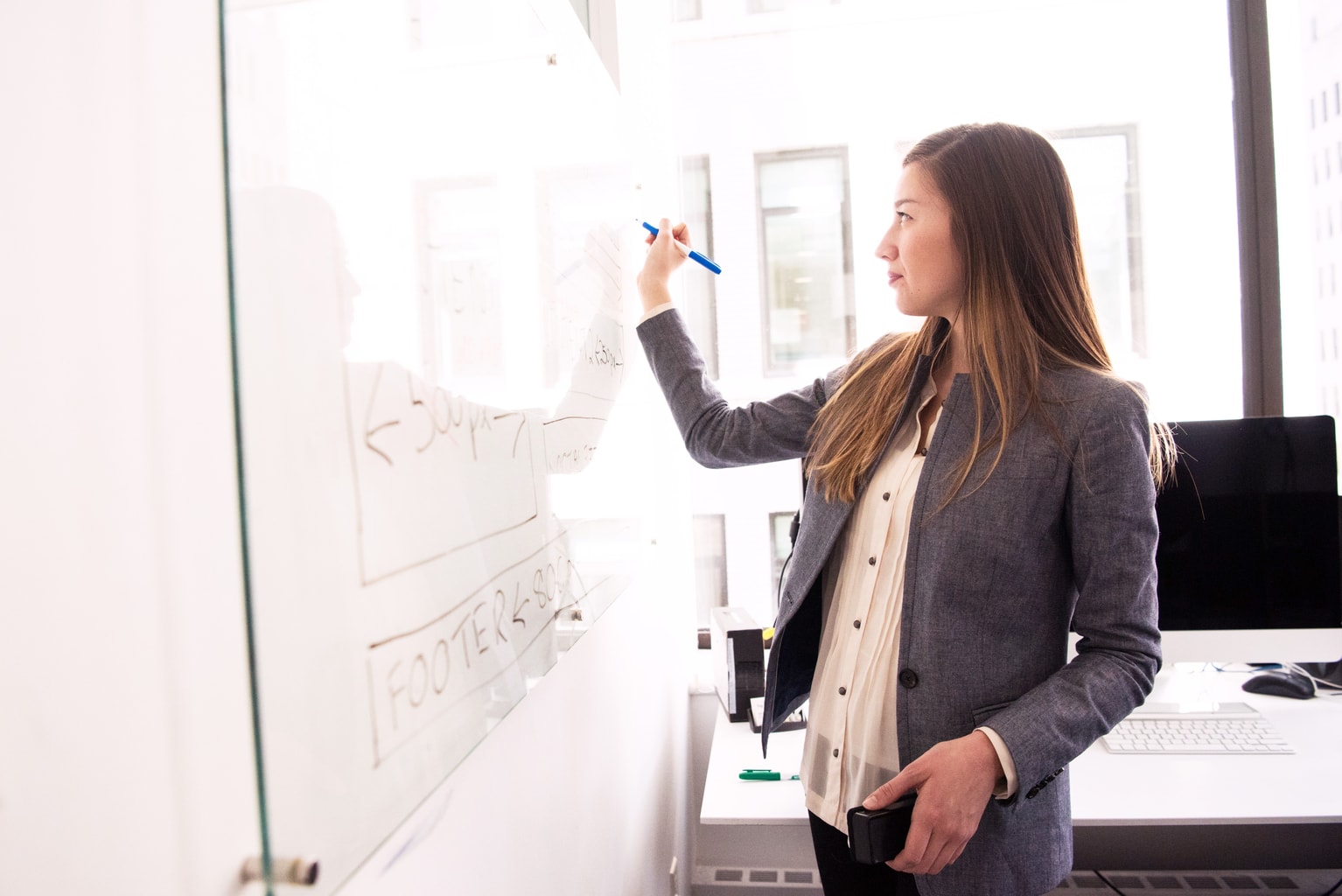 The intense struggle of final exams is nearly over, and the academic year is reaching its conclusion! (Unless you're on the quarter system, that is.) For some of you, graduation is just around the corner, and you'll soon be entering the workforce. Others might have already secured their dream summer internship. Whatever your path may be, remember to consider fashion! Depending on your industry and the specific workplace or internship, the dress code could range from business casual to super-corporate and formal.
These days, it seems that most workplaces, especially for college students or recent graduates, are "business casual." This is an admittedly vague term that can leave too much room for interpretation. For more info, check out this CF article that breaks down the different dress codes you might encounter.
The most foolproof way to make sure you're dressed appropriately is to ask ahead of time and to look at what coworkers or other interns are wearing. Although looking extra-stylish is always fun, you should consider dressing comfortably as well. I'll outline why below:
Why It's Important to Dress for Comfort
I just got a clinical research job at a hospital that requires me to split my time between interviewing patients and inputting data at a computer. When I asked my supervisor about the dress code, she said, "Closed-toed shoes. No jeans." After my first training day, it became clear that business casual would be the way to go. And since I spent most of the day standing while I spoke to patients, boy, was I glad that I wore flats!
If your job requires a lot of movement or standing, what you wear will make a big difference in how well you perform. It's hard to focus on doing your work if all you can think about is how much your toes hurt or how itchy your skirt's waistband is.
Even if you have a desk job where you'll mostly sit, it's worth it to factor comfort into your wardrobe choices. You'd be surprised how often you get up and sit down to run errands, go to the bathroom, deliver a message, etc., and it can wind up being pretty hard on your feet. And when you're not on the go, sitting can also wreak havoc on even the most polished of outfits, resulting in wrinkly shirts and creased skirts.
Scroll down to see four outfit ideas that will keep you comfortable and chic from 9 to 5:
Business Casual Outfits
1. Pretty in Pink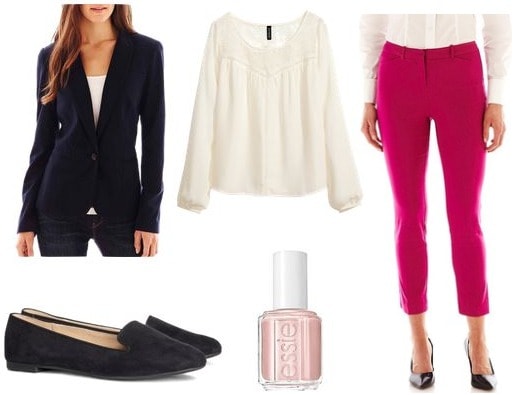 Product Information:
This outfit is on the more formal side of the business casual spectrum, but a pair of slim-fit trousers in an eye-catching hue keep the look fun and fresh. Personally, I think a tucked-in shirt is one of the most uncomfortable and squirm-inducing articles of clothing ever (the winner: turtlenecks!) so I like to wear a flowy blouse that will look polished whether it's tucked in or not. Plus, it won't wrinkle!
The ankle cut of these trousers draws attention to your feet, so make sure you're wearing nice shoes! I like a pair of sleek loafers: the higher vamp means a higher comfort level. Finally, a coat of sheer pink polish is pretty and appropriate for any workplace (unless, of course, you're not supposed to wear any at all!).
2. Spring Classics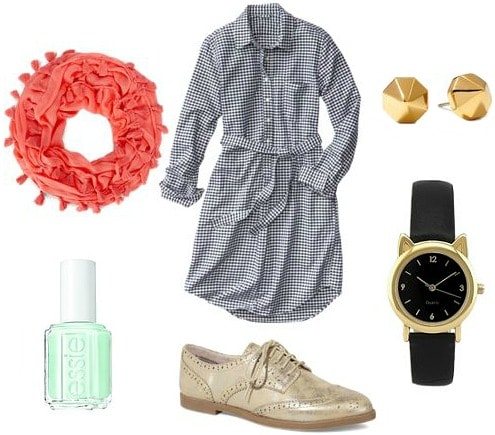 Product Information:
For a fun springtime outfit that leans more towards "casual" than "business," try out a cute shirtdress in an always-classic gingham pattern. I like shirtdresses because they're almost always an appropriate length (a couple inches above the knee to just below); plus, the button-down feature makes them seem a little more dressed up than they already are.
Like loafers, oxfords are a great choice if you're going to be on your feet a lot, since the extra coverage provides extra support. Add a few pops of color with a textured scarf and fun nail polish (check to make sure it's okay), then accessorize with classic pieces, like gold studs and a timeless watch with a feline twist.
3. Bold & Bright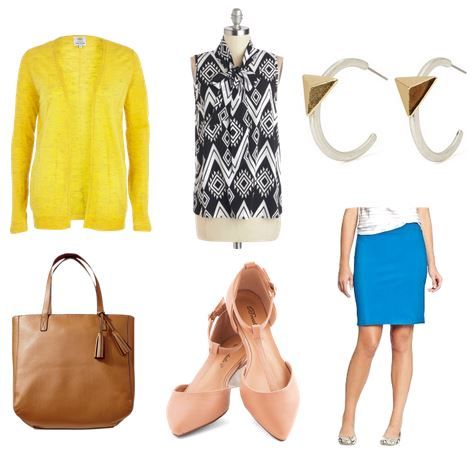 Product Information:
If you love bright colors, pencil skirts are another stylish option to try out. The trick to pulling off bright colors in the office is to maintain a classic silhouette, and this jersey skirt fits the bill. In addition, the stretchy fabric means that it won't pull uncomfortably while you're sitting or wrinkle the way a woven skirt might.
A lightweight cardigan in a complementary color and a boldly patterned blouse keep up the bright palette without clashing, while a pair of trendy ankle-strap flats and a classic tote complete the look.
 4. Business Casual Blues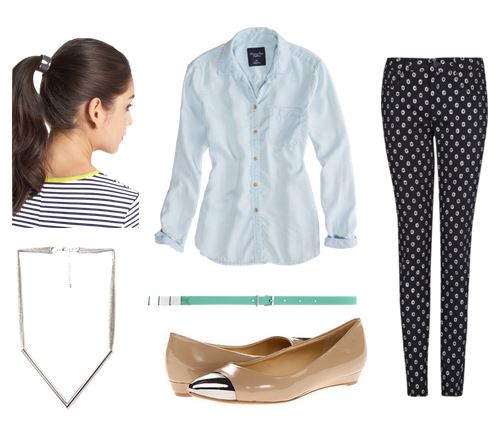 Product Information:
While denim is usually a no-no for office attire (although dark wash denim can sometimes fly under the radar), a chambray shirt is a great way to get your denim fix without breaking the dress code. In a classic cut, a well-fitting chambray shirt can pretty much pass for a light blue dress shirt. Pair with printed trousers and sleek accessories for a modern prepster look!
What do you think?
Would you wear these outfits? Does your workplace have a business casual dress code? What are your go-to outfits for a day at work? Let us know in the comments!
For those who enjoy business casual tips and ideas, exploring the articles below might pique your interest –