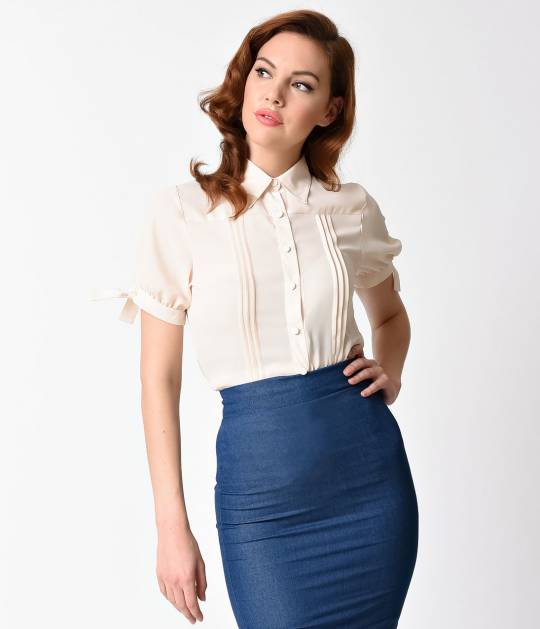 Welcome back to school, everybody! It might seem a bit early to start thinking about post-college careers (especially if you're a freshman), but it's never too early to start putting together a professional wardrobe. You never know when you might need it for an interview, internship, or even a class presentation.
One of the most common misconceptions about workwear is that you have to sacrifice your personal style in order to look professional.
If basic pantsuits and neutral blazers are your thing, that is fine! But don't feel like you have to conform to the monochromatic normcore trend just because it's what's "normal".
In fact, setting yourself apart from the rest is actually a good way to get noticed, especially at places like job fairs, where everyone starts blending together and you only have a minute to make a good impression.
Since my personal aesthetic is vintage-inspired, I wanted to show you how I like to style my workwear. These looks would be a great way to stand out from the drab with a vintage-inspired flair!
Vintage-Inspired Workwear Outfit 1: Monochrome with a Twist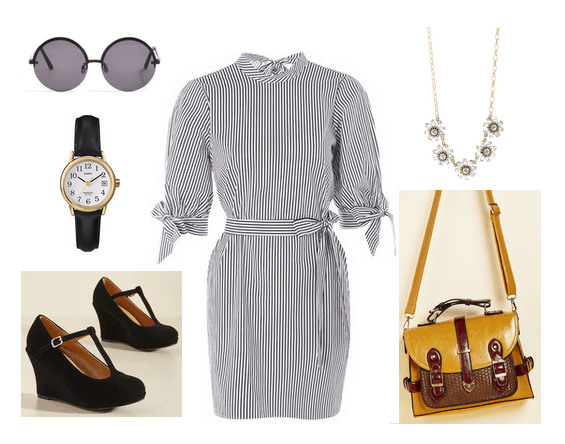 Products: Sunglasses – Topshop, Watch – Target, Shoes – ModCloth, Dress – Topshop, Necklace – Unique Vintage, Purse – ModCloth
Shirtdresses will always be my favorite business-casual pieces, and this striped number with a cinched waist and bowed sleeves just jumped to the top of my want list.
Slip on some t-strap wedges (being a couple inches taller somehow always makes me feel more confident, but the wedge heel will make sure your feet stay comfy too), and don't forget an all-important black watch and some bold circular sunnies.
Finally, accessorize with a floral statement necklace and a mustard-and-brown crossbody that will definitely add a nice pop of color to your look.
Vintage-Inspired Workwear Outfit 2: Playing with Patterns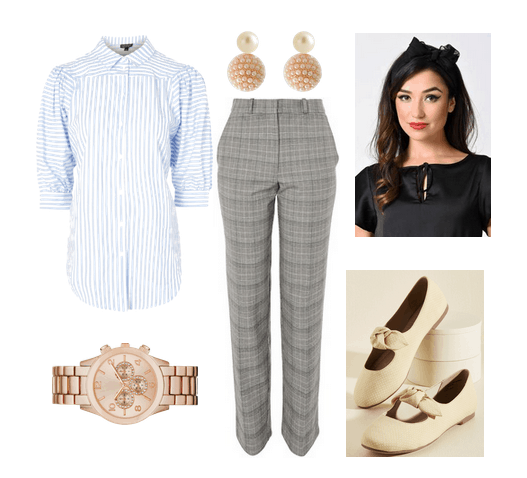 Products: Shirt – Topshop, Watch – Target, Earrings – Target, Pants – Topshop, Head Scarf – Unique Vintage, Shoes – ModCloth
One of my other favorite workwear staples is a good pair of slim-fit trousers, and I adore the pattern that makes an otherwise simple grey pair stand out!
Pair your pants with a crisp blouse (I love how the stripes on this pale blue one let you mix prints without clashing), then complete the look with some pastel yellow flats. Accessorize with a rose gold watch, black hair scarf, and stunning pearl earrings for a final bit of visual interest!
This look is excellent for a job that requires a lot of standing or movement, but still has enough aesthetically-pleasing components for you to stand out from your co-workers.
Vintage-Inspired Workwear Outfit 3: Pink as a Neutral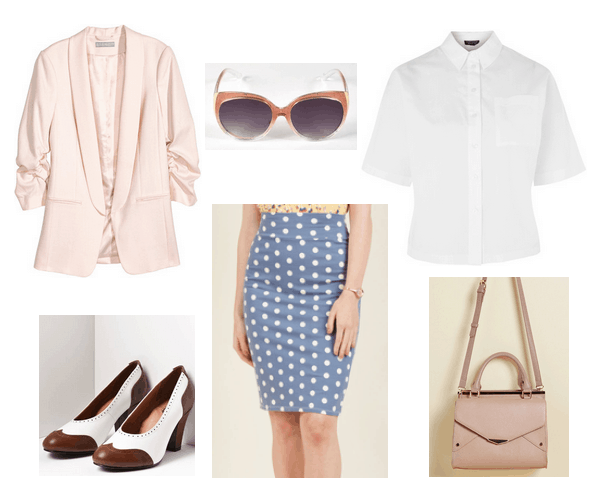 Products: Blazer – H&M, Shoes – Unique Vintage, Sunglasses – Unique Vintage, Skirt – ModCloth, Shirt – TopShop, Purse – ModCloth
This final look incorporates several classic office staples with a twist: replace a boring black pencil skirt with a blue polka-dotted one, upgrade your monochromatic blazer to a powder pink option, and layer both with a classic white blouse and some vintage-inspired heels.
Play around with some more subtle pinks (subtle pinks are my favorite "neutrals") with a blush-colored bag and some sleek sunglasses!
What do you think?
Would you wear any of these looks to the office? Which one is your favorite? Let me know in the comments!