Have you ever felt sure that you belong in another era (at least, in terms of fashion)? Have you ever seen someone rocking a massive circle skirt with pin curls and thought "ugh, teach me your ways"? Well good news, friends: I'm here to teach you the basics of dressing in my favorite manner: that is, how to dress dapper.
The timing of this article is no coincidence: if you live near Disneyland or Walt Disney World, you might be aware that the next two weekends are going to play host to my favorite holiday of the year, Dapper Day!
Dapper Day began as a chance for Disney fans to dress in the styles people would have worn when Disneyland first opened. Since then, it has grown to include dressing in your dapper vintage best from any decade, or even taking it one step further and "Dapper Disneybounding" as your favorite character. (See our article on Disneybounding for more info on that.)
Whether you're attending Dapper Day or would just like to get some beginner's info on how to give your wardrobe a touch of retro glam, read on!
The Basics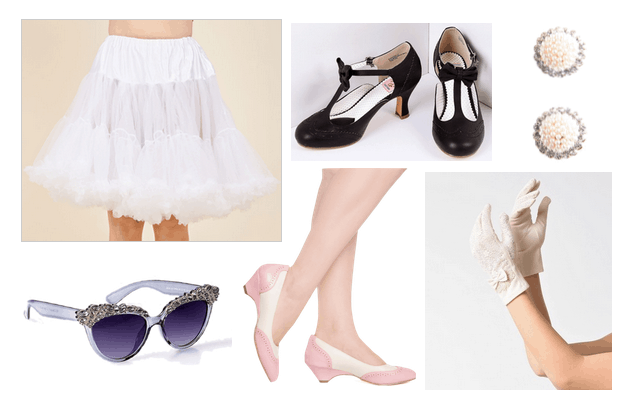 Products: Petticoat – ModCloth, Sunglasses – Unique Vintage, Black Heels – Unique Vintage, Pink Shoes – Pinup Girl Clothing, Earrings – Unique Vintage, Gloves – Unique Vintage
If you want to look like a vintage princess, here are the easiest accessories that will give your outfit a boost.
Petticoats are lovely and elegant and give your skirt or dress a beautiful, full silhouette. (They're also super fun to twirl around in.) Heels are a good idea, but for a vintage feel, opt for retro Mary Jane heels or pastel kitten heels instead of sky-high stilettos or wedges.
Pearl accessories and sleek cat-eye sunglasses add elements of vintage glam, and gloves are my favorite finishing touch. There are even some gloves that come with pads on the fingers so you can still use your phone.
The Center of Attention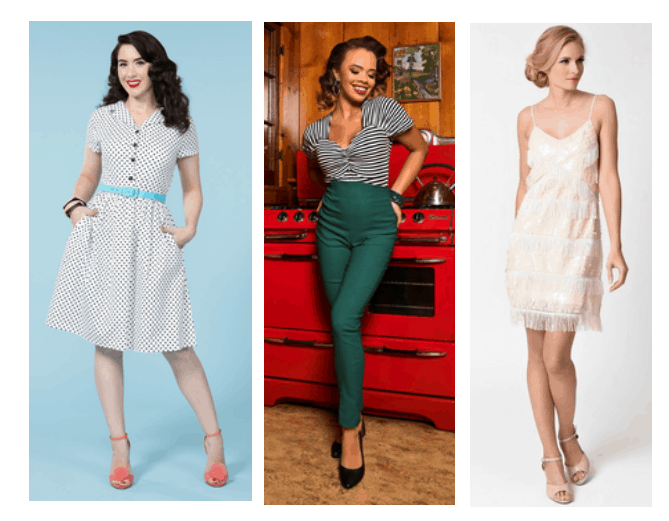 Products (L-R): Dress – Pinup Girl Clothing, Shirt – Pinup Girl Clothing, Pants – Pinup Girl Clothing, Dress – Unique Vintage
Okay, time for the fun part: the dress. Or, you know, the skirt and top. Or pants and top. You get it.
My FAVORITE dress style is quintessential 1950s (a la the first look above): Think full skirts, pretty patterns, cute collars, buttons, pockets…ugh. So gorgeous. However, if you're more of a pants-wearer, you can be vintage-y with some high-waisted hot pants, pumps, and a shirt with a retro neckline.
You don't have to go '50s, though: 1920s flapper dresses are totally dapper, while pieces inspired by the '40s and '60s can work, too.
The best stores for vintage-inspired dresses and clothes are Pinup Girl Clothing, Unique Vintage, and ModCloth, but the best place to get true vintage pieces (apart from your local vintage or thrift shop) is Etsy. Be sure to do lot's of browsing to figure out which pieces appeal to you most.
Some of my favorite, reasonably affordable Etsy boutiques are SimplyVintageCo, Dethrose Vintage, and The Vintage Mistress. I highly recommend all three.
The Finishing Touch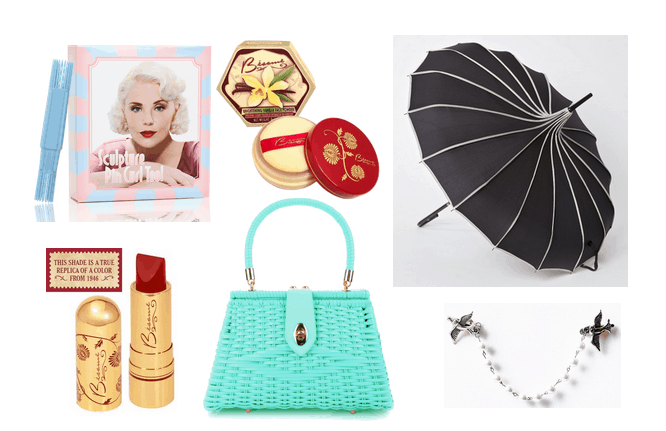 Products: Pin Curl Set – Vintage Hairstyling, Lipstick – Besame Cosmetics, Brightening Powder – Besame Cosmetics, Purse – Pinup Girl Clothing, Umbrella – Unique Vintage, Sweater Pull – Unique Vintage
Here are the final things you'll need to pull your look together. You'll look "vintage-inspired" with the earlier pieces, but these add that perfect retro touch to bring your outfit from subtle to glam.
Don't just use any old purse – try a wicker purse with a handle in a pretty pastel shade, and/or tote a parasol umbrella. (I love umbrellas as an accessory in general – they're great in Florida, where it's either a million degrees or raining at all times.)
Sweater pulls are my all-time favorite vintage accessories and look especially adorable when you throw your sweater over your shoulders with your arms peeking out like a cape. Just clip one end of the sweater collar to the other and voila! Don't worry about looking like a librarian; I promise it's cute.
For vintage-inspired makeup, Besame Cosmetics is your place to go. This brand replicates exact shades used in Hollywood in the 1920s-1950s. They've even brought back "golden age of cinema" trends such as cake mascara and vintage-styled finishing powder brushes. I recommend starting with one of their stunning lipstick shades and going from there!
Finally, try some pin curls (or other retro hairstyles) with products from the wonderful people over at Vintage Hairstyling.
What do you think?
Isn't retro fashion gorgeous? Which accessory is your favorite? If you have any more questions let me know in the comments!