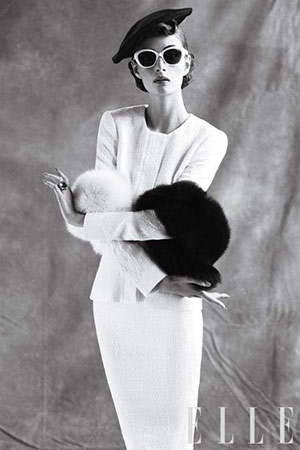 Source: Elle
Welcome to another Fashion Philosophy post, where we explore the many factors that impact a person's fashion choices, from cultural influences to life circumstances and even personality types. We also show you how to apply those attitudes to your modern wardrobe and lifestyle.
This week, we'll be deviating a bit from our usual format and exploring the fashion philosophy of a decade instead of a famous person. By popular request, we'll be exploring the fundamental aspects of fashion in the decade that launched I Love Lucy, Elvis Presley, and Nina Simone – that's right, the 1950s.
A Little Bit of Context
Life was hard during the Second World War. Many men were serving the military and the women at home were responsible for taking up the men's abandoned jobs. There were also many shortages due to the financial strain of countries' war efforts and the lack of raw materials for production. In reflection of this, women's fashion during the early '40s was very practical and very masculine.
After the war ended in 1945, there was a huge cultural shift. Men went back to their jobs and women were once again expected to be housewives. Furthermore, many people had died during the war, and the western world was in need of a Baby Boom.
These influences, combined with women's desire to be ladies again (as opposed to the pseudo-men they had to be during the war), inspired fashion in the 1950s. Women abandoned their simple coats and working overalls in favour of feminine dresses, luxurious coats and chic accessories. The 1950s was all about luxury and embracing traditional notions of femininity.
The fifties were a feminist dark age, but hey, at least everyone looked fabulous. Luckily, sixty years later, we women have a way more control over our own lives. (Though, of course, we still have a long way to go!) Thanks to the successes of the feminist movement, nobody can force us to leave our jobs and the rules of fashion are not as strict. Nevertheless, the fashions of the 1950s were endlessly chic and classy. We modern ladies can take a few fashion tips from our grandmothers while still owning our independence.
Elements of Style in the 1950s
Stereotypically Feminine Silhouette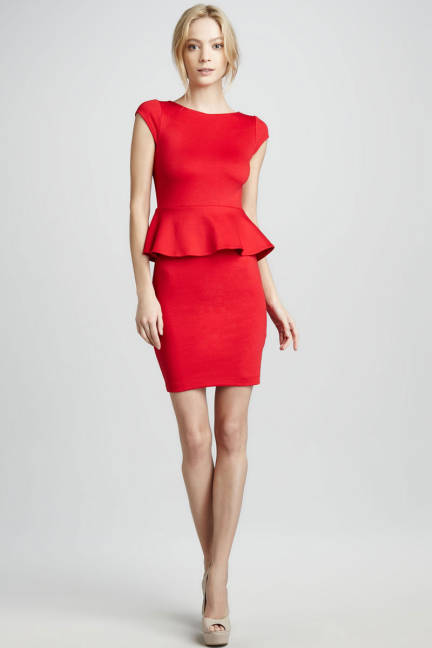 Source: Elle
After wearing very masculine clothing during the Second World War, women opted for exaggerated, stereotypical displays of femininity in the 1950s. The starlets of the time were known for their hourglass figures (think Marilyn Monroe) and many women regularly wore girdles to nip in their waists and bellies.
To look like a fifties chick, really play up your natural curves. Use peplum, ruffles, or shoulder pads if you feel like you need a bit of a boost, but just have fun with creating a girly silhouette.
Immaculate Makeup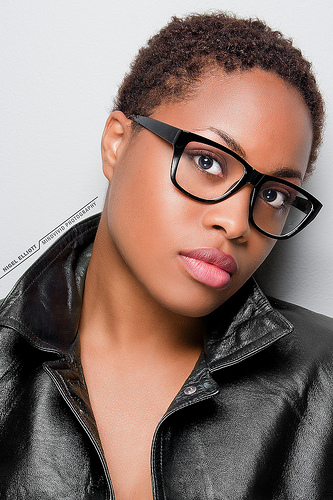 Makeup was an absolute necessity for the fifties lady and this was the decade where fun products started taking over the market. You could buy a powder compact shaped like just about anything, from pool balls to pianos, and lipstick came in all sorts of fun new colors. Women also began to embrace full, dark brows (think Audrey Hepburn).
As fun as it was, however, there were very strict rules surrounding makeup. Magazines in the fifties would be full of instructions on what sort of makeup should be worn for every possible occasion and a true lady was expected to always have her makeup on. Though the messaging is less overt now, there are still many women who feel as though they're expected to wear makeup, so it's clear that the marketing messages of the '50s are still having an effect.
If you're like me, you thoroughly enjoy applying your makeup in the morning – if that's you, too, cool. But always remember that it's a luxury, not an obligation. At the end of the day, you should only wear makeup if YOU want to. Your face – and what you put on it – is your choice, and yours alone!
Instead of obsessing over your makeup like our grandmothers did, channel their look in a healthy way by focusing instead on looking fresh and put-together. Keep your nails tidy and make sure to get your hair trimmed every few months. Get enough sleep, exercise regularly, and drink plenty of water to keep yourself looking (and feeling) healthy. If you want to wear makeup, make sure to fill in your brows and keep your makeup clean-looking for the '50s look. No smokey eyes!
Formality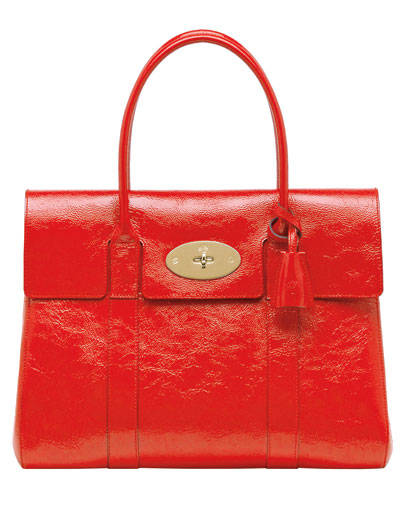 Source: Elle
Fashion in the 1950s was all about structure and rules. Women wore shoes that matched their handbags and earrings that matched their necklaces. My grandmother once had two dates on the same day and had to rush home after the first one because, of all things, she couldn't wear the same gloves on two dates and needed to put on a new pair.
Their clothing was also literally structured – you didn't see many maxi dresses or slouchy cardigans back then!
Though I love my slouchy items, too, I'm also a firm believer in collecting structured pieces. If we can learn anything from our grandmothers, it's that a good coat and a structured purse can totally pull together an outfit.
Channel the fthormality of the 1950s by incorporating structured pieces into your outfits as well as wearing complementing (if not matching) accessories.
Putting It All Together
Fifties Formal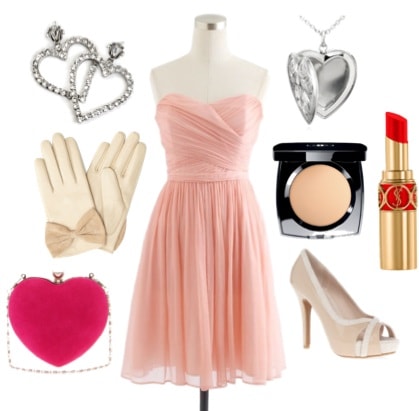 Earrings – Sweet Romance, Gloves – Accessorize, Clutch – boohoo.com, Dress – J.Crew, Necklace – Blue Nile, Powder – Nordstrom, Lipstick – Nordstrom, Shoes – Dorothy Perkins
This is a formal outfit closely inspired by fifties fashion. (If you're in high school, this would make a really cute prom outfit.) Wear a fabulously girly pink dress with a sweetheart neckline and structured bodice – I love that this dress shows off the wearer's arms, waist and décolleté. Add gloves and pumps in creamy colors to complement the dress. The heart-shaped earrings, locket and purse are in honour of a fifties lady's love of matching accessories. To complete the look, wear plenty of face powder and Marilyn-approved red lipstick.
Contemporary and Classy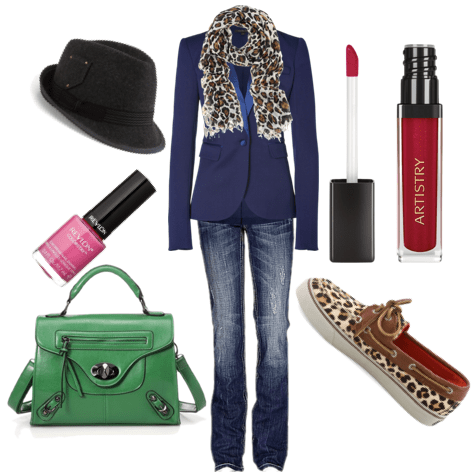 Hat – Layla Grace, Nail Polish – Target, Bag – Chicnova, Scarf – Mytheresa, Blazer – stylebop.com, Jeans – Buckle, Lip Gloss – Amway, Shoes – Sperry Top-Sider
This outfit is much more appropriate for day-to-day life. I would totally wear this to school or even out on an assignment. (I'm a freelance journalist.) I chose a fitted blazer and stretchy, curve-hugging jeans that show off the wearer's shape in an understated way. The leopard-print scarf and loafers are a nod to the tradition of matching one's accessories. I chose the fedora and purse because they were both structured; I also love the feminine green of the bag. Finally, I think that a simple glossy lip and newly painted pink nails would go well with this look and make the wearer look girly, polished and fresh.
Thoughts?
What do you think of 1950s fashion? Any other people, decades, or time periods you'd like me to cover in the next Fashion Philosophy post? Leave a comment below!