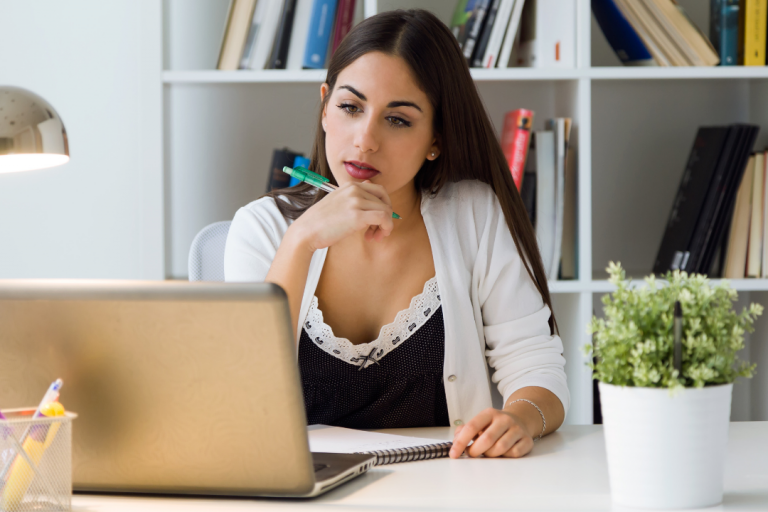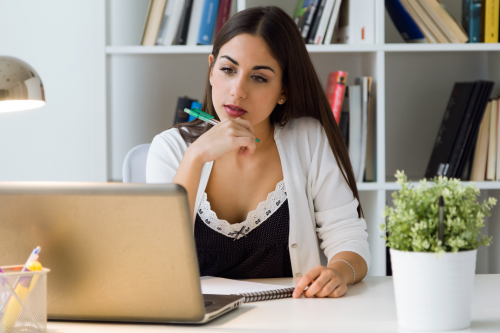 If you're like us, you probably have some gift cards lying around from Christmas gifts and returns. We know that those are easy to spend (you don't need help with that!), but with New Year's resolutions come thoughts about the future… so why not get started on your future wardrobe now?
No matter what stage of college you're in, it'snever a bad idea to plan for what's coming and begin prepping for your dream career. So why not allocate some of that Christmas money to high-quality pieces you know are essential to first-impression job interviews and a successful career?
Here are some of our favorite items that are worth getting now to kick-start your future job:
1. The Perfect Black Blazer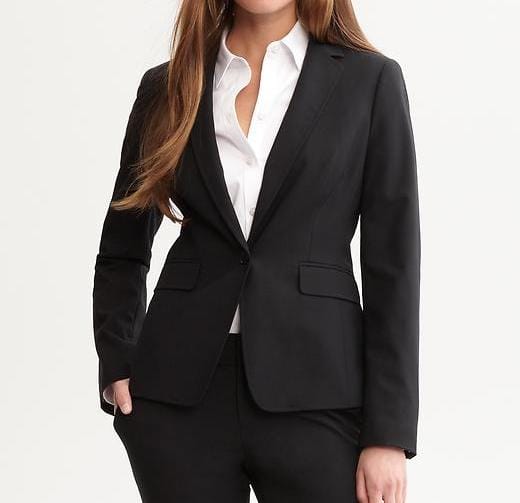 Product Information: Black Lightweight Wool Fitted Blazer –Banana Republic
Nothing says "professional" quite like a basic black blazer. And because blazers are so "in" right now, a sharp-looking jacket is easy to come by.
A classic black blazer is easy to pair with almost anything! Wear it with slacks, dresses, skirts, or even with nice denim. Try it over a tank in the summer or a light-weight sweater in the winter; dress it up with a silky blouse or dress it down with a cotton V-neck. Any way you wear it, the versatility of this piece can't be beat.
When picking out your blazer, keep these things in mind:
The perfect fit – This blazer is something you're going to wear over and over again; you want it to look sharp! If your blazer is too tight or too loose, not only will you not look your best, you'll also be uncomfortable. Make sure it fits in the shoulders – the shoulder seams should hit exactly at the tips of your shoulder bones. You also need a good fit at the waist – you should be able to button it without it pulling, but if you can fit your fist between you and the jacket, it's too loose.
Simplicity – Don't get us wrong; we love a fun detail. But this particular blazer should be something that will stand the test of time. Trust us, there will be plenty of opportunity to indulge in detailed blazers after you've started your career, but for now, we suggest sticking to something classic that will work in all office settings, from ultra-conservative to casual.
2. The Classic White Button-Up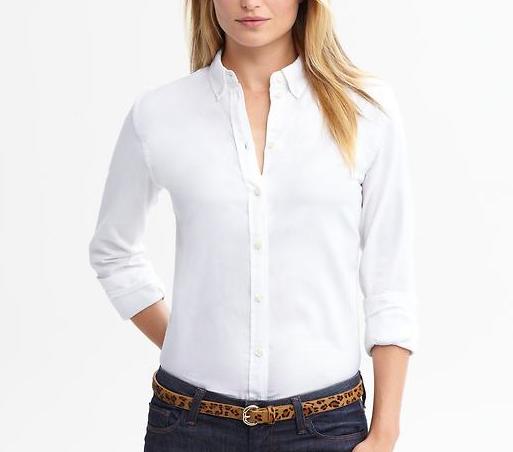 Product Information: Oxford Shirt – Banana Republic
A white collared shirt is another absolute career essential. You can wear it under cardigans, blazers (remember that black blazer we just talked about?), or by itself. And like the black blazer, it can be paired with a skirt, slacks, or even jeans for casual days. A nice white shirt looks crisp and fresh in any setting.
As you look for your own white shirt, think about the following:
Again, the perfect fit – You want this shirt to fit your body in a way that is comfortable and tailored. You don't want it to be so loose that it bunches under a sweater, or so tight that the buttons are about to pop! Look for a shirt that lays flat – as seen in the photo – for a professional finish.
The right white – It's important to realize that bright white doesn't complement every skin tone – and that's OK! There are different shades of white, so be careful to find the best one for you. Some whites are warmer or cooler than others; it's a matter of finding the shade that looks best on you.
Invest in quality – When choosing your perfect shirt, pay attention to the fabric quality. Is it something that will wrinkle easily? Will it absorb stains or will it fight them? You want a shirt that will look good on you and that isn't too difficult to maintain!
3. Comfortable Black Pumps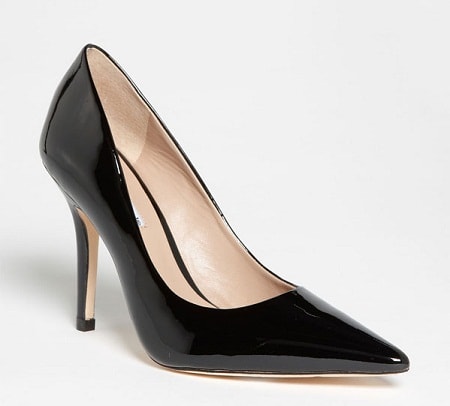 Product Information: Charles David 'Sway' Pump – Nordstrom.com
What wardrobe is complete without a solid pair of black pumps? You probably own this staple already, but if not, these are a must-have.
When shopping for a black pump, you have tons of options: round toe versus pointed toe, flat leather versus patent leather versus textured leather, stiletto heel versus block heel, etc. Feel free to invest in whatever you prefer (maybe think about splurging on a couple different pairs!), but always consider these things as you test them out:
Comfort – This is crucial. Your pumps need to be comfortable enough that you can wear them all day! You could be walking from meeting to meeting or walking through city streets for lunch. There's nothing worse than having sore, blistered feet at the end of a long work day. So when you're shopping, try shoes on and walk around in them for a while. Often more expensive shoes have better internal cushion and arch support. It's worth paying more for all-day comfort!
A style that flatters – Certain styles of pumps look better on some body types, so don't feel discouraged if some shoes look better on you than others! If you feel like your pumps don't flatter your legs, try a pair with a different heel height or maybe a different toe (keep in mind that pointed toes tend to visually elongate the leg!). Heels that flatter your legs are a great way to pump up your confidence (forgive the pun!).
4. A Sleek Pencil Skirt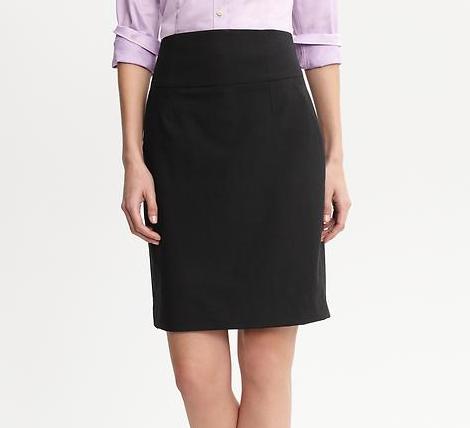 Black Lightweight Wool Pencil Skirt – Banana Republic
If possible, it's a great idea to get a pencil skirt that matches your blazer (go for the set, if you can!). The sleekness of a pencil skirt is certainly a subtle way to convey your professionalism. The clean, simple lines flatter your figure without drawing inappropriate attention, and unlike other skirt styles, you can rely on a pencil skirt to be both stylish and timeless in nearly any setting.
When shopping for your skirt, keep these things in mind:
Length – This is a no-brainer, ladies. It's a good idea to start at or below the knee cap, but slightly above the knee (say, an inch or so) is fine, too. We recommend starting conservative, but take your cues from the other women in your field. Mid-thigh, however, is always too short!
Fitted, but not tight – It's important that your skirt isn't too loose; you don't want to look sloppy! However, too tight is just as bad – you're going for "professional", NOT "sexy". When you're looking for a good fit, make sure you can move comfortably. If you see areas where the fabric is stretching, that's a warning sign that you need to size up. Also, see what it feels like to sit down, bend over, walk up stairs, etc., before you buy.
Texture and color – So basic black is an obvious "must-buy". But assuming it's appropriate for your office, your skirt is a great place to bring some pizzazz to your ensemble. Save up for a skirt in a fun color (emerald green, anyone?) or a stand-out texture. Don't go too wild, but have fun with it!
5. A Selection of Cardigans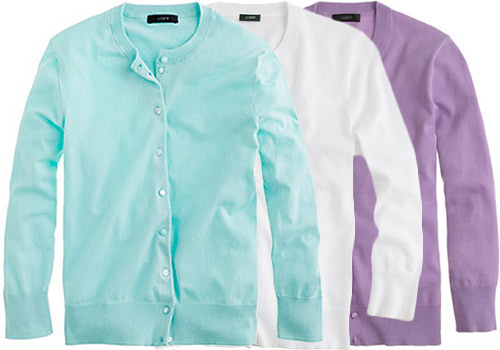 The "Jackie" Cardigan in Fresh Mint, Iced Lilac, and White – J.Crew
Cardigans, cardigans, cardigans! If you're like us, chances are you have accumulated several of these already. Cardigans give you unlimited versatility when it comes to layering and mix-and-match outfits – they're essential to any wardrobe! Keep your closets stocked with these guys throughout college and keep them for your transition into a career.
Here are some things to think about when shopping for career-caliber cardigans:
Fabric quality – Look for durable fabrics that won't stretch out or "pill" with wear! You want your cardigans to always look fresh, not shabby. As a general rule, the softer the fabric, the more likely it is to pill – so tightly woven acrylics, cottons or wools may be the best bet. (If you invest in supersoft cashmere, which we love, expect to take your sweater to the dry cleaners periodically!) When in doubt, it can never hurt to ask a salesperson about how a particular cardigan wears over time.
Quantity – Don't be afraid to get the same cardigan in more than one color! If you find a fit and style that works for you, don't hold back. Cardigans are basic enough and the variations between styles are small enough that most people won't notice if you have more than one of a kind, especially if you're mixing and matching!
6. Dressy Flats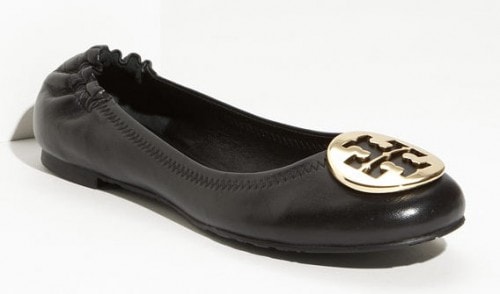 Tory Burch 'Reva' Flat – Nordstrom
You already have a great pair of comfortable black heels, but say your feet are sore from breaking in that new pair of Louboutins you wore yesterday. (Hey, we're talking future career here – dream big!) You have absolutely no desire to wear heels again. This is when it's just as crucial to have a good pair of high-quality flats as it is to have some comfortable pumps. But keep in mind they still need to be professional!
Some good qualities to look for:
Again, comfort – Just like your pumps need to be comfortable, so do your flats! Look for flats that fit your foot well and have great support, and don't be afraid to try on a million pairs before you find your perfect ones. (Also, always try on shoes at the end of the day, when your feet are at their largest/most swollen. This will ensure a comfortable fit at all times.)
Professional style – "Professional" is what we keep coming back to. It's a good idea of have a pair of modest black flats in your inventory, even if you only want to wear them between the bus stop and your office (where you put on your heels, of course). You never know who you'll see in the elevator! And if your flats are the shoes of the day, you want them to represent you just as well as your heels do. Experiment with colors, prints and textures so long as they remain professional!
What do you think?
Are there other pieces that you think are career essentials? What do you recommend? What have you already invested in or plan to invest in? If you already have a job, what do you wear most often? Please let us know with a comment! We want to hear from you!