We all have those days: You know, the ones where you are too tired to think after that all-nighter you just pulled, or those days where you're sick as a dog and can't even lift your head. You want nothing more than to hit the snooze button and curl back up into your warm, warm, blankets- only you can't, because you have to roll out of bed and face the day- tired. And what's the hardest thing in the world when you're tired and lazy? Deciding what to wear.
Cringing at the thought of getting dressed for a lazy day? Well have no fear, my sleepy friends! I have put together an article just for you. From lazy day outfit don'ts to lazy day outfit do's- it's all here, it's all cute, and it's all comfy. Interested? Read on my friends!
Just Say No – Lazy Day Items to Avoid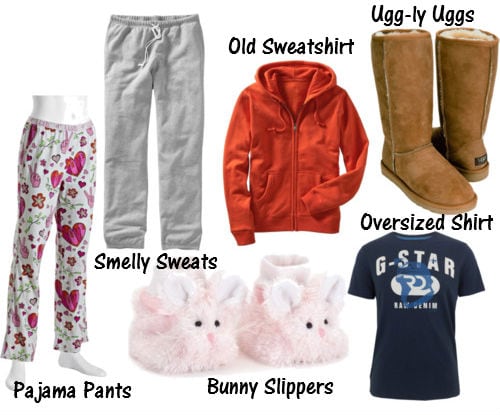 This is a public service announcement: You see that eyesore up there? That's essentially the scariest combination of items you could possibly wear out of your house.
Yes, most of those pieces are comfortable, but outfits made from the above are also 110% lacking in style. You may be tempted to, but please, for the love of style (and to preserve your own self respect), don't step out of the house in an outfit like the one above – you and I both know you can do better.
Below, I've created four looks that are JUST as easy to throw on as Uggs and a hoodie, except numerous times more stylish. Ready? Let's move on to the cute outfits! (Yay!)
4 Lazy Day Outfits
Lazy Day Outfit 1 – Simple & Chic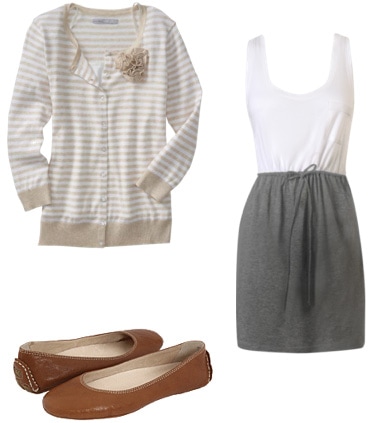 Nothing says quick and easy fashion like a dress: Pop one on and your outfit is as good as done.
For this look, I picked out a casual tank dress that is white on top and a lovely gray on the bottom. It adds two colors in one garment and is so easy to throw on it's almost too good to be true. And if you're cold, just put on a cardigan like the striped one above. All that's left is a pair of cute shoes. I chose some adorable and comfy brown leather ones that will make you light on your feet and help you out the door quick.
Lazy Day Outfit 2 – Basic Wardrobe Staples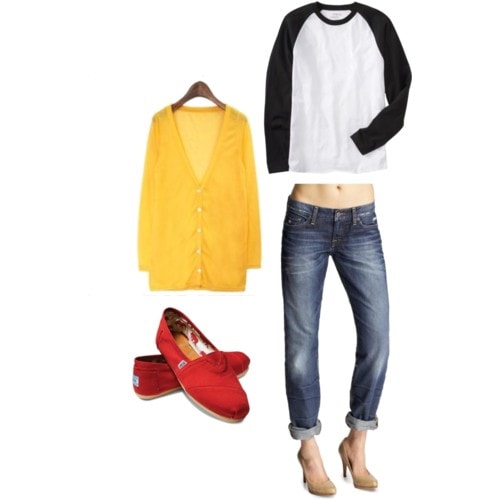 (Cardigan, Baseball Tee,Jeans, Toms)
When it comes to a lazy day outfit, it's important to make sure you have some good basic wardrobe staples to throw together last-minute. And what's more basic than the old standby, jeans and a tee-shirt? I picked out this great baseball tee and paired it with a pair of loose-fitting boyfriend jeans that can either be cuffed like in the picture, or rolled down for a more casual look.
Tee-shirts come in all shapes and sizes, but when it comes to lazy days, it's probably best to stick to basics. When shopping for lazy day tees, look for simple cuts in fun colors and styles and avoid too many graphics, as they make it harder for you to match them with other pieces- something you won't feel like doing when you're dead to the world. The same goes for jeans; make sure you have a couple pairs that are comfortable enough to lounge in- they'll be the first thing, no brainer, you'll want to pull on before you leave the house.
With your important bits all covered up, all you'll have left to do is slip on a pair of comfy shoes like the red TOMS I picked out and a colorful outerwear piece (like the cardigan I chose) for those nippy days outside.
Lazy Day Outfit 3 – Sweatpants Alternative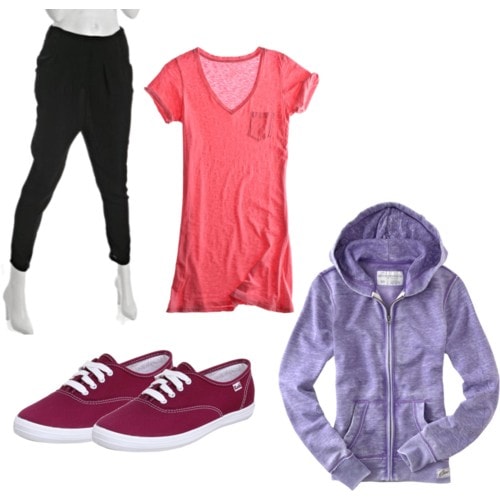 (Harem Pants, Vneck, Keds, Sweatshirt)
As every CF reader already knows, sweatpants outside are pretty much always a no-no (unless you're going to the gym). But there is a great alternative to sweatpants- slim legged harem pants or sweats. They're lightweight, soft, and comfy- while giving you a slim silhouette and still retaining plenty of style points.
For the outfit above, I picked some black harem sweats out and paired them with a great pink v-neck and some really cute colored Keds. (Love that shade of red!) And if you get cold along the way, you can also throw on this cool stonewashed purple sweatshirt- it's a great alternative to that lumpy grey sweatshirt your boyfriend let you borrow that one time. Like cardigans, sweatshirts, in an array of colors are wardrobe basics- they are a bit warmer than cardigans as well as a bit more relaxed- but when you choose the right color or cut, they can give off a fun and playful vibe.
Lazy Day Outfit 4 – Comfy & Cool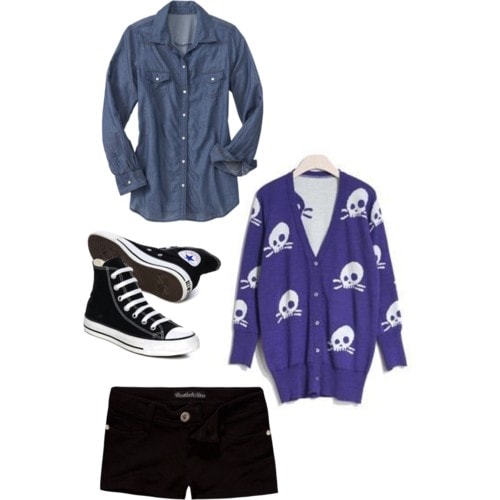 (Button Up, Converse Hi-Tops, Shorts, Cardigan)
I don't know about you, but when I feel like dressing lazy, I hate wearing tight-fitting tops. So a great way to work comfort into your lazy day wardrobe is by working the oversized trend and investing in an oversized button up.
Above, I chose a chambray shirt in blue-but you could also rock an oversized flannel shirt or any other type of button up. They're loose and soft and still look high-fashion without much work. I paired mine with a basic pair of black shorts, to keep it simple and not to deter from the rest of the outfit too much.
In case you get cold, I also picked out this really cool purple cardigan- I recommend investing in as many cardigans as possible because on lazy days, they're a great alternative to the sweatshirt and look a bit more polished and sophisticated. Be on the lookout for ones with interesting patterns, shapes, and colors- they'll make you stand out as well as jazz up your outfit.
Want more lazy day outfit ideas?
As super productive college girls, we never have lazy days so we can't help you. Just kidding – we have tons of posts on this subject. See:
Thoughts?
What do you think of the outfits I put together? Would you wear them? What are your lazy day wardrobe staples? Were my tips helpful? Whatever your thoughts, let me know in the comments!