This post may contain affiliate links, which means we may receive a commission if you purchase through our links. Please
read our full disclosure here
.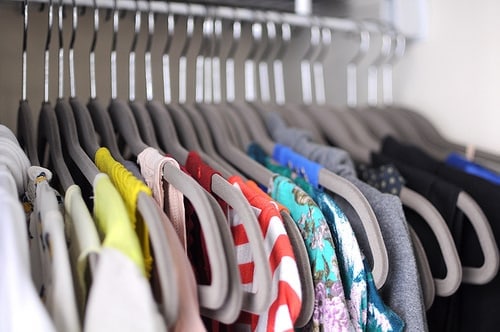 The tiny, standard-issue dorm closet is probably the biggest antagonist to the average CF reader's arsenal of clothing, and for good reason. Musty, creaking, and often awkwardly-shaped (for example, one third of mine is occupied by a gigantic water pipe), you usually need to get pretty creative with a small closet in order for all of your clothes to fit.
Unfortunately, the problem of the small closet will probably accompany you for a while, especially if you're pursuing grad school or a career in a city. So, in this article, we'll talk about three tips and tricks for organizing a small closet. The best part? All of these can be done in a free afternoon or even in a few spare hours. Let's get started!
1. Map it out.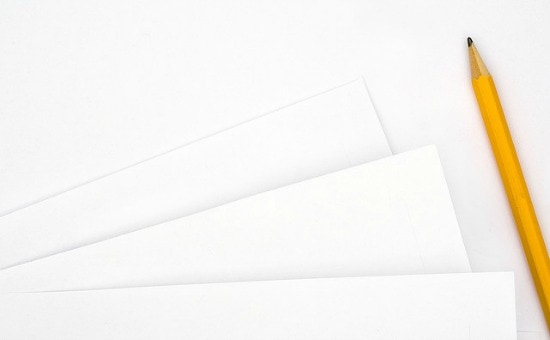 Start by sitting down and drawing a map of your empty closet. Do you have canvas shelves or baskets that you want to store things in? What about a small shoe rack, or clear plastic boxes? Itemizing your closet organizers and clothing will help you tremendously in the long run.
Here's what I would do:
Go through your closet and count how many pieces of clothing you have, and then categorize these pieces. How many thin sweaters do you have? Nice blouses? Jeans? Chunky knit cardigans? Find out.
Using the numbers, figure out where each category of clothing should go. I'd recommend putting thin sweaters in hanging canvas shelves, hanging up nice blouses on padded hangers, and using shower rings to store scarves and belts.
Don't be afraid to grab some scrap paper (or graph paper, if you're hardcore) and divvy up the available space. Hey, if you haven't got a lot of space to work with, you might as well make the most of every square inch!
Be honest with yourself: if you've only worn that top or skirt once or twice since you bought it five years ago, it doesn't belong where you can readily access it. Same goes for out-of-season pieces — if you can easily get to your winter gloves and hat in July, you're doing something wrong.
2. Get some folding help!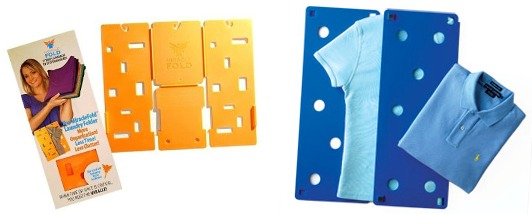 Product Information: Miracle Fold, FlipFold
Ever since my brief stint working in a certain infamous retail store, I've been unconsciously folding and re-folding my tops and jeans using a plastic board. Maybe it's because my job once hinged on my ability to perfectly fold hundreds of shirts at a time, but these days, I get intensely uncomfortable if my sweaters or t-shirts topple over after they're stacked.
Want a quick and easy way to fold your clothes flawlessly, every time? Consider investing in a product that folds your tops to a perfect 9″ x 12″ rectangle every time, like the FlipFold and the Miracle Fold. Guaranteed to fold your shirts in 5 seconds or less, these products have the added benefit of ensuring that your stacked laundry will never fall over in your closet again.
If you're even more interested in saving time, you could always learn how to fold a shirt in two seconds. (I may or may not have learned how one morning before work, out of sheer boredom.)
3. Remember your middle school locker?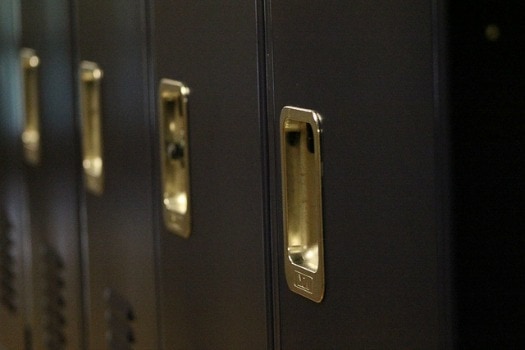 The most exciting thing about the 6th grade was the prospect of my very own locker. (Obviously, the most exciting thing about going to college was the prospect of decorating a room from scratch.) Yes, I am still a twelve-year-old at heart.
Of course, one of the best things about lockers is that they're made of metal, so magnets readily stick to them and make adding and removing things a cinch. Chances are, though, your dorm or apartment closet door is made of wood (or that classic cheap imitation wood grain – ugh).
There's so much valuable real estate on the back of your door, and even though I'm a strong advocate for over-the-door closet hangers and Command hooks, I'm often guilty of putting way too many coats and bags on the hooks, making the door look cluttered (and sometimes impossible to close). What to do instead? Turn your closet door into a magnetized "locker" door, and you'll have so much more freedom and useful space.
If you're allowed to paint your door, try magnetized paint to make the whole door useful.
Otherwise, you can buy cheap magnet sheets at your local craft store, and cut them to suit your needs.
Attach a small to medium-sized mirror to the back of the door using magnets, preferably at eye level.
Stick a magnet onto a lavender sachetand scent your whole closet.
Have a whole bunch of catalog and magazine clippings of outfit inspiration? Eliminate the risk of tape residue and use magnets to stick them to your closet door instead.
What do you think?
Were our tips helpful? What are your tips and tricks for closet organization? How have you overcome the hassle of having a small closet? Let us know with a comment!