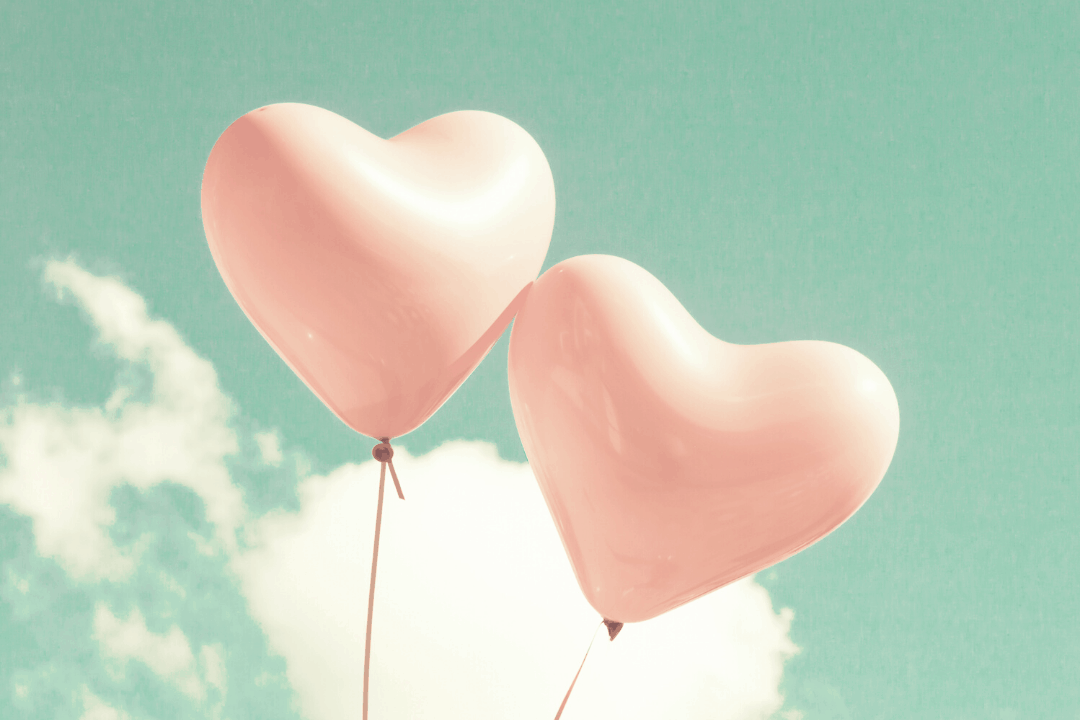 Those familiar with online fandom culture are aware of the concept of the OTP, or "one true pairing," a couple from a fandom, or sometimes IRL (Tayvin…you will be missed) that you ship like crazy. (For those totally unfamiliar with fandom lingo, "ship" means to root for a pair to be in a relationship.) And, yes, despite the seeming contradiction, many fans have more than one OTP.
In my previous CF posts I have made no secret of the fact that I am proud to be a fangirl, and that I believe fandom and fashion can overlap. Because you see, I don't just ship fictional characters. While I love my fandom OTPs (Remus and Tonks from Harry Potter and Norma and Romero from "Bates Motel," anyone?), I also ship my fave items in my closet. Some combinations are just so perfect, so tried-and-true, and so able to be reiterated in countless ways no matter your style.
So fashion fans, unite — here are three pairings that you probably already have in your closet that are totally MFEO.
1. Femme Blouse + Boyfriend Jeans
Product Info (L to R): Jeans — 1, 2, 3, Tops — 1, 2, 3.
I am literally wearing this combo as I write this. But then again, that's not surprising, because I rock this duo for about 80% of my life. Be it a floral top, cozy button-down, or a cute tie-neck blouse, the polish of a blouse creates the perfect balance with ripped, slouchy BF jeans. And the combo is so comfy.
This style OTP is also a closet MVP, appropriate for class, a coffee date, or pretty much any weekend plan. Rock it with a blazer, a pleather jacket, or a cute cardi. Add pumps, ankle booties, stylish sneaks, or ballet flats. This couple gets along with everyone.
While the exact styling approach depends on the blouse, most work best half-tucked into the jeans. Finish with a belt. Talk about a match made in heaven.
2. Floral Dress + Combat Boots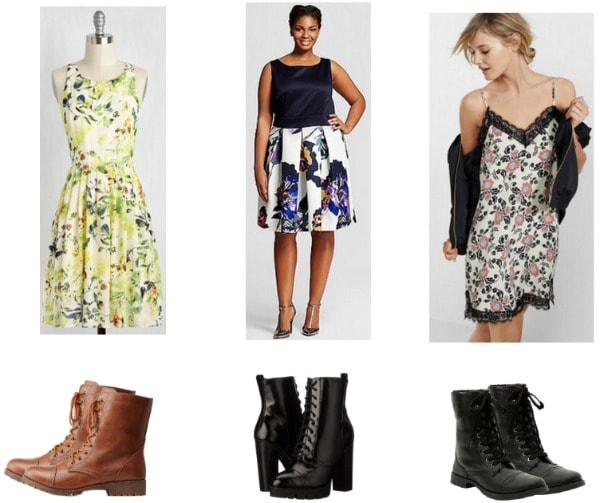 Product Info (L to R): Dresses — 1, 2, 3, Boots — 1, 2, 3.
Combat boots are in a love triangle with ballet flats, competing for the floral dress. It's kind of like "Jane the Virgin" if ballet flats were Michael and combat boots were Rafael — both are great, but the the flats usually win even though the boots probably should.
Don't get me wrong. I love how a sweet sandal or flat plays up the classic girliness of a floral dress. But the contrast between girly and edgy (sense a theme in this post?) when your pair your fave flowered frock with a comfy, rocker-chic boot is too cool for words.
Like the blouse/BF jeans pairing, this couple can go almost anywhere. The boots can be flat or with a heel, and come in pretty much any color. While I'm partial to a fit-and-flare dress, a slip dress like the one on the far right is totally badass with edgy footwear.
I ship this pair no matter the weather; it works great with tights or without. Top it off a cardigan or a pleather or denim jacket, then add your fave jewelry. Swoon.
3. Jumpsuit + Statement Shoes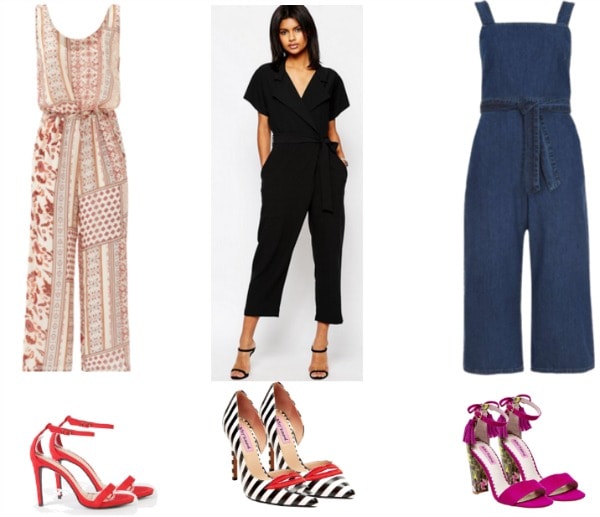 Product Info (L to R): Jumpsuits — 1, 2, 3, Shoes — 1, 2, 3.
A great pair of shoes (all the ones above are heels, but a bright pair of flat sandals would also rock) is a sleek jumpsuit's "sole"mate. Obviously, if the jumpsuit is super-busy, you can keep it simpler, but a pop of color is always fun (proof: the combo on the left).
We have a whole guide to how to wear statement shoes, so check that out for full details. But here are a few quick tips to get this pairing right.
Heel height and shoe shape depend on the length and style of the jumpsuit. Some can even work with cool ankle booties. But regardless, what makes this pair work is how the pieces play off each other's boldness. Rocking a jumpsuit is a bold fashion choice in itself, but adding look-at-me shoes seals the deal that you're fearless when it comes to fashion.
Sparkly jewelry and/or a bold lip will round out your look. But even if you style the rest of the look minimally, nights out with this couple are always fun.
What do you think?
What are your fashion OTPs? What combos do you find yourself rocking again and again? Are you as in love with these duos as I am? Let me know in the comments.