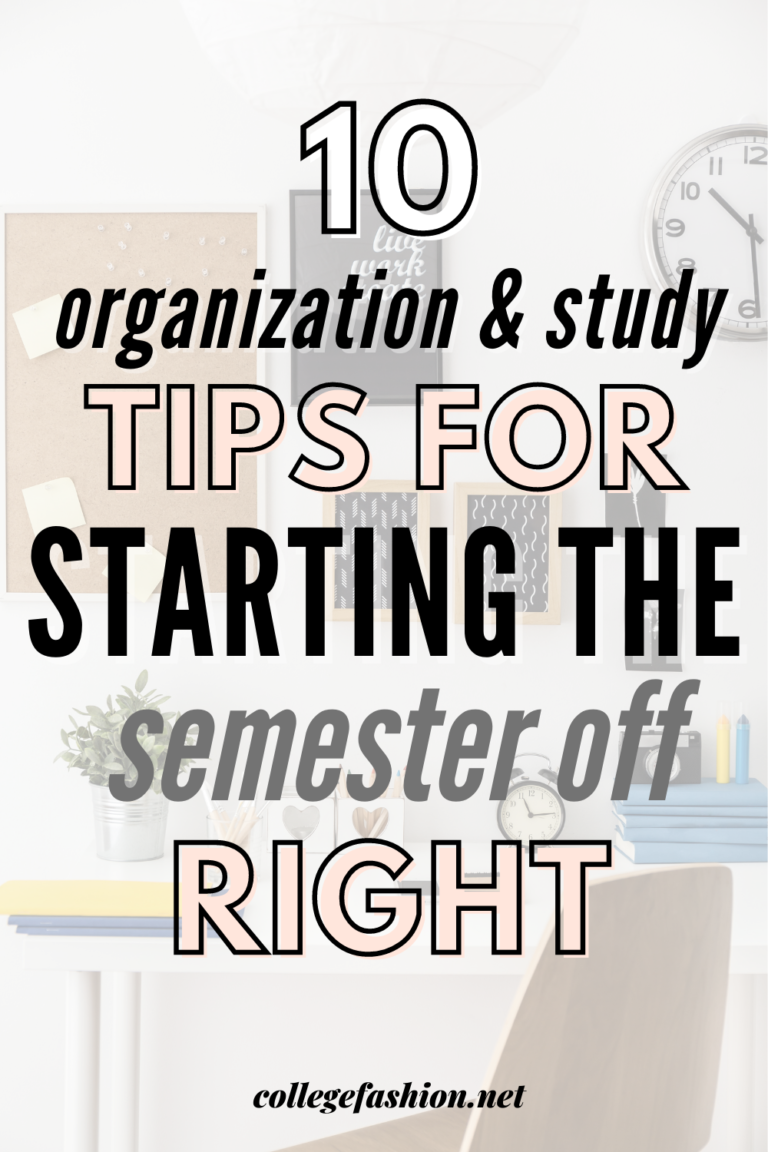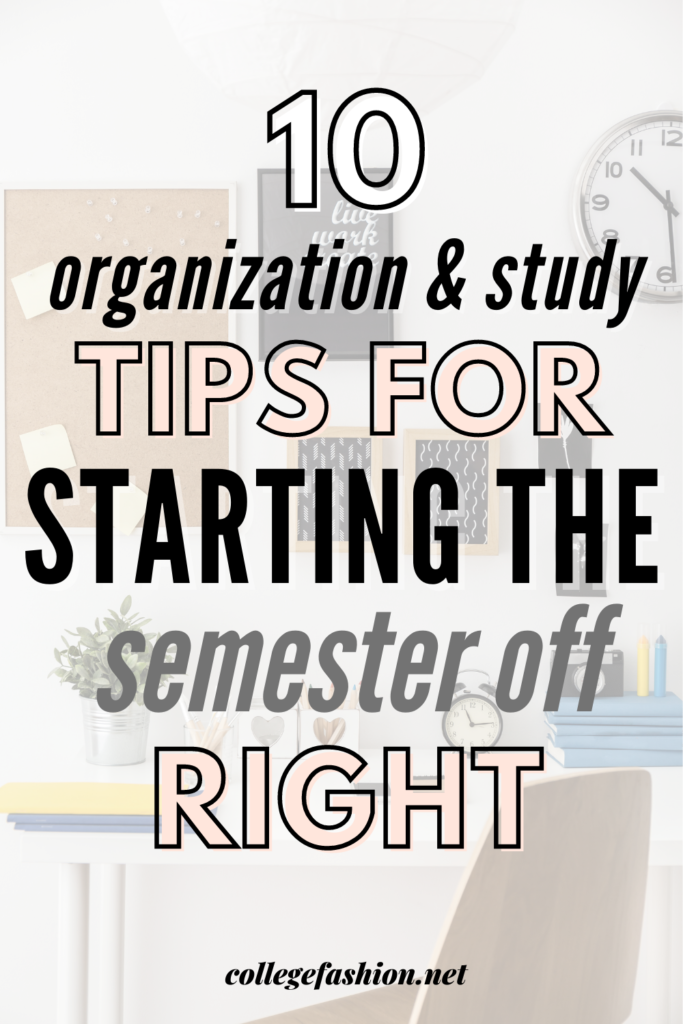 Whether you're a freshman or senior, staying organized can be a struggle. Between juggling classes, internships, a social life, and work, even the most seasoned of students can get overwhelmed.
By laying some ground rules for yourself, you can manage your life more easily. These organization tips will help balance your college life and keep stress at bay.
Start this semester off strong… and finish it even stronger!
Tip 1: Daily Planning
The first thing I do at the start of a new semester is get a new planner. This is the best college organization tip that anyone could ever give!
My favorite planners are ones that have sections for full days. It's an easy way to stay organized and on-task throughout a busy day.
Time efficiency is key to living a balanced life, so I make sure to plan out everything to make the most of my time.
I have been using a daybook from Doing Well Daily this semester and I love it! It starts my mornings on the right foot and gets me in a positive mindset so I can begin my day.
It has sections for all the different parts of the day; including fitness, self-care, school work, and to-do lists. This is why I like using a daily book or to-do list book to keep my days structured.
Some people like larger planners for a bigger snapshot of what's coming up, but it's entirely up to your preference.
Tip 2: College Semester Assignment Organization
Instead of using a huge planner for keeping my assignments organized, I have started using Excel and Google Sheets.
I pull up my syllabus for every class and enter all the assignments into Excel. I input the class name, a description of the assignment, and the due date. Then I assign a color to each class.
The last step is the sort everything by the due date. Voila!
This is a screenshot of what my excel sheet for the semester looks like: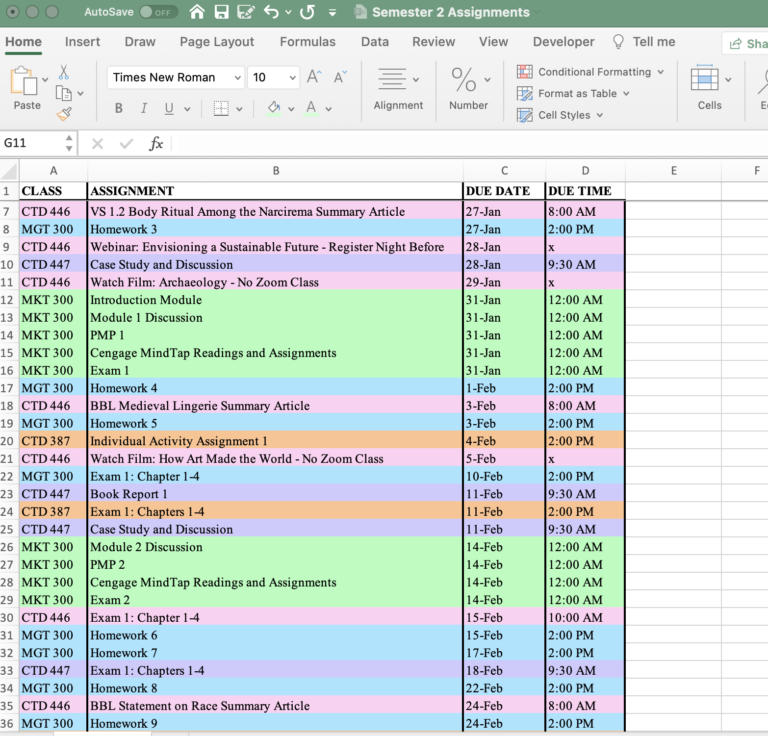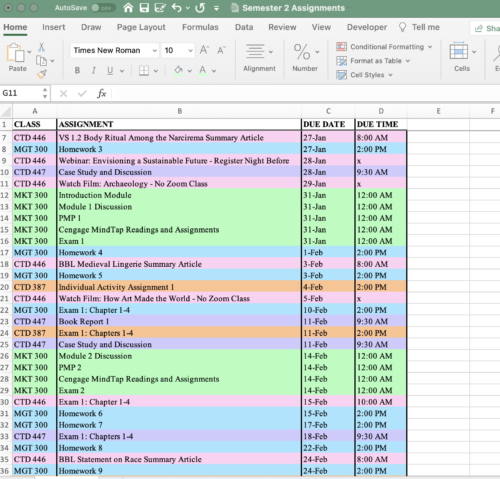 Tip 3: Organize Your Laptop Folders
The next college organization tip is for de-cluttering your computer. This means deleting all those random files on your desktop and creating new folders.
I start by creating a new folder for the second semester and then a folder for each of my classes within that new folder.
This keeps you from digging around endlessly to find the file you need.
This is how I organize my documents folder: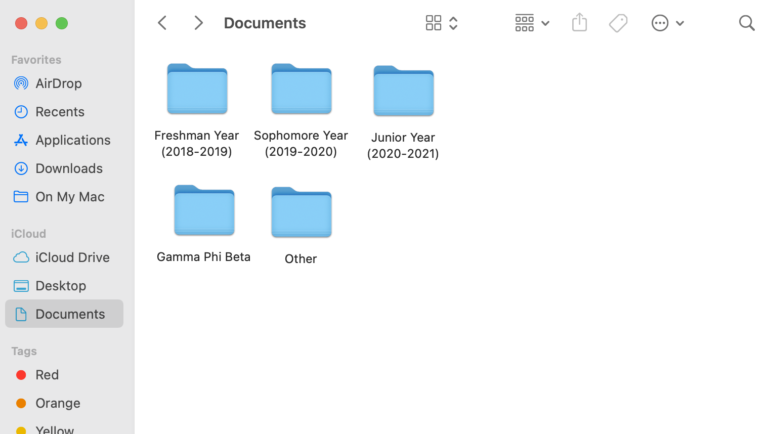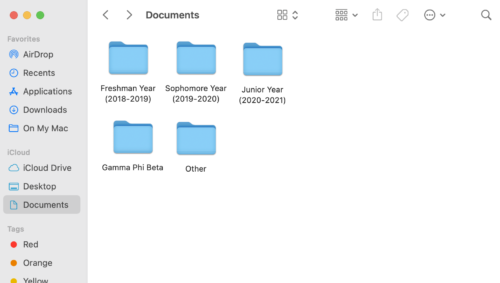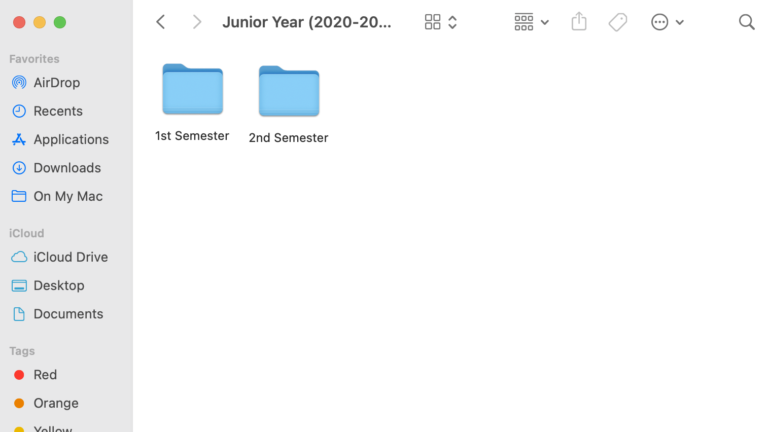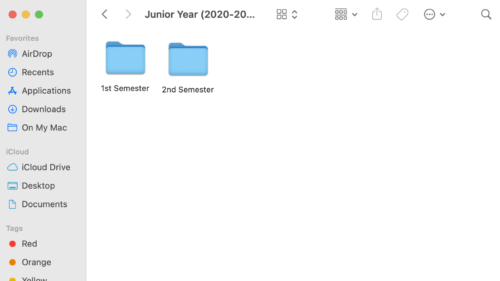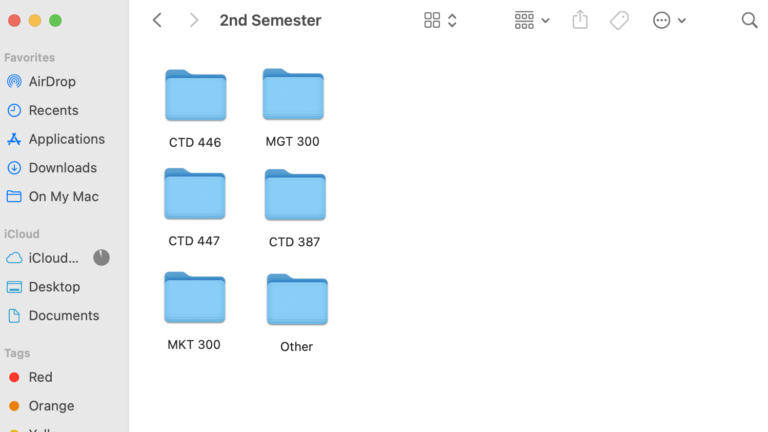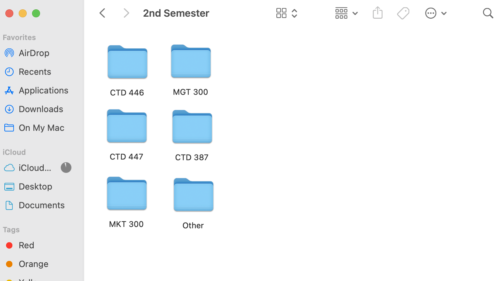 Tip 4: Get Some Supplies
A new semester is a perfect excuse to get some new supplies!
My essentials are colored pens for taking notes, highlighters for reading, binder clips for all my books and planner, and lots of sticky notes.
I use sticky notes of all sizes when I'm doing an assignment or reading and have to take notes.
They are super helpful and allow me to get the assignment done quicker and more efficiently. I don't have to waste time going back and re-reading to find the important information.
Tip 5: Quizlet is Your College Organization BFF
Get ready for the best organization tip for college classes ever… Quizlet is going to be your new BFF!
I have been using Quizlet since freshman year and it has helped me so much. I make all my study materials on it for all my different courses.
I like to use the learn feature to study, as well as making practice quizzes and tests.
It helps me retain the information faster and saves time.
Tip 6: Study With Friends
I used to be against this one in high school because I thought I would get distracted if I studied with my friends. But as I've gotten older, I've learned that this actually works!
Use the GroupMe app to connect with other students that are in your class. You'll find once you start a GroupMe with other students that they will ask questions and text reminders. It gives you the feeling that you're all in it together, too!
When studying with your friends, divide up the work to save time! One of you can work on half of the flashcards, and then you can switch and quiz each other.
Tip 7: Zoom Link Tricks
If all your college classes are online this semester, this little organization tip will help you stay on top of it.
After going through my syllabi, I like to find all the Zoom links for my classes and bookmark them at the top of my browser. Then I change the name of the link to the name of the class.
I also do this with the links to my online textbooks or any important websites we'll be using during the semester for that specific course.
This is what my Google Chrome browser looks like:


Tip 8: College Calendar Organization
To plan your whole month out, try going paperless and using your Google or Apple calendar. Simply make sure that all your emails and apps sync to your calendar.
Then, organize things by color! I have a color for just about everything. My sorority events, fitness classes, zoom lectures, appointments, assignments, and tests all have their own colors.
It's also great to set reminders for each event. I usually set a reminder for a test that's on my calendar for a week before so I can start studying.
Tip 9: Keep Your Space Clean
It is important now more than ever to keep our space clean and organized. A clean room always helps me focus better and get motivated.
If there is clutter around me, I won't feel productive and won't get things done in a timely fashion.
On my desk, I like to keep out only the essentials: my laptop, daily planner, and my blue light glasses.
I also like to keep my backpack near my desk, in case I want to go somewhere else to study.
Tip 10: Stay Healthy
Last, it is so important that you stay healthy this semester. That means getting enough sleep, drinking enough water, staying socially distant, and fitting in some type of exercise throughout your week. Staying healthy will help guarantee you success in your classes.
Practice self-care and remember not to push yourself over-the-top. No more all-nighters! Instead, utilize your time more efficiently, so you can get those eight hours of sleep and feel ready to go in the morning.
Mental, physical, and emotional health all go hand-in-hand with keeping you healthy and productive this semester!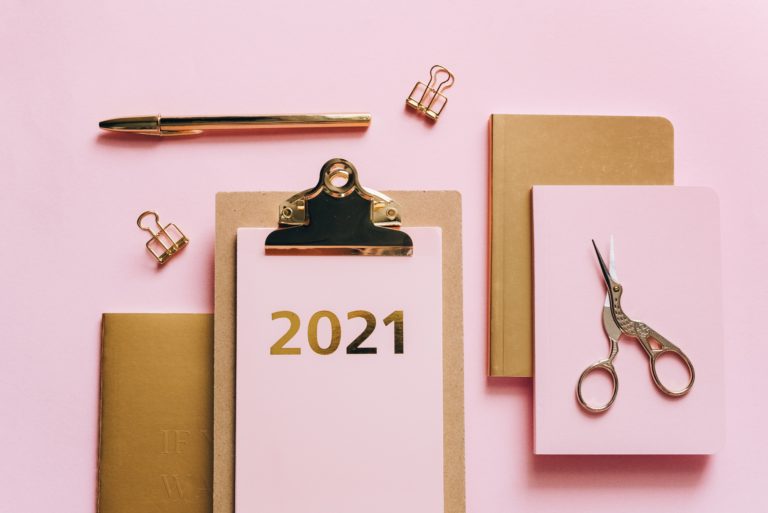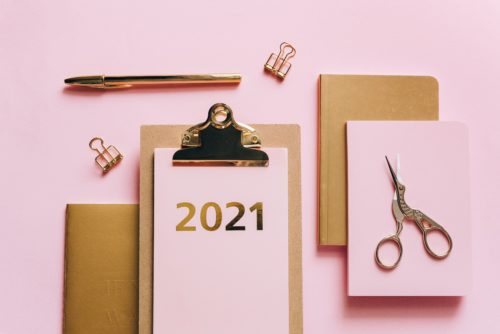 What are your go-to college organization and study tips?
What are some of your college organization tips and tricks? How will you be starting the semester off right? Let me know in the comments below!