This post may contain affiliate links, which means we may receive a commission if you purchase through our links. Please
read our full disclosure here
.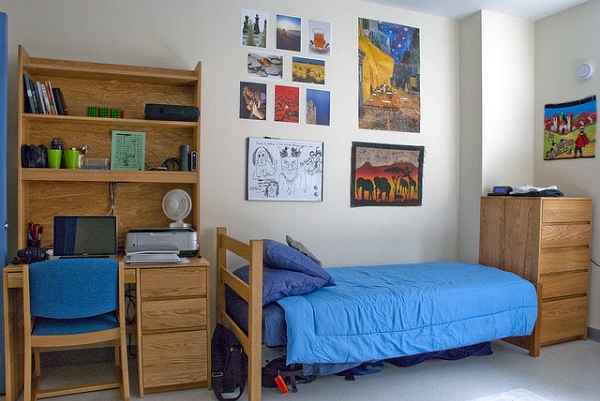 College will teach you many life lessons, but the first one I learned my freshman year was this: dorm rooms are small. My first year at Flagler, I shared a dorm with three other girls and quickly learned how valuable every square inch of space could be. I also discovered that the key to having more space is to be organized.
Now that my senior year has rolled around, I thought I'd share with you some of the best dorm organization items out there, in order to help you to utilize those precious square inches and enjoy every bit of small-space living. Also, if you're living off-campus, no worries, these are great items for you too!
For your closet: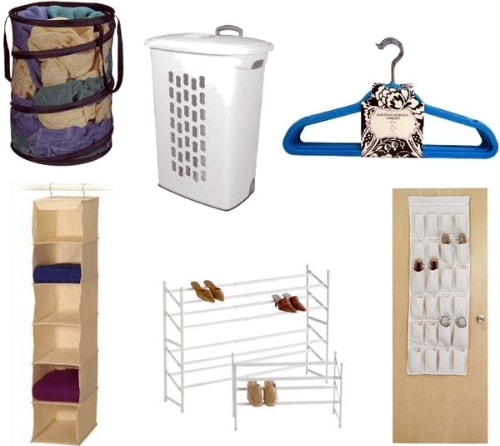 Product Information: Pop-up Hamper, Wheeled Hamper, Slim-line Hangers, Hanging Shelves, Expandable Shoe Rack, Over-the-Door Shoe Bag
A laundry hamper is a must-have for any dorm room closet, and I featured two different styles above, both of which I highly recommend. Pop-up hampers are ideal for tiny closets – the mesh material is flexible, so it can be squeezed into tight spaces. I swear by the wheeled hampers though. Sure, they take up a little more space, but not having to lug heavy clothes back and forth to the laundry room makes them worth it.
Slim-line hangers will give you more space for clothes because the hangers are much thinner than normal ones (hence the name). They're also made out of a non-slip material, so your expensive top won't slide off the hanger and end up crumpled on the floor like it could with plastic hangers.
Running out of room in your dresser? Hanging shelves will give you more storage for your clothing. They take up a small bit of space in your closet, but can hold tons of sweaters, jeans and other bulky items.
Shoe racks are ideal for dorms because it will keep all your footwear neatly organized in one place, so your shoes won't be littered all over your closet floor. Over-the-door versions are roomy and can hold lots of shoes, but not all dorm closets have doors. So, I chose a shoe rack that expands and contracts, so you can adjust it to your specific closet size.
For your desk: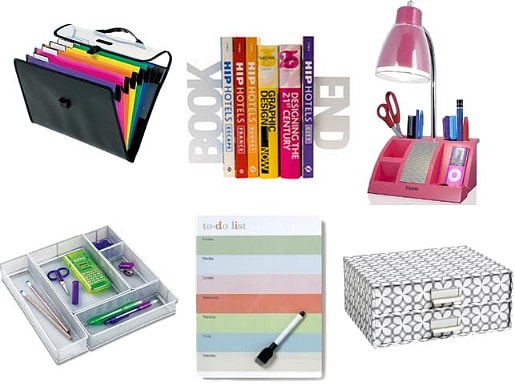 Product Information: Accordion Folder, Bookends, Desk Organizer Lamp, Drawer Organizer, Dry Erase To-Do List, Desktop Drawers
If you retain one piece of advice from this post, I hope it's this: invest in an accordion folder! Seriously, buy a good one and use it to organize all your important papers (hard-copies of research papers, bills, etc.). That way, you'll be able to easily find everything you need in one tidy folder.
Bookends can be a fun way to show of your personal style and keep your textbooks in pristine condition so you can get top dollar when book buyback rolls around. And how cute are these ones from Modcloth?!
Since space is so limited in dorms, items that are multi-functional– like this desk organizer lamp— are ideal. In addition to providing light, it also acts as a pencil cup and has a speaker/hook-up for your iPod!
A drawer organizer will keep all your excess school supplies organized so you'll never have to dig through a messy drawer to find staples ten minutes before your big paper is due (believe me, I've been there).
Okay, so a dry erase to-do list isn't exactly necessary, but it will keep your schedule organized. Hang it near your desk, take a few minutes every Sunday to fill out your weekly schedule and you'll never forget a deadline, event or a meeting with your advisor.
Desktop drawers are a perfect solution for cluttered desks and can store all of the items that always seem go missing like headphones, camera chargers and USB drives. In addition, these pretty ones will look great on your desk.
Other Storage Solutions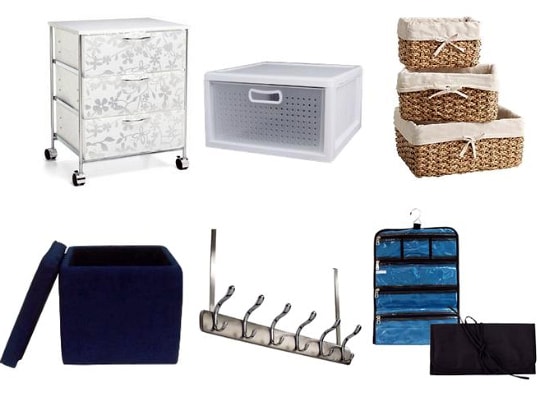 Product Information: 3-Drawer Cart, Stackable Drawer, Lined Baskets, Storage Ottoman, Over-the-Door Hooks, Hanging Jewelry Roll
A 3-drawer cart can hold all those items you're not quite sure about storing: sheets, hair styling tools, and even food! Plus, since it has wheels, you can easily move it around and use it as a writing surface or nightstand. I love this floral print cart – it would be a stylish addition to any dorm.
If you've run out of space in your dresser and closet, stackable drawers are the answer. You can buy as many (or as few) as you want and you'll have plenty of room for storing even the bulkiest of items. Another perk: these drawers can easily slide under your bed, so they won't take up any floor space.
Lined baskets are an adorable and functional way to store smaller items like hair products, make-up and toiletries.
A storage ottoman is a great multi-use item for dorms. You can store things in it and then pop the lid on to create instant seating for friends.
Although over-the-door hooks are usually designed for coats, I personally use mine for handbags. Multiple bags can be strung on each hook and the piece will still stay put, plus the bags won't fall off.
A hanging jewelry roll takes up less space than a jewelry box and will keep your necklaces tangle-free. It can also easily be rolled up and thrown into a duffel for impromptu weekend trips.
What do you think?
Are you going to be living in the dorms this year? What do you think of these organizers? Upperclassmen, any storage advice for new college students? If you have any questions, ask away– I'll do my best to answer. Also, remember to leave a comment with your thoughts on the article!