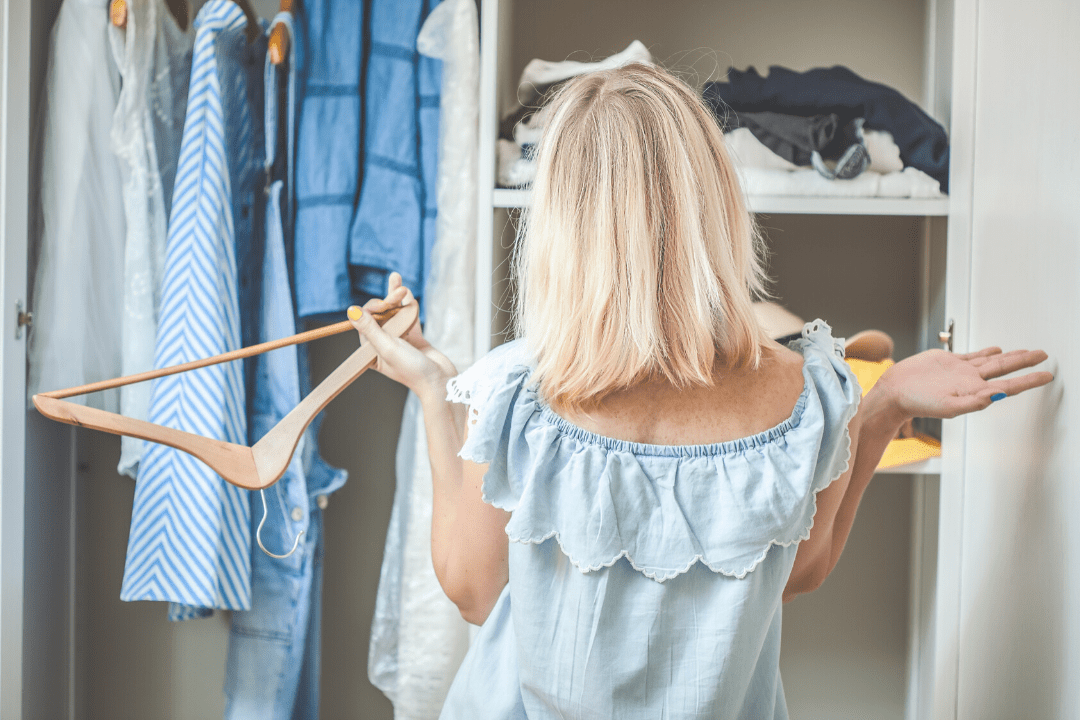 We've all heard that statistic that you wear the same 20% of your clothes, 80% of the time. And if you're like me, you've probably felt guilty about it, especially if you have lots of clothes you love and a very small dorm closet.
Many old favorites are left at home for part of the school year, and some great pieces end up being forgotten for years. I'm sure you all know the feeling of finding something amazing in your closet that you've totally forgotten about!
After feeling this way repeatedly over winter break, I have some tips on how to get more wear out of your forgotten faves.
1. Do a clean-out.
There are surely some (probably many) things in your closet that you don't wear for a good reason. Maybe they don't fit quite right, or for whatever reason they suddenly just seem "meh."
The first step to un-burying hidden treasures is to get rid of things you will not ever wear. Donate as much as you can to charity.
If you want to get more organized, we have posts on closet cleaning and closet organization tips and tricks, both of which will help you get organized after you purge.
2. Move things around.
Often, when I spy something I want to start wearing more in my closet, I move it to a more prominent position so I remember to do so.
Naturally, the things we wear over and over maintain their positions front and center in our wardrobes. So move some great pieces that you don't wear enough to the front. Even if you don't get rid of anything, reorganizing your closet so you can actually see the awesome stuff you have is a huge step.
3. Bring them on trips.
If you're going on a trip, be it a weekend visiting a friend or the beach for spring break, pack things you want to start wearing more. When we travel, we necessarily wear the same things repeatedly. Stashing an oldie-but-goody in your suitcase basically gives you no choice but to wear it. Plus, you'll remember to dig it back out of your closet every time you look at your fabulous vacay photos.
Even if you don't travel much, the reverse of this tip is also true: DON'T pack every favorite piece of clothing when you're going home for a short break. Not having your go-to blouse will allow the pieces left at home to get the attention (and daylight) they deserve.
4.  Pair them with your faves.
If you're still struggling to get out of your wardrobe rut, look for things that go with the pieces you wear all the time. Chances are, that jacket you wore constantly in 10th grade (and couldn't bear to part with) would look upgraded with your current favorite boyfriend jeans or hottest new bag. Make it a goal to try to incorporate at least one older piece into every look you wear for a week.
5. Style a whole outfit around one piece.
Still, there are some pieces you don't wear precisely because they're so hard to style. I feel this way about a lot of statement pieces — they're jaw-droppingly gorgeous but only go with very specific things. Often, these sorts of clothes require you to build your outfit around them — so make the effort and do that!
By that I mean choose your outfit based on the fact that you 100% want to wear that piece. Sometimes the only thing that will work is a basic tee and jeans that let the item shine. Often, though, you'll find you have a necklace or pair of shoes that complements the tricky piece surprisingly well. Regardless, the outfit is sure to feel fresh and different from your usual ensembles.
6. Make a date.
What about those clothes you don't wear because you don't have anywhere to wear them? You probably have way less need for your fanciest formal dresses and heels in college than you did in high school. If all else fails, do something so you can wear that outfit, darn it!
Have a night out (or in) with your girls where you get glammed up just because –regardless of your destination's dress code. Or, if you're feeling really ambitious, host your own fancy party, because everyone knows the best part of a social event is picking out an outfit.
What do you think?
Do you have great clothes in your closet that you rarely wear?  How do you get yourself to wear them more often? Were these tips helpful? Let me know in the comments!