This post may contain affiliate links, which means we may receive a commission if you purchase through our links. Please
read our full disclosure here
.
We've shared tons of closet organization tips here at CF — check out the closet makeover series and the dorm room organization tips article just to start. By now, you probably have a handle on that.
However, nearly every dorm room comes equipped with a dresser as well, and keeping those dresser drawers organized can be quite a task! Piles of stacked t-shirts and workout clothes can suddenly topple over during the search for a particular piece, and pretty soon the drawer looks like a tornado blew through it. We've all been there.
Want to know how to keep your dresser drawers neat and easily navigable? Read on as we talk about the best tips for dresser drawer organization!
Top Drawer
It is an unfortunate reality that the top drawer of your dresser or desk usually becomes the "junk" drawer, where everything that doesn't really have a home ends up.
The important thing to remember when organizing dresser drawers is that similar things must be grouped together. Sticking with that rule will help you immensely when you've only got five minutes to get ready for class.
Also, don't clutter up the top of your dresser with toiletries and items you'll only use a few times a month. Store them in the top drawer (or elsewhere in your room), and leave that precious surface for showing off your favorite jewelry and makeup!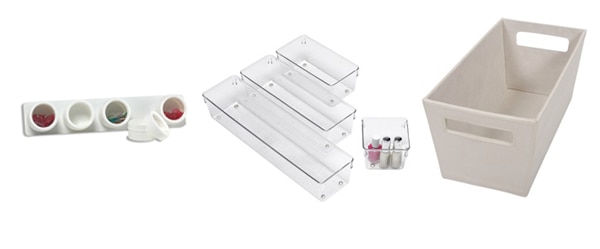 Product Information: See-and-Store Containers, Deep Drawer Organizers, Tapered Fabric Bin
Try these products to help with top drawer organization:
Circular containers can help corral everything from bobby pins to hair ties. Use them to keep track of small accessories that could otherwise get lost!
Clear acrylic deep drawer organizers are perfect for your nail polish collection, or smaller perfume bottles.
Use a shallow fabric bin to organize larger products, like your hair dryer and curling iron. You could also use them to corral your feminine products–they'll look much nicer in a bin than in their original packaging.
Middle Drawers
Here's where you've got to have a game plan. Think of your daily needs — do you go to the gym every day, or is it more important that you can see all of your clothes at once? (For me, if I can't see the piece of clothing, I'll probably forget that I own it!)
The second drawer (underneath the top) is a good place for delicates:
Keep your underwear neatly folded and "filed" (so you can see all of them at once, versus stacking them on top of each other) in a nice woven or fabric bin.
Lay bras one inside of the other, so that each one supports the structure of the other, like they're displayed in lingerie stores. Try to avoid folding them in half, since this can shorten the life of the bra.
You could also keep tights or socks in this drawer (neatly folded, of course!) in a separate bin, so that they don't encroach on space reserved for other things.
The next few drawers should be tailored to your daily schedule:
Do you frequent the gym? Keep workout tops, shorts, socks, and sports bras together, so you can grab your gear and go!
Do you need to see all of your t-shirts and tanks in one place when you're getting dressed? "File" your t-shirts and you'll always be able to see your entire collection.
While we're on the subject, learn how to fold a t-shirt in two seconds. This video changed my life.
If you're tight on space, learn how to Army roll a t-shirt instead. I do this when I pack, it saves so much space!
Bottom Drawer
Home stretch! The bottom drawer is extremely versatile, since it is generally used to store rarely-used items, like spare bedsheets and out-of-season clothing.
Use Space Bags to store extra bedding and winter jackets, since those items often have lots of air in them that takes up space.
Tie a ribbon around bedding sets that go together (fitted sheet, flat sheet, duvet cover, and pillowcase) to keep them organized (and pretty!) the next time you wash your sheets.
Alternatively, store each sheet set inside one of its pillowcases, a la Martha Stewart, for easy stacking.
What do you think?
How did you organize your dresser drawers? What goes in your top drawer, and how did you divide up the middle ones? Do you have any other tips for drawer organization? Let us know with a comment!