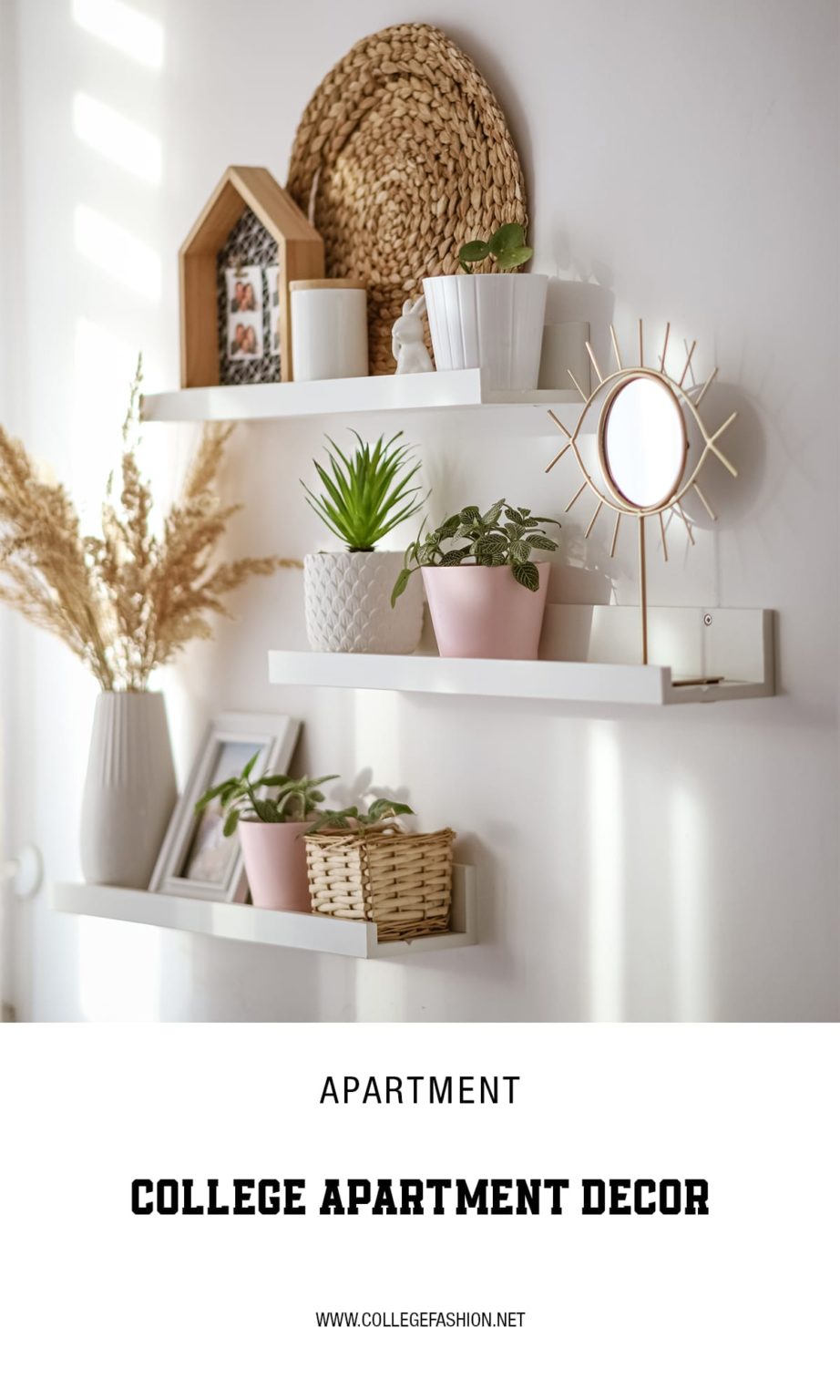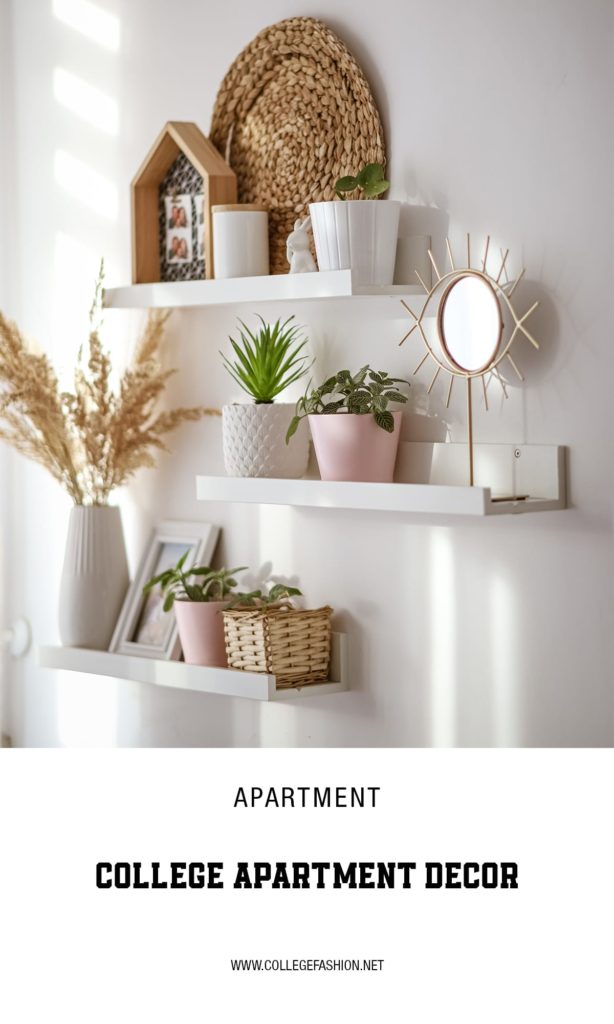 Back to school is almost here, and if you're living in an apartment this semester, you are probably scrambling to get everything you need together. (We are!)
As we embark on our college journeys, we often face the challenge of turning small, plain spaces into personalized retreats that reflect our unique personalities and foster a productive environment. And that's exactly what we'll be exploring today.
In this blog post, we'll share 26 stylish college apartment decor ideas that will not only make your space aesthetically pleasing but also functional and organized.
Throughout this blog post, we'll delve into various aspects of college apartment decor, including living room, bedroom, and bathroom ideas. Let's dive in and discover the college apartment decor ideas that will make your space shine!
College Apartment Decor Ideas
Minimalist Chic Decor Ideas
Minimalism is all the rage these days and for good reason. This design style emphasizes simplicity, functionality, and clean lines. To achieve a minimalist chic vibe in your college apartment, consider incorporating the following elements:
1. Posters
This set of five sage green posters can subtly enliven your walls, adding a hint of color without overpowering the overall room decor. They're a tasteful way to bring some vibrancy to your space.
2. Hanging Decoration
Introduce a bohemian flair to your decor with an inspired hanging decoration. This can add texture and a unique visual appeal to your space, making it more inviting and interesting.
Plus, this is one simple wall decoration that takes up a bunch of space, so it's a great minimal way to decorate your walls.
3. Desk with Space Saving Design with Bookshelf
A desk featuring a space-saving design with a bookshelf can be a practical and stylish addition to your workspace. Not only does it provide much-needed storage, but it also brings an element of sophistication to your work area. (See our tips on how to decorate your desk space here.)
4. Gallery Wall Decor
Add a personal touch to your apartment with a gallery wall. Additionally, by mixing frames, prints, and photographs, you can create an artistic display that truly reflects your individual style.
If you like this look, be sure to see our guide to photo wall ideas for dorms and apartments.
5. Sofa Bed
Maximize your space with a sofa bed. Perfect for small apartments, it's an investment that provides comfort for everyday use and easily transforms into a guest bed when needed. Essential when your friends from other schools come to visit!
6. Cute Fluffy Rug
Infuse a sense of coziness into your apartment with a cute fluffy rug. Not only does this rug give off a girly yet minimal vibe, it's an instant way to make any space more inviting and comfortable.
7. Fairy String Lights
Add a magical touch to your college apartment with fairy string lights. We love these because they're trendy, cute, and perfect for creating a cozy, inviting ambiance that will make your space feel like home.
See also: How to Decorate Your Dorm Room or Apartment with String Lights
8. Artificial Greenery Hanging Plants
Faux greenery is a hassle-free way to bring nature indoors. And there's no better way to brighten up your college apartment than with artificial hanging plants. They offer a lush, green aesthetic without the need for watering or maintenance. Plus, they hang from the ceiling so they don't take up valuable floor space.
College Apartment Living Room Decor
The living room is where you will spend most of your time socializing with friends or relaxing after a long day of classes. To make your college living room feel more inviting, consider incorporating the following items:
9. Sectional Sofa
Incorporating a sectional sofa into your living area not only ensures plenty of seating for guests but also infuses a contemporary vibe into your space. It's a blend of functionality and aesthetic appeal.
10. Coffee Glass Table
Revamp your college apartment's living room with a glass coffee table. It's not just about providing a place for your coffee cup, but also about adding a touch of sophistication to your space.
A glass coffee table blends functionality and elegance, without overwhelming the room visually. Plus, nothing is easier to clean than glass!
11. Television Riser Chest with Storage
Enhance your college apartment's organization with a television riser chest with storage. This isn't just a piece of furniture but a clever solution for keeping your TV and other electronics in order.
A storage chest that doubles as a TV riser combines practicality and style, making your living area both tidy and attractive. So, get ready to declutter and streamline your space with this multifunctional storage solution.
12. End Table with Charging Station
Elevate your college apartment's convenience with an end table featuring built-in charging ports.
To us, this isn't just a piece of furniture. It's a smart solution for keeping your phone and other devices charged and within reach. An end table with a charging station combines style and functionality, making your living space more efficient.
13. Universal Sofa Cover
This is a total college apartment essential! Safeguard your apartment's sofa with a universal sofa cover. It's not just about protecting your sofa from spills and stains but also about maintaining its fresh look for longer.
A universal sofa cover fits most standard sofas and can be an easy and stylish solution for keeping your sofa clean. Plus, it's absolutely key if you have pets (or like to eat on the sofa frequently).
14. Colorful & Preppy Pillow Covers
Infuse your college apartment's living room with a burst of personality using a colorful pillow cover. A preppy pillow cover like the one above can be the fun element that livens up your living room, making it a reflection of you.
15. Table Desk Lamp
Brighten up your study sessions with a stylish table desk lamp in your college apartment. This isn't just about providing ample light for studying or reading: It's also about adding a touch of sophistication to your workspace.
A table desk lamp can enhance both the functionality and style of your study area, creating an inviting atmosphere for productivity. Consider getting a chic desk lamp to illuminate your studies while keeping your devices charged up.
16. See-Through Window Draperies
Illuminate your college apartment with see-through window draperies. They are perfect for letting in natural light but also maintaining that much-needed privacy.
These curtains provide a harmonious blend of natural light and privacy, creating a comfortable and airy room. With these, you can enjoy the brightness of sunlight without compromising your personal space.
17. Rugs for Living Room
Step into a world of coziness with a rug in your college apartment's living room. A rug can be the final touch that brings everything together, making your living room a place where you'll want to hang out all day. By doing this, transform your living room into a cozy retreat!
Above, we've shared a shaggy beige rug for a light and airy feel but you can get so many rugs on Amazon to fit your decor style.
College Apartment Bedroom Decor Ideas
Your bedroom is your personal sanctuary, so it's important to make it feel cozy and inviting. Here are some college apartment decor ideas for your bedroom:
18. Breathable Sheets
Imagine sinking into a bed that feels like a cloud. That's what you get when you invest in breathable and cooling bed sheets for your room. High-quality bedding is ideal for creating a personal haven where you can relax and rejuvenate. It's the ultimate in self-care!
19. Frameless Full-Body Mirror
Step up your college apartment game with a frameless full-body mirror. It's a secret weapon that reflects light and magically makes your space feel larger. You'll be surprised how versatile a mirror can be, beyond being the perfect place for OOTD TikToks.
20. 3D Butterfly Pink Wall Decals
Bring on the charisma with some girly pink wall decor for your college apartment. Above, these 3D butterfly stickers are an easy and removable way to add color and interest to your room.
While you can always go with standard flat wall decals, these butterfly decals really add something extra as they pop off the wall!
21. Paint Colors
Unleash your inner Picasso with a fresh coat of paint in your college apartment. While many apartments don't allow you to paint, some do, so if yours does, consider the possibility of adding extra color to your room.
From pale pink to cheery light yellow, the options are endless!
College Apartment Bathroom Decor Ideas
Last but not least, let's not forget about the bathroom. Here are some college apartment decor ideas for your bathroom:
22. Marble Shower Curtain Set for Bathroom Decor
You obviously need a good shower curtain for your bathroom. It only prevents water from splashing outside the shower but also adds style to your bathroom. We love the marble and gold option above since it's neutral enough to fit every space.
Having a bathroom that feels like a personal spa after a long day filled with studying and socializing is a well-deserved luxury. Who wouldn't want to feel like royalty while refreshing themselves?
23. Storage for Bathroom
Bid farewell to bathroom chaos with stylish storage solutions like the one above. They'll not only keep your essentials organized but will also add a trendy touch to your space.
From showcasing skincare on sleek shelves to hiding necessities in chic baskets, simple shelves are necessary for any college apartment. There are so many options on Amazon but we love the one above since it fits in the corner of any room.
24. Rolling Storage Cart
Short on space? Meet your new best friend – the rolling storage cart. It's versatile, mobile, and stylish. Whether it's acting as a bookshelf, a portable bar cart, or a movable vanity for your bathroom, it's got you covered. Embrace the convenience of clutter-free living in your college apartment with this handy MVP (Most Versatile Piece).
25. Bamboo Storage Organizer Tray
Say hello to the bamboo storage organizer tray, your bathroom's answer to a Zen garden. It's the perfect spot to corral your toiletries or display your skincare treasures. Moreover, it adds a touch of eco-chic to your college apartment bathroom. Who knew being organized could feel so tranquil?
26. Waterproof Stainless Steel Holders
Say goodbye to bathroom chaos with waterproof stainless steel holders. These are perfect for hanging loofahs or keeping each roommate's towel separate. Furthermore, their sleek design adds a touch of modern style to your college apartment. So, make waves without the mess!
Tips for Transforming Your College Apartment into a Home Away from Home
Creating a home away from home is all about personalizing your space and making it feel welcoming without breaking the bank. Here are some of our fave tips to get you started:
First stop: second-hand stores! These treasure troves are brimming with unique paintings, photos, and décor just waiting to adorn your walls. With a keen eye and a dash of luck, you'll score some fabulous finds that'll make your apartment the talk of the campus. Plus, the prices cannot be beaten.
Next up: let there be light! Ditch the dreary overhead lighting and opt for cozy lamps, fairy lights, or a funky neon sign to set the mood. Not only will these additions create a warm ambiance, but they'll also serve as perfect conversation starters during study breaks.
A color palette is also a great way to add personality to your home. Choose hues that reflect your style and vibe, whether you're going for pastels or bold primary colors. And remember – it's okay to stray from the classic neutrals! (See our guide to choosing a room color scheme for more on this.)
Finally, don't forget the comfort factor! Invest in some cozy cushions and throws, as well as a multi-function sofa bed. Whether you're hosting guests or just Netflixing and chilling, this space-saving piece is your one-stop solution for lounging in luxury.
What do you think of these college apartment decor ideas?
And there you have it – all of our favorite ideas to elevate your college apartment from drab to fab without emptying your wallet! Armed with these tips and tricks, you're ready to tackle any design challenge, whether you're channeling minimalist serenity or embracing the wild world of boho-chic.
Remember, your college apartment should be a reflection of you – a place where you can unwind, recharge, and feel inspired. With a little creativity and some savvy shopping, you'll have a stylish and comfortable sanctuary in no time. Happy decorating!
If you liked our list of college apartment decors, consider checking out these other articles below —