This post will give you decor ideas for your first apartment.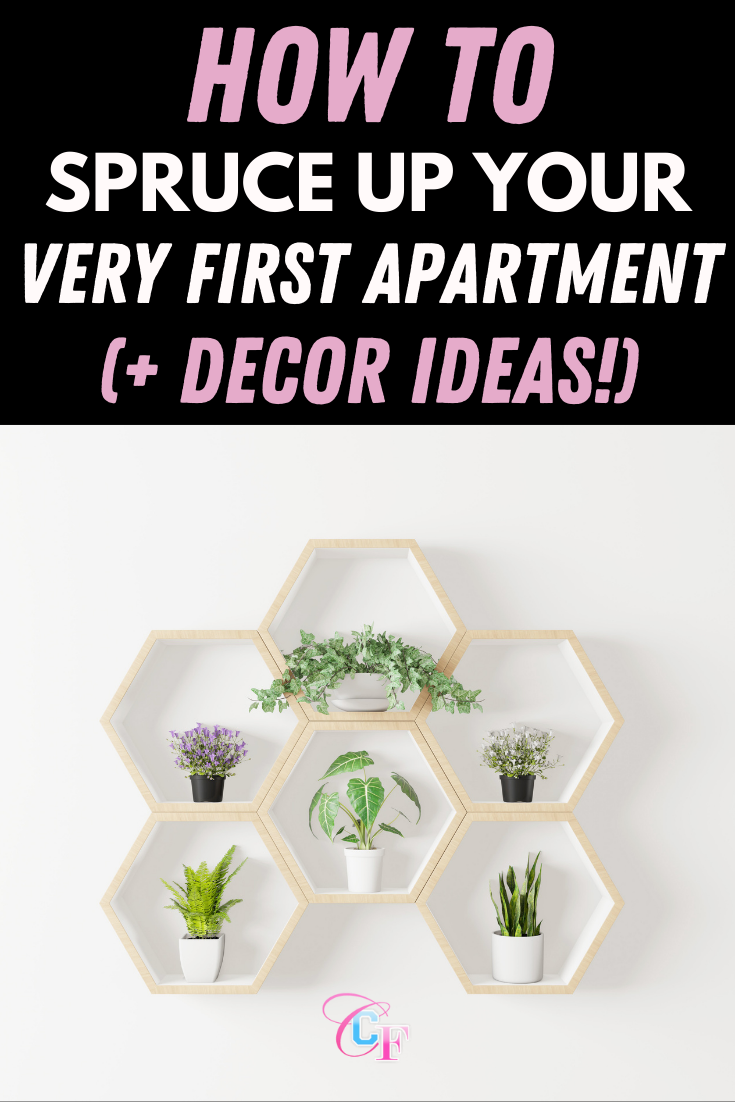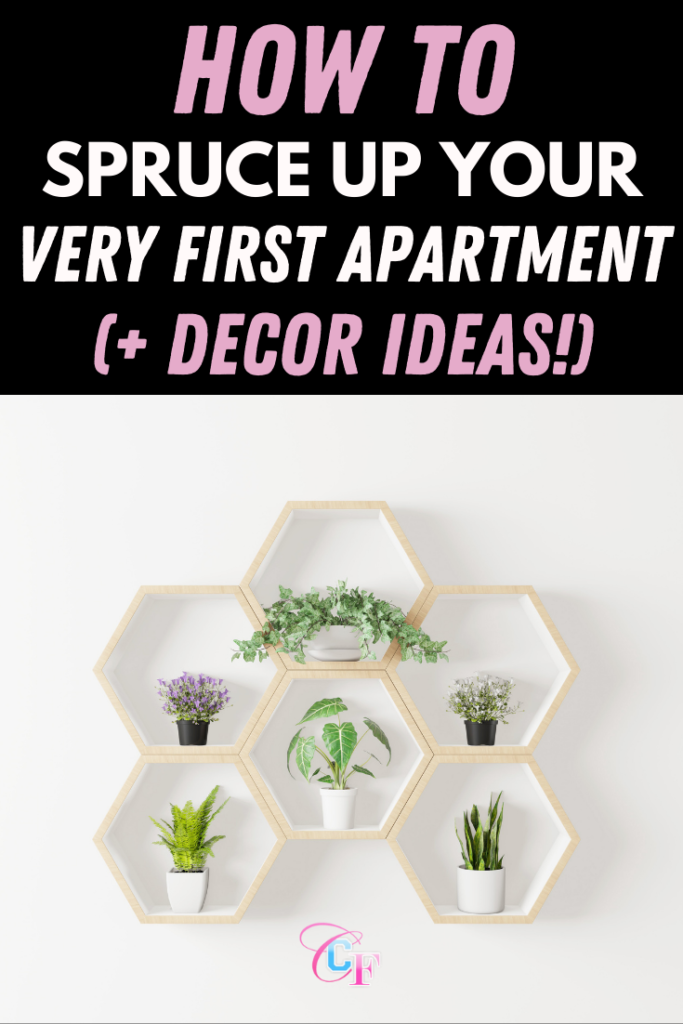 Dorms? What are we… freshmen? Just kidding! We loved our dorm experience, but there is something about getting your very first apartment that feels so adult.
Whether you are a sophomore, an upperclassman, or you've graduated, signing that lease on your first apartment is a big deal. You're basically an adult, but it's still socially acceptable for you to have a predominantly pink apartment if that's what you want.
Since having your own apartment means more space, that means more to decorate! It's exciting, but it can feel overwhelming, as you'll need more *stuff* to fill your space. Your dorm game just won't cut it here.
Related reading: College Apartment Decor: 26 Stylish & Functional Pieces You Need
Tips for Decorating Your First Apartment:
Here are some first apartment decor basics that I really want to instill in your mind:
Another room, another vibe: forget creating an aesthetic for your entire house. Focus on different styles for each room. Every room in your apartment serves a different purpose, so you should treat them each as such. (See also: The Best Aesthetic Room Ideas We're Stealing ASAP.)
Buy what you like: your house does not have to look like a Pinterest board. You don't have to have an entirely cohesive style. Just invest in pieces that you like. Buy things that excite you, in Marie Kondo's words, things that "spark joy," and the aesthetic will come together.
Take your time: you don't have to buy everything at once. My parents have been moving around the world and traveling to different countries for over 24 years, and their house is a combination of all the different things they've acquired through the years. It's a representation of the things they love. Don't rush it, and let it all come together organically as this new phase of your life forms.
Now without further ado, here is some decor inspiration for your very first apartment.
Bedroom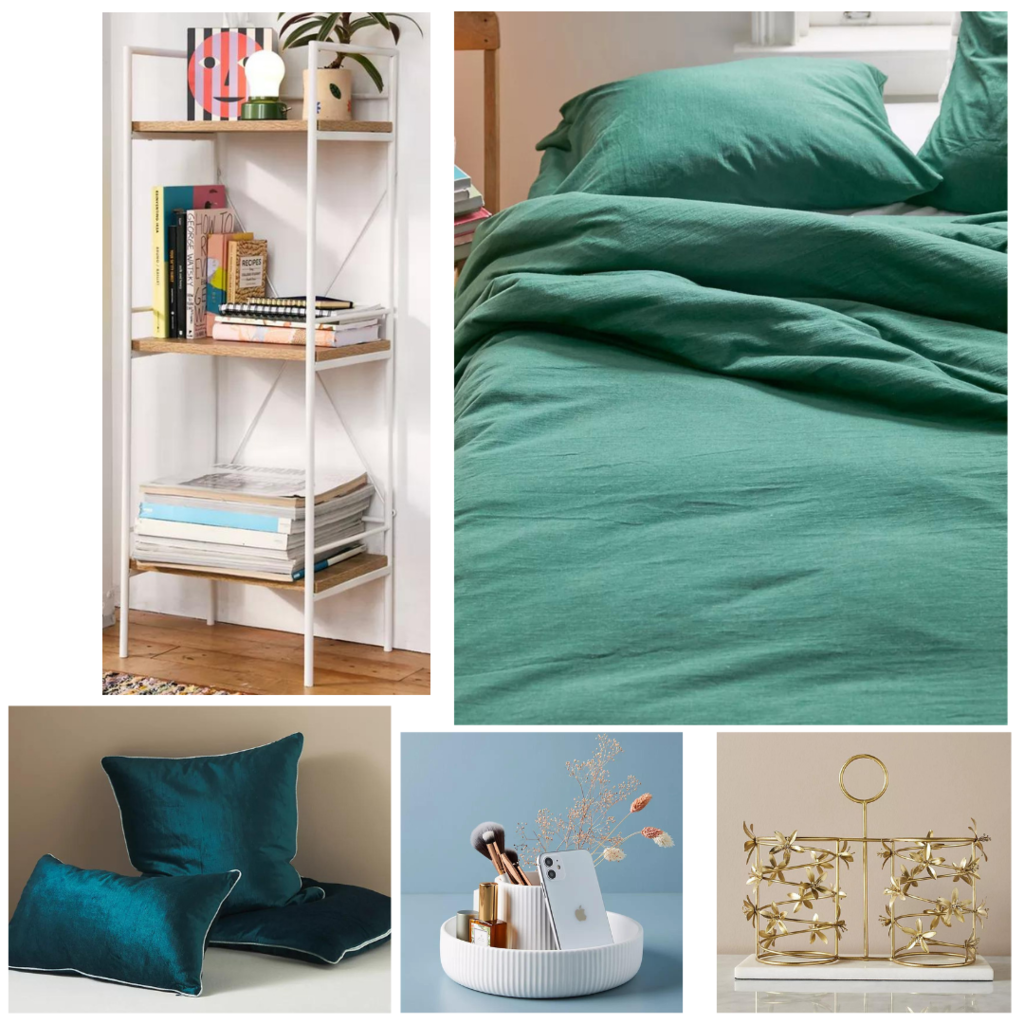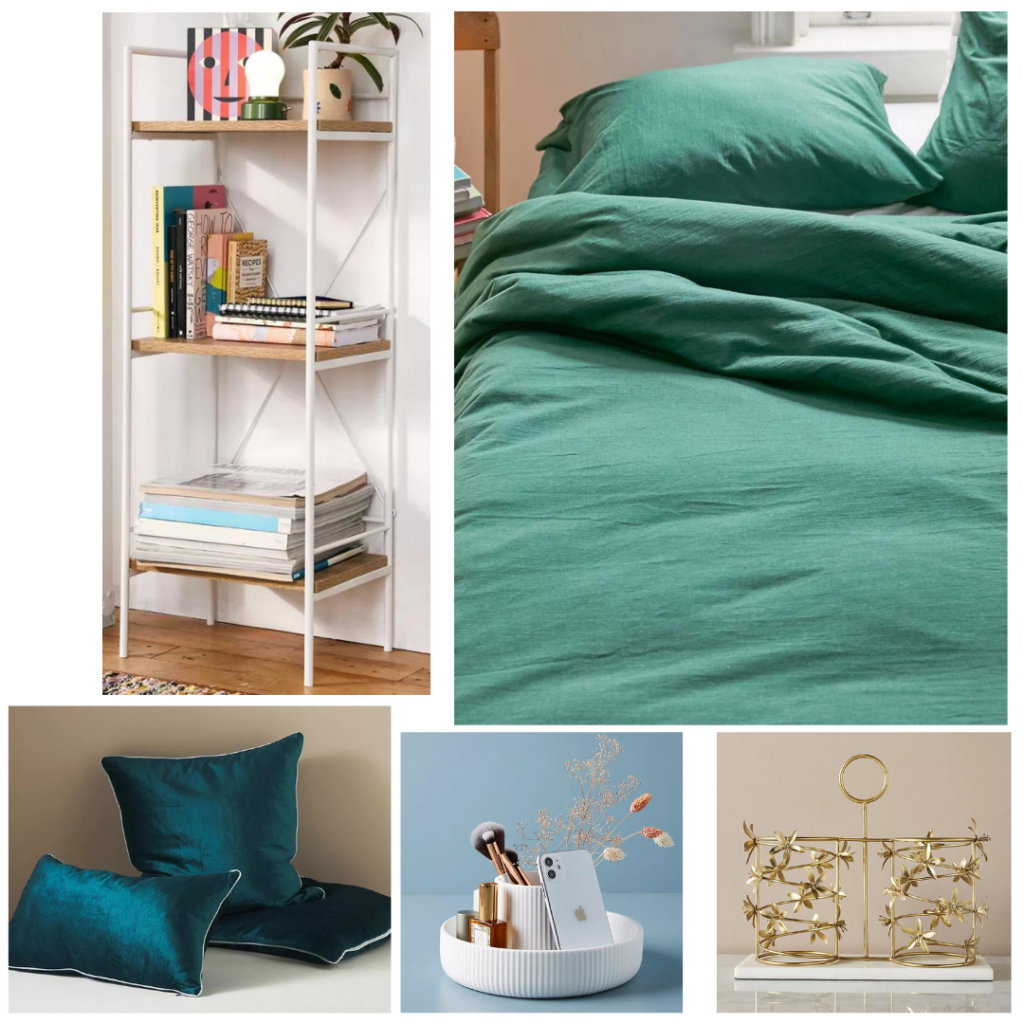 Products: Bookshelf, Duvet Cover, Pillow, Organizer, Wine Rack
Since you're moving on up from the dorms into your own place, it's time to leave the pink and purple at the door. Adult jewel tones will elevate your style exponentially, like this emerald bedding and these deep teal pillows.
Bookshelves are going to be a very important part of your space because you are a cultured adult that reads. Plus, shelves are very fun to style with books, organizers, trinkets, and plants.
For my over-21 readers, a whimsical wine rack with your favorite wines is a must. I also personally love this cute, multi-purpose organizer that can fit a plant, your phone, or some cute perfume bottles.
Bathroom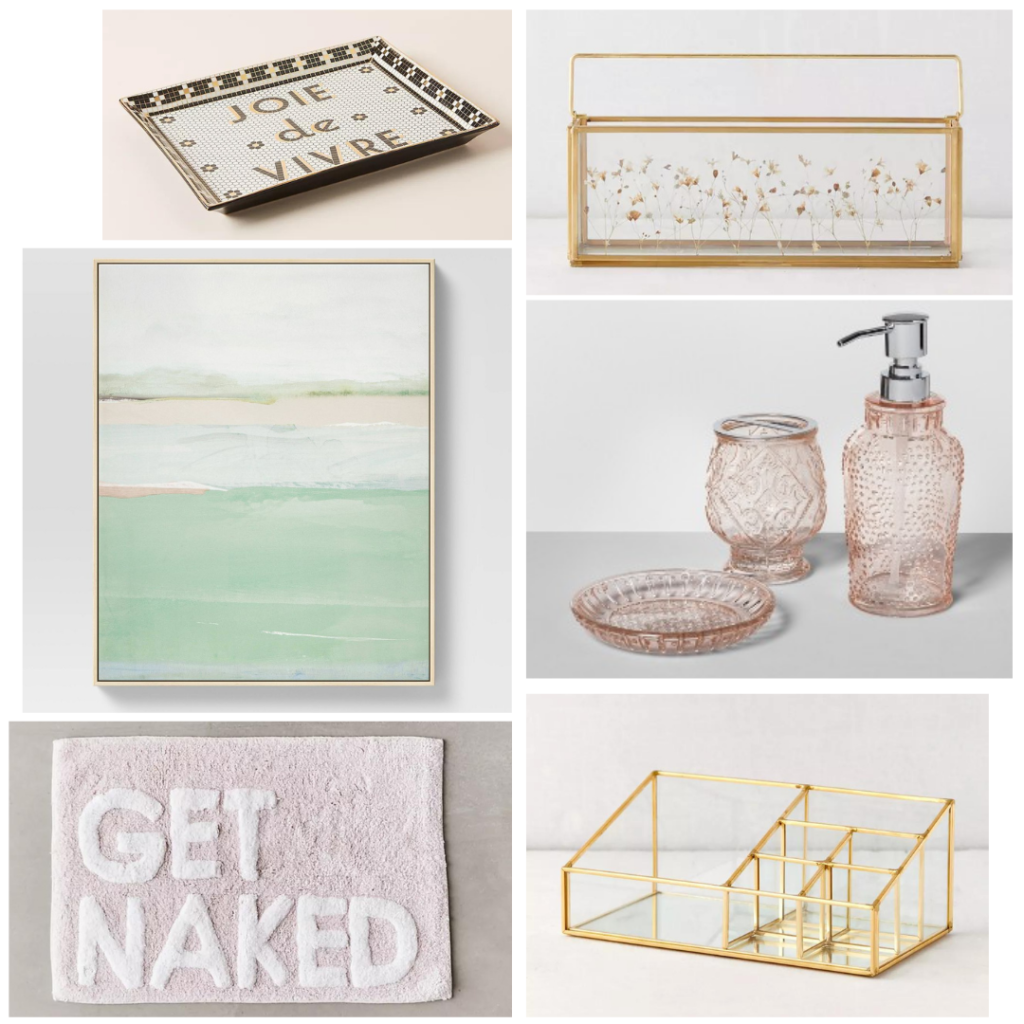 Products: Tray, Vanity Organizer, Wall Art, Vanity Set, Mat, Makeup Organizer
I like to think of my bathroom as an oasis. It's a place for relaxation where you can indulge in all your self-care needs. A bathroom should always feel clean and polished. I find that light pink and green tones create a relaxing atmosphere.
Add some spa elegance with gold-detailed items, like a mosaic ring dish, makeup organizer, and a glass vanity organizer.
My favorite decor tip for your apartment bathroom is to always invest in wall art. This will definitely set your home apart from the others.
Don't forget a sassy rug to show some personality!
Kitchen & Dining Room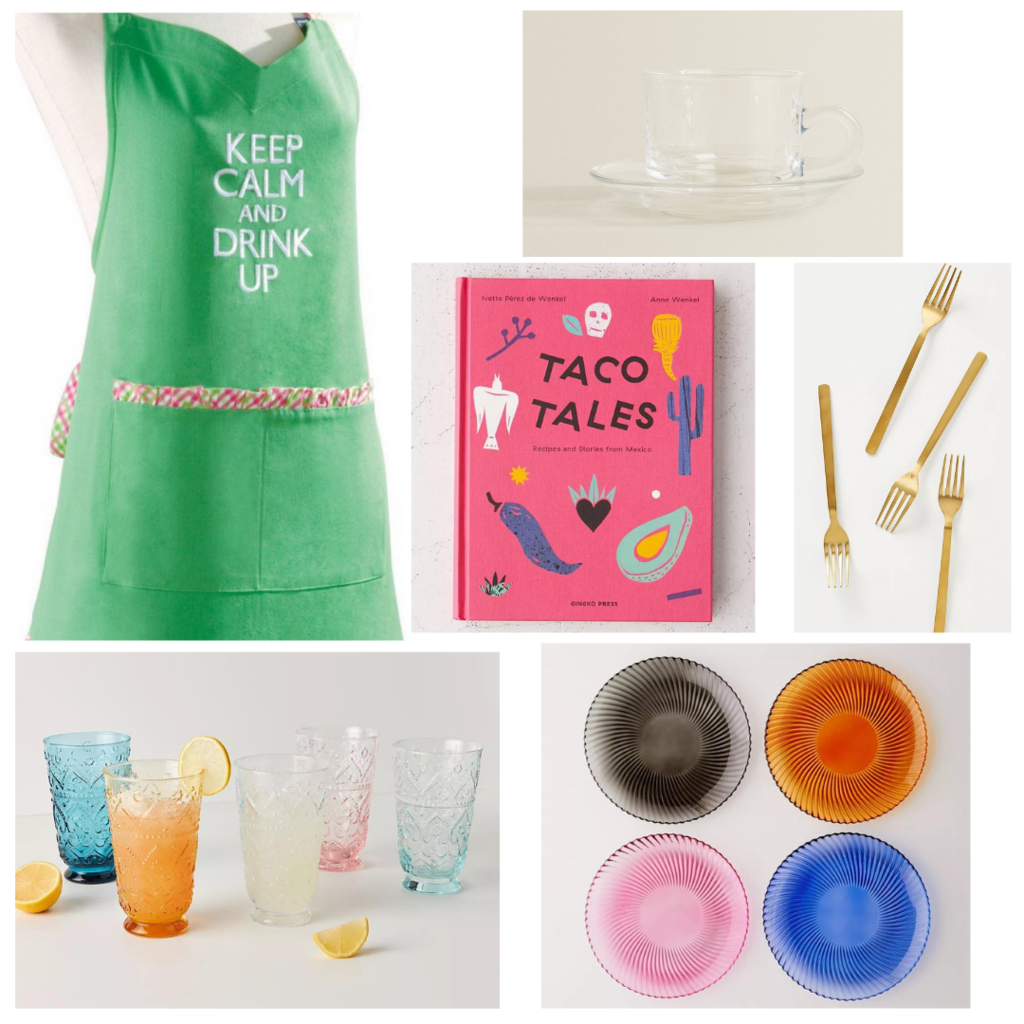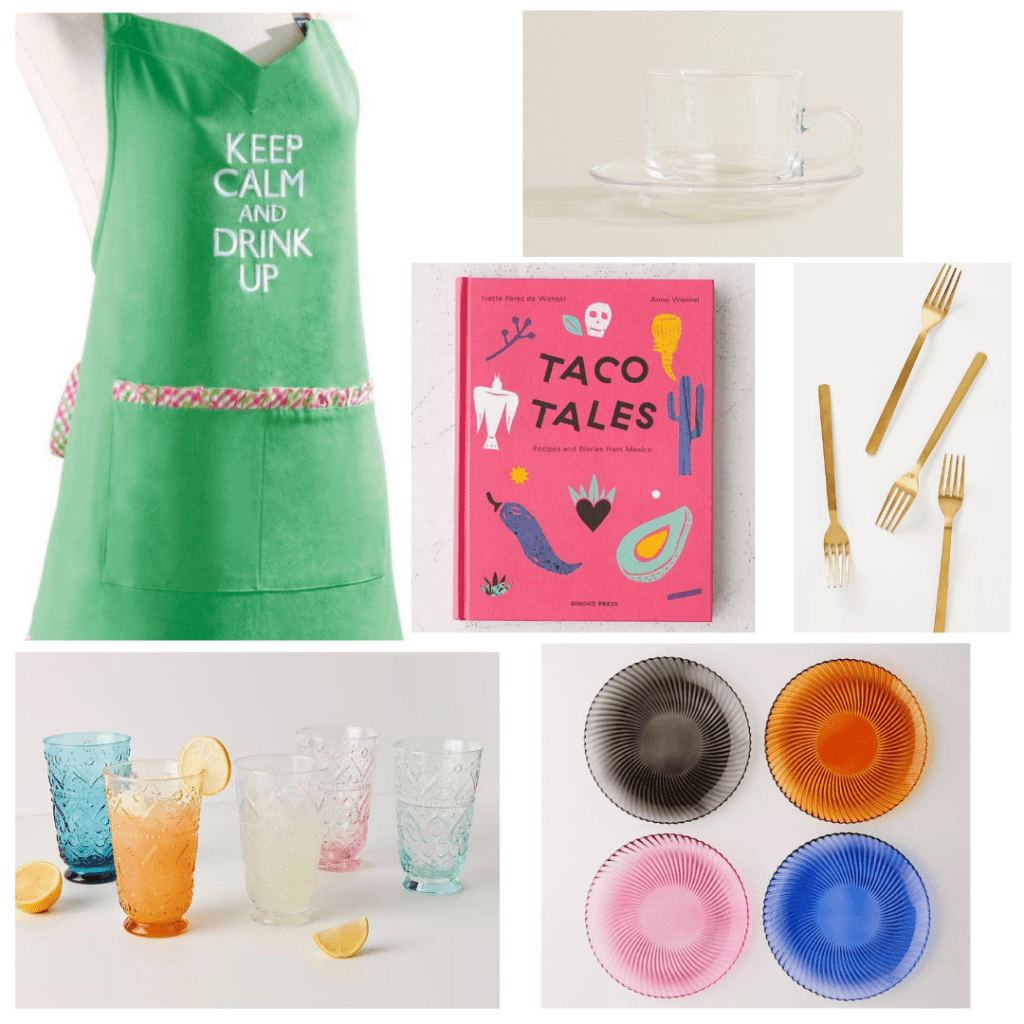 Products: Apron, Coffee Mug, Cookbook, Tableware, Cups, Plates
If you're anything like me, you pretend to cook but really just buy frozen food from Trader Joe's. So while utility is important in the kitchen, aesthetics matter just as much. Having taken some inspiration from my Portuguese friends, I love a colorful kitchen.
Colorful plates, cups, and silverware add flavor to your kitchen. If you're trying to go for a more muted kitchen, this glass mug is ultra-chic.
A delightful cookbook and apron might just inspire you to turn on your oven!
Living Room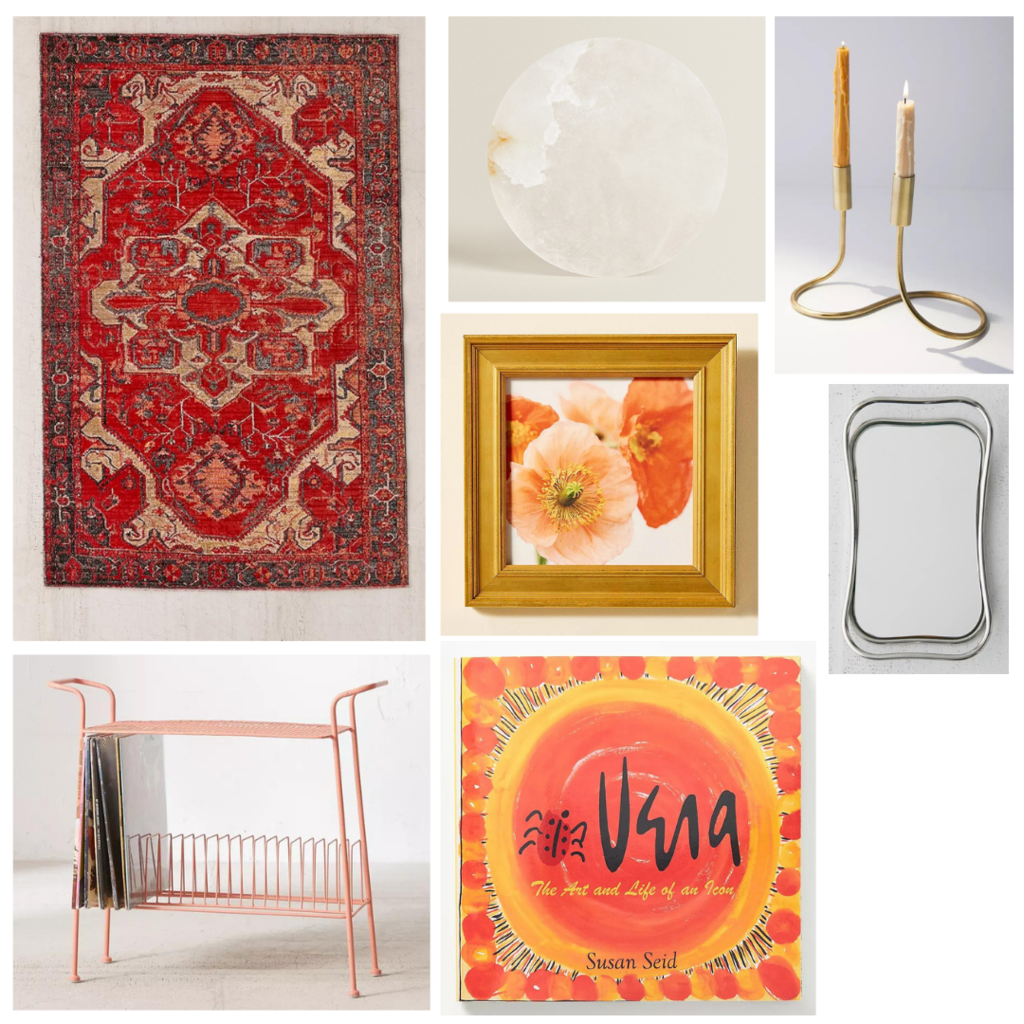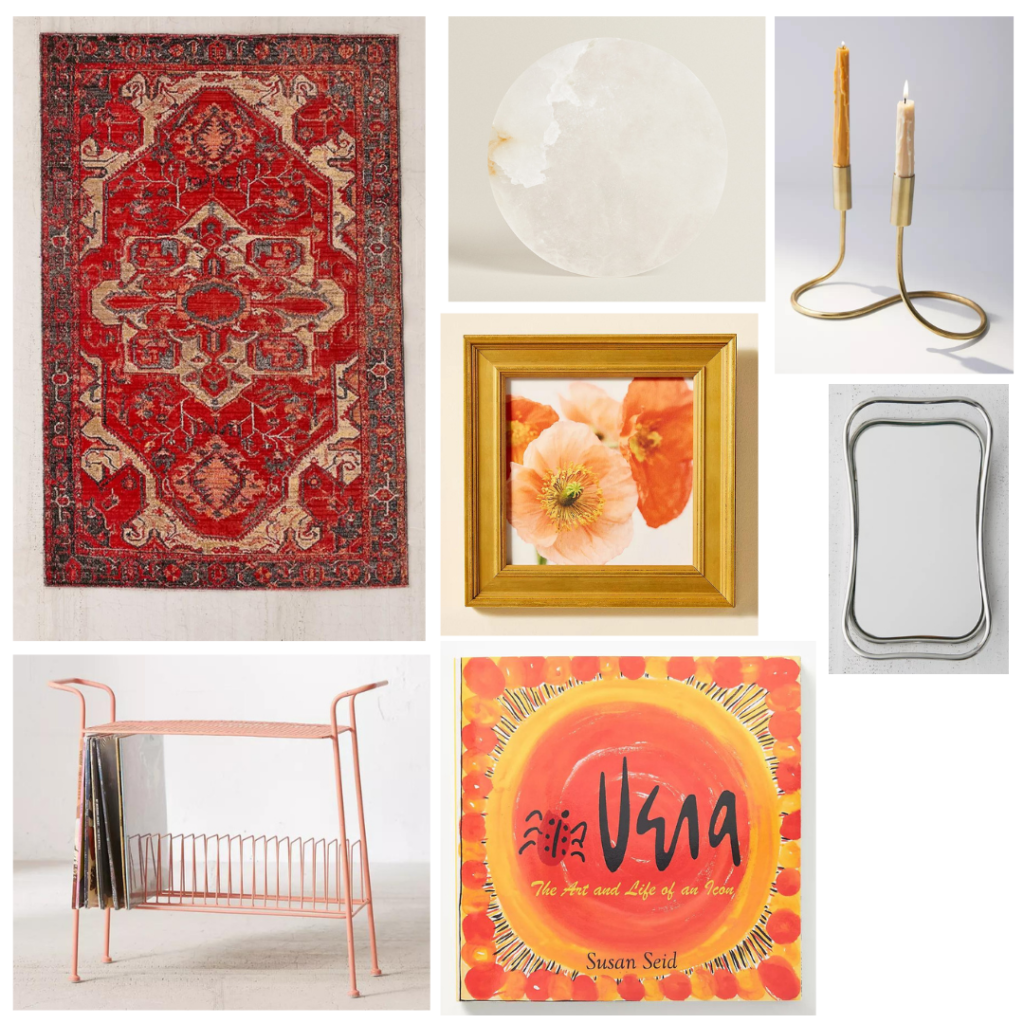 Products: Rug, Decorative Tray, Candle Holder, Wall Decor, Tray, Record Shelf, Coffee Table Book
If you can't tell, I like color! When it comes to your living room, bright warm colors can make a room a cozy place for chilling at night or hosting friends.
Persian rugs are extremely grown up, so a red rug is a perfect addition to your home. A unique candle holder will set the mood, as will a record player on a shelf. Wall decor is also key for creating a vibe.
Don't forget some decorative trays and coffee table books!
Are you excited to get decor for your first apartment?
Whatever you choose to do with your apartment, remember my advice from the beginning. The most well-curated homes are the ones by the people with the most exciting lives because their homes reflect who they are.
What room are you most excited to decorate? What's your splurge item? Let us know your first apartment decor tips below!