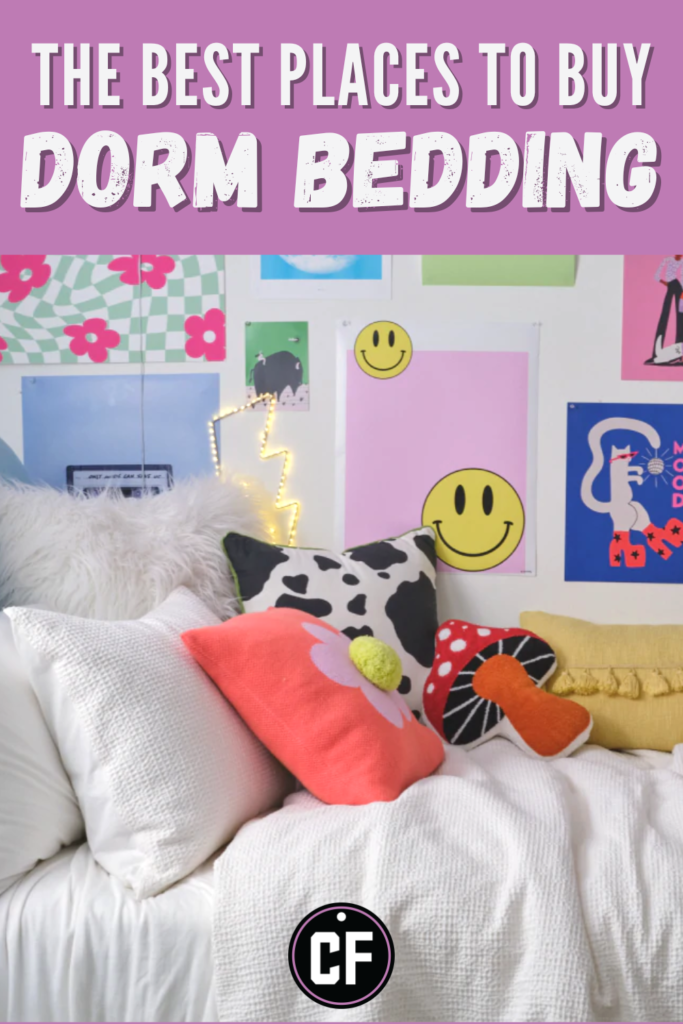 Back to school season is starting so soon and students everywhere are beginning to think about what they'll be bringing to college in the fall. It seemed wise, then, to start composing some tips for back-to-school shopping. The first topic is one of the most crucial, especially for a dorm room: bedding.
We've already shared our favorite picks for cute dorm bedding, so be sure to check that post out if you haven't yet.
However, if you want some ideas for where to start your shopping, here's our guide to where to buy dorm bedding: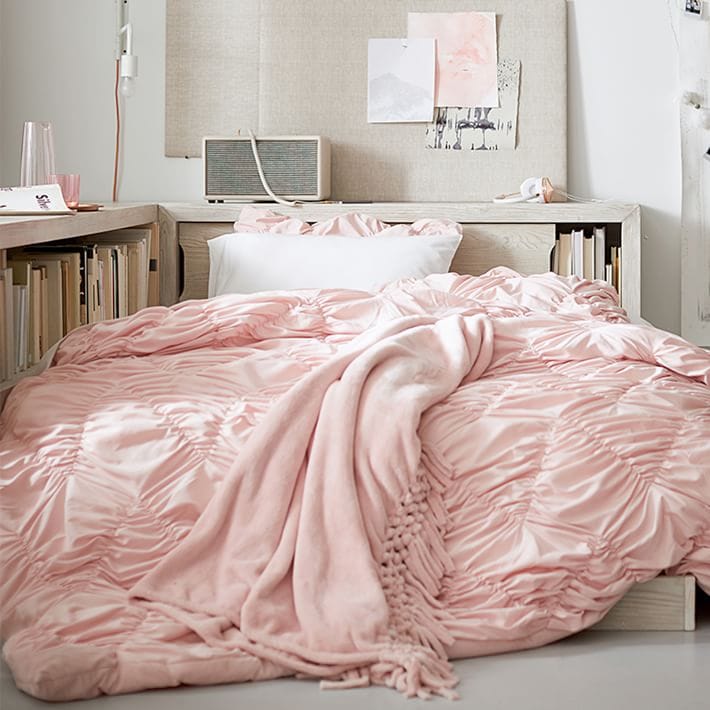 Product: Buy at PB Teen
Some tips for when you're starting out:
We've written a whole post on how to buy dorm room bedding, so we won't go too far into detail here. Just a few quick refresher tips before we begin:
Sets of bedding are often cheaper than buying each item separately, though if you don't want everything to be too curated you can buy the items individually and then mix and match. You could also buy two sets, pick the items you want and give the rest to someone else or save them for a time you may want to switch it up.
There are many sizes of sets – they can go up to 24 pieces (!), though the most needed for dorms would likely be no more than 8. The sets that are the most cost-effective are the 8-piece sets and the 5-piece sets. The items included in the set vary: Often there is a comforter and at least one pillowcase. The other items included like throw pillows and sheets vary by collection and the seller.
As always, it's also very important to check the size of the bedding and the size of the bed in your dorm before you buy. Most dorms have twin-XL beds which are slightly longer than a regular twin so look for that when buying bedding when applicable.
The Best Places to Buy Dorm Bedding
There are many places to buy dorm bedding — almost too many to list. But today I'm going to talk about the best online stores for dorm bedding. Specifically, I'll be focusing on the most popular and cheapest options (that also have insanely cute bedding).
Online-Only Stores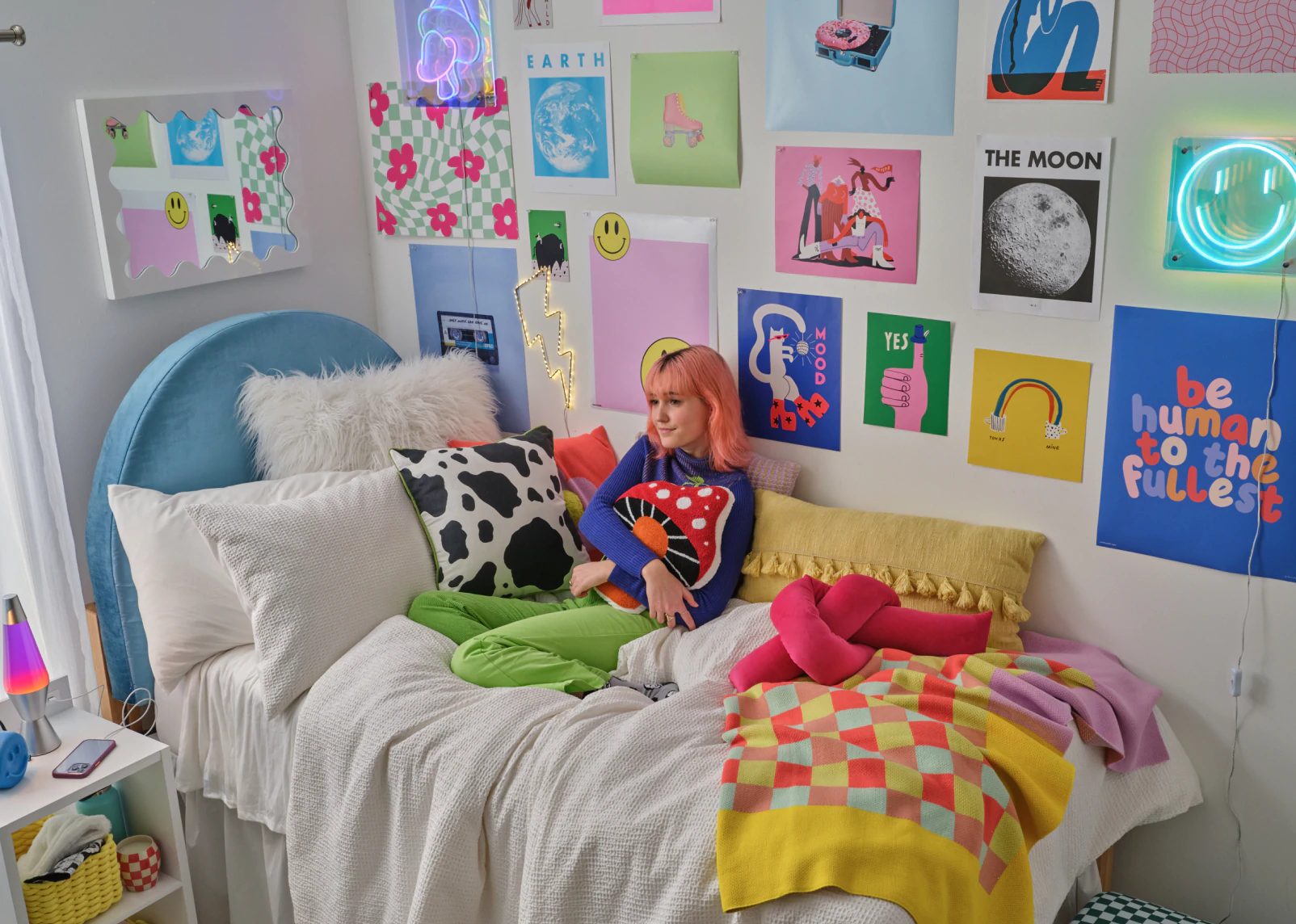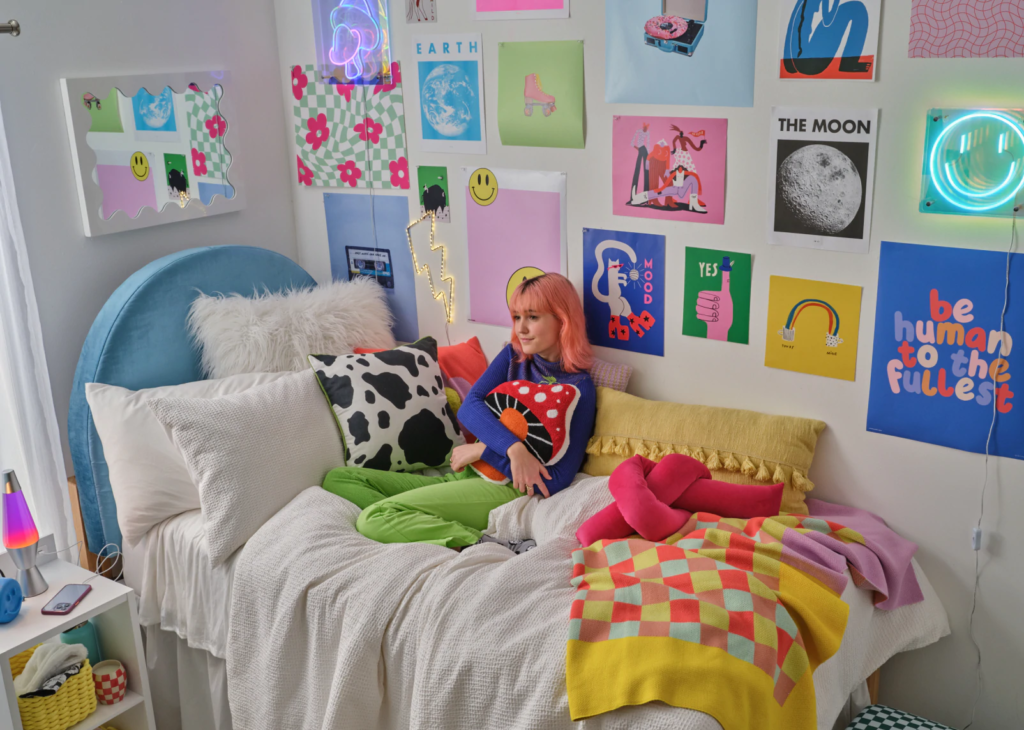 This is one of the most popular stores to buy items for your dorm. I know that there was an advertisement for it included in the dorm assignments sent from my university when I was a freshman.
Although the items on this site are a little more expensive than other places, Dormify is a great place to buy dorm bedding for a variety of reasons:
They will ship your bedding directly to your university. This can be especially useful if you're moving a long way from home, or if you're afraid you'll forget something in the big move to campus. You don't have to worry about the item after you order it when using this and you can go to the location where packages are stored on your campus to retrieve it.
They give you 15% off your order when you sign up for their newsletter. Though this may not seem like a lot, if you spend $100 or more (which is the cost of most of the bedding that includes comforters and sheets), it definitely helps.
Free shipping on orders over $75. Self-explanatory.
The coolest feature that I noticed was their bed visualizer. It allows you to pick your sheets, comforters, pillows, blankets, and even your headboard. You can mix and match to your heart's content and when you're done, all of your selections will be at the bottom of the checklist. The totals for each item and the overall total will be listed. So if an item is too much, you can take it away by clicking the X next to the item's total. It helps you stay on budget while also having a super cute bed!
You can talk to a stylist if you're not sure where to start or you can't decide on which option is the best for you.
There are also a number of bedding collections and pre-designed dorm rooms to look at for inspiration.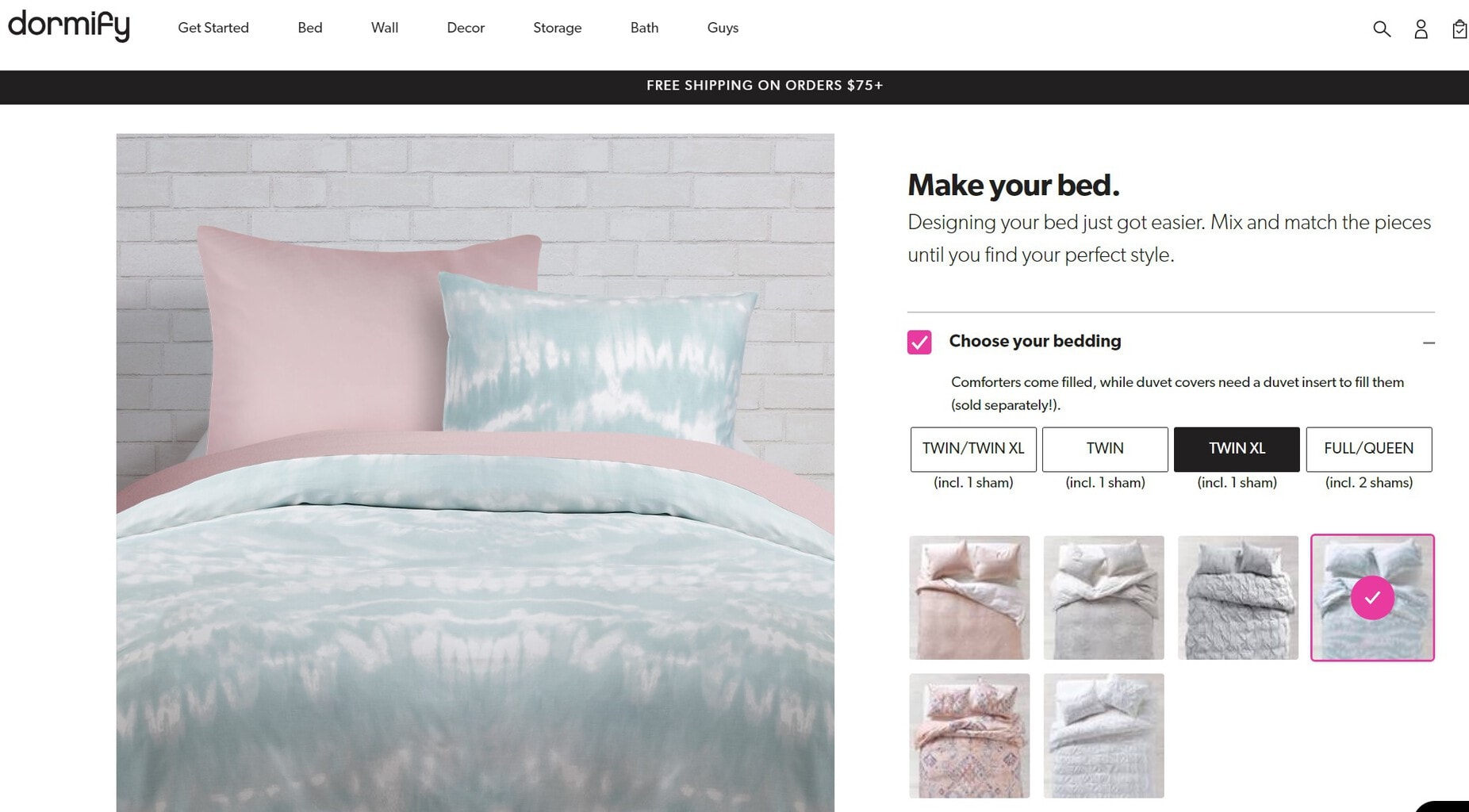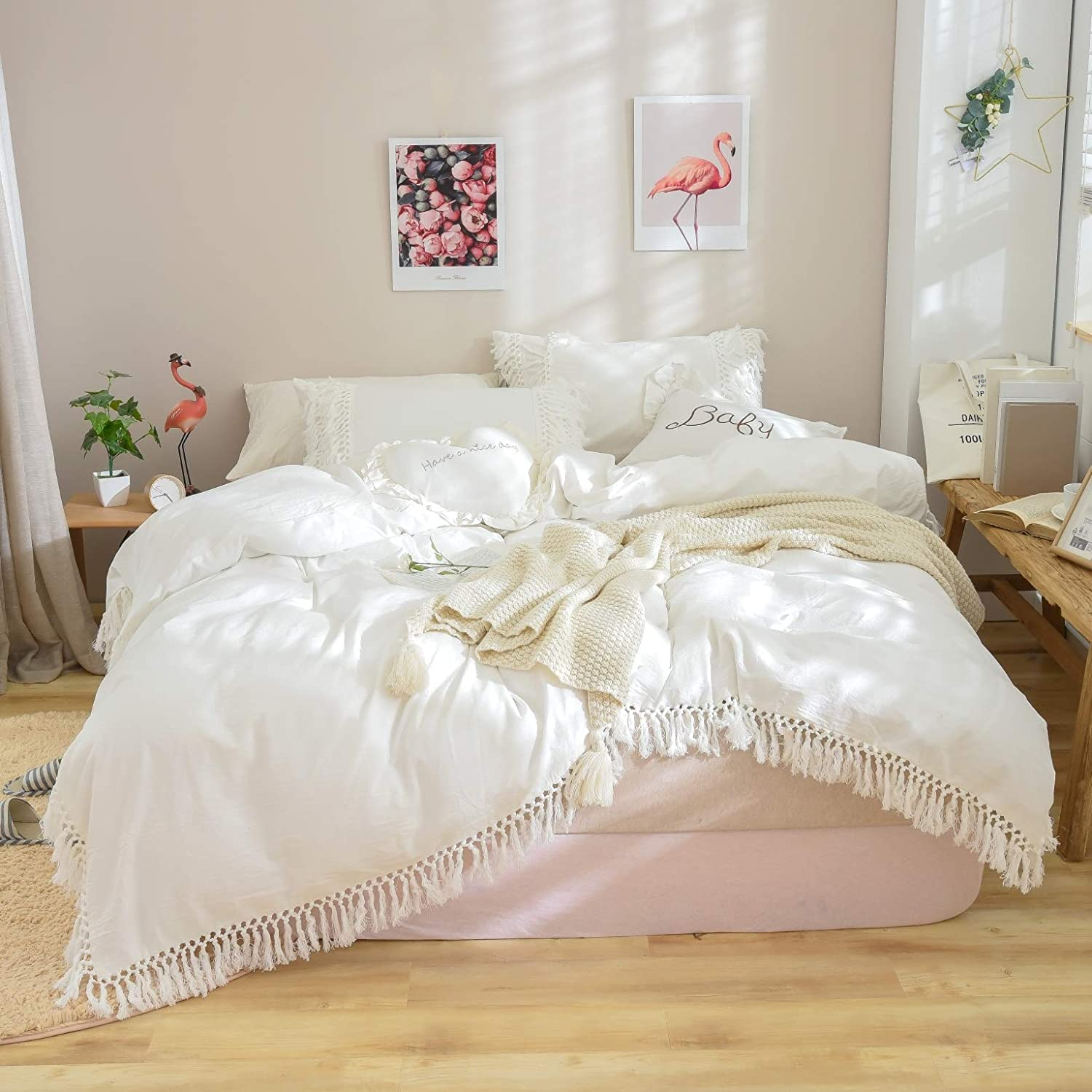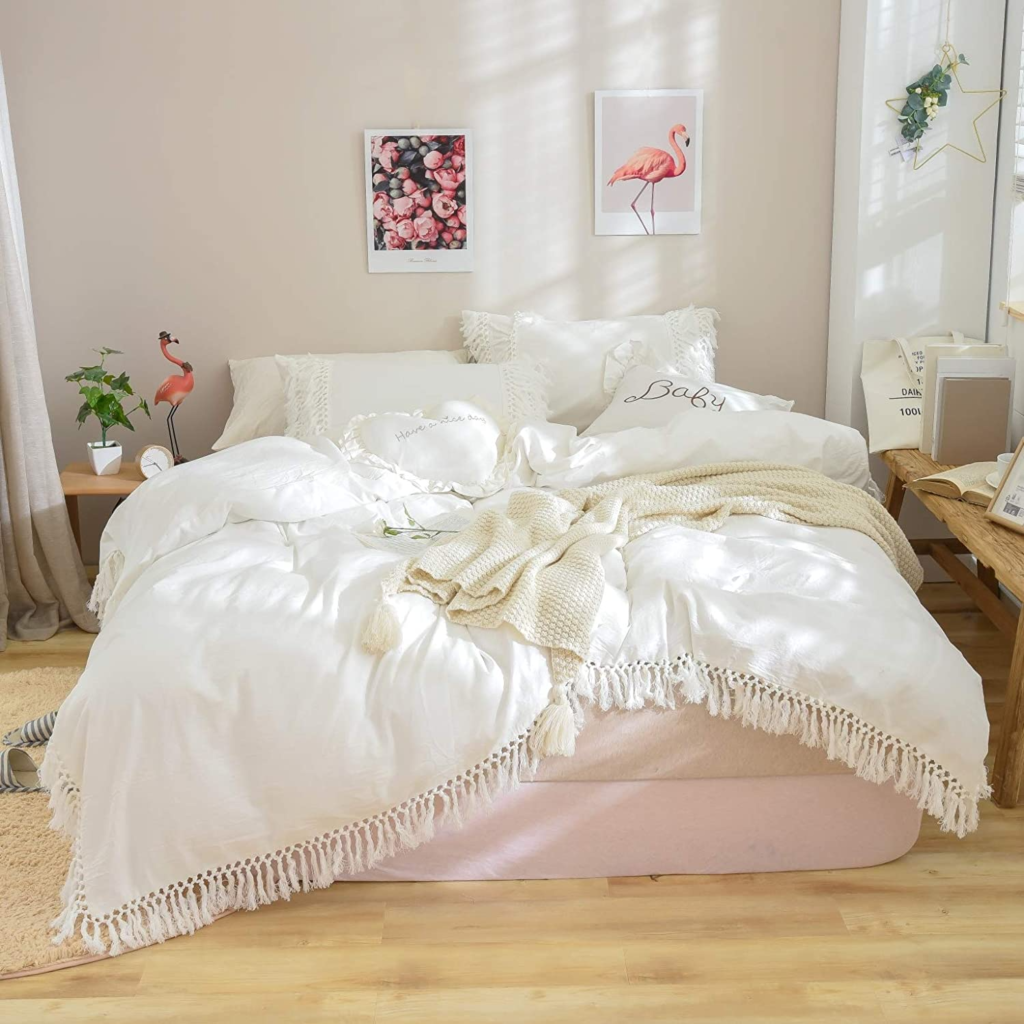 Product: Buy Bedding Set on Amazon
I don't have to tell you what Amazon is. This mecca is known for its options and affordability, especially amongst college students. Bedding is no exception to this.
A great feature of Amazon is the filtering option. For bedding, you can filter by set size, rating, whether or not the option is Prime eligible, and a number of other features, including price. To use these filters simply select your choices on the left-hand side of your screen during your search.
A newer feature on Amazon is AR, augmented reality. Only available in the app, this feature allows you to view an item, such as pillows or a bed frame, in your actual space, using your camera.
The bedding set above comes in a variety of colors and patterns and is available in sizes ranging from twin XL to king.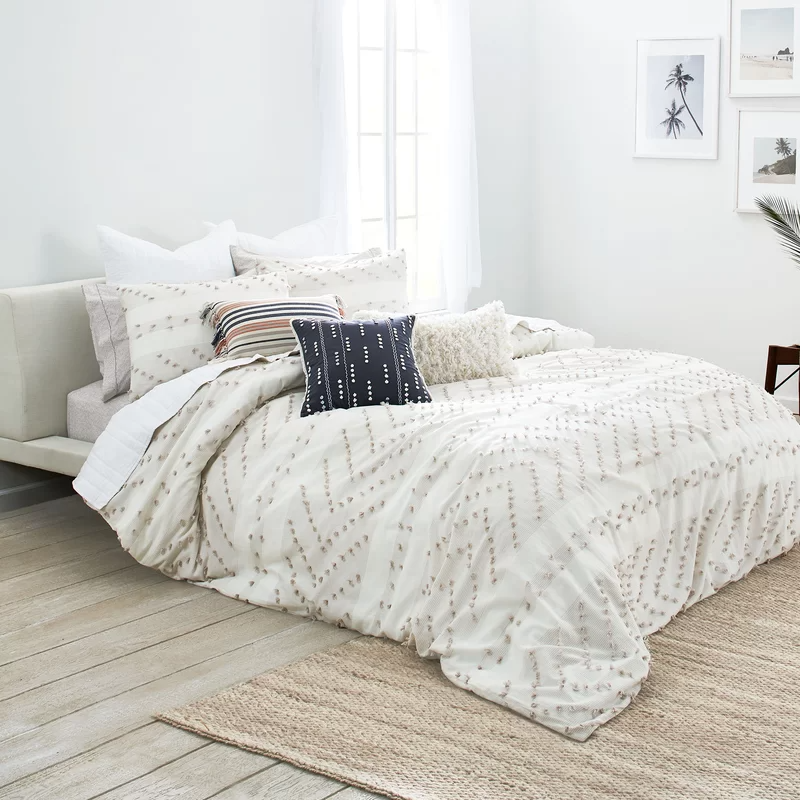 Product: Buy at AllModern
Aside from insanely cute bedding, this site has a number of good features and incentives:
You can search by image. This can be your own or one provided by the site. So if you have a specific vibe in mind, this is perfect!
It offers accessory options after you select an item. Say you're buying a bedding set. It will offer you pillows, sheets, and even mattresses to add to your cart after you have added the item to your bag.
You can get $20 off if you refer a friend or they refer you. This is only applicable for 30 days though. You just send them an email and after their first purchase, of at least $50, you receive your $20 in credit.
The open box feature allows you to buy items that were returned in new condition at a lower price.
The outlet is full of discontinued and overstocked items at low prices.
There are three sites connected to this one: Wayfair, Joss & Main, and Birch Lane. These sites are dedicated to providing stylish items at affordable prices. The items that you add to your cart on one site carry over to another if you are still logged in as well.
If you are a fan of those *Coastal Grandma* vibes, or you love Harry Potter or Lilly Pulitzer, or you just want something extra special, it's worth splurging and buying your bedding at PBTeen. Here are some benefits to shopping here:
You can save 15% when you join their email list.
There are collaborations including Harry Potter, Emily & Meritt, and Lilly Pulitzer.
They have dorm bundles: ones for bedding, shower, laundry, and closets.
They have an organic and sustainably sourced section.
They have styled beds to view for inspiration.
They have styled dorm rooms that you can filter by your personal preferences ("polished", "boho chic", "preppy" and more).
Finally, PBTeen is awesome because you can shop their tagged Instagram posts. This may sound confusing, but basically, students tag them on Instagram then they feature the rooms on their site and link the relevant items. This is a great way to find real-world inspiration.
Online & Brick + Mortar Stores
If you want to physically see the product before you buy it, there are other places to buy dorm room bedding.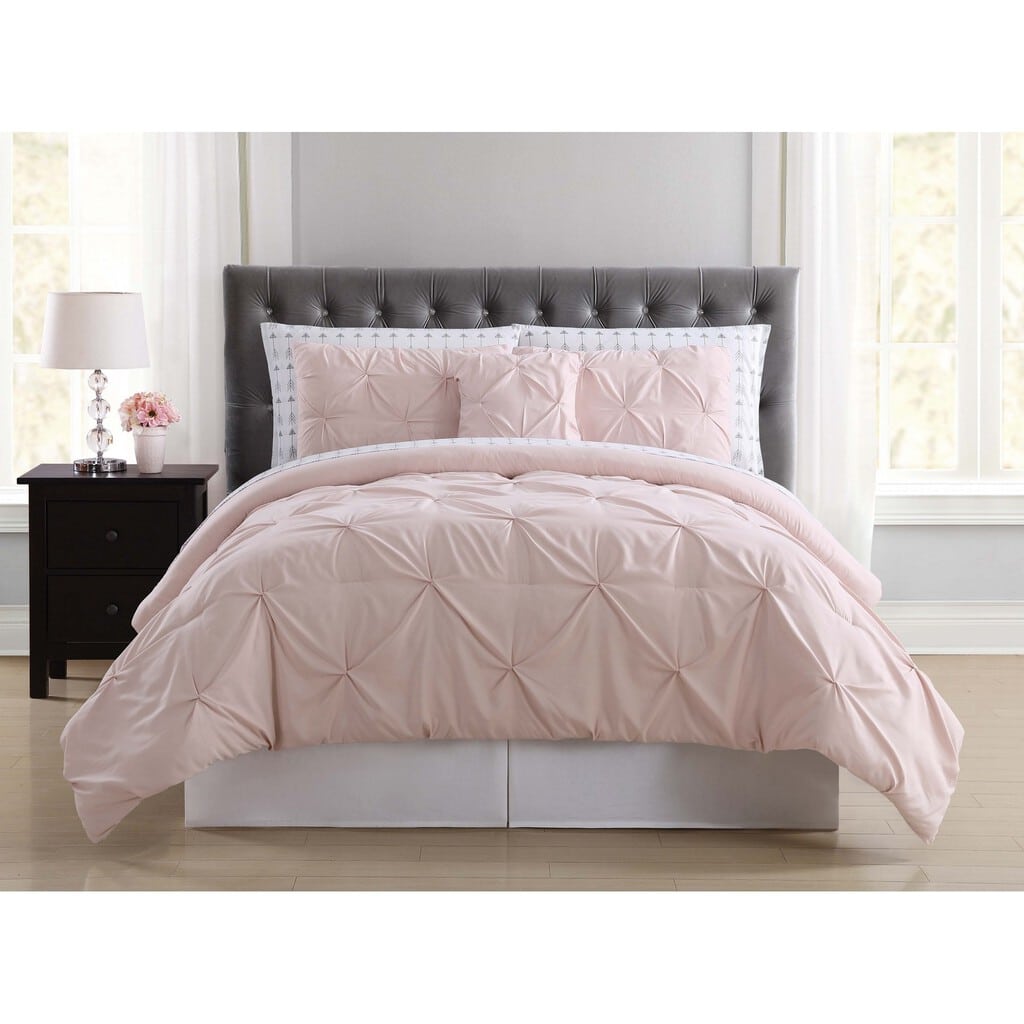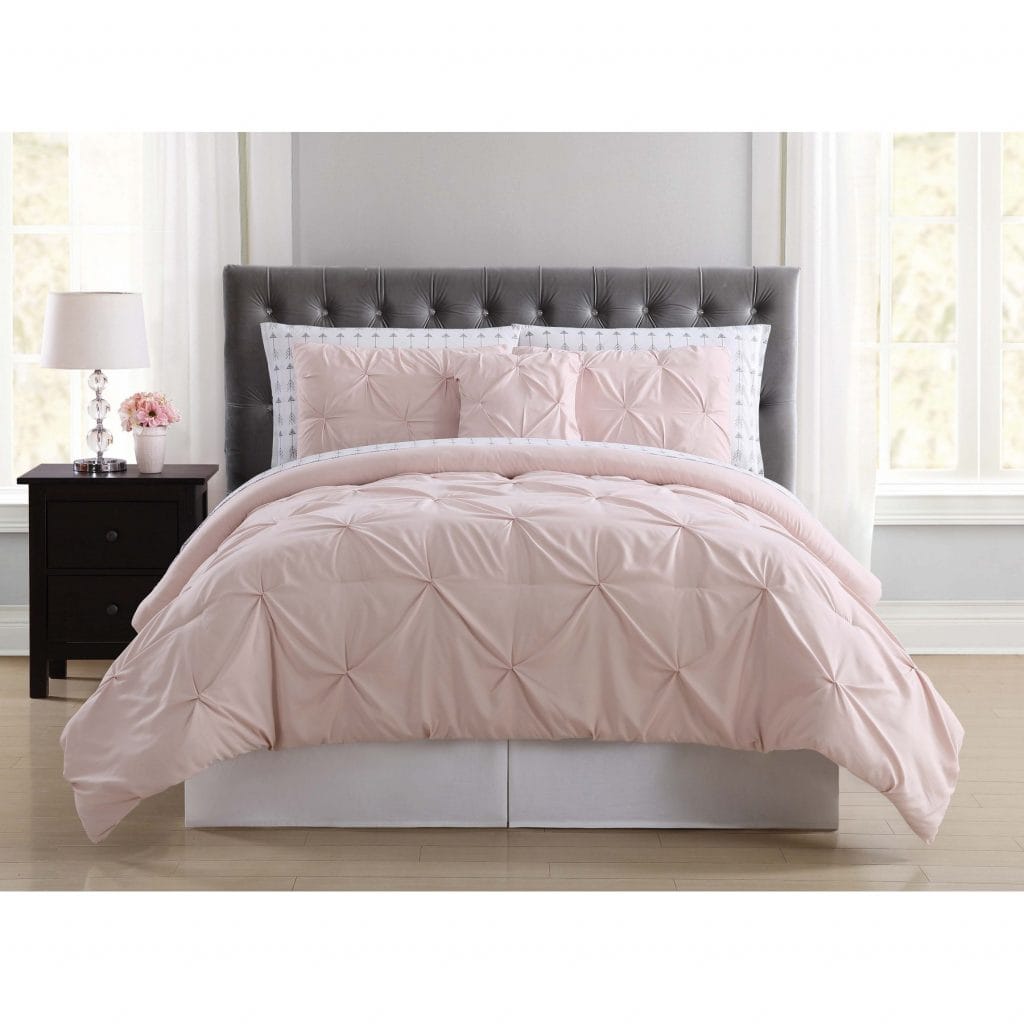 Product: Buy at Walmart
Everyone has a Walmart near them, so if you prefer to shop in-store, it's easy to do. They also have a large selection of items available online, so it's up to you to choose where you'd prefer to shop. Some other benefits:
They have a number of shipping and pick-up options: 2-day delivery, ship to home, free pickup plus discount, free pickup, and free pickup today. So if you need bedding in a hurry, they're the best.
You can find which items are available at a store near you by going to "store availability."
They provide items from other retailers on their website, so there's tons of variety.
They have a number of clearance and rollback options; if price is your biggest concern, try Walmart first!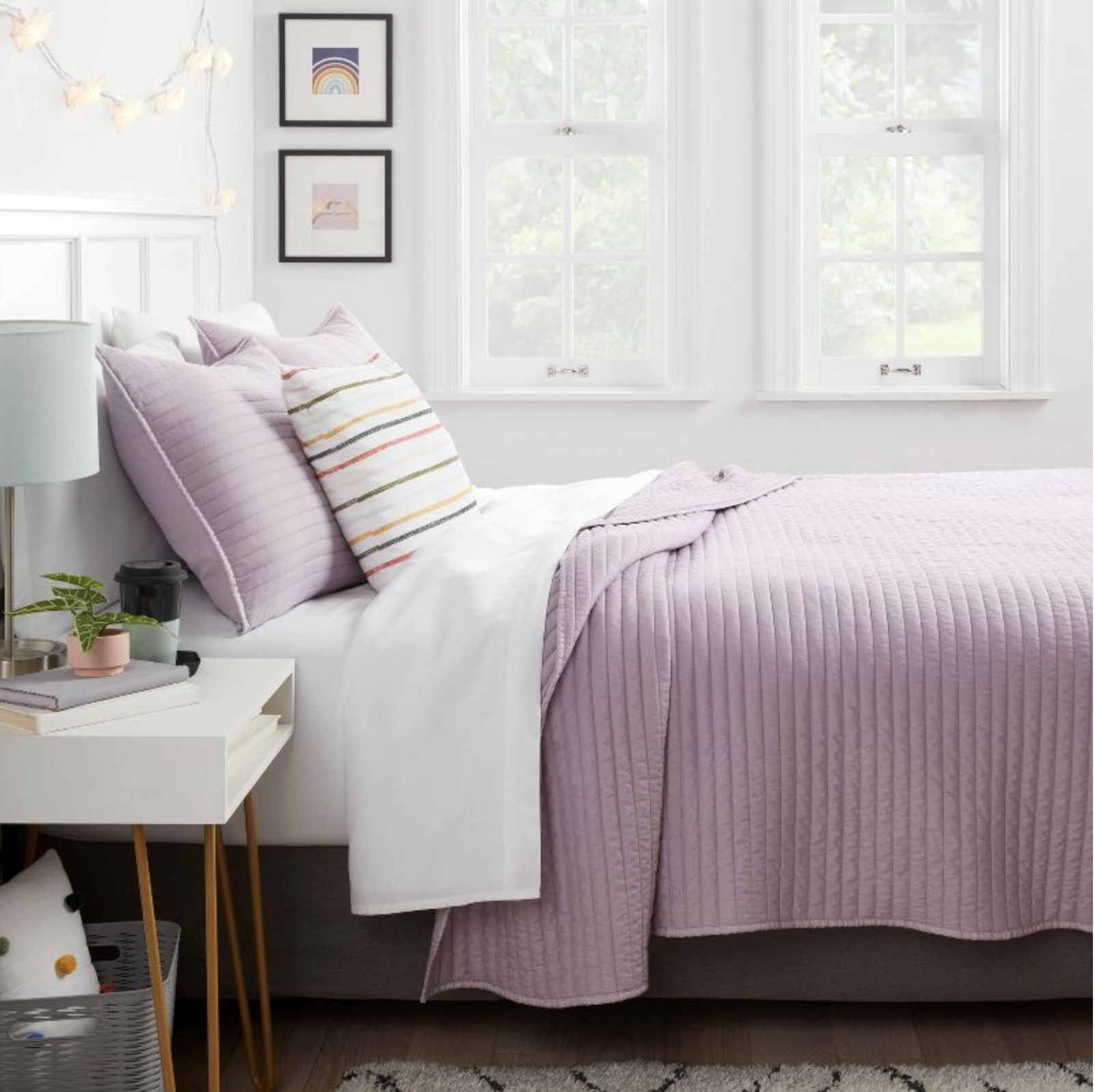 Product: Buy at Target
Target is another store that doesn't really need an introduction. You probably have one near you and shop there often. Just as they're known for cute fashion, Target has some pretty adorable dorm bedding options as well. Other things to know:
They have pre-styled dorm rooms for inspiration.
Like Walmart, they have free order pick up, pick up in-store, and free 2-day shipping. Great for shopping in a hurry!
They have a list of items at the bottom of their products that list other items to consider, what customers bought after viewing, and what customers bought with the item. This helps you find other pieces in your bedding collection.
They have 360-degree views of some of the rooms, complete with all of the items used, listed below the image. I love this for visualizing the room!
They have AR in their app. Here's the guide on how to use it and set it up.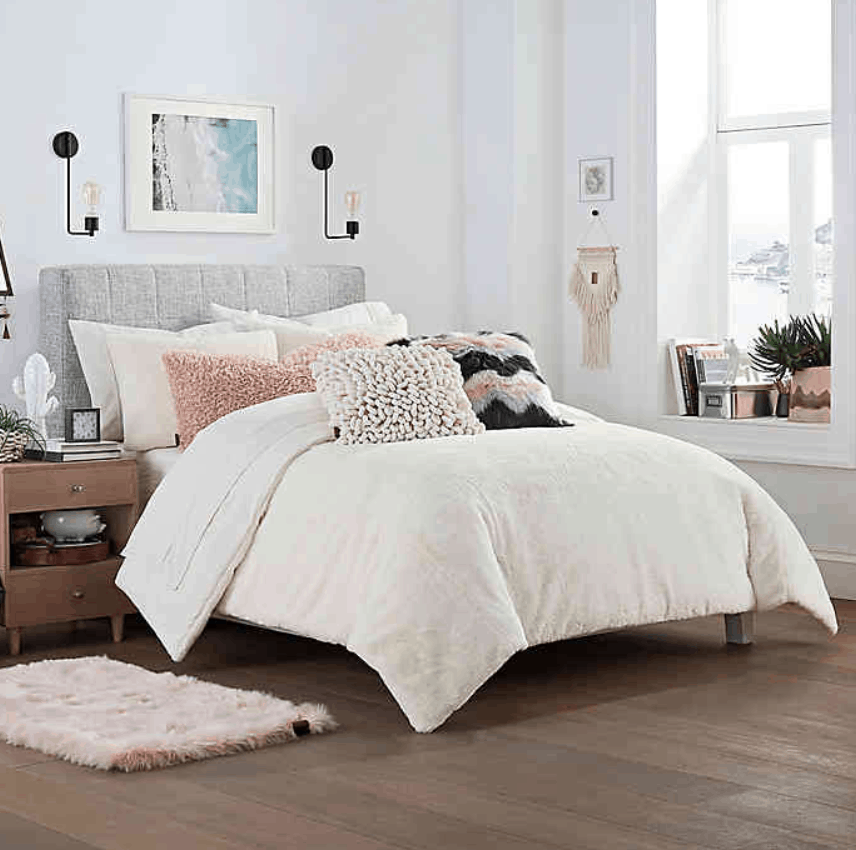 Product: Buy at Bed Bath and Beyond
A college student classic, Bed Bath and Beyond has just about everything you could need for your dorm room, and this includes (surprise) bedding. Other things to know about shopping here:
You can enter the information from your school and have access to the residence guidelines for your school's dorms.
You can set up a college registry. Complete with your address and the day you would like to have the items arrive.
You can make an idea board for inspiration and you can save the items you like for later.
They reward you for the money you spend with them in My Funds.
My Offers centralizes all of your coupons: mobile, online, and paper.
I want to hear from you!
Most of these sites have similar features though some have more unique aspects that set them apart. I personally spent a large portion of time on the Dormify bed visualizer and I added way too many Lilly Pulitzer items to my PBDorm cart.
Are there any sites I didn't include that you use to buy bedding? Comment below. I'd also love to know: What's something that represents your personal style in your room? Where do you find your style inspiration for your dorm?