This post may contain affiliate links, which means we may receive a commission if you purchase through our links. Please
read our full disclosure here
.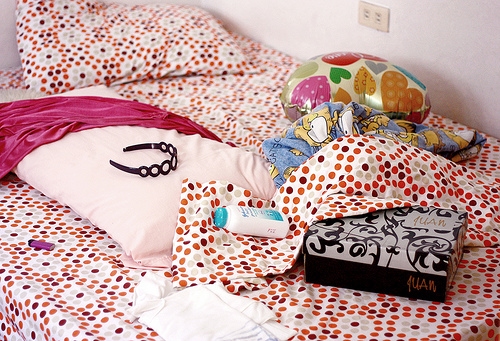 By now, if you've been following our latest dorm room series, you've learned how to organize your room around a color scheme and create a dorm room layout. These are important basic steps for creating your dream dorm, but so far they've centered around visualization – and now it's time to get to the fun part: shopping!
Today, we're going to tackle the task of shopping for dorm room bedding! In this article, you will learn how to figure out what your bed essentials are and how to go out shopping for them on a college student's budget, while picking up some useful tips and advice for when to splurge or save.
Let's get started!
Dorm Room Bedding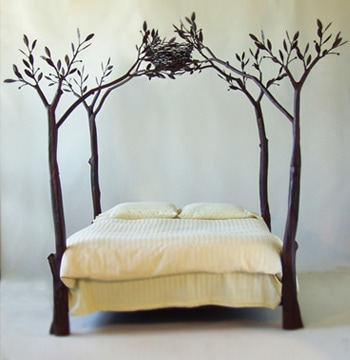 Whenever you look at someone's dorm room, or even a photo of a dorm, your eye is naturally drawn to the bed. As the biggest piece of furniture, the bed commands attention, and as such, should be the focal point of your dorm room. Bedding is so important because it can tie your room's color scheme together and is easily customizable.
Your bed is where you will spend the majority of your time when you're in your dorm — treat it as such! After you get the basics like a mattress pad and/or cover, there's nothing stopping you from customizing your color palette as much as you want.
Things to Know Before You Shop:
Buy bedding that fits your bed (most dorm beds are extra-long twin sized). Sheets need to fit exactly, but you can get away with a full-size comforter, which will just hang longer over the side of the bed.
Whenever possible, look for sheets and bedspreads made of natural fibers, such as cotton. Like having cotton clothing, cotton bedding breathes, so that air circulates properly through your bed, keeping you refreshed. Plus, it's comfier, and so worth the extra money.
As we've mentioned in our previous post on dorm bedding, we don't recommend white bedding for most people, simply because your bed gets used as seating in college and stains are inevitable. If you're uber neat or will wash your bedding often, white can work, but when in doubt, go for something darker.
If your room faces west (when you look out the window, you're looking west), try getting one set of bedding in light, airy colors (think sea-inspired), and one in warmer, cozy colors (think fire-inspired). With the way the sunlight hits your room, it will be colder in the winter and hotter in the summer (my dorm faces west, so I've learned this the hard way). Having airy colors in the summer will make your room feel fresher, and having cozy colors in the winter will help with the unfortunate fact that your room temperature will be slightly chillier than that of your friends in north, east, or south-facing dorms.
A high thread count does not necessarily guarantee that your comforter will be the best thing since sliced bread. A tpi (threads per inch) of 300-400 is a good mix of softness and durability.
Down or down alternative duvet inserts are a great way to go if you plan on changing up your bedspread fairly regularly, and are also useful in case you get horribly bored with your bedspread pattern and don't want to buy a whole new comforter.
Chic & Affordable College Bedding Picks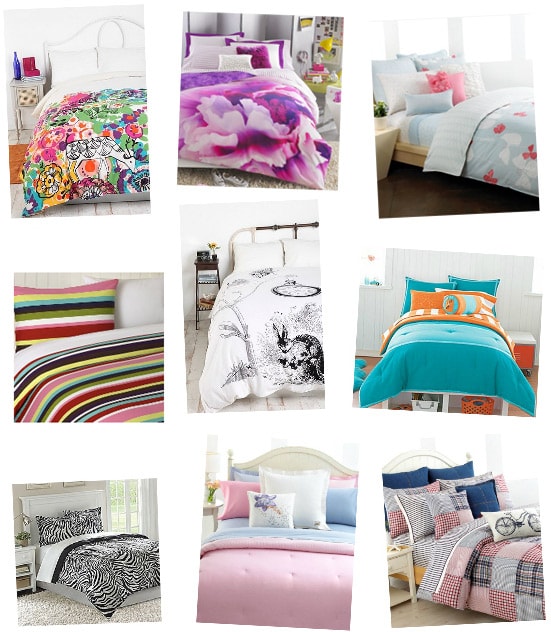 Product Information (from left to right, top to bottom): Multicolored Fauna, Purple/White Floral, Plumeria, Hampton Stripes, Black/White Rabbit, Blue Cabana, Zebra, Pink/Blue Solid, Tommy Squares
Dorm Room Sheets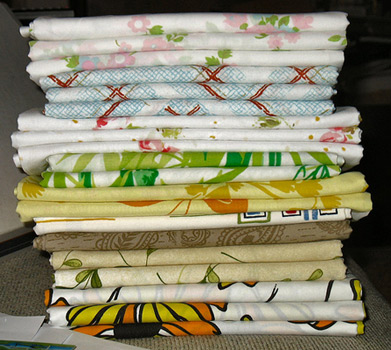 Sheets are difficult to shop for. They should complement, but not overpower, your bedspread, but should also be colorful or patterned enough so that they will hide any stains that may arise from using your bed as a couch.
Tips for Buying Dorm Sheets:
If you've decided on a color scheme for your overall bedding, try to get sheets in the lightest of the colors you've selected. Unsure what your colors are called? Wikipedia's List of Colors is a lifesaver when you're trying to get a sales associate to help you find your perfect sheets.
You may be like me and insist on cotton for everything, but blend fabrics and flannels are great as well. I happily sing the praises of flannel sheets every time winter rolls around, and blend fabrics wrinkle much less than cotton ones do.
Sheets shrink. Try to find out the dimensions of your mattress, and make sure your fitted sheet, well, fits.
Get at least two sets of sheets! In college, you're probably not going to feel like doing laundry every week, but you'll still need to change your sheets regularly. Unless you're committed to regular laundry days, get multiple sheet sets and swap them out as needed.
Make sure your sheets are machine-washable. Silk sheets are luxurious and amazing, yes, but paying for dry cleaning will make your wallet sad.
Chic and Affordable Dorm Room Sheets We Love: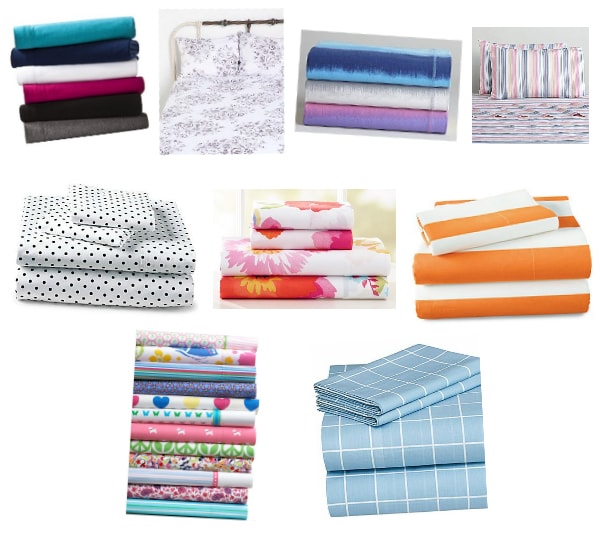 Product Information (from left to right, top to bottom): Jersey Sheet Set, Floral Sketch, Tie-Dye, Pink and Grey Stripes, Polka Dot, Big Bloom, Cabana Stripe, Tommy Hilfiger, Gridlock
More Tips & Tricks for Shopping for Dorm Room Bedding
If you plan on storing lots of stuff under your bed (who isn't going to?), consider buying a bed skirt. A simple white ruffle will cover up the unsightly storage boxes underneath, and is the easiest way to make a bed look clean and put-together.
Go to a variety of stores to find bedding and basics. Make sure to hit up your local Marshall's, T.J. Maxx, or other discount store — I recently bought an entire Ralph Lauren Home bedding set there!
Got a sewing machine? You can always make your own duvet cover! It's the best (and simplest) way to ensure your bedding matches your sheets. I'm doing this as soon as I learn how to use my sewing machine again.
Vinegar can soften your sheets if you throw it in with the fabric softener. Some sheets get scratchy after a few washes, and this is a quick and inexpensive fix.
The word "sateen" on the label usually means that the sheets will feel like heaven.
For even more tips on shopping for your dorm bedding, see our article Dorm Room Shopping Part 1 – Bedding.
Now It's Your Turn!
What did you think of these bedding shopping tips? What does your bedding for school look like, and how did you decide on it? What's your best advice for college students buying sheets and comforters for the first time? Let us know with a comment!