I ran into Julia on her way to class and noticed her cute and perfectly put together outfit. From her red lips to her cobalt and red dress, her look was clean and sophisticated with a bright, distinct pattern. Although she told me she barely put any thought into the outfit, beauty lies in the effortless style she created.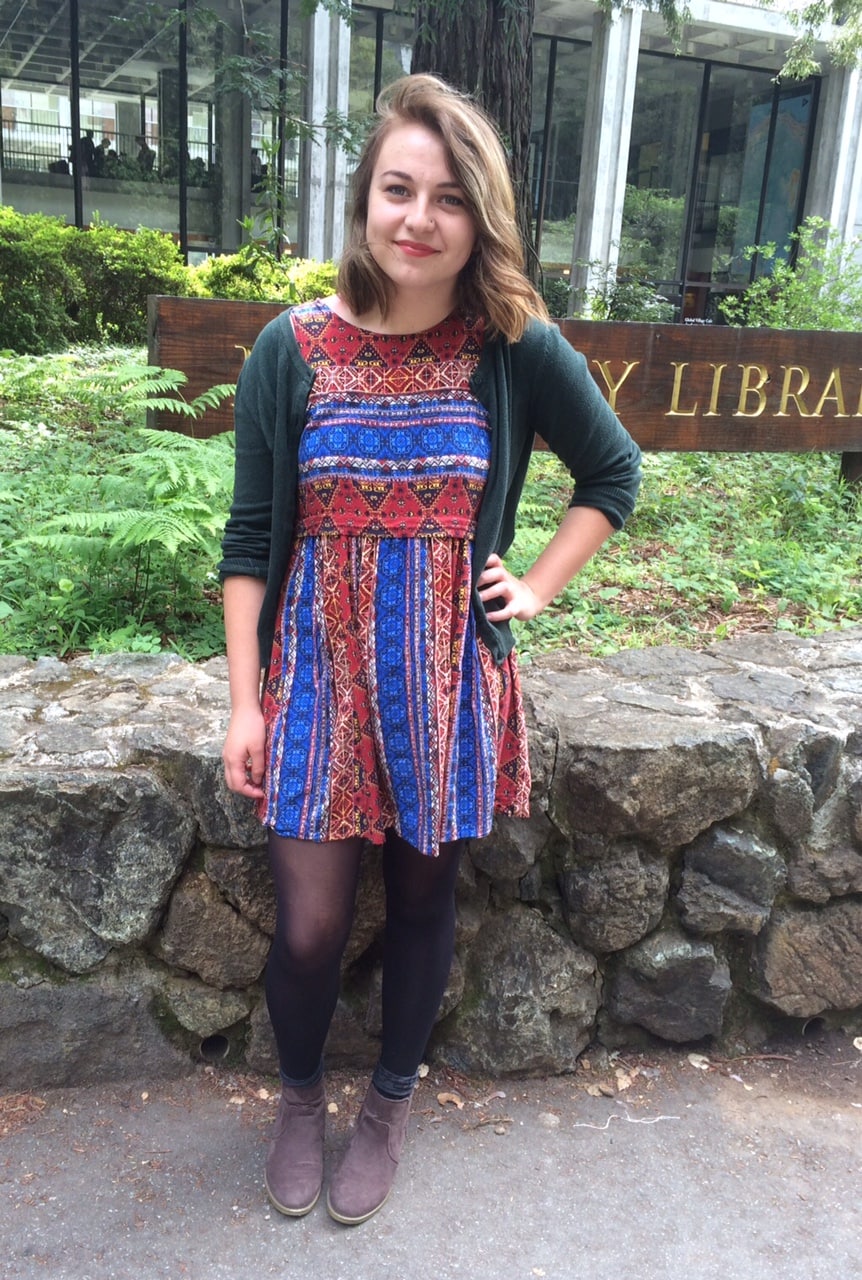 Julia 101
Name: Julia
Year: Junior
Major: Literature
School: University of California, Santa Cruz
Let's Talk Fashion
Who or what inspires your style? "Probably my friends and the people I hang out with. Even family member[s] sometimes. I don't really look at any magazines."
Where do you like to shop? "I shop mostly at Gap. That's my major place. I also shop at Forever 21 though."
How would you describe your sense of style? "Pretty casual and relaxed."
Why did you choose this particular outfit? "Mostly because it's comfortable but still looks nice. I put this together fast and it looks like I put thought into it."
What fashion advice would you give other students? "To just feel comfortable in your clothes. I think it's most important to feel confident."
What are your favorite trends right now? "I was really into the whole crop top thing but now it's too cold so I can't wear them as much as I'd like to."
If you could raid anyone's closet, who would it be and why? "Probably my roommate. She wears a lot of classy pieces and always looks [well] dressed and put together. I always try to raid her closet!"
Elements of Julia's Outift
1. Print Dress and Green Cardigan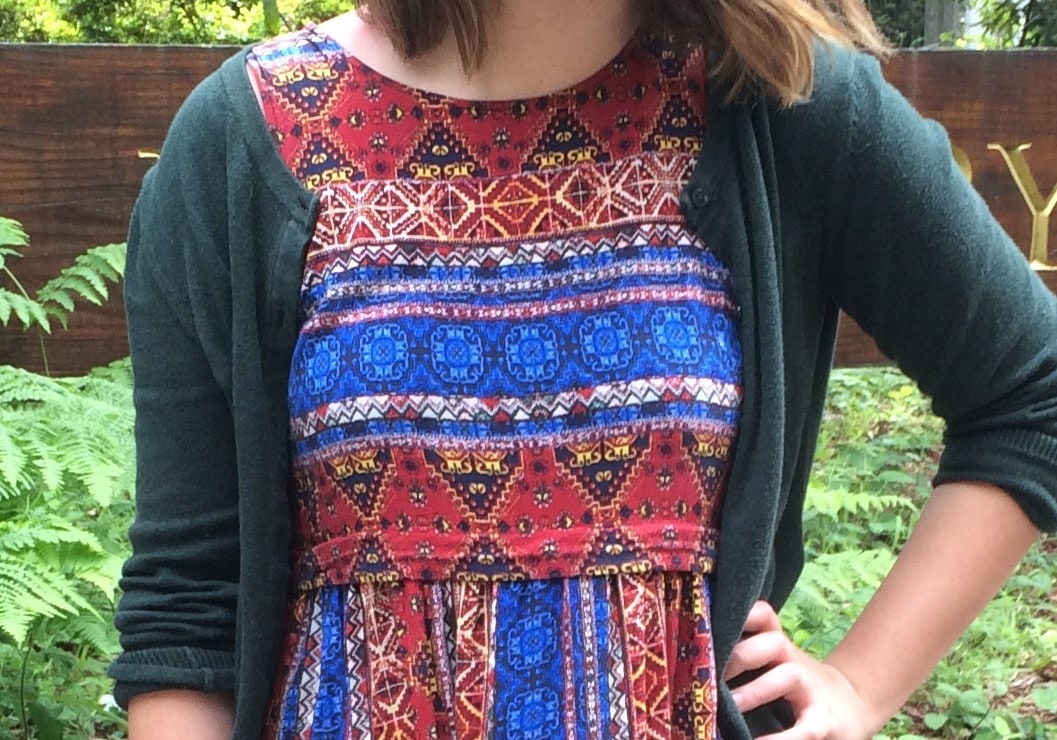 Julia's colorful Forever 21 dress was the first thing that caught my eye. The reds and blues of the dress work well together and the alternating tribal patterns on the bodice and skirt create the look of two pieces rather than just a dress. Her dark green H&M cardigan doesn't detract from the dress but keeps the look classic with a little extra hint of color. I also loved the way her red lips brought out the color of her dress!
2. Suede Booties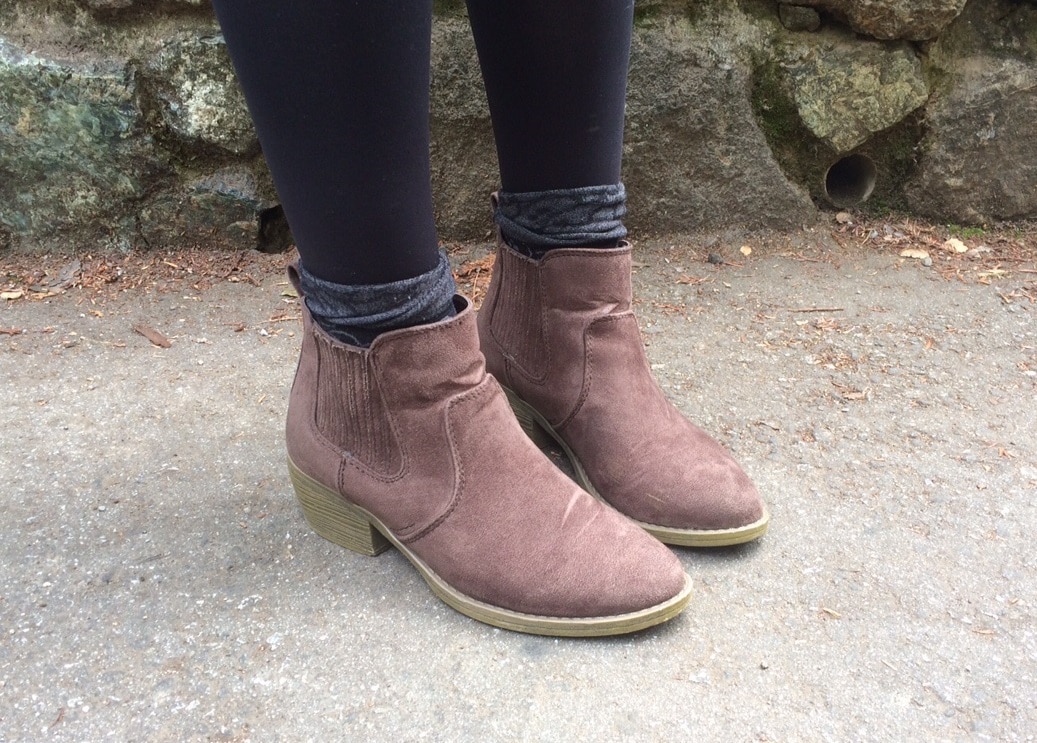 These muted taupe-colored booties from Zappos keep Julia's look simple. They don't distract from the main elements of her outfit and really round out her look. I also took note of her socks peeking out of the top of her shoes. What a cute detail!
Would you wear Julia's outfit?
Do you love her colorful dress as much as we do? What do you think about her booties? Comment below and share your thoughts with us!