Walking down the street, Sa'Quisha definitely turned heads with her loud and exciting style! I had to stop and ask her about how she came up with such an amazing outfit.
Sa'Quisha 101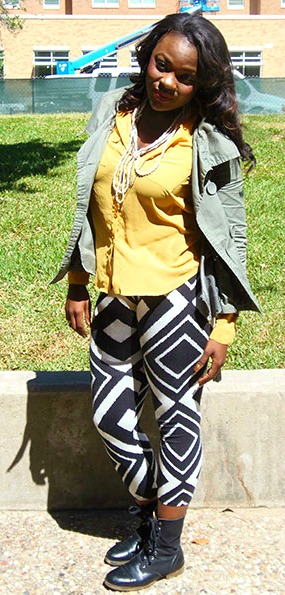 Name: Sa'Quisha
College: Texas A&M University
Major: Communications with a minor in Human Resource
Graduating: December 2013
Hometown: Dallas, Texas
Let's Talk Fashion
Where did you get your pieces from? "I caught my boots on sale at Charlotte Russe, my tights are from this store called Gossy. My jewelry is from Forever 21, but this brooch is my grandmother's. She passed away so I wear something of hers every day in remembrance. And my shirt and jacket are both from Ross."
How would you describe your style? "It's pretty much whatever I feel like putting on that day. I love tops that just stand out and statement pieces. I want to be able to say, 'Look! This is me!' and everything I wear has a symbolic meaning (like these pearls, they symbolize wisdom!). I also really like darker fall colors."
Where do you pull inspiration from? "YouTube! It's a great resource because you get to personally see the process of putting together an outfit. There are hair, nails, and beauty videos. They even teach you how to shave!"
Do you have any favorite Youtubers or channels? "I'd say, Fabulasityisme and Lover4FASHION. They do hair, makeup, absolutely everything. I really want to be just like them because they're inspirational even though they're just local people!"
If you could shop anywhere, where would you go? "Saks Fifth! No, I'm kidding. I'd really like to go to a store I've never been. Maybe Louis Vuitton or Gucci because they do create amazing clothes, but they are incredibly expensive."
Any fashion advice for college students? "If you want to be fashionable, just be you! Everyone can't be like everyone else. Some people do really well with standout outfits while others look best in plain, yet refined clothes."
Elements of Sa'Quisha's Style
1. Patterned Leggings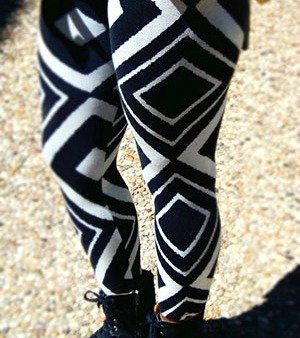 Sa'Quisha's standout piece in this ensemble has got to be her amazing diamond-patterned leggings. Paired with a few neutral pieces, they make a statement that's sure to impress!
2. Military Details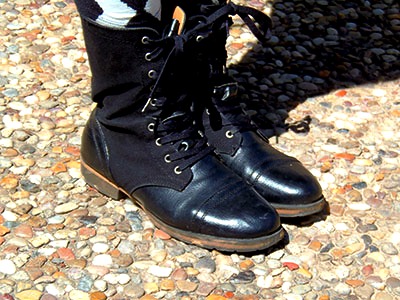 With her olive green parka and combat boots, Sa'Quisha keeps her outfit grounded with a military-inspired vibe. All about structure, these tough pieces are cool and put-together no matter how bold and bright the rest of the outfit may be.
3. Feminine Jewelry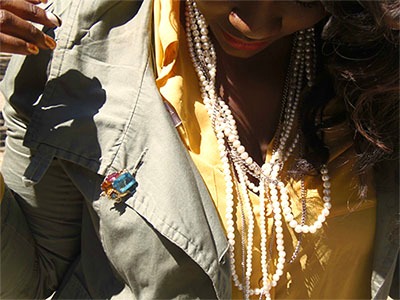 To contrast her tough, military-inspired pieces, Sa'Quisha tops her outfit off with a lovely pearl necklace and her grandmother's vintage pin. A girl is never complete without her pearls!
What do you think?
What do you think of Sa'Quisha's outfit? How do you incorporate military-inspired pieces into your outfits? Do you wear sentimental jewelry like Sa'Quisha? As always, let us know in the comments below!