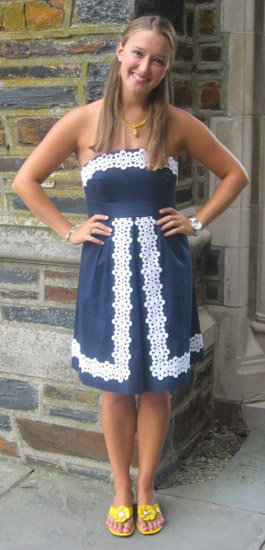 It's hard to miss the always cute, classy, and cheerful Heather at Duke University. She always looks put-together, whether I run into her on campus, at a party, or even at one of our multiple hour-long rehearsals for a musical. I recently got the chance to chat with her about the inspiration behind her adorable wardrobe choices.
Heather 101
Name: Heather
Class: 2011
Major: Math and Theater Double Major, Education Minor
Hometown: Titusville, NJ
Let's Talk Fashion
Interests: "I love giving campus tours, Hoof n Horn – a musical theater organization, reading the Gospel lessons and serving communion at the Duke Chapel, and my sorority Alpha Phi."
Who or what inspires your style? "I think that I have a very Southern style. This is interesting because I'm from New Jersey, so I can express myself better when I'm at school. It's a very feminine preppy without being too boxy. I also like being color coordinated. If I wear red shoes I like to have on red jewelry or maybe a red headband."
Why did you choose this particular outfit? "My favorite article of clothing is a dress. I love dresses and I have loved them ever since I was little. I wore them everyday in Elementary School and absolutely refused to wear anything else. The feminine and dressy designs of Lilly Pulitzer are my favorite and most like my style, so I figured this Lilly Pulitzer dress was the most "me" dress to wear. I wasn't sure whether to wear white shoes or not, so I figured I'd go with color today. Yellow is currently one of my favorite colors."
Do you have any fashion tips for other college students? "Embrace your body type and find things that work. Don't be afraid to be yourself. Dress in what makes you feel happy and comfortable and don't worry too much about what other people are wearing."
What fall styles are you looking forward to rocking? "I'm excited to wear solid colored long sleeve shirts with scarves. The fall is nice – you don't have to start wearing big coats, but you can start accessorizing more and layering on cute things like cardigans, jackets and hats."

What are your favorite trends right now? "I don't really pay attention to trends. My style pretty much stays the same."
If you could raid anyone's closet, who would it be and why? "I would take the entire Lilly Pulitzer wardrobe.I would also love to raid the closet of a celebrity who has a timeless sense of style, someone classically beautiful like Julia Roberts."
Elements of Heather's Style
Dresses with Lace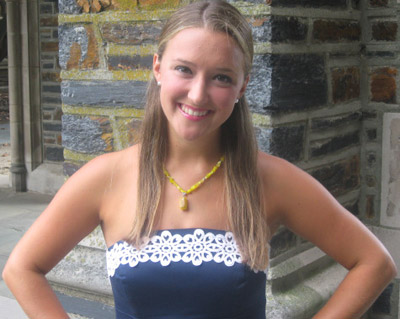 Since we're still experiencing 90 degree weather here at Duke, a dress is a comfortable, yet stylish piece to wear around campus. Heather's blue strapless dress is trimmed with a lace appliqué, which gives the frock a cute, charming feel. As Heather shows us, little details on simple pieces make a big difference.
To cop some of Heather's style for yourself, don't be afraid to wear your favorite dresses into fall! If it is getting chilly where you live, just wear your favorite dress with tights and a cardigan or jacket for a fall-perfect look.
Matching Accessories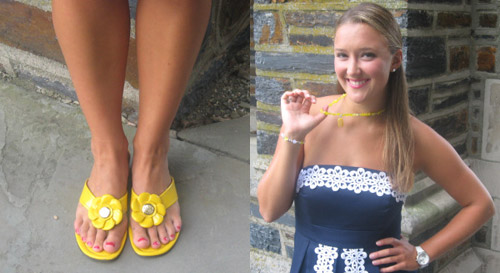 Want to achieve a well-crafted look? Try Heather's strategy of matching your accessories! Wearing yellow jewelry with yellow shoes makes Heather's outfit look well put together and adds that classic preppy aesthetic.
Share Your Thoughts!
What do you think about having a consistent style and avoiding trends? Does your style fit in more at your school than it does in your hometown? Let us know in the comments below!