On the day before Thanksgiving, the UC Berkeley campus was pretty much deserted. I was hurrying home, fighting against the bitter cold when I ran into a good friend. As I stopped to chat with her, I couldn't help but divert my attention towards her companion, who looked effortlessly comfortable and stylish in her dark winter neutrals. I immediately introduced myself and asked to interview her – it turned out she was an avid CF reader herself!
Carine 101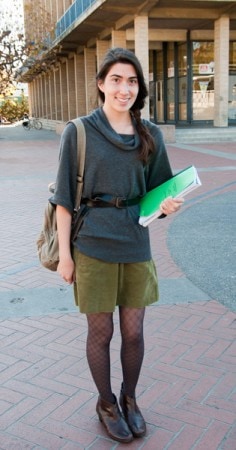 Name: Carine
Major: Comparative Literature
Year: Senior
Let's Talk Fashion
How would you describe your sense of style?
"I think it runs the gamut from bohemian to office casual, but in general, I gravitate towards elegant outfits with subtle variations. That being said, I definitely believe that less is more, so I try not to over-accessorize."
Why did you choose this particular outfit?
"Most of my classes and meetings were canceled, so it's definitely the sort of mellow day that you spend catching up with friends and reading good books. I chose this outfit with comfort in mind. I love the warmth and coziness of the sweater and corduroy skirt, as well as the relaxed fit. I was going for a casual but polished look."
Where do you like to shop?
"I tend to do most of my shopping online, since I'm lazy and have a computer but not a car. I like Loft for their classic staples with an elegant twist, and JCrew for their sophisticated statement pieces. Madewell is great for their casual, effortlessly cool vibe. Finally, Urban Outfitters and Anthropologie are fun places to find quirky, trendy pieces and accessories. These stores are a little pricey, so I definitely make it a point to buy things on sale."
What fashion advice would you give to other students looking to improve their style?
"Look at the different clothes being sold, and see what sort of outfits are being put together, especially in terms of silhouette, color, and layering. Find pieces and combinations that speak to you on a personal level. Not all trends are worth adopting; I think it's important to first know what looks good on you, and then see how certain trends can fit into your own unique style."
What are your favorite trends right now?
"Cinched waists, tights, jeggings, and mixing the unexpected (black and brown, different patterns, casual and dressy pieces, etc.)"
What do you do for fun – do you have any unique hobbies or interests?
"I love discovering artwork, literature, and films that may have been overlooked because they're from different time periods or cultures. I'm also fascinated by bandes-dessinees (French comic books), text-based computer games, and claymation. Anything related to language or grammar is pretty cool in my book."
Elements of Carine's Outfit
I loved Carine's outfit because it looked so warm and comfy, yet stylish because of the simple details. The cowl-neck sweater and corduroy skirt were made of heavier winter materials, and in the gray matched perfectly with the moss green. Her cinched belt gives her silhouette some feminine structure.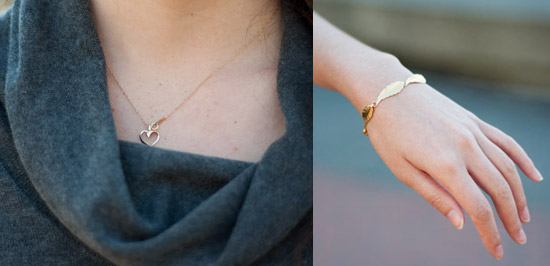 In Carine's case, less really is more. Her delicate gold jewelry goes with the overall simplicity of her outfit, and makes her look completely chic without going overboard.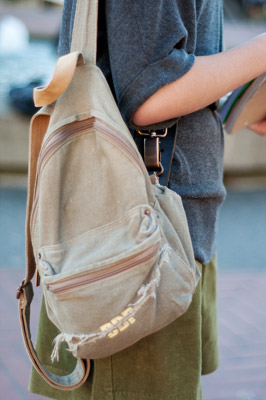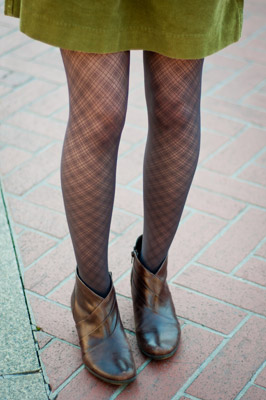 Carine managed to mix in all kinds of neutral colors in her outfit, from gray to green to tan to brown. Her rugged beat-up backpack and patterned tights added some extra subtle detailing without overwhelming her casual, yet polished, ensemble. Brown is a wonderful earthy hue reminiscent of fall leaves, and a great choice for autumn.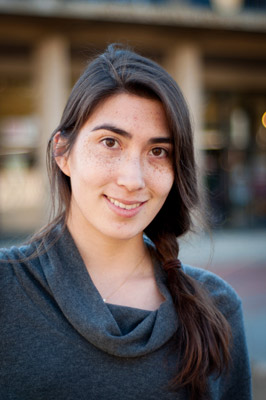 The final thing I loved most about Carine's look was her perfectly undone braided hairstyle. The side braid is adorable and relaxed, and nods to the effortless sophistication that Carine's outfit embodies.
What do you think?
Do you like Carine's relaxed outfit? What do you think of this particular combination of neutral colors? Let us know in the comments below!