Alyssa sits a row in front of me in our History of the C.I.A class. Her perfectly put-together look always makes me jealous on my grubby Fridays. I finally got the chance to talk to her about her great style, and her always-amazing shoes.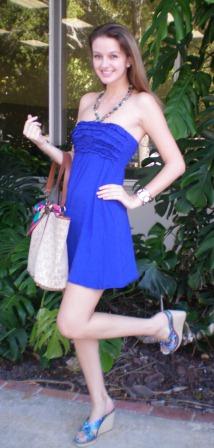 Alyssa 101
Name: Alyssa
Class Standing: Junior
Major: International Relations, Foreign Languages and Psychology
Hometown: Chapel Hill, NC
Let's Talk Fashion
Who or what inspires your style?
"I love anyone who can wear something classy, fun, and stylish." Alyssa also loves people who put together "designer-looking outfits for close to nothing."
Where do you like to shop?
"I love the stores that every girl does: Nordstrom, Bloomingdales, etc. I love Betsey Johnson, but on a college budget, Forever 21, and TJ Maxx often have to do."
How would you describe your sense of style?
"My style ranges from the comfortable look in jeans and a t-shirt to a dress and heels. I love to look put-together because it always makes a better impression!"
Why did you choose this particular outfit?
"I live in Miami so a fun sundress and colorful wedges are always a great option for school, the mall; basically anywhere."
What fashion advice would you give to other students looking to improve their style?
"You don't always need to go to the high-priced stores to find good deals. The Saks Off 5th outlet store has become my new favorite hangout… you can find amazing designer deals for 80% off!"
What are your favorite trends right now?
"Since it's getting to be colder weather, I love the boots look with skinny jeans and a cute blouse."
Do you have any favorite fashion designers? If so, who?
"My current favorite fashion designer is Betsey Johnson. I love how crazy her designs are, yet they're so fun and girly."
Elements of Alyssa's Outfit
Patterned Wedges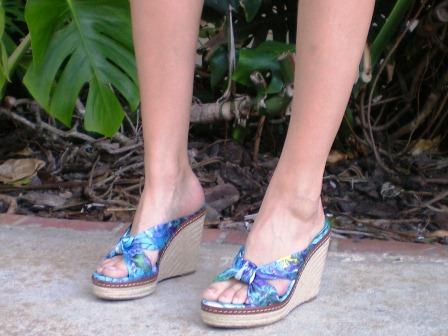 These psychedelic paisley wedges elevate what would otherwise be a simple sundress. I love how Alyssa's shoes coordinate with the rich color of the dress and the hue complements her skin tone nicely.
The Chunky Necklace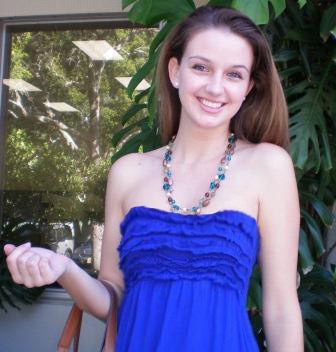 Alyssa's beaded necklace adds interest to the neckline of her tube dress. The beads, at first glance, almost look like a continuation of her dress's neckline, further dressing up the simple tube dress. A statement piece like this would also be great if you wanted to wear a more basic top for a night out.
Share Your Thoughts!
Would you ever wear patterned wedges or heels? How do you dress up a simple sundress? Would this be something that would be worn to class on your campus? Does it make you jealous to see people wearing sundresses in Miami when much of the US is covered in snow? Tell us with a comment!