Florida summers can be unbearable. The humidity, bugs, and unrelenting sunshine all come together to create an environment reminiscent of Dante's Inferno. Attempting to look attractive while keeping cool and comfortable is an almost impossible task.
As I was walking around our deserted campus on my way to the Financial Aid office, I ran into Alexis on her way to the computer lab. She is a fellow theatre student who somehow always manages to look cute and well put-together. Her outfits always include an outrageous pattern, like her brightly-colored linen shorts, which fit her outgoing personality. Read on to learn more about Alexis!

Alexis 101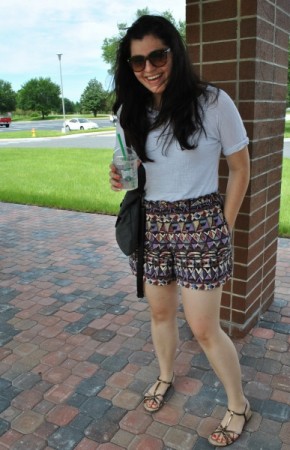 Name: Alexis
School: University of Central Florida
Year: Junior
Major: Theatre design
Let's Talk Fashion
Who or what inspires your style? "Comfort above all else. With the amount of time I have to spend running around at school, I can't exactly wear heels, so I pick moveable clothes and shoes that won't become a pain later in the day."
Where do you like to shop? "I would love to say Anthropologie and Urban Outfitters, but with my college student budget, it'd be more honest to say I shop their sales racks. Also, I always find stuff at Target, thrift stores, and my friends' closets, of course." (Her shirt is one she borrowed from her friend Amanda.)
How would you describe your sense of style? "A combination of color and comfort."
Why did you choose this particular outfit? "Because it's hot and these shorts are perfect for withstanding the heat."
What fashion advice would you give to other students looking to improve their style? "Rummage sale racks. You don't need to spend a lot on clothes to look great."
What do you do for fun – do you have any unique hobbies or interests? "I enjoy fonts, Photoshop, film photography, and moleskine notebooks."
If you could raid anyone's closet, who would it be and why? "Emma Watson's. Her wardrobe is relaxed and flawless, much like her."
What fashions are you looking forward to? "Well, I'm looking forward to the summer being over so I can wear dresses and tights."
Elements of Alexis's Outfit
1. Sandals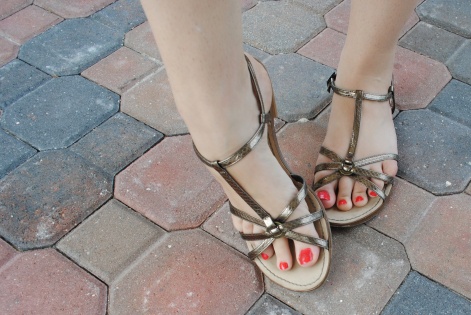 A good pair of metallic strappy sandals will never go out of style. In this case, the bronze color of Alexis's sandals complements the jewel tones on her shorts (and her toes!) without stealing the focus.
2. Patterned Linen Shorts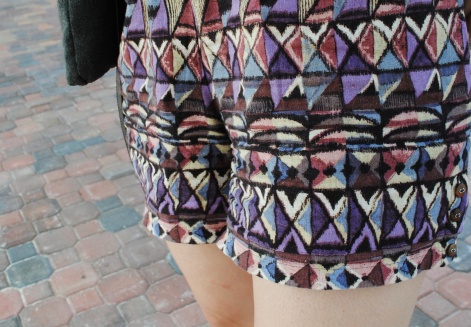 Alexis's patterned shorts, an Anthropologie sale rack find, definitely stand out in a crowd. They are made of breathable linen, and have a comfortable elastic waistband, so they're perfect for casual summer days. Patterned shorts are a great addition to your wardrobe and can be matched with all of your basic tops. Also, note the cute wooden buttons on the side – can you tell I love these?
3. Grey Wool Satchel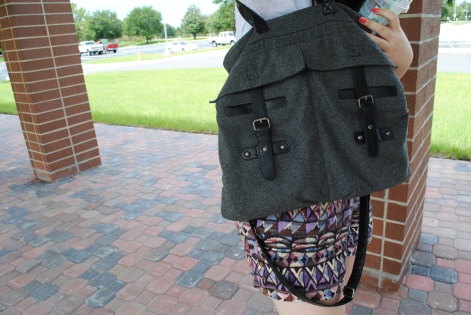 Alexis's bag, which she calls "Dumbledore," is perfect for toting all of her school necessities. The bag has two different strap options for over-the-shoulder or cross-body wear, making the bag multi-functional, whether she's carrying books and pencils or art supplies and heavy tools to class.
What do you think?
Do you like Alexis's outfit? What are you wearing this summer? Have you been scouring the sale racks lately? Would you wear a pair of patterned shorts? Let us know with a comment!