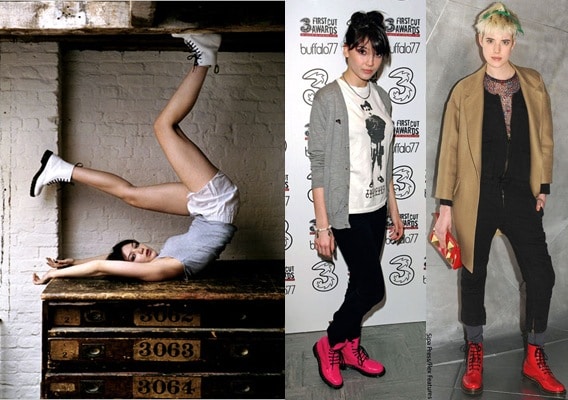 In yet another display of fashion's return to the '90s, Doc Martens are officially hot again. They've been trying to make a comeback for years now, but with the help of celebrities in Doc Martens, like Daisy Lowe and Agyness Deyn (pictured above), the Dr. Martens trend has finally crossed over into the mainstream. From cutting edge style blogs to the city streets, everyone's favorite ironic combat boot is showing up everywhere these days.
But is this trend really wearable? Personally, I think so – I'm a fan of the Docs revival and I don't even know why.
I'm not crazy about the boots on their own, but a shiny black pair of Docs worn with the right outfit somehow looks completely fresh, cool, and modern to me. In my mind, it defies all logic. To be honest, the girls at Lookbook.nu can explain it better than I can: check out the Doc Martens page and I think you'll see what I mean.
What do you think of the Doc Martens trend
So what do you guys think? Would you wear Doc Martens? If so, how would you wear them? Whether you're obsessed with this trend or think it should stay in the 90's, leave a comment and let us all know what you think!