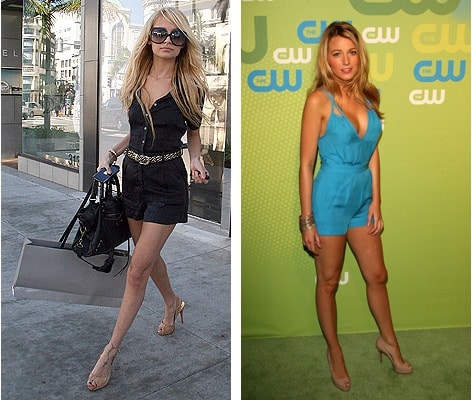 Okay, so I know this particular trend is nothing new – it's been around for quite a few seasons now and is currently all over the streets and in all the shops. But I realized today that I still haven't made up my mind about rompers and wanted to ask you all for your thoughts.
Rompers, sometimes also called playsuits, are a cross between a dress and a pair of shorts. Celebrities like Nicole Richie and Blake Lively (pictured above) among countless others have both been spotted wearing this look. It's one part roller girl, one part kindergartner, and one part high fashion all mixed together. Rompers can look retro-glam when worn with heels and the right accessories, but if styled wrong can quickly veer toward trashy and decidedly unfabulous.
Looks aside, the romper is also undoubtedly practical, combining two summer basics, dresses and shorts, into one. But is it real-life wearable? Could the everyday woman pull one off? And the most important question, of course: would you wear one? Leave a comment with your answers – I'm eager to see what you guys think of this trend!