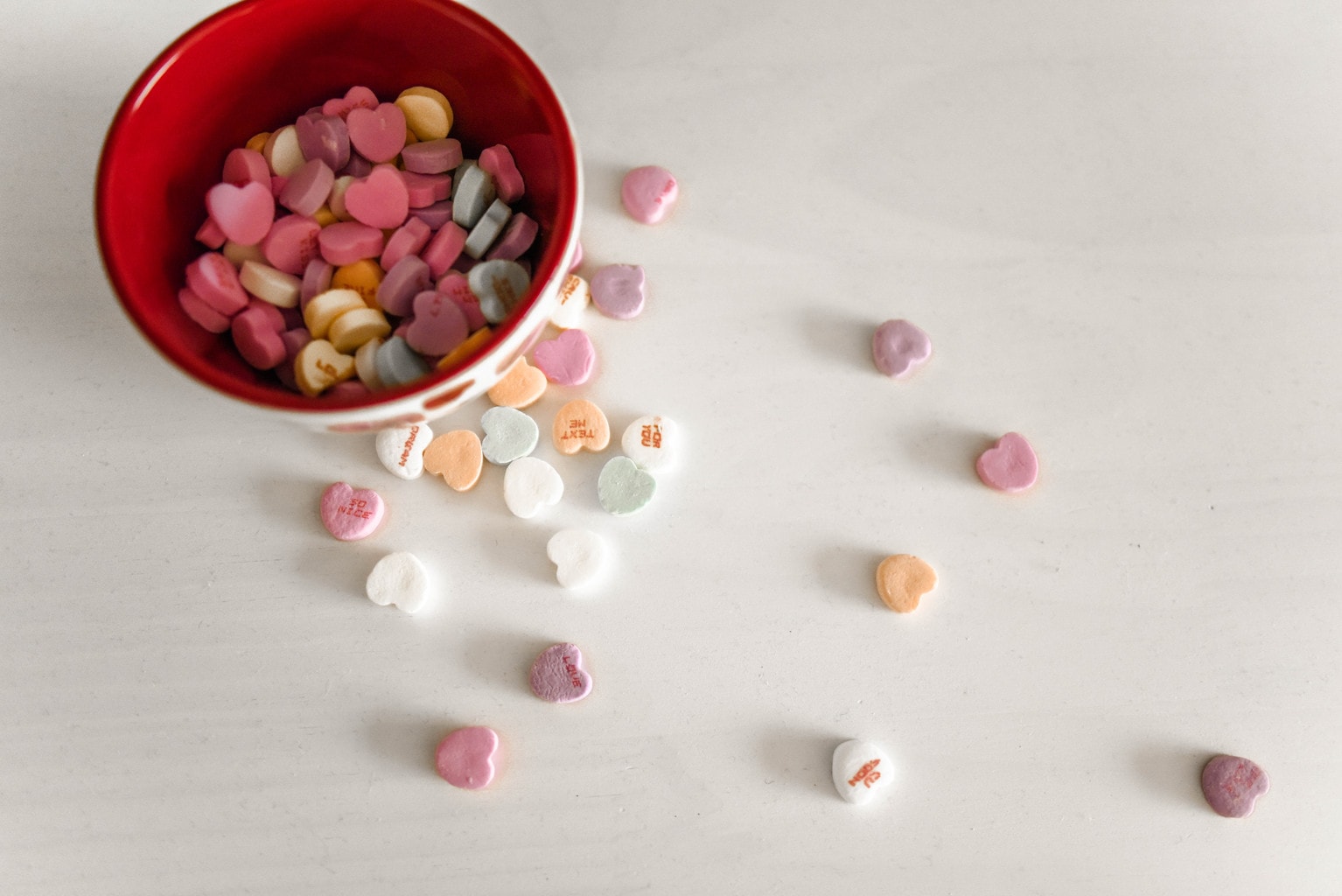 Think back to elementary school when you still believed boys had cooties and the mere thought of kissing caused a whiny chorus of "Ewww!" Love certainly wasn't on the brain then, yet, if you were like me, you still relished in the innocuous fun of Valentine's Day.
It was a major event: picking out valentines at the store or painstakingly making your own, going through your class roster and carefully marking each classmate's name on the little cards, putting on your favorite red or pink outfit for the big day and indulging in too much sugar at Valentine's festivities. Back then it wasn't about having a boyfriend or girlfriend; it was about expressing love, pure and simple.
So regardless of whether you have a special someone to give your heart to this Valentine's Day, remember that everyone can partake in the loving spirit of this candy-coated holiday. Forget the "created-by-Hallmark" mentality, and get into Valentine's by telling those you love how much they mean to you, treating yourself to chocolatey treats, and of course, wearing as many hearts and shades of red as your heart desires.
Here are five budget-friendly looks to wear this Valentine's Day, no matter what your plans are:
(Warning: An obscene amount of hearts follow. You've been warned.)
Outfit #1: Sweetheart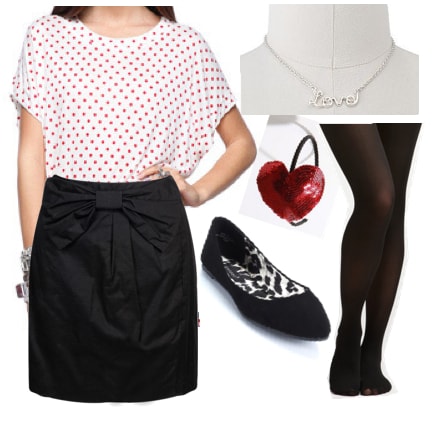 Product Info:Shirt, Skirt, Necklace, Headband, Tights, Flats
Want to get into the V-Day spirit but don't want to overdo it? Wearing red is a must, but instead of rocking the color head-to-toe, select a polka dot style like this shirt for a chic look. A dainty "Love" necklace is romantic and subtle, while a sparkly heart headband is a festive accessory that those around you will have to do a double-take to catch. This versatile outfit could be worn to class, work, dinner with your girlfriends, or on a date.
Outfit #2: Red Hot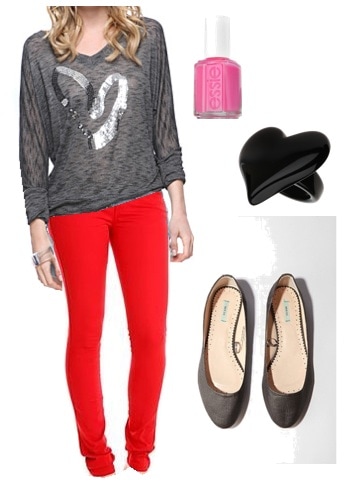 Product Info:Shirt, Pants, Flats, Ring, Nail Polish
Only the bold need apply to wear this vivacious Valentine's ensemble. These crimson pants are red hot; you can't miss them in a crowd. They're perfect for the girl that wants to be seen, but who doesn't want to look overly feminine or saccharine-sweet. Keeping the rest of your pieces neutral helps the red pants take center stage. For a hint of girly glam, paint your nails in a bubblegum pink like this Essie polish.
Outfit #3: Darling Date
Product Info:Dress, Earrings, Eyelashes, Nail Polish, Heels
With its sweetheart neckline, pale pink bodice and red empire waist skirt, this dress was made for a Valentine's Day! Slip it on and you'll look like a dashing darling for your date with that special someone. Paired with sexy heels, candy-apple red nails and glittery heart earrings, this outfit is sexy but sweet. For ultra-feminine lashes perfect for fluttering at your valentine, try a set of thick falsies.
Outfit #4: Pink Lady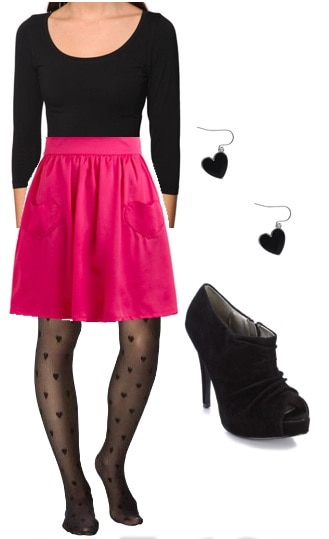 Product Info:Shirt, Skirt, Tights, Earrings, Booties
This look is all about the details: Notice the skirt's heart-shaped pockets? And heart-dotted tights? Don't be afraid to go all-out when you're dressing up for this lovey-dovey holiday. Wear your heart on your sleeve… or your skirt… or your legs… or your ears…
Outfit #5: Valentine Vixen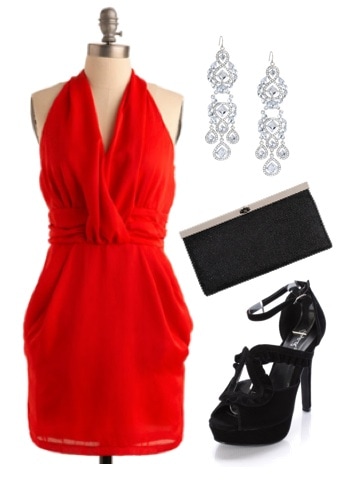 Product Info:Dress, Earrings, Clutch, Heels
Have a hot date? Bring the fire with a flirty, vibrant red dress in a shape that's totally figure-flattering, giving off a va-va-voom vibe. Pair your sultry number with sexy heels, a basic clutch and glam chandelier earrings for a dressy look worthy of a fabulous night on the town.
What do you think?
What do you normally wear for Valentine's Day? Do you wear red and get in the spirit or ignore the holiday completely? Do you have special plans for Valentine's Day? What do you think of these outfits? What are you planning to wear this year? Join the conversation! Please leave a comment.