New Year's Eve, with the anticipation for a fresh start, might be one of the most momentous nights of the year. It's when we think about what we want to let go of and what we want to welcome in, as well as who we are now and what kind of people we want to be.
So how you choose to go out of 2015 is important, and the right outfit can make you feel extra good about the night.
Don't worry about scrambling to find a last-minute ensemble or sticking to a budget — I've put together four NYE looks under $100 (#4 features plus-size items) to help you celebrate New Year's Eve, no matter what your plans entail.
Quiet Night at Home – $95.97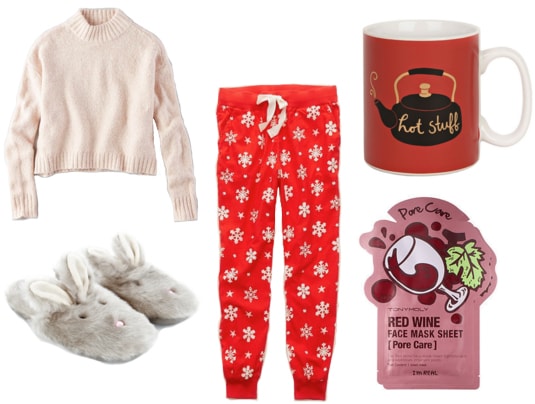 Products: Joggers, Turtleneck, Bunny Slippers, Coffee Mug, Red Wine Sheet Mask
Here at the first, and most comfortable, level of festivity, we have the classic night in. Whether your plans fell through, it's your first time being single during the holidays, or you just relish the thought of staying in with Shonda Rhimes reruns and carefully-chosen loungewear, this cozy look is for you. Keep it simple with a plush cropped turtleneck and adorable snowflake print joggers, plus bunny slippers to keep your feet toasty through your Netflix marathon.
For me, the most important part of staying in is the food. Fill up this witty mug with your drink of choice and put together that platter of snacks (or your favorite takeout like, say, tasty burritos and a side of chips and guac) before relaxing with this red wine Tony Moly sheet mask — one of my favorite Korean skincare products.
Other Tony Moly masks boast fun ingredients like avocado, coconut, even tomato. You can buy them separately at Ulta and Sephora, or buy a variety pack on Amazon.
Staying in with Friends – $96.96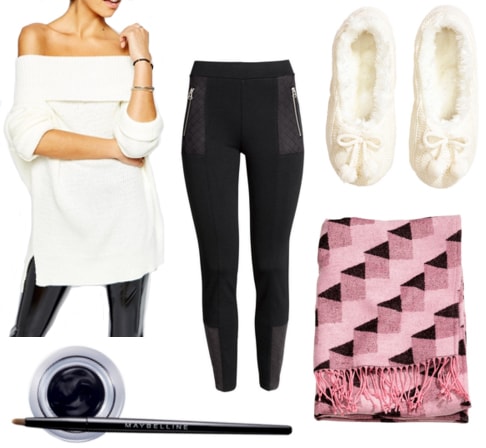 Products: Sweater, Leggings, Slippers, Throw Blanket, Gel Liner
Did 2015 seem to have a vendetta against you? No matter, because it's time to relax. A step up from the last look, this outfit will swaddle you in comfort with chic, luxe pieces appropriate for a night in with your friends. This gorgeous off-the-shoulder sweater (which can also be repurposed as a cowl neck style) wouldn't be out of place among Olivia Pope's wine-drinking ensembles. Pair it with leggings with cool quilt and zipper detail to look like you put more effort into getting dressed than you actually did.
Finish off your look with winged eyeliner. My trick is to quickly line my top lashes with a brush-tip eyeliner, then flatten the angled brush into this gel liner and swipe on winged strokes on the outer corners of my eyes. Cuddle up with this geometric fleece throw and fuzzy slippers as you reminisce, and maybe cringe, at 2015.
Going Out- $97.73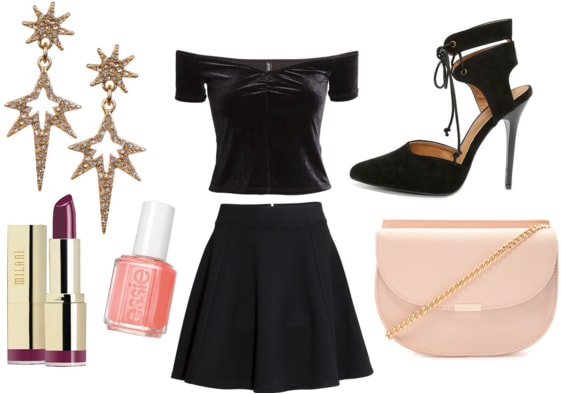 Products: Top, Skirt, Heels, Earrings, Crossbody, Nail Polish, Lipstick
For a night out, go with separates in different textures. This off-the-shoulder velvet top adds a twist to basic black, while the flirty shape of this circle skirt makes a look perfect for going out dancing. Add in black heels (and tights for a chilly night) for a sleek monochromatic ensemble.
These starburst earrings add some glitz without being too clunky — the last thing you need is an dustup with oversized statement earrings. Finish with a vampy lipstick and coral nail polish, stow your essentials in this ladylike crossbody, and go.
Dressy Dinner Party – $99.75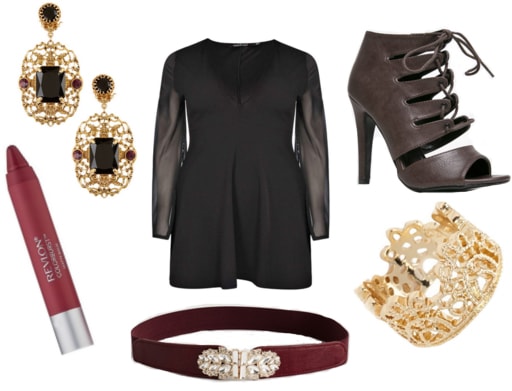 Products: Dress, Heels, Earrings, Belt, Lipstick, Ring
And the most formal dress code: The dinner party. If you'll be maneuvering your way through one party after another, look no further than this elegant chiffon-sleeve dress. The split sleeves float down like a cape, while the fitted body keeps the look sleek. Accessorize with lace-up heels and these stunner filigree earrings for a callback to Dolce & Gabbana's moody fall runway shows, and a statement ring to match. Cinch in the waist of the dress with a burgundy belt and swipe on lipstick in a complementary shade before you grab some hors d'oeuvres.
Your thoughts?
What did you think of these looks? Which one was your favorite? What are your plans for New Year's Eve/New Year's?
And speaking of saying goodbye…
I wrote my last piece for my other column last week, and this will be my last post for Outfits Under $100. As sad as I am to leave CF, I'm also proud to have been able to open up discussions about R. Kelly, career insecurities, and other difficult topics with you. A lot of the themes that came up — depression, valuing people beyond their bodies, really examining the kinds of harmful assumptions we might be complicit in and seeing what we can do about it — will only become more relevant as we continue to navigate these issues in real life.
I loved being able to open up about painful aspects of my life and get supportive, wonderful feedback from you guys. I'd love to see you guys stay as active in the comments because, as we all know, there are few good comments sections out there lately. Thanks for reading, and I'm excited to see where CF goes from here!