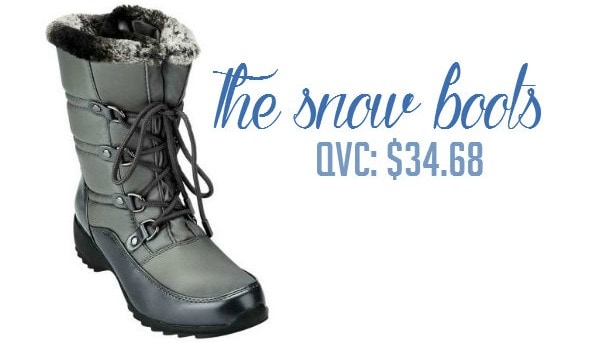 Snow Boots: QVC
Like it or not, snow boot season is upon us. These puppies can be expensive, but we have found a faux fur lined pair that will keep your tootsies warm and dry.
Although we've done the hard part by scouting out a wallet-friendly snow boot option, the second challenge comes with finding how to build outfits around the snow. Generally, this style is not as sleek as riding boots or as chic as booties.
If you're stuck on how to wear them, look no further. Below are three ways to style snow boots without breaking your budget. The best part? Each look totals less than $100.
Look 1: $82.46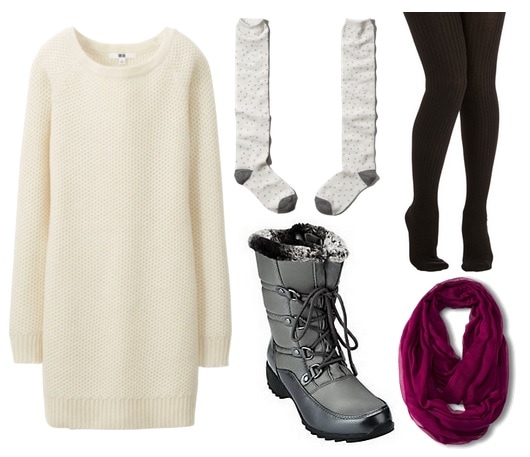 Product Information: Dress – UNIQLO, Boots – QVC, Tights – Modcloth, Socks – Abercrombie & Fitch, Scarf – Target
Think you can't rock a dress with snow boots? Think again. Our primary concern with this look is warmth, so we suggest picking a sweater dress that makes you feel extra cozy. Don't you dare go bare; knit tights are a must-have. For a little extra warmth, layer with some boot socks. If you feel like you need extra color, reach for a gorgeous deep magenta scarf.
Look 2: $99.51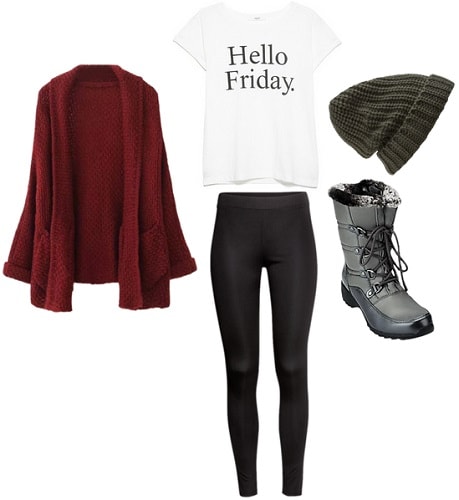 Product Information: Top – Mango, Leggings – H&M, Cardigan – Black Five, Boots – QVC, Hat – Forever 21
Nothing says cozy quite like leggings and a wrap cardigan. We love the idea of a casual tee for running errands or a low-key coffee shop study session. Pair it with a maroon sweater and leggings. A beanie will keep your hair from catching any snowflakes.
Look 3: $99.55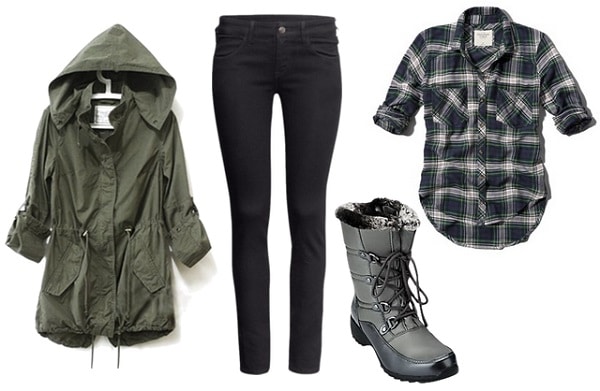 Product Information: Top – Abercrombie & Fitch, Jeans – H&M, Jacket – Amazon, Boots – QVC
Snow boots are also easy to wear with jeans. A simple black pair will look city-girl cool when paired with an anorak jacket. Layer it over a plaid shirt to incorporate a little pattern into your look.
Is it snow boot season where you live?
Do you love snow boots? What do you wear them with? Which of these outfits would you wear? Comment below and share your thoughts with us!