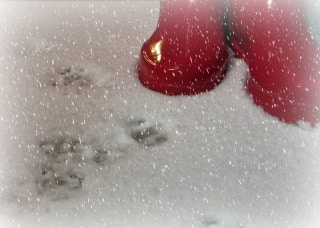 Winter is fast approaching, and I've been getting tons of emails from you guys wanting to see some cute and warm winter boots on the site!
There are so many options out there when it comes to winter boots and which ones are right for you.
There's the issue of weather – If you live in a warmer climate, you probably only need a leather or suede boot, while if you live far north, you'll probably need a full on snow boot.
And of course there's the issue of your personal style – which boots will go with most of your outfits, which are the trendiest for winter and which ones will last more than one season?
You should consider all of these questions before you buy a pair of boots – after all, winter boots are a pretty important purchase!
As requested, here are some of the best winter boots out there that are also mostly budget-friendly. While most quality boots are going to run at least $100, I managed to find a few pairs that cost even less than that. Also, a few of you asked for no UGG's in this post, so I made sure of that too. Hopefully there's something for everyone in this list!
Fringe & Moccasin-style Boots
As seen on celebrities like Nicole Richie and Kate Moss, Minnetonka boots are the hottest boot trend for winter. If you love fringe, beads, and anything boho-chic, these are your perfect winter boots.
That said, Moccasin-style boots aren't for everyone, and you need a certain type of look to pull them off. If you normally shy away from edgier fashion choices and don't look good in brown, they probably aren't for you. Also, most of these boots are suede or soft leather, and that means they don't do well in wet weather, so keep that in mind if you live somewhere with a cooler climate.
Here are my favorite fringe-detail and moccasin-style boots: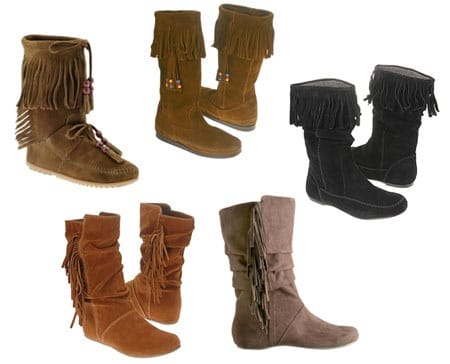 Clockwise from top: Minnetonka Moccasin Women's 3-In-1 Calf Hi Boot ($79.99 at Shoes.com), Rampage Women's Brody High Shoe ($69 at Shoes.com), Airwalk Ralston Fringe Boot ($39.99 at Payless), MIA Women's Taboo Shoe ($89 at Shoes.com), Minnetonka Moccasin Woodstock ($80 at Piperlime)
Basic Black Boots – Leather
If you want to invest in something that's stylish and will last you more than one season, look no further than the basic black leather boot. Leather boots are a popular choice for fall because it can get wet and won't fade like suede. Leather is also a total classic and will always be in style.
Flat and low-heeled leather boots are really popular this season, and they're perfect if you're tall or just don't like wearing high heels. But if you're on the short side and want some height, basic high heeled boots are also a chic winter option paired with skinny jeans or even a dress if you live somewhere warm. Just make sure not to wear high heeled boots if there's ice outside!
Here are my picks for the best and most affordable black leather winter boots: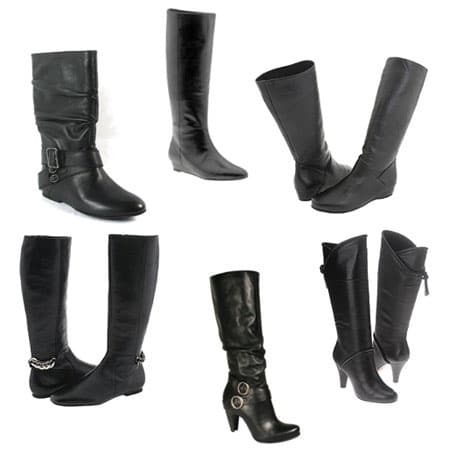 Clockwise from top: BCBGirls Petler ($179 at Piperlime), Gabrielle Rocha Studio Akasha ($149 at Zappos.com), Report Women's Kyleigh ($165 at Shoes.com), Steve Madden Marching ($89.95 at SteveMadden.com), Calvin Klein Martha ($219 at Zappos.com), Steve Madden Bizmarc ($129.95 at SteveMadden.com)
Basic Black Boots – Suede
Black suede boots are another big trend this fall. Suede adds femininity to any outfit, and soft suede boots are also very comfortable! Again, black is the best color to invest in if you want your boots to last through many seasons. It's such a versatile shade and it always will be.
Of course, suede boots aren't for everyone. If you live somewhere sunny, suede is a great winter choice. But If you live in a climate where it gets wet more often or you need something more heavy-duty, you should go with leather boots or snow boots instead.
Here are a few of my favorite black suede boots:

From left: Nine West Yanna ($126 at Zappos.com), London Fog Wales ($130 at Piperlime), Abaete for Payless Mirabelle Studded Boot ($55 at Payless), Steve Madden Arizonaa ($109 at Shoes.com)
Snow Boots
For those of you who go to school in places where it snows a lot, an actual snow boot will be an asset this winter. Two things to remember about snow boots: first of all, they aren't always the cutest boots ever, and second, they usually cost a lot more than regular winter boots!
All of the following boots are totally waterproof and should be warm enough for whatever weather you come across. I love basic black snow boots (they don't get dirty like white ones), with fur details, wedge heels, and buckles for winter.
Keep warm & dry with a pair of these cute snow boots:

From left: Sporto Eva ($99 at Piperlime), Sperry Top-Sider Sadie Tall Boot ($75 at Piperlime), La Canadienne Pulley ($199.99 at Piperlime), American Eagle Mickey Quilted Wedge Boot ($49.99 at Payless), Timberland Lexiss Tall Boot ($160 at Piperlime)
Your Thoughts?
What do you think of the winter boots featured here? Which styles are your favorite – do you like the trendy Minnetonkas, or are you more of a basic black kind of girl? Will you be wearing snow boots this winter or can you safely rock suede because you live somewhere warm? Let me know in the comments section.
*Top photo by circulating