Welcome back, guys! We are onto our third installment of our Gym Bag Essentials series. The series will be going into detail on each essential gym bag item.
Last week we looked at some various wireless headphones options at different price levels. This week, we are looking at our next vital item for the gym: blender bottles. Blender bottles differ from regular water bottles because they come with wire or plastic balls inside that mix up additives to your water.
For example, if you're a pre-workout drinker, these blender bottles ensure a great mix without chunks of powder. This is also the case for protein powder, BCAAs, or other additives.
Let's take a look at what's out there!
Blender Bottle Color of the Month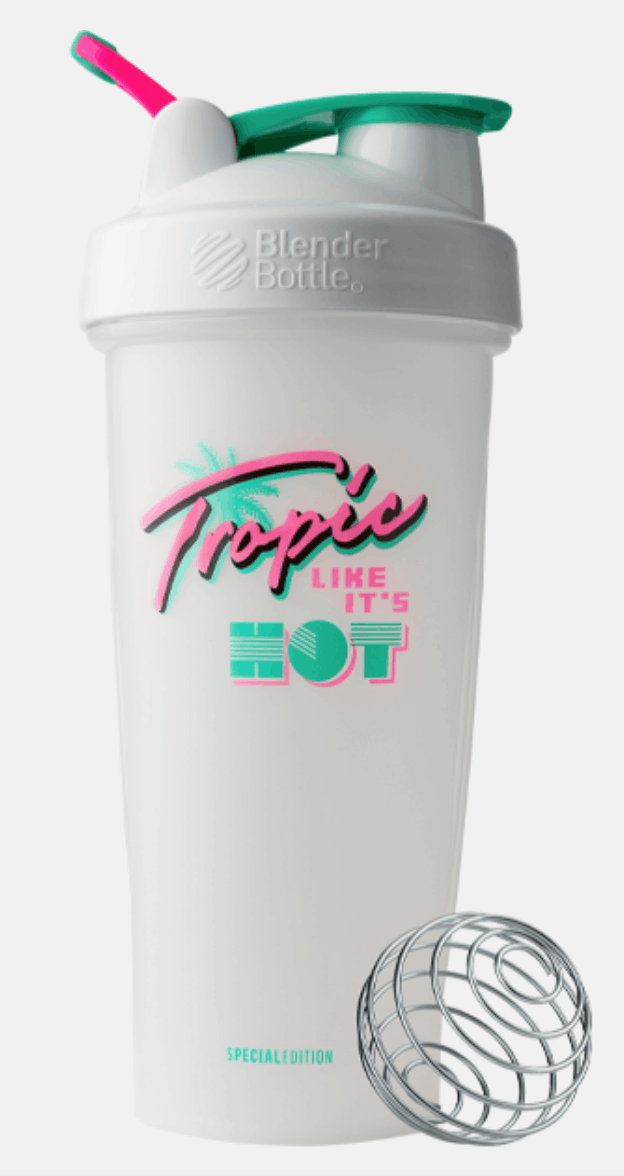 The Blender Bottle brand is actually the most popular blender bottle company and there are countless options. They also co-brand with other companies so you may see other sellers whose bottles display the Blender Bottle logo on their caps.
On their website, Blender Bottle displays a Color of the Month in which they sell a new and limited color bottle. For the month of May, you can get a "Tropic Like It's Hot" bottle in 28 oz size for only $10.
As a side note, Blender Bottle also has a recipe website where they share some yummy protein shake recipes like Apple Pie, Chocolate Peanut Butter, and Cinnamon Roll. Check them out here!
Mini Blender Bottle
The excellent Blender Bottle brand also offers products in smaller sizes like this 20 oz bottle. I personally prefer this size because I can easily tote it around and fit into my gym bag or purse.
I also find the size perfect to stack and fit in my cabinets and mix powders with JUST enough water. You can find countless colors, as well. This one is from Amazon for just $9.
Mini Blender Bottle with Grip
Here is another mini option at 20 oz, as well. The difference in this bottle lies in its shape, but also the rubber grip and twist cap. The twisted cap is leak proof and the shape and grip makes the bottle much easier to handle.
You can get this bottle here for just $13.
Large Options
This Blender Bottle Pro Series carries 32 oz of liquid and looks a lot sleeker than its smaller counterparts. The BPA free plastic is more durable and the spout is wider to allow for easy pours of powder or mix.
The plastic is also stain and odor resistant. Another difference is its rounded bottom, which allows for the metal whisk to reach all areas of the bottle and make a better mix.
You can check it out here for $14.
Inspirational Quotes and Graphics Options:
So now that we've looked at the various sizes and styles of blender bottles, we can get creative!
There are countless colors of blender bottles across the internet for purchase, but what if you need just a little more? Something that makes you look forward to using your bottle or working out. Something like an inspirational quote or graphic!
Dream Big
This little bottle reminds us to dream big! But it also reminds us of what it takes to reach our goals: eat healthy, work hard, never give up, and be happy. Maybe this is the right little guy to get you in the motivational mood!
Superhero
Maybe taking along a token of your favorites superhero will do the trick to kick your motivation into gear! If nothing else, you'll be reppin' your favorite character, which is always fun.
Food and Fitness
Nothing gets me motivated for the gym like thinking about all the yummy food I'm going to eat right after. Keep your workout focused on the end reward with a funny bottle like this one!
There are more food-joke options here.
Stacks on Stacks
With these bottles, you get the motivational inspiration and the stacks. These bottles are 22 oz not including the attachments.
These stack bottles come with a small container on the bottom that twists and locks into place. This is perfect to carry your additives around with the bottle for whenever you feel like mixing them in. You can tote your pre-workout, protein powder, or BCAAs, etc. The kit also comes with an additional attachment: a pill organizer. You can keep medicine in here or vitamins.
This variation comes with a 28 oz blender bottle and separate stackable and portable containers for various powders or additives. With this package, the containers are separate from the bottle but twist and lock on top of each other for easy portability.
Do you use blender bottles?
Do you have any suggestions? Share your favorite bottles for the gym with us in the comments below!