Product Info: Bow
I love to mix and match feminine and masculine pieces in one outfit. It makes for a balanced and appealing modern look for women of all ages, shapes, and professions. My go-to outfit for this look is a pair of worn-in boyfriend jeans, ballet flats, and a graphic tee. However, cold weather poses a little bit of a problem for exposed feet and arms.
Missing my gender binary bending looks, I've pulled together a few winter-ready ensembles that accomplish a rugged, boyish look with a girly flair – and they won't leave you out in the cold.
Feminine Flair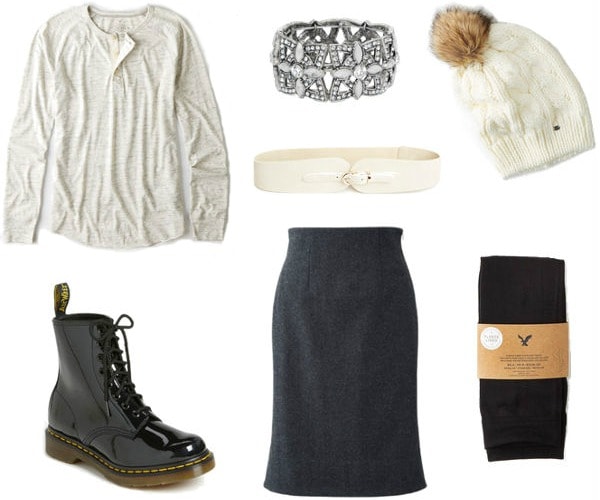 Product Info: Skirt, Shirt,Leggings, Boots, Belt, Bracelet, Hat
The first look borrows from the boys in the best of ways. Shirts from the men's department are soft, loose, and casually flattering. Purchase one in a size or two larger than you would normally wear, and tuck it in to a structured skirt that highlights your waist. A flirty belt, snow bunny hat, and sparkly jewelry add some holiday season appeal.
Doc Martens are a stylish yet practical choice of footwear for clomping around in snow and slush – they have great traction! Docs are sturdy and come in an array of colors and patterns. If you don't feel like splurging (although I am all about the steals, I will say from experience that they are an amazing shoe to have in your repertoire), then the more fitted women's-style combat boots will look just as cute. You could definitely also wear those cute winter boots I see everyone trekking around in during this time – I love how they look with skirts!
A kind commenter from my post about wearing skirts in winter alerted me to fleece-lined leggings. Yes. They are a thing. And they are as glorious as they sound. I found an inexpensive pair at Fred Meyer and they have the look of leggings with all the comfort of sweats. Plus, if lines and see-through material concern you (as it should- modest is hottest, ladies!) the fleece lining takes care of any exposure issues.
Wear 'em in place of your regular tights or leggings this season. This isn't a product endorsement I swear. I'm just very excited. Can't a girl be excited about a pair of leggings any more? Let me live!
Boyish Plaid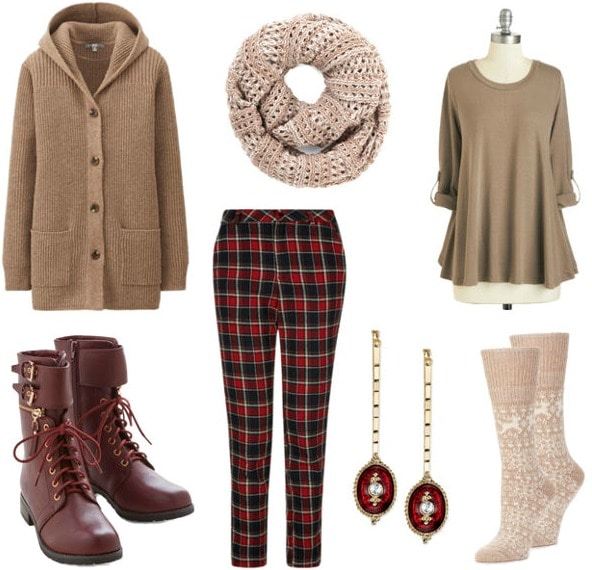 Product Info: Boots, Pants, Sweater, Top, Hair Pins, Scarf, Socks
This look is as rugged and proud as a Scottish highlander… or maybe that's just the plaid speaking to me. Keep everything in the same complementary color family and these patterned pants become a cool focal point. These lace-up boots nail the masculine-meets-feminine look and are suitable for the winter weather. A beige top, sweater, and scarf are cute pieces on their own and don't compete with each other.
The hair pins are marketed as "Downtown Abbey" style, which makes them all the more irresistible and fitting of the old-timey feel of the patterns and textures in this outfit.
Both of these outfits would look fab with a long puffer or pea coat- the length complements layers and won't look fussy when worn over both pants and skirts.
What do you think?
When you want to achieve a boy-meets-girl look, what pieces do you reach for? Will you be trying either of these looks soon? Let me know below!