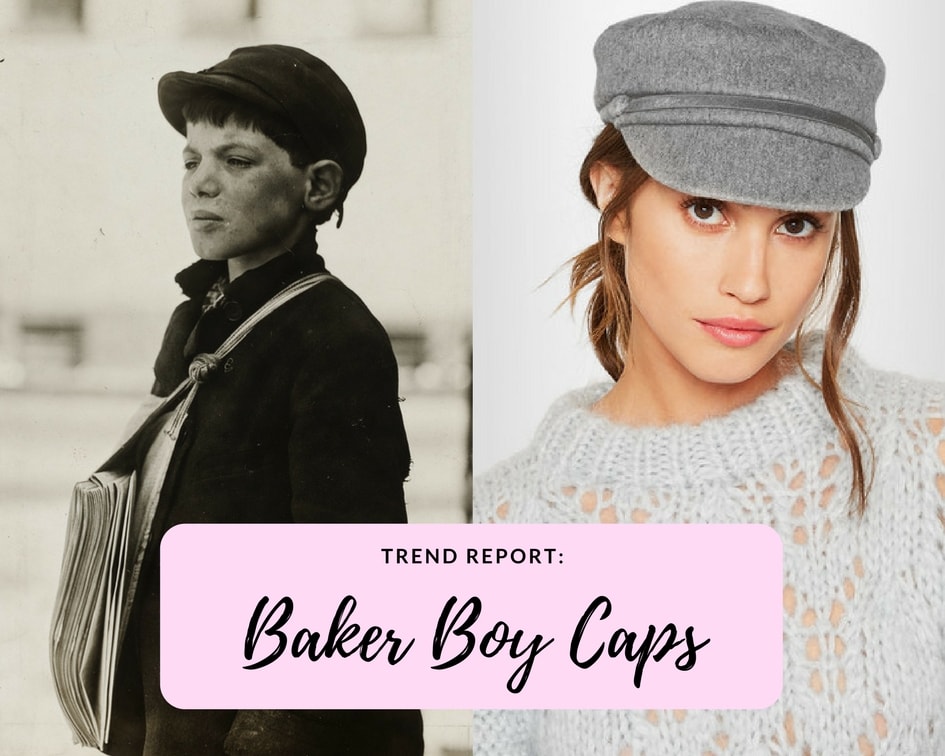 In this day and age, women are increasingly taking chances with what used to be traditionally "menswear" (i.e. suspenders, oxford shirts, and rugged footwear — just to name a few).
Allow me to introduce yet another trend that started as a men and boys only piece: baker boy caps.
These hats are also referred to as newsboy caps or fisherman's caps, though men and boys of all different ages and occupations wore these on the daily in the late 19th and early 20th centuries.
And now it's our turn! Though these hats may have bad connotations for ya (cue the bedazzled denim ones you see donned from time to time), baker boy caps can be included in any fashionista's wardrobe.
If you're interested in seeing how to style a baker boy cap, keep scrollin' for 3 different outfit ideas.
Baker Boy Cap Outfit 1: All About That Class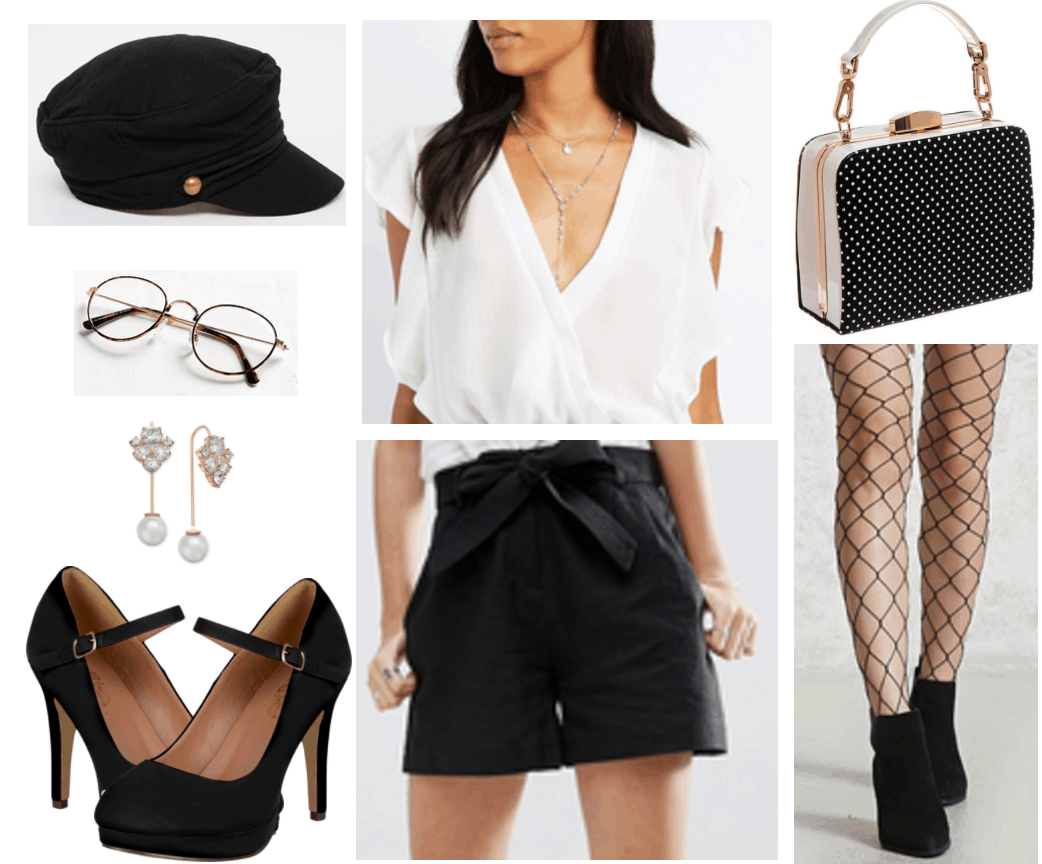 Products: Cap – ASOS | Top – Charlotte Russe | Shorts – ASOS | Tights – Forever 21 | Pumps – Target | Readers – Urban Outfitters | Handbag – Blue Banana | Earrings – Macy's
The original cap may be associated with dirty outside work, but not this one! This outfit is perfect for a day when you want to look put-together and fashionable. Pair your black baker boy cap with a white crop top tucked into black belted linen shorts. Underneath those, slip on some fishnet tights to give your look an added edgy element.
Strap on some black Mary Jane heels to give you some height (or these slip-on loafers if you're not a heels girl) and pull on your favorite round readers if necessary.
Finally, carry around the necessities in a vintage polka dotted handbag and finish off with some beautiful gold pearl drop earrings. Pull your hair back into a messy low bun and you are ready to get 'em, girl.
Baker Boy Cap Outfit 2: Blushing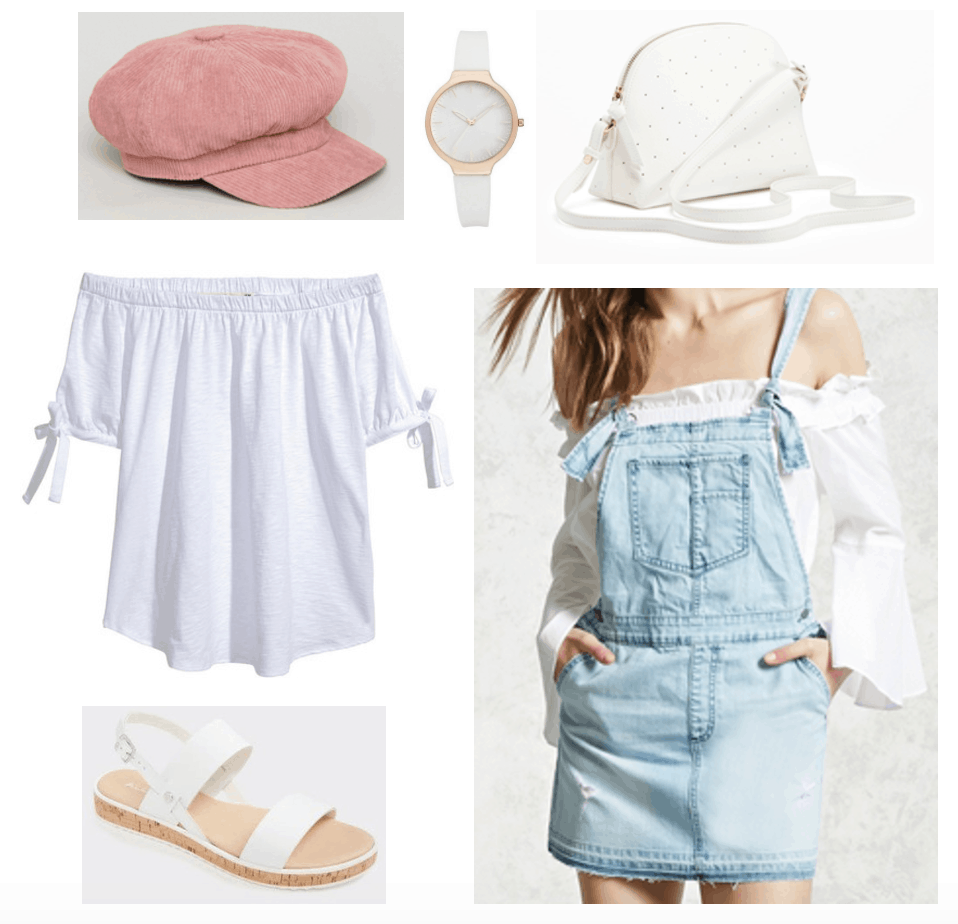 Products: Cap – ASOS | Dress – Forever 21 | Top – H&M | Sandals – ALDO | Watch – Target | Bag – Old Navy
Going on a picnic or a lunch date? Pull on this adorable blush pink baker boy cap with a denim overall dress.
Underneath that, slip on a dainty white off the shoulder blouse to keep the look sweet and simple.
For shoes, pull on some comfy white flatform sandals and accessorize with a white and rose gold watch. Finally, carry all your stuff in a simple white crossbody bag, like this one from Old Navy. Straighten your locks for the finishing touch. You look lovely!
Baker Boy Cap Outfit 3: Grunge on Grunge on Grunge
Products: Cap – ASOS | Shorts – Forever 21 | Top – Lulu's | Boots – DSW | Socks – H&M | Choker – Gilt
This final look is perf for a night out with the ladies or any summer day when you're feeling especially grungy.
Pull on a khaki baker boy cap to start. Slip into a white criss cross crop top (say that 5 times fast) and a pair of camouflage denim shorts to add a more masculine flair.
Now, who says you can't wear boots in the summer? Pull on your favorite pair of black combat boots to continue with the edgy, grungy attitude. Then add long black socks you can fold over twice or thrice (or to your heart's content).
Finally, accessorize with an equally edgy black choker. Let your hair out in its natural state — whatever that may be. Have fun, lady.
Tell me your thoughts!
What do you think of the baker boy cap trend? Will you be following suit? Which outfit is your fave? Start the convo in the comments below!