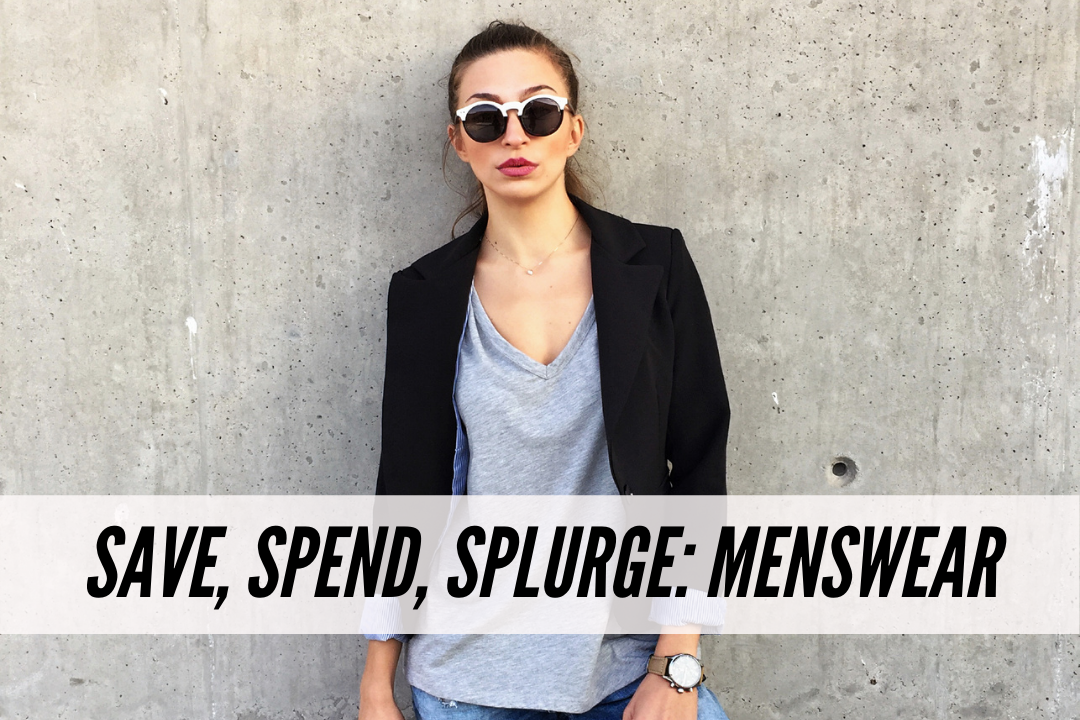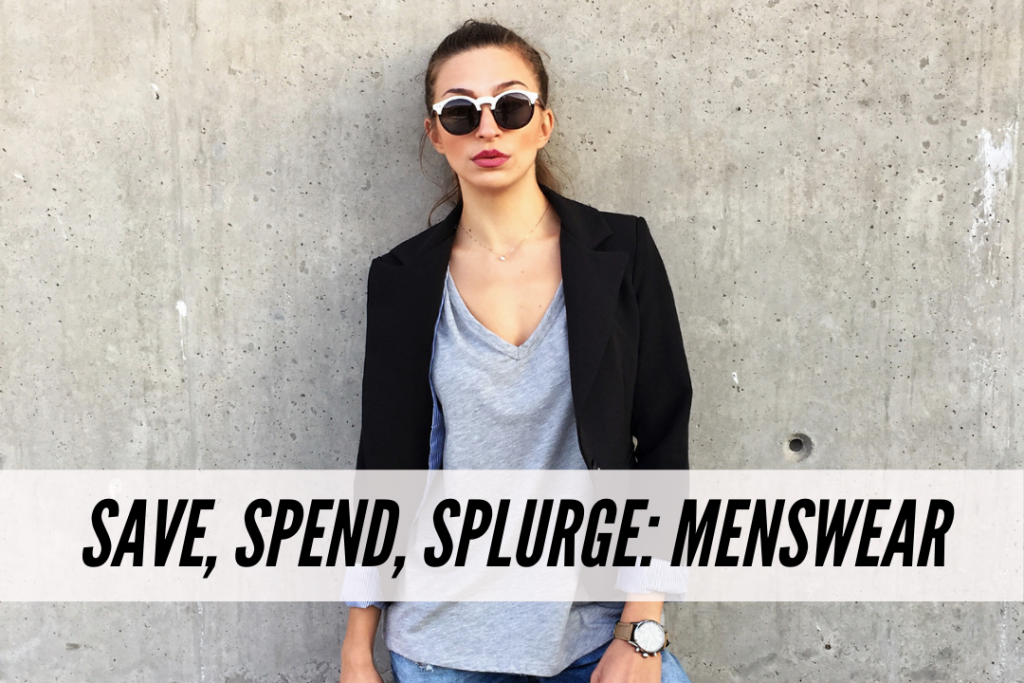 It's easy to fall in love with a designer's latest products. Affording those products is the hard part. Searching for budget-friendly options can be daunting, exhausting, and can even take the fun out of shopping. CF wants you to look and feel your best, no matter your budget, so we've done the hard work for you. Check out the looks below and decide if you want to Save, Spend, or Splurge.
Menswear is more popular in fashion than ever before. Mens' Fashion Week was one of the most-buzzed-about events of the year in fashion media, and menswear designers are really starting stand out in a womenswear-driven industry. In addition, menswear-inspired womenswear is a huge trend itself.
Related reading: The Coolest Menswear Trends We're Stealing ASAP
Now, why should you care about this? As women, we can actually wear clothing that is made for our bodies, but inspired by how men dress. We can then style the items as masculine-like or as feminine-like as we please. We get the best of both worlds here, and it's awesome.
Welcome these loose-fitting shirts, forgiving jeans, oversized jackets, and edgy boots with open arms. I love a good sundress as much as the next girl, but sometimes these pieces are a necessary break from our regular wardrobes.
In my case, menswear-inspired fashion has become my regular wardrobe. I have nearly all of the items (or a version of them) that are listed below, and by the end of this post, you'll be convinced that you need one of everything, too. Check out why CF is in love with the menswear-inspired trend:
The Oxford Shirt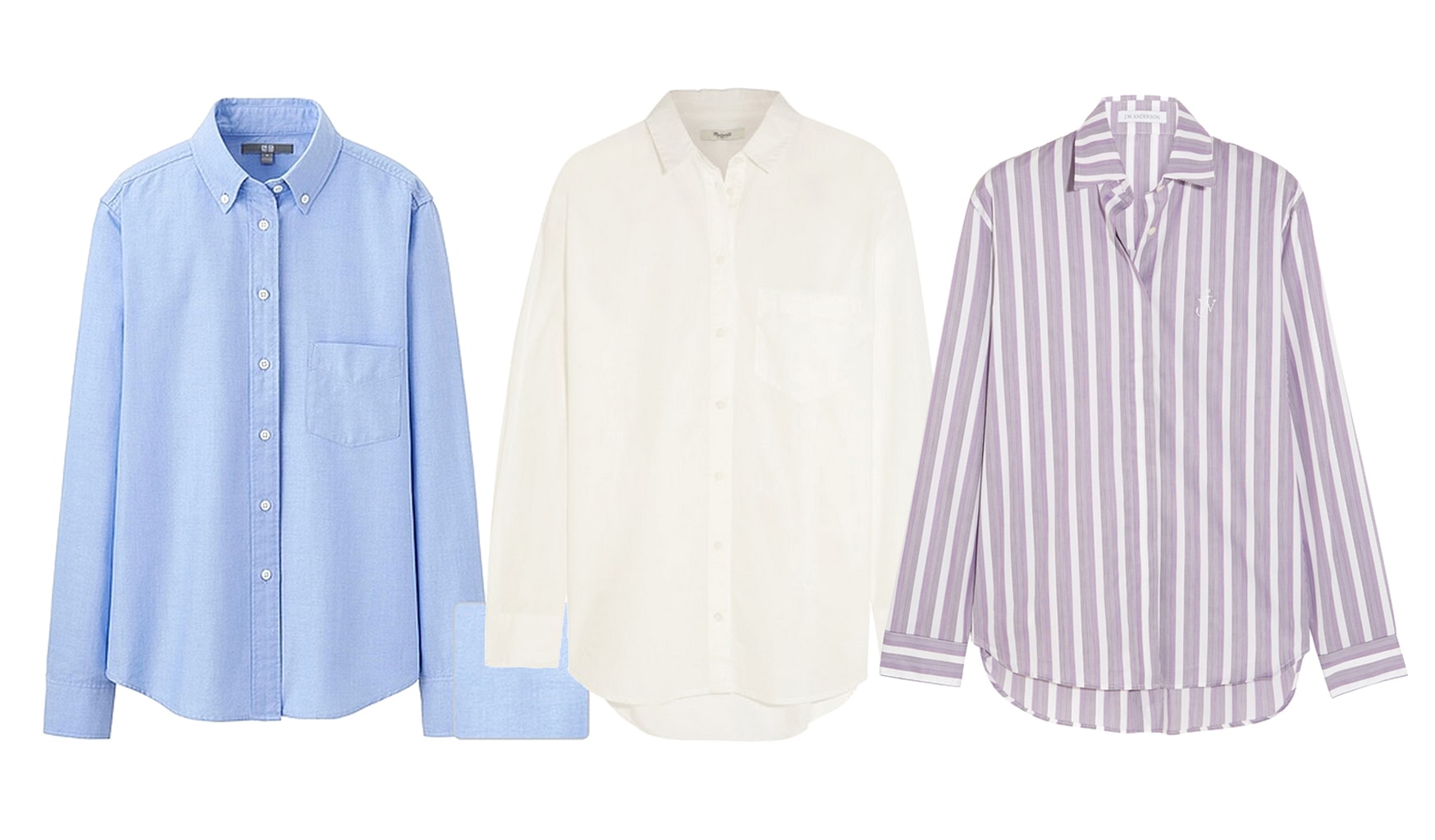 Products: Save (blue), Spend (cream), Splurge (striped)
The beauty of the button-down shirt is that it can be styled any way that you can imagine:
Lunch with friends: Tuck the front of the shirt into some distressed boyfriend jeans, add a heeled bootie and belt, and a few gold rings. A cute topknot ties the outfit together.
Office-appropriate: Tuck your Oxford into a high-waisted A-line skirt or bubble skirt. (A tight pencil skirt will show wrinkles of shirt underneath.) Button all of the buttons to the very top, roll the sleeves to 3/4 length, and add some silver hoops.
Date night: Unbutton one extra button to dress down the shirt, and wear with some black skinny jeans and your favorite pair of heels or wedges. Add a smokey eye and leave your hair tousled around your shoulders or in a ponytail.
There are more ways to style this versatile garment, but I'll let you use your imagination. (Or, see our posts here, here, and here for ideas.) My button-downs may be my favorite pieces in my entire wardrobe. I have 6 or 7 of them.
The Shoes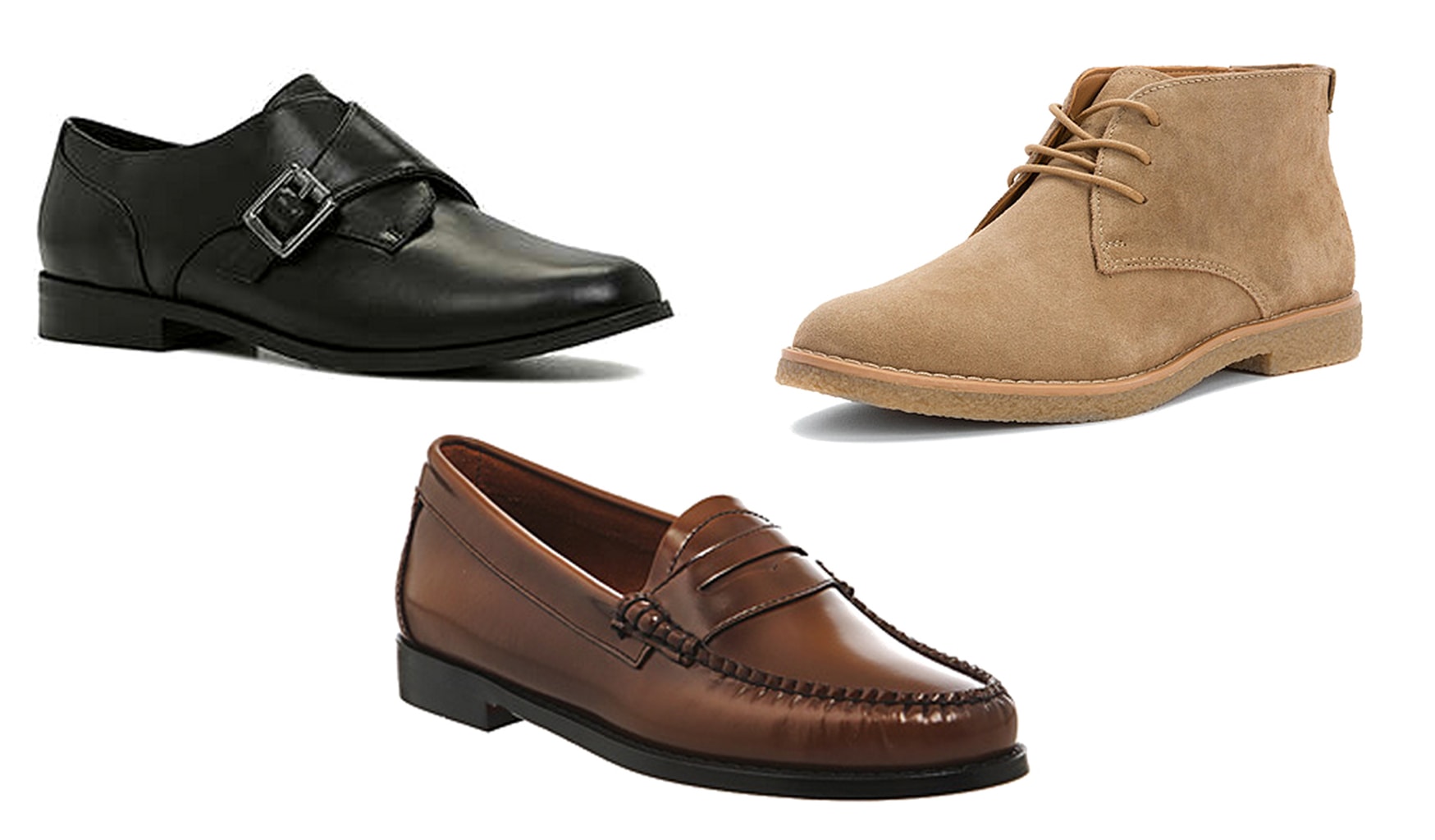 Products: Save (buckles), Spend (chukka boots), Splurge (penny loafers)
Menswear-inspired shoes made a strong presence at Fashion Week, with huge names, like Celine, sending models down the runway in loafers. I recently bought a block heel, patent-leather loafer and a flat, suede loafer that I absolutely love. Why do I love them? They're so versatile! I'll make another list:
Lunch with friends: Wear your chukka boots with a dark-wash boot cut jean and a white top. By wearing neutral colors all over, you can let the style of the shirt and the boot stand out.
Office-appropriate: Try a buckled shoe with your new culottes. Head-to-toe black would be a slick, sophisticated look that could be accessorized with a bright lip.
Date night: You might think a loafer may be too masculine on date night, but it can definitely work. Try one in a nude or pink color, with medium-wash jeans and a sweater that matches your shoes.
Layering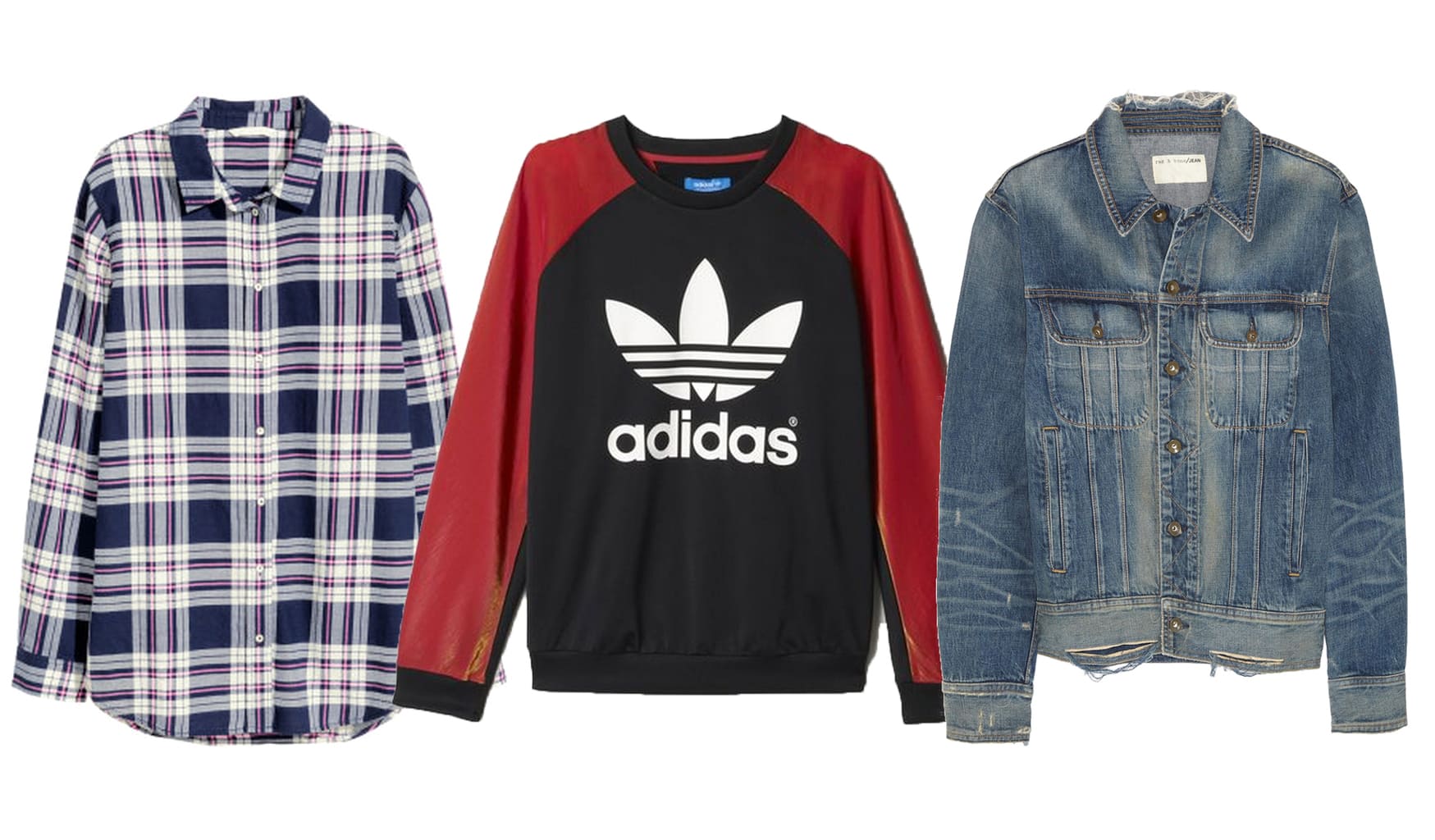 Products: Save (flannel), Spend (crewneck), Splurge (denim)
Alright, you've got the hang of it now. We can wear menswear-inspired pieces for any occasion! My favorite thing to throw on during a bonfire or Friday night walk is an oversized…anything. I may love my crew necks and denim jacket more than I love my Oxford tops. Maybe.
These can automatically dress down anything I'm wearing. I wore my oversized denim jacket (a mens' Lee, from the 1980s,) with the sleeves rolled up over a navy-and-white-striped shift dress. I also wore my new trainers, which tied the outfit together nicely.
What do you think?
Would you wear menswear-inspired clothing? If you're still a bit confused about how to incorporate this trend into your wardrobe, it's okay! The idea can be tricky at first. Just remember if you have any questions, we love to hear from you. Don't forget to post questions and comments below!