The origin story of my distaste for white button-down shirts goes like this: For many, many choir concerts, I had to wear stiff, plastic-like versions from a school uniform store. These stylish numbers were paired with black pants and buttoned up to my nose. After that, nothing could convince me that button-downs could actually look flattering.
It took discovering chiffon and rayon versions, and a few fall runway photos, to work out my weird grudge against the staple that everyone else seems to love.
In the spirit of growing as people, I've put together 4 different ways to style a white button-down shirt if you've always struggled to wear this piece, or if you simply want more ideas on rotation (#4 features plus size items, btw). As always, have no fear if you're on a budget — each of these looks rings in at under $100.
Tips for Buying Button-Down Shirts:
While the oxford style is a solid start for college grads and students still assembling their professional wardrobes, consider switching out traditional details if the conventional button-down isn't your thing.
Statement colors such as deep jewel tones and pastel shades add surprise to a conservative silhouette, while interesting necklines and sleeve shapes steer away from the stiff prep school look. Even if you're simply tucking the shirt into a midi skirt for work, details will upgrade the look.
How to Wear a Button-Down Shirt
Look 1 – $96.79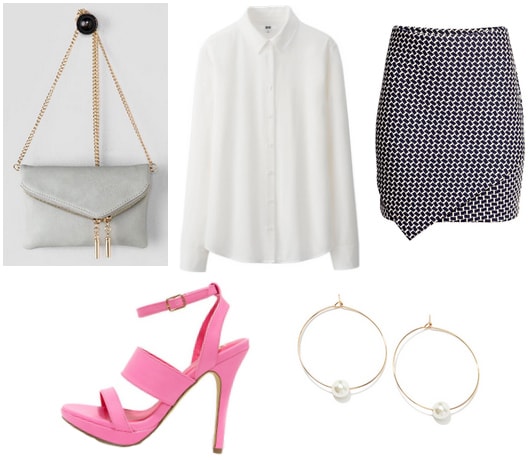 Products: Shirt, Skirt, Crossbody, Heels, Earrings
If you need to jet from work/your internship to your dinner plans, pair a polished white shirt with a patterned wrap skirt for a look that's just trendy enough for after hours. Tuck the necessities into a roomy foldover crossbody, change out your earrings for pearl hoops, and head out in bold colored heels.
Look 2 – $98.79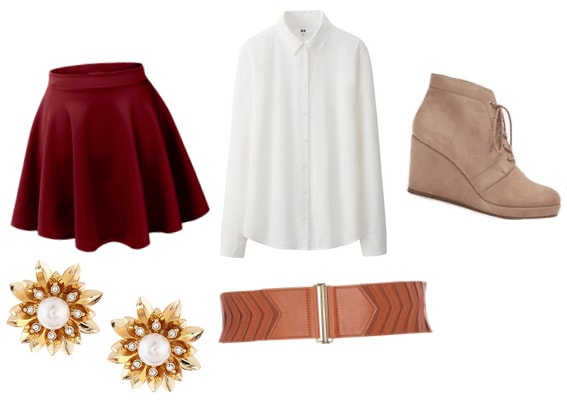 Products: Shirt, Skirt, Booties, Belt, Earrings
Or, go for a moody equestrian look (my favorite fall trend) with a button-down tucked into a maroon skater skirt. Cinch with a wide cognac belt, lace up some suede wedges, and pull your outfit together with decadent floral studs. For cooler weather, add a structured blazer and knee-high socks.
Look 3 – $91.20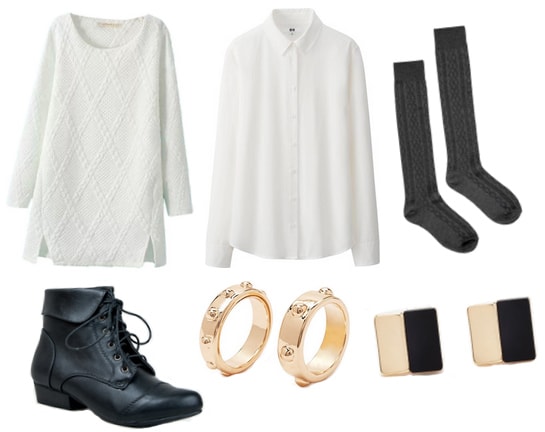 Product Info: Shirt, Dress, Socks, Boots, Studded Rings, Earrings
For a relaxed version of the previous two looks, layer a shift dress or sweater dress (the key is to find one with a relaxed or A-line fit so the shirt doesn't bunch up underneath) over your shirt and leave the collar peeking out. Layer with knee-high socks and lace-up booties in matching colors and accessorize with edgy studded rings and colorblock studs.
Look 4 – $97.89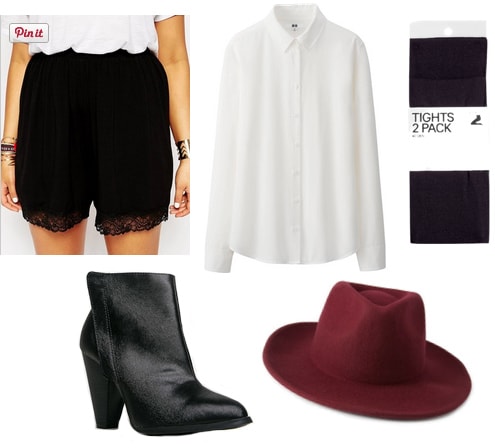 Product Info: Shirt, Shorts, Tights, Booties, Hat
A good pair of sheer tights can give your summer shorts extra mileage. I used black shorts here, but you can get great results mixing patterns and textures. Loosely tuck the shirt in, or leave it out for a grungier vibe. Finish off with black pony hair booties and a burgundy hat.
Your Thoughts?
What did you think of these looks? Are there any other go-to combinations you like? What other staple have you always struggled to style?