This post may contain affiliate links, which means we may receive a commission if you purchase through our links. Please
read our full disclosure here
.
This week on Style Remix, we're featuring the oh-so-classic combination of a white button-down shirt and black trousers. If you don't already have one of each in your wardrobe, it's about time: these two can take you from a business casual dress code to a business formal occasion in a snap, and they're perfect for almost any interview.
How to Wear It
Accessorize, accessorize, accessorize! A plain white button-down and black pants can look a bit "restaurant-server" if the outfit is too plain.
It's all about the fit. Take the time to find pieces that fit your body and your budget. If you need to, find a tailor to make sure your blouse doesn't bag at the waist and your trousers are the right length. If you alternate between wearing flats and pumps, and want to wear both with your pants, consider buying two pairs and hemming them to different lengths.
The most versatile trouser cuts right now are slim bootcut or straight leg. Some straight leg trousers are also cut to ankle length, which can look phenomenal with pumps. However, they can be harder to fit or less flattering depending on your body type. The slim bootcut style is more traditional and more universally flattering.
Today, we'll take a look at a few different ways to style this classic combination so that you can get the most wear out of your business pieces. Business does not have to mean boring!
1. The Power Suit (without the suit!)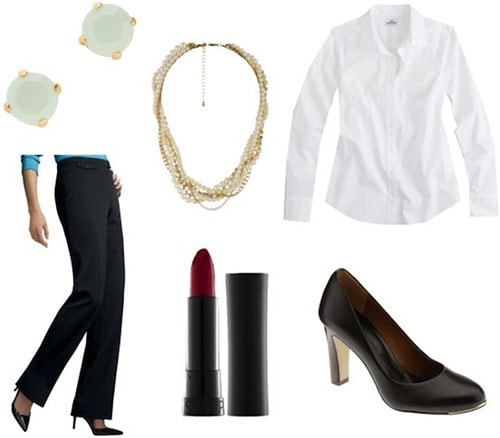 Product Details: Earrings, Necklace, Blouse, Trouser, Lipstick, Pump
Easily the most traditional look of the three, this look is powerful, professional, and polished. This is the "power suit" look without the cost of a full suit!
For this outfit, wear a decorative necklace under the collar of your buttoned blouse for an ultra-sophisticated look, and add pastel earrings for a little extra pop. The pumps featured here have a subtle gold embellishment and tortoiseshell heel to pull out the gold accents in the earrings and necklace. A bold red lip would work fabulously with this understated professional outfit, too!
2. The Upgraded Bohemian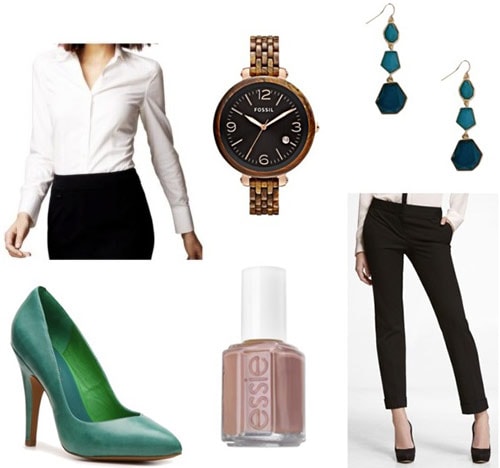 Product Details: Blouse, Watch, Earrings, Pump, Nail Polish, Trouser
If you're a little more of a bohemian and find yourself squirming in more traditional business wear (or maybe you just need a day to rock some color), consider trying this take on the classic combo.
For this look, add pieces that reflect elements of the natural world: imitation stone earrings, watches with wooden accents, and a teal shoe for vibrancy. To keep this boho outfit looking professional, make sure the rest of your ensemble is very streamlined. Tuck in your shirt, try a nail polish in a subtle, complementary color, and keep your beauty look fresh and bright.
3. The Modern Edge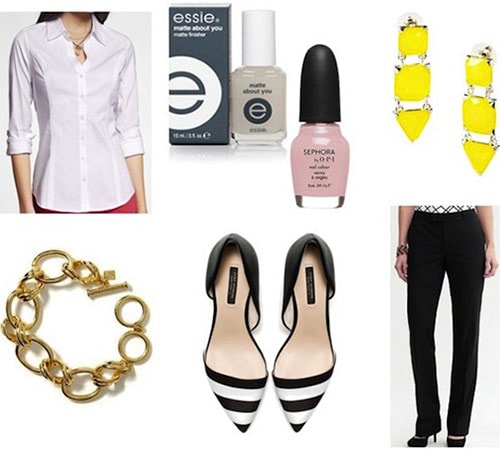 Product Details: Blouse, Nail Polish (Matte Finish), Nail Polish (Color), Earrings, Bracelet, Pump, Trouser
There's a fine line to walk if you want to mix edgy and professional — and we're here to show you how to do it! It's all about choosing pieces with clean, crisp lines, and using bold color sparingly.
Here, we've incorporated a few different spring trends: bold stripes, matte nails, chain-style jewelry, and brights. By using more understated versions of each trend, with only one bold color in the mix, it's not an overwhelming or unprofessional combination. The matte nail is in a sheer nude shade, and the striped pumps are super crisp in black and white.
What do you think?
Would you wear these outfits? How do you get the most wear out of your business basics? Tell us in the comments below!