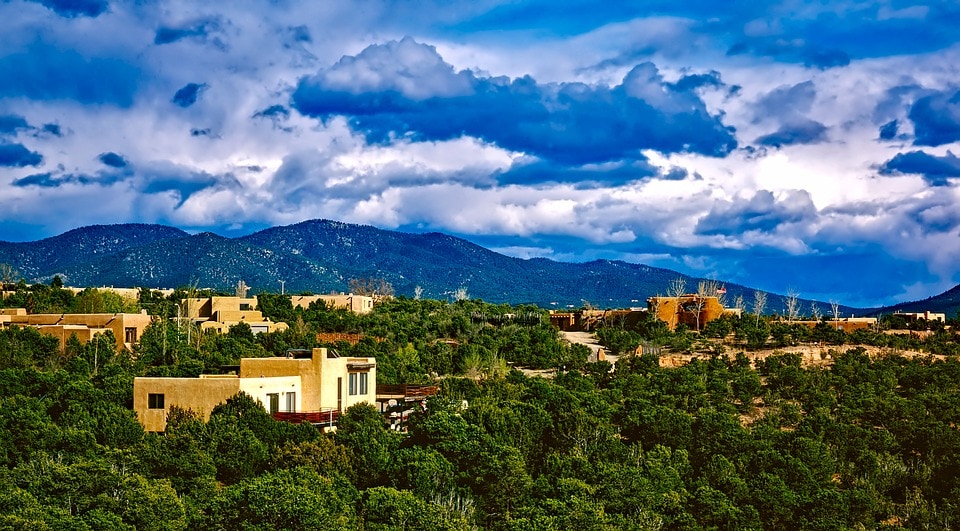 Two weekends ago, we discussed popular fashion in Dallas, Texas and gave you perspective on the bold and preppy looks young professionals in the DFW area wear. Today, we are taking a road trip through the winding roads of New Mexico and stopping in the state capital, Santa Fe!
Before we dive headfirst into Santa Fe fashion, let's take a walk around the city and see what makes this region so culturally unique. If it's your first time in Santa Fe, you might be shocked to find that local homes and businesses prefer the Pueblo Revival Architecture style.
Pueblo-style architecture is heavily inspired by traditional Spanish Colonial, Mission, and Native American Pueblo building forms. You will notice that your hotel or Airbnb has thick stuccoed walls painted with earth tones and a flat roof with rounded corners and projecting wooden roof beams.
This Pueblo style of architecture started in Albuquerque, New Mexico during the early 1900s and was adopted in Santa Fe in the 1920s by a group of artists and architects seeking to establish a cohesive but unique regional identity.
Not only was the city designed by artists but art is a living spirit that encompasses everything about Santa Fe. From Santa Fe's many art museums to the handmade assortments that can be purchased from the street vendors in the Plaza to classic cars expertly restored in bright popping colors, art is everywhere. You can even buy art from vending machines!
Modern in Menswear
Local fashion blogger Bay Sandoval loves a good retro thrift look with a dash of color. She pairs her feminine look with an oversized slouchy menswear-inspired blazer and some Miami Vice sunglasses to create a daring but intriguing look.
Get Inspired by Bay's Look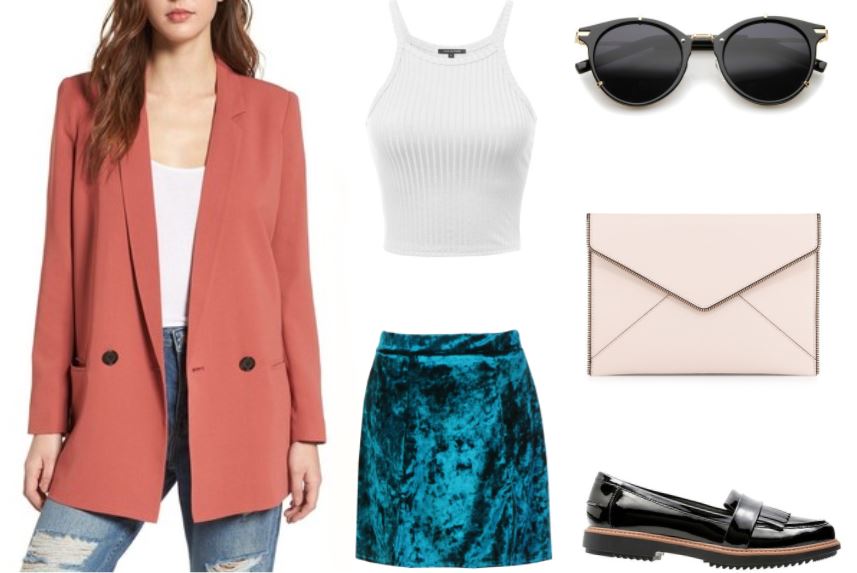 Products: Blazer – Nordstrom; Tank top – Amazon; Skirt – BooHoo; Sunglasses – PopMap; Clutch Bag – Zappos; Loafers – Lord & Taylor
If you don't know a guy willing to let you borrow his blazer, give this muted coral oversized blazer from Nordstrom a try. Pair this blazer with something form-fitting underneath to add curves as a complement to the jacket's boxiness.
Play around with textures to add a new dimension to your look. In this outfit, we mix velvet, polyester, ribbed cotton, shiny leather, and zippers to make a look that fits in with a contemporary art museum.
Wear This Look at Meow Wolf
Now that you have an outfit that feels and looks like a piece of art, check out the best art experience Santa Fe has to offer, Meow Wolf! Meow Wolf is an immersive and interactive experience that will transport you through different fantasy realms. Become a kid again as you explore the facility to view surreal settings, play with musical and electronic props, feel textures, and even solve a mystery. (Finally, an art museum where you don't get yelled at for touching the art!)
Floral Free Spirit
Scroll through Alyssa's Instagram, StyleMyBonez, and you will find an abundance of beautiful flowy patterned dresses, clothing lined with floral embroidery, hand-woven purses, and sterling silver jewelry embedded with turquoise stones. Her style is a mash-up of bohemian and southwestern vibes.
Get Inspired by Alyssa's Look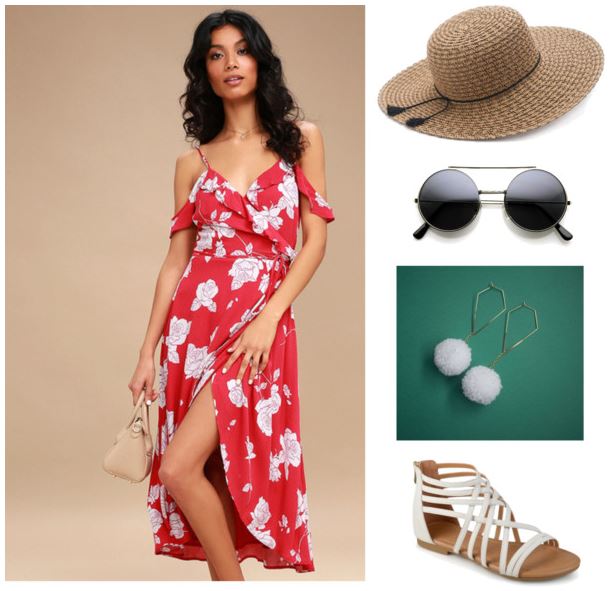 Products: Dress – Lulus; Hat – Kohls; Sunglasses – PopMap; Earrings – Etsy; Sandals – DSW
Wear This Look at Santa Fe's Rail Yard Farmer's Market!
The Railyard is Santa Fe's 50-acre arts district made up of a 13-acre park, Hispanic cultural center, contemporary art museum, a rail runner station, shops, restaurants, and (on every Saturday from 8 am to 1 pm) a farmer's market.
Maybe because I consider myself a foodie, I believe Santa Fe is worth the visit just to see their Farmer's Market. This picturesque shopping venue offers everything you can possibly imagine, but I recommend the blueberry lavender donuts and green chili breakfast burritos! If you have a knack for putting hot sauce on everything, make sure to stock up during your visit. (Caution: New Mexico's idea of mild is your region's version of extra hot!)
What Do You Think?
It was a pleasure writing an article about one of my favorite cities, Santa Fe, and dissecting their fashion sense! What do you think of the Santa Feans' style? If you love this blog series, let us know in the comments by letting us know what region we should cover next!