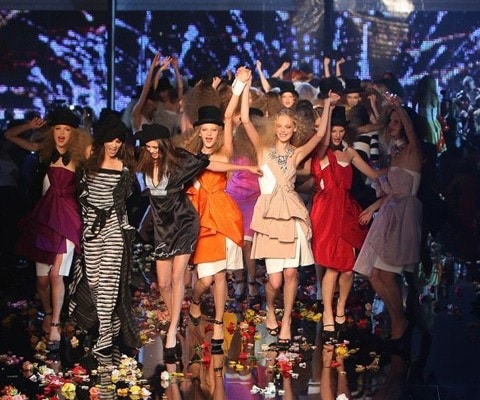 Models from Sonia Rykiel's Spring '09 fashion show. Image from HipGirlie.com.
Women's Wear Daily is reporting that Sonia Rykiel will be the next designer to collaborate with H&M. Her collection is set to debut this holiday season, following the much-anticipated Jimmy Choo for H&M collection.
Rykiel's collection will be the first H&M designer collaboration to feature lingerie. According to WWD, "exclusive pieces designed by Rykiel" will be "launched for winter 2009 on Dec. 5 in 1,500 stores worldwide." The collection will also be available in Rykiel's boutiques across the globe.
A second collection from Sonia Rykiel and H&M will be available for Spring 2010, and will feature "iconic knitwear" and accessories. The second collection will be available on February 20th, 2010. Get excited!
For those of you who aren't familiar with Sonia Rykiel, she's a French designer best known for her knitwear – sweaters are her thing, and she executes them well. Her nickname is the "Queen of Knits" – fitting, right? She was the first designer to put seams on the outside of a garment, as well as to print words on a sweater. Numerous celebrities including Rihanna, Lily Allen, and Sarah Jessica Parker are fans of her work.
So what do you think? Are you excited about Sonia Rykiel for H&M? Let us know what you think about this designer collaboration in the comments section!