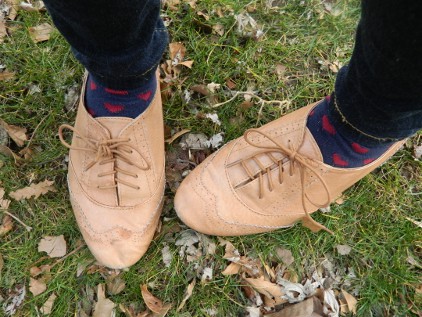 This week's Real-Life Style Challenge is inspired by our friends of the opposite sex. Menswear-inspired fashion for women has been making the rounds at fashion week for many seasons now. We've covered the menswear trend here before, but this week I'm taking the look to the streets and testing it for real.
The Challenge:
This week's challenge is to style a week's worth of outfits featuring menswear-inspired pieces, (or items that have historically been associated more with menswear than womenswear) including boy blazers, oxford shoes, and button-down shirts. Ready to see how it goes? Read on!
The Results: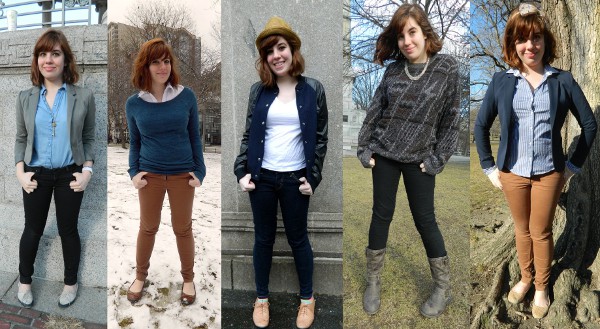 Monday: I wore a chambray shirt tucked into my black jeans with a cropped gray blazer on top.
Tuesday: I layered a white button-up shirt underneath a blue crew neck sweater. Brown pants completed the look.
Wednesday: Today I went for casual and cool, pairing a simple white v-neck with jeans. To keep with the boy-styled look, I threw on a letterman jacket, straw fedora and oxford shoes.
Thursday: Literally borrowing from the boys, I wore an oversized mens sweater taken from my boyfriend's closet! To finish it off, I put on black jeans and brown boots.
Friday: Business casual again! Today I paired a blue pinstripe button up with a navy blue blazer and brown pants. To keep things feminine, I added a bow headband.
What I Learned:
While I had some idea of what menswear was — blazers, oxfords and button downs — I was amazed at how much fashion inspiration I got from the boys around me during this week!
I'm fourtuate enough to go to a school where even the boys take fashion seriously, so when I decided to do this challenge, I spent time looking at the boys on campus to see how they styled their outfits. Sometimes it was the simplest outfits – like a sweater layered over a button-down with jeans – that didn't occur to me until I saw them on a boy.
A few more tips I picked up from this challenge:
Menswear-inspired does not mean baggy clothing! "Inspired" is the key word here. For a menswear-inspired look that's still fashion-forward, mix slouchy pieces with tailored pieces, like I did with my chambray shirt and blazer.
There are so many small accessories you can add to a look to get that menswear feeling. Invest in a good pair of oxfords, add a mens watch, or experiment with a bow-tie or suspenders. Or when it's warmer, try rolling up the cuffs of your wider pants and adding oxfords for a cute, slightly androgynous aesthetic.
Remember to still stay true to your everyday style! You shouldn't feel like you're wearing a costume.
Still feel the need to go shopping? Stores like American Apparel have a great selection of unisex styles that will flatter the female figure, but still give you the boy-inspired look you're going for.
What do you think?
Would you try this challenge? Which of my menswear-inspired looks do you like best? Do you ever rock mens clothing or accessories? If so, how? Let me know in the comments!