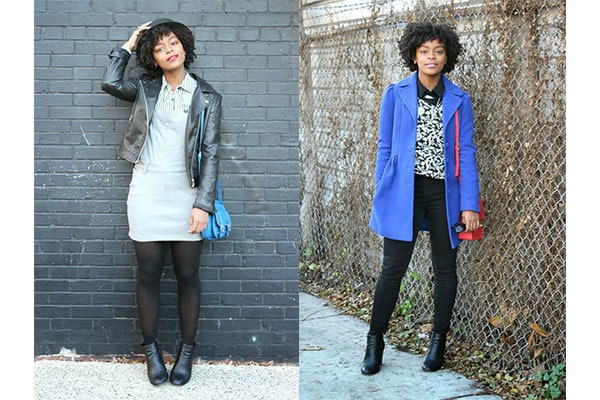 Photos Courtesy of Nadiyah Abdul-Jabbar
Nadiyah Abdul-Jabbar may be from the Cayman Isles, but her über-chic urban style is what drew me to her blog, The Fashion Isle. Even more inspiring than her fashion sense? She writes her posts in-between classes at the University of Illinois! (And I thought I was a slacker for reading CF during lectures…)
This week, Nadiyah shares why she's not afraid to stand out on campus, how she motivates herself to keep writing posts during the semester, and how she wrangled her sister into being her official blog photographer.
The Interview:
College Fashion: Tell us a little bit about yourself.
Nadiyah Abdul-Jabbar: My name is Nadiyah and I'm a fashion-obsessed college student, foodie, and avid movie buff. I am originally from the Cayman Islands, but I've been living in Chicago for almost two years. I like to share my personal style and give fashion tips on my blog, The Fashion Isle, and my YouTube channel.
CF: How would you define your style?
NAJ: Primarily, my style is quite girly, but I enjoy incorporating edgy or boho elements into my wardrobe. In college, comfort is essential, so my style is more laid-back than it used to be.
CF: How did you find your style?
NAJ: My passion for fashion developed in high school. I always bought the latest issue of Seventeen and, occasionally, Vogue, and never threw out a single magazine. Growing up on a small island, I was never brave enough to try trends because I was afraid to stand out.
It really wasn't until I moved to Chicago and got a job that I was able to experiment and just have fun with fashion. I'm not sure if I'll ever find "my style" because it's constantly evolving as I grow older and as trends change. My blog has definitely improved my self-confidence, so now I don't mind being bold and standing out.
CF: What inspired you to start a style blog? What motivates you?
NAJ: I used to dream of being a fashion designer, but I found the industry so intimidating for a little island girl like me. My fashion blog was an outlet where I could express my creativity and have a voice in the industry.
I think what motivates me most is the creative process of blogging. I love that a vision can be brought to life through pictures and video. What is most rewarding is to get feedback from your viewers and to hear that your vision helped or inspired them in some way.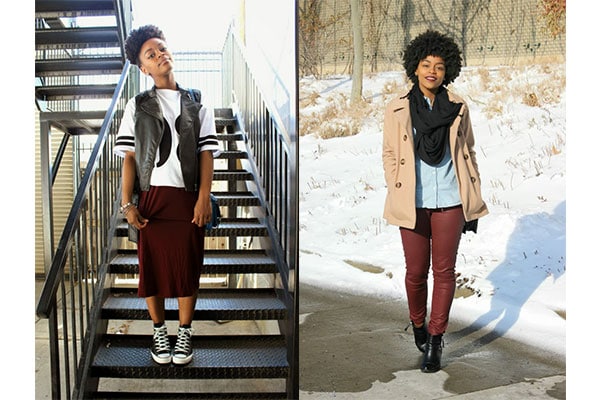 Photos Courtesy of Nadiyah Abdul-Jabbar
CF: Did you go to college? If so, where did you go to school and what did you study? What was your college experience like?
NAJ: I'm currently a sophomore at the University of Illinois at Chicago. I started out as an Entrepreneurship major, but transferred to Communications because it seemed more relevant to my future goal of working with brands.
My college experience so far has not been perfect, but I'm still enjoying the journey. I've taken some really interesting classes and enjoy going to our basketball games. It's definitely a time where you learn a lot about yourself, and I've learned that my introverted ways are a major hindrance. My goal for next semester is to branch out more, join some clubs and make a greater effort to socialize.
CF: Where do you like to shop?
NAJ: My favorite place to shop at the moment is actually an online store called Nasty Gal. My other go-to shops are H&M, Urban Outfitters, Francesca's, Forever 21, Topshop and Zara.
CF: What advice do you have for being stylish on a college budget?
NAJ: I would say to simply work with what you've got! I haven't been shopping in about two months, so I've discovered that it's important to get creative and find different clothing combinations.
When you do need to shop, stick to those sale sections! Stores like Nasty Gal and Urban Outfitters have great marked-down items. Also, try thrift shopping; you can find such unique pieces that will add character to your wardrobe.
CF: What are your favorite pieces in your wardrobe?
NAJ: I'm a sucker for outerwear, no matter what the season. My two favorite pieces are my Nasty Gal blush-colored anorak and my H&M distressed denim jacket. They're both so versatile!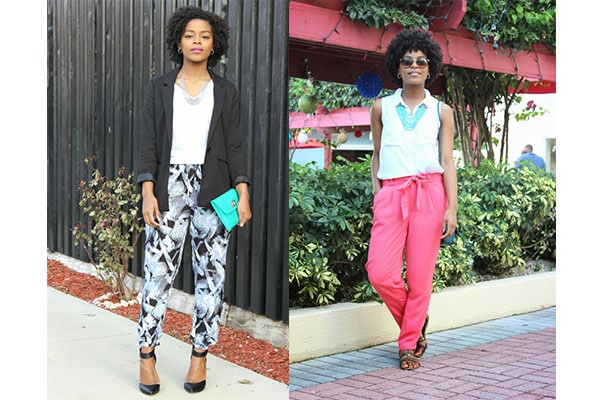 Photos Courtesy of Nadiyah Abdul-Jabbar
CF: Who/what inspires you most?
NAJ: My mother is definitely my biggest inspiration. She's such a strong, independent woman and that's definitely what I aspire to be. She exudes positivity and always encourages me to do what makes me happy.
I also gather inspiration from Chicago, from the street style to the energetic vibe of the city. All I need is a stroll on Michigan Avenue or a sit-down in Millennium Park to refresh my mind and conjure up ideas.
CF: Any advice for new bloggers or college students starting a blog?
NAJ: I think the two most important aspects of blogging are consistency and quality. Viewers appreciate a blogger who takes the time to produce quality posts on a regular basis. Those two things help to establish that blogger-reader trust.
Being a college student and a fashion blogger is a challenge, as I have struggled with being consistent with my posts, but it's all a learning process. As long as you're passionate about it, blogging is such a rewarding experience and worth all of the hard work.
CF: What's writing a blog really like? Could you describe a typical day?
NAJ: Blogging is definitely not as glamorous as some may think it is, especially when you're a college student. When I do have school, I start by waking up at 5 a.m. and preparing for a day full of classes. Sometimes I'm at school for 10 hours in one day, so I always bring my laptop to edit pictures and videos or write a blog post during my breaks. I've grasped the process of writing blog posts, but editing videos takes several hours to complete.
I'm still very new to the blogging scene and have little connections, so I rely on my sister to take my pictures. She takes my pictures after I get home from school or while we're out and about on the weekend. If it weren't for her, my blog wouldn't exist!
Blogging is all about social media, too. I try to post on Instagram at least once or twice a day and keep my Twitter, Facebook and Tumblr updated. It really is a continuous process. Even though I don't post every day, there's always something to do for my blog.
Your Thoughts?
Do you have a fashion blog? Which blogger should I reach out to next? Tell me in the comments section!