I have been a longtime follower of Gal Meets Glam, a blog by Julia Berolzheimer (formerly Julia Engel). In case you aren't familiar, Julia is absolutely gorgeous and has a classic, girly style that's sure to inspire you.
Julia has a knack for mixing simple pieces, like a simple skater skirt and blouse, for example, and looking incredibly classy and put-together. Her style is always her own, and she always looks polished yet not too buttoned-up.
Julia has a huge following, so when I was brainstorming Instagram girls to feature, I knew she had to be on my list. Julia's Instagram is full of gorgeous pictures of her and her husband and their travels. If you've never seen it, prepare to be absolutely jealous when you take a look.
But without further ado, let's get started with the outfit recreations! It's time for Julia Engel Style, 101.
Julia's Style
Julia Engel's style is timeless and feminine. The silhouettes she chooses are chic and timeless, while the colors and patterns are feminine and elegant.
What I adore about Julia's style is how authentic and true it is to her. She rocks her look with full confidence and is unapologetically herself.
Even as she is re-branding herself and shedding Gal Meets Glam, her style and aesthetics remain, proving her style is truly her own. (And I'm excited to see where the new JuliaBerolzheimer.com takes us!!)
As a girl who loves feminine styles, Julia has inspired me to truly embrace it.
Classic, elegant, girly style isn't always "on trend" when you're in college. And when you identify with this sense of style, sometimes shopping can be hard and wearing what feels good can feel embarrassing.
Seeing girls like Julia embrace this style and make something beautiful out of it is inspiring.
A pink dress to class? Ok! Simple, soft makeup and wicker handbags while you grab coffee? Embrace it.
Embracing Feminine Style
Taking Julia as a source of inspiration, come out of this lockdown and into the new season of life in your girly style.
To get started, here are three adorable everyday outfits inspired by Julia Engel's style. Wear them to class, work, brunch, or even around the house if you desire.
"I believe style is in the details, a delicate bow makes the perfect finishing touch, beauty begins with confidence, happiness is a choice and a new adventure is always around the corner". -Julia Berolzheimer
Outfit #1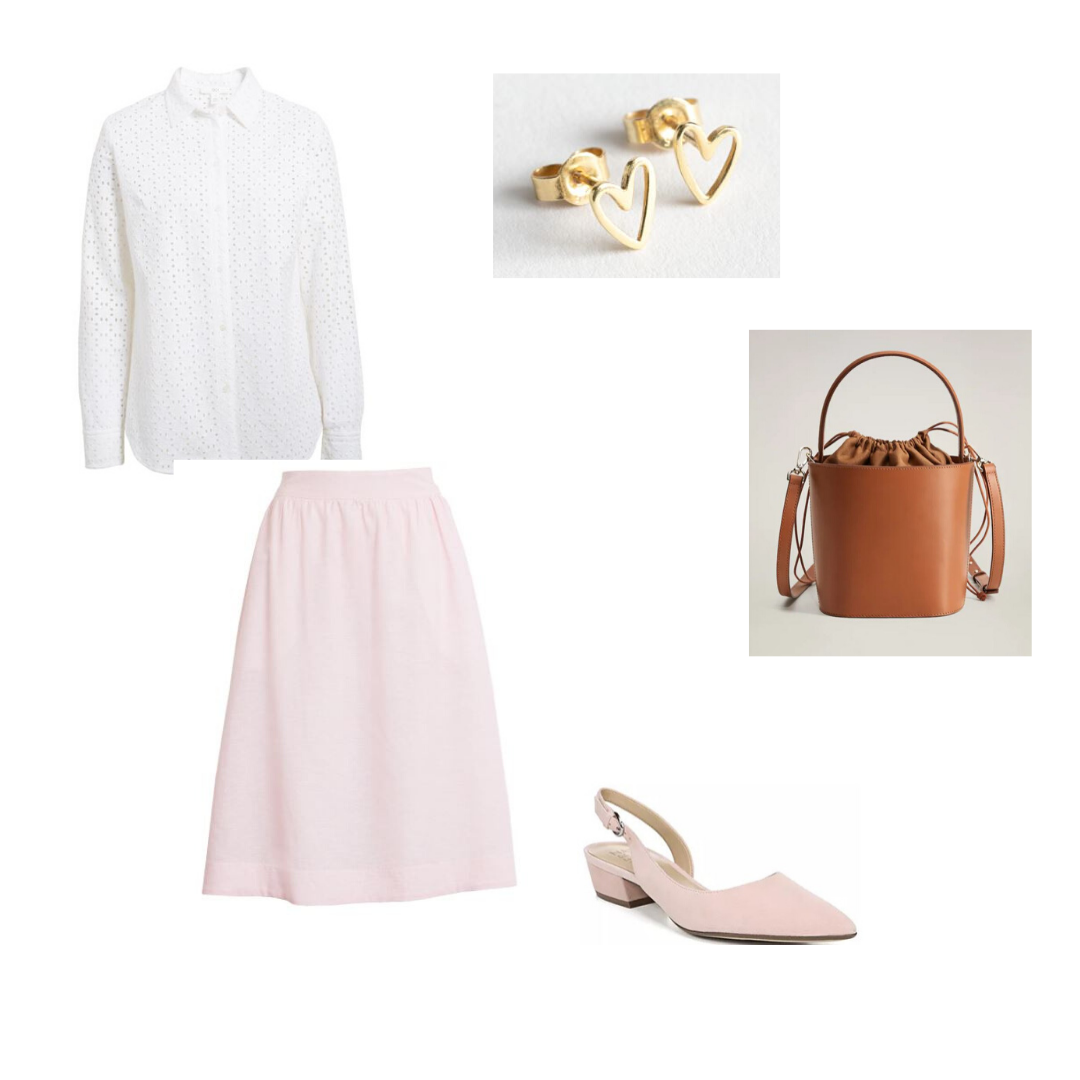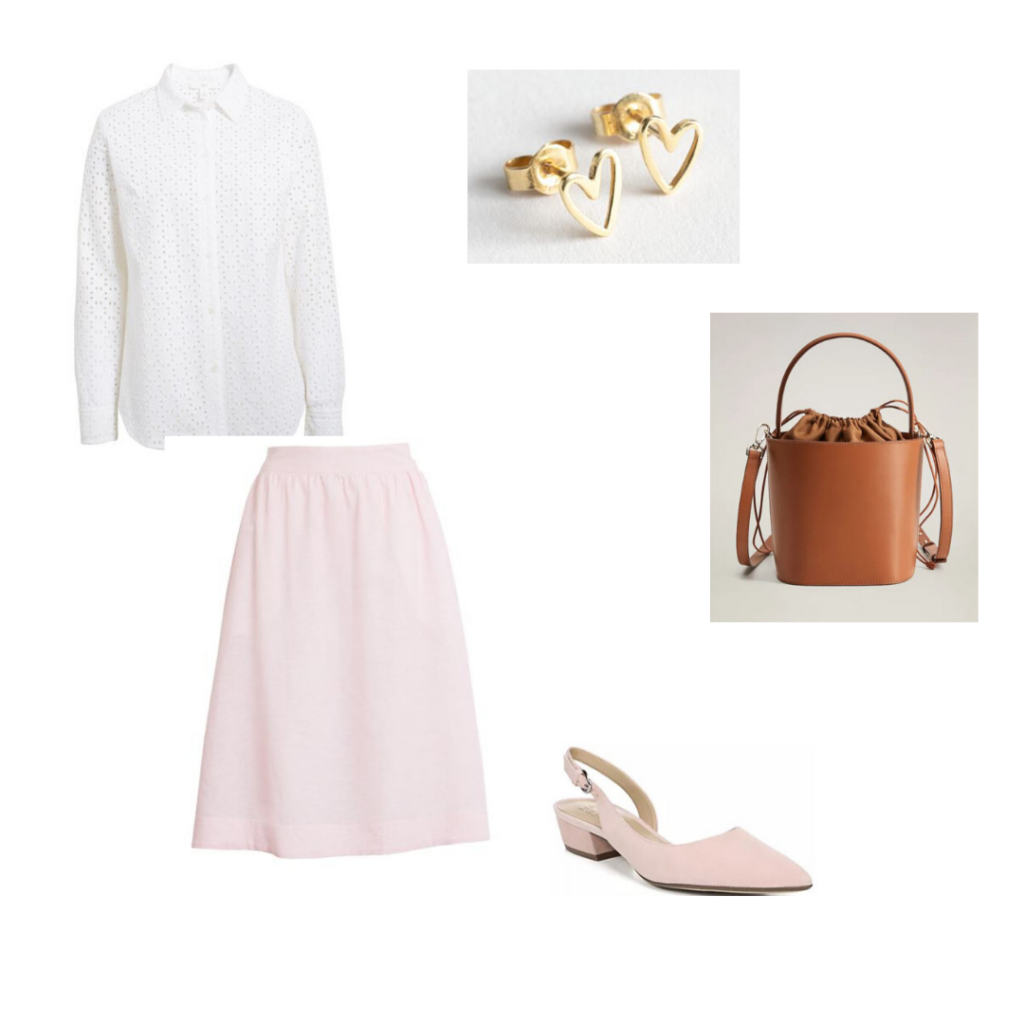 Products: Shirt, Skirt, Earrings, Bag, Shoes
For a casual, feminine look, Julia does it best.
Inspired by one of my favorite looks from her Instagram (shown above), a classic blouse and pink skirt make for a perfect outfit. Whether you have classes again, a work day ahead, or simply want to look adorable, this outfit combo is the way to go.
1901 has chic, tailored styles, totally up Julia's alley. This button down combines elegance and class in one with the delicate embroidery throughout. Tuck it into this blush pink midi for a sweet little outfit that's perfect for summer days around town and the start of the school year.
For accessories, Julia always plays with the details in a subtle way. These dainty heart earrings and flirty pink slingbacks are totally pieces she would wear.
A classic leather purse with a little structure brings the entire outfit together.
Outfit #2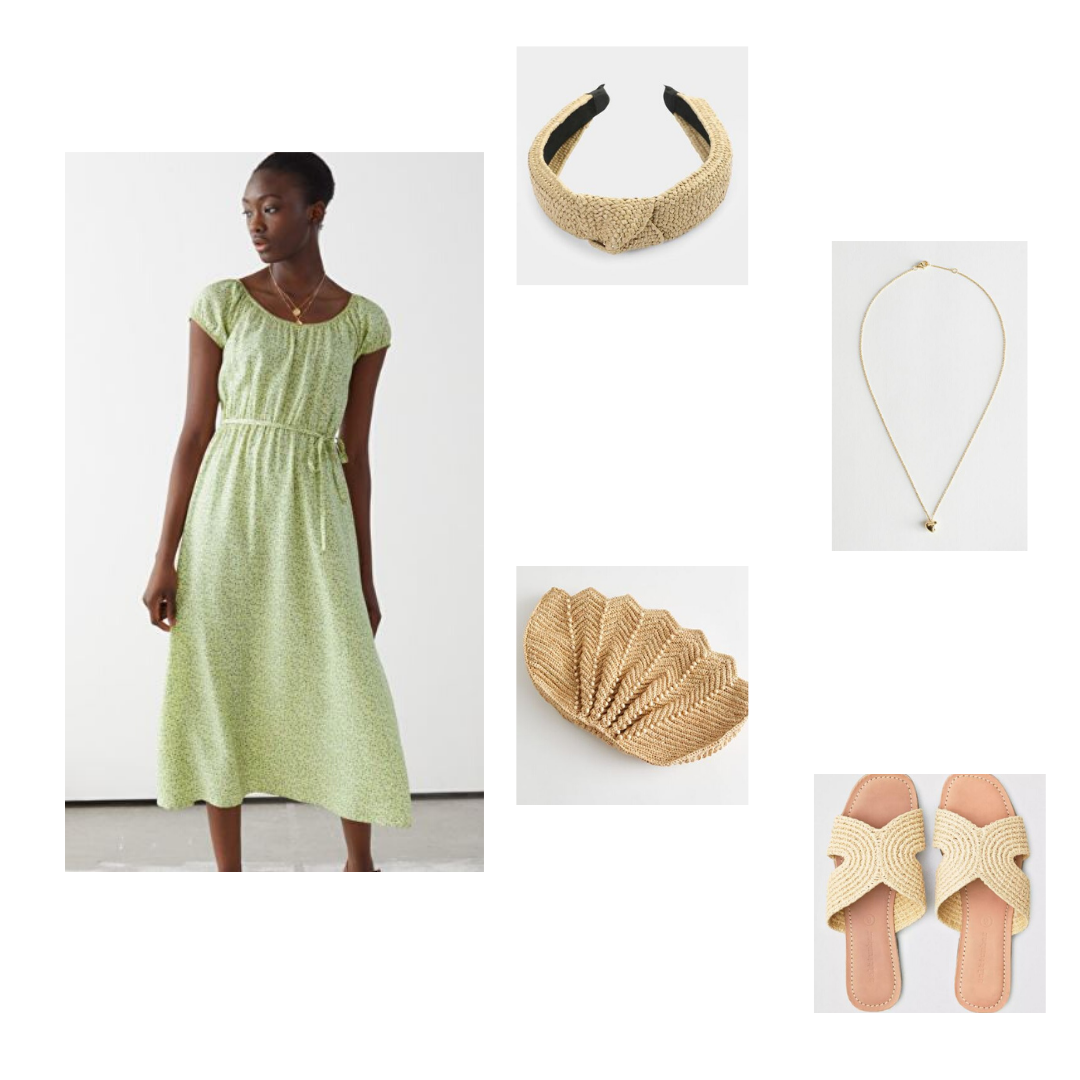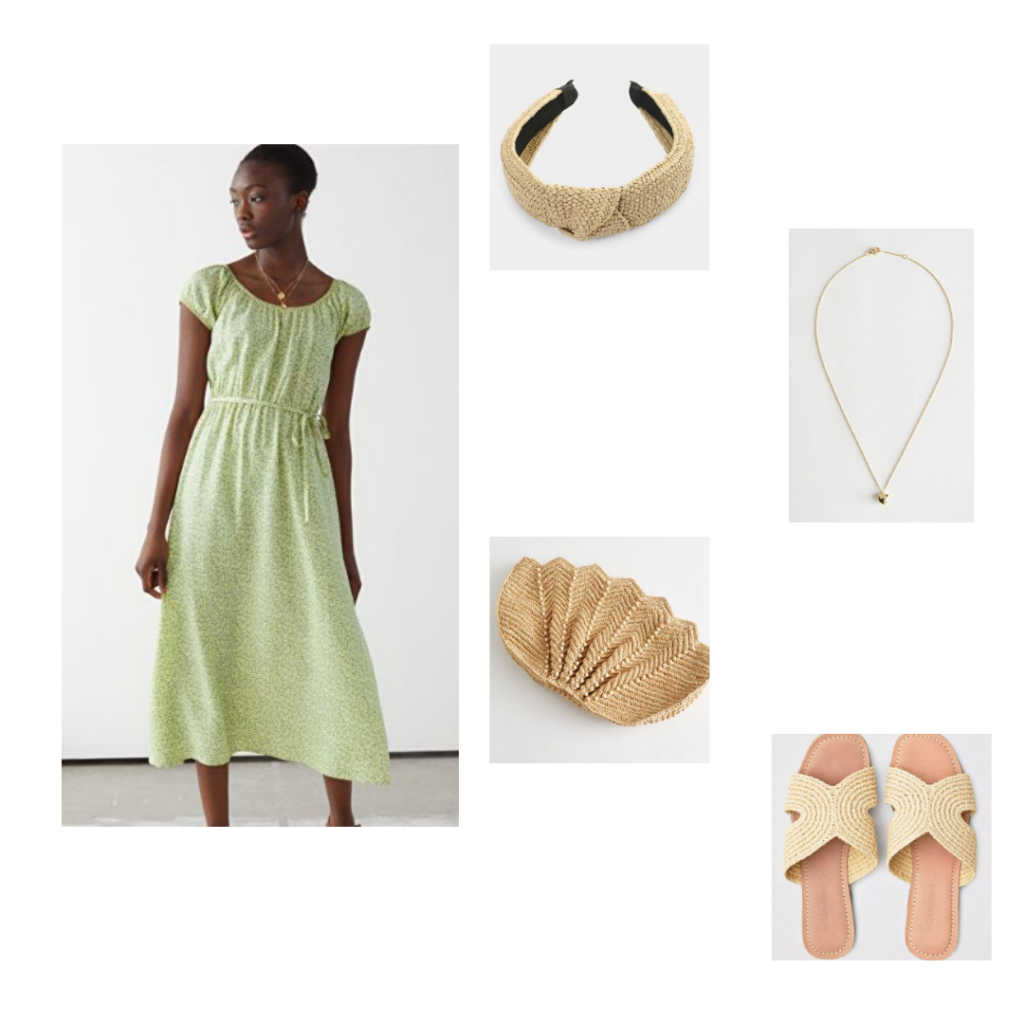 Products: Dress, Headband, Necklace, Clutch, Shoes
Julia's style has been maturing lately, incorporating more pastels like green and blue. However, she always knows how to make her style utterly feminine and romantic.
Even at home in this "Daily Look", she manages to look elegant in green florals on her porch. (Talk about style goals!)
For our interpretation of this look, a soft green floral midi dress is lovely for a summer's day. Featuring a subtle puff sleeve and flattering silhouette, this dress screams Julia.
The dress alone is beautiful but you cannot go wrong with wicker accessories for the summer. Julia is the one who inspired my wicker collection to grow, so I had to style this midi with a pair of wicker sandals, a headband, and a clutch.
Finish the look by highlighting the neckline with a dainty heart pendant.
Outfit #3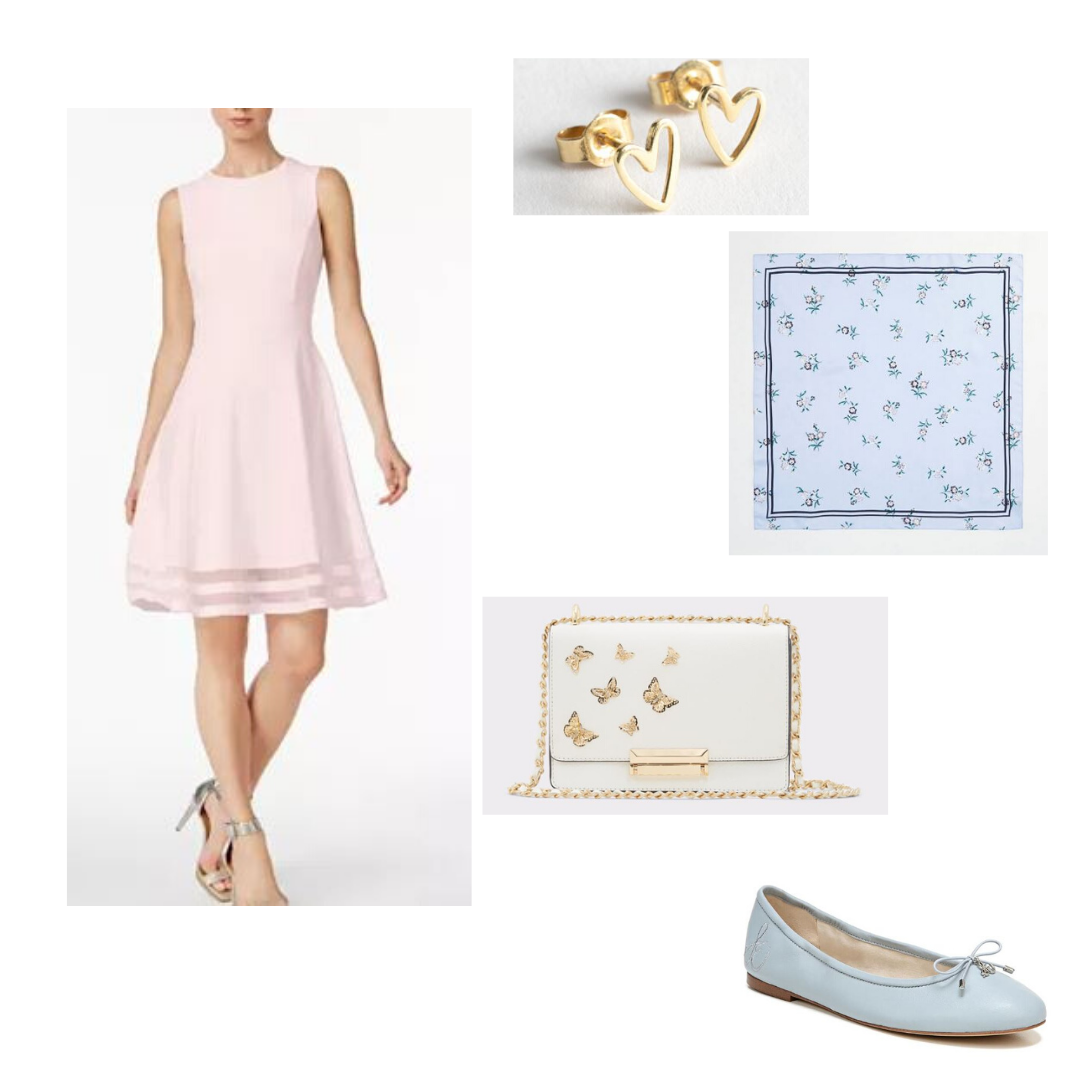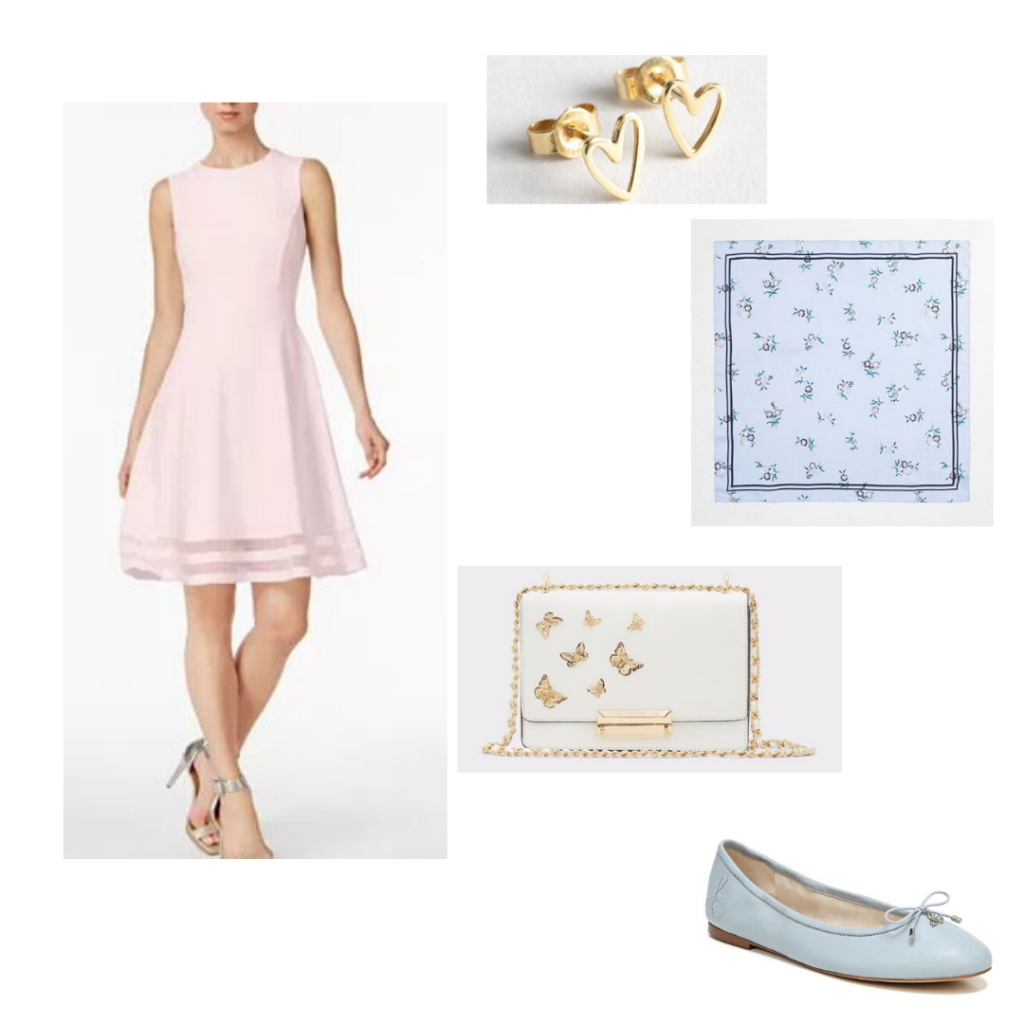 Products: Dress, Earrings, Scarf, Purse, Shoes
Julia is always one to be wearing a pink dress, it's a signature look. This simple yet elegant outfit of hers from her "Daily Look" archive is one of my favorites. It's and perfect for a lovely evening out.
All you need for this look is a soft pink it and flare dress like this Calvin Klein one!
For accessories, a silk scarf is one of Julia's favorite choices. This soft blue floral one brings a lovely pop of color! Match the shoes to the scarf with these ballet flats to tie it all together.
Finally, a simple white purse is all you need for your essentials. This crossbody from Aldo has little butterflies for an added bit of femininity.
Julia has shared her style for years on Gal Meets Glam becoming a feminine icon. If your true style is girly and pink, and you identify as a "Dress Lover", Julia is one to follow.
She is an inspiration for us feminine gals, showing us it's beautiful to embrace our true style.
What do you think of Julia Engel's style?
Which outfit will you be re-creating? Are you going to embrace a feminine style this season? Tell us in the comments.