Wicker, straw, rattan and woven accessories are a summertime favorite. Whether it's a straw sunhat, basket bag, or little rattan shoes, woven accessories complete a summer look. They bring a sense of ease and comfort to dresses, short or rompers. They add texture to a look, and are charming ways to infuse character into your wardrobe.
Another thing to love about woven accessories? Their natural color. This allows them to pair well with basically everything. Whether it's a white cotton sundress, red blouse, or even a pair of jeans, a woven accessory makes a perfect addition.
However, the amount of style options can be overwhelming. So to make this trend easy to try, I'll be sharing three ways to style your wicker, rattan, and woven accessories. Whether you're headed to the beach, bookstore, brunch or even just staying home, these style ideas are great for any summer day.
Outfit #1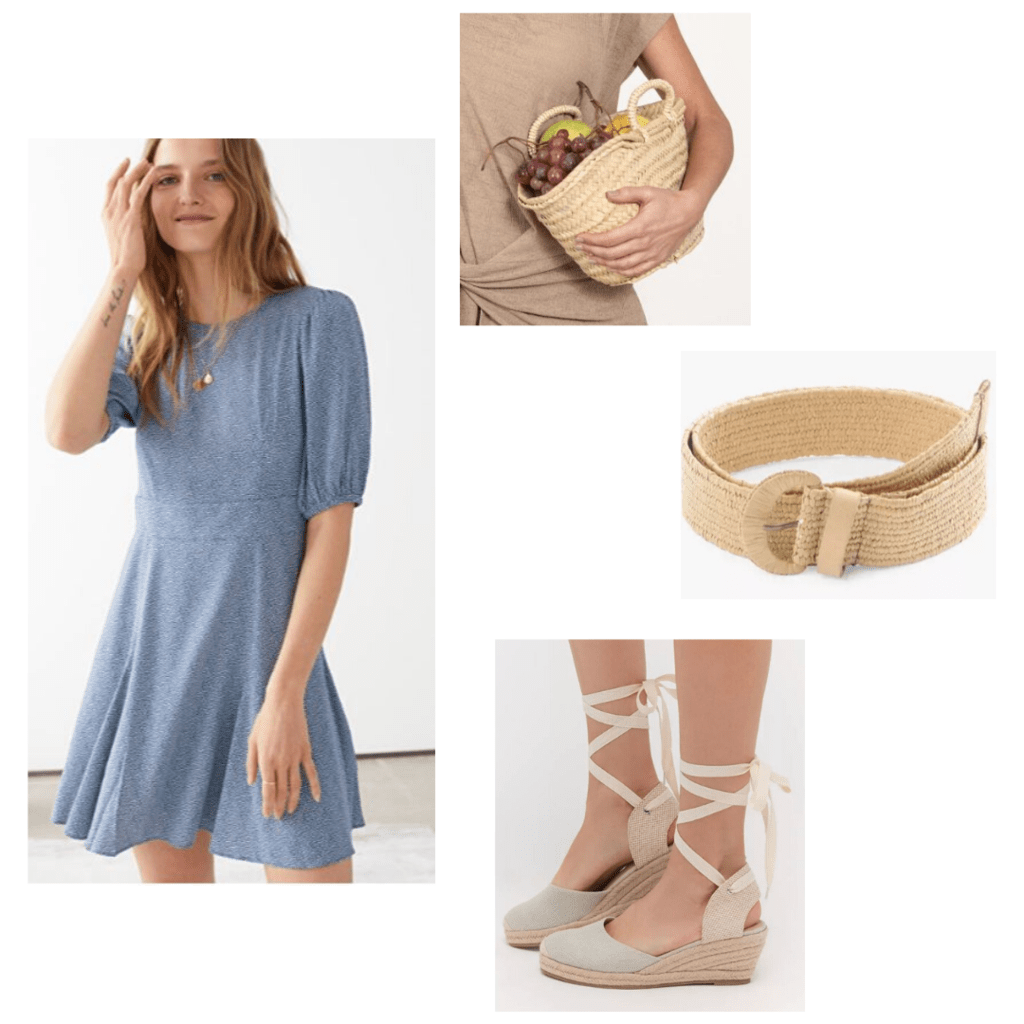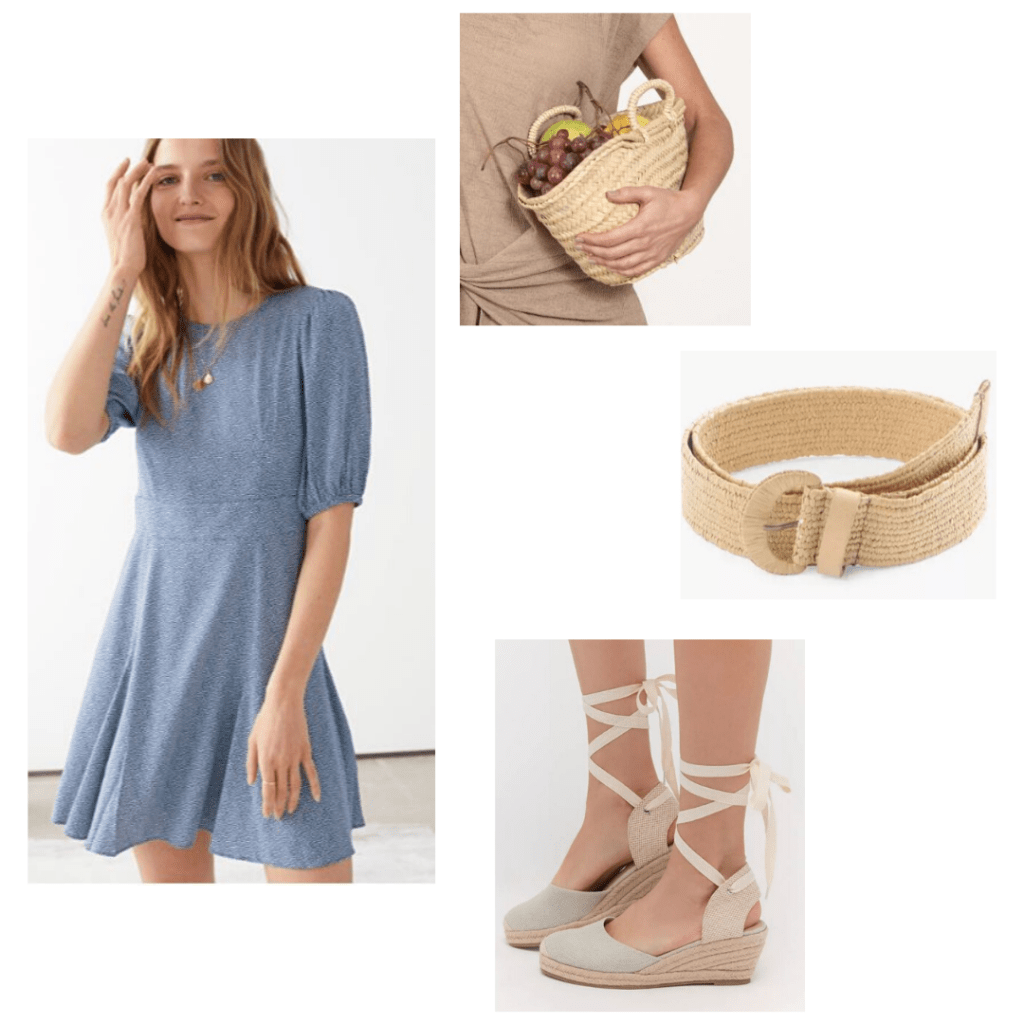 Products: Dress – & Other Stories, Purse – Etsy, Belt – Lucky Brand, Shoes – Urban Outfitters
Woven accessories can bring a Parisian vibe to a look. Their effortless, carefree look mirrors the French style quite well. So here, I've styled this into a look that would feel at home in Paris.
A simple sundress is an ideal canvas for woven accessories. This blue mini from & Other Stories is sweet and delicate, perfect for a casual day. Break up the blue pattern with this woven belt to elevate the look.
Play on the French charm with a mini straw tote — this one would be perfect for those warm Saturday mornings at the farmers market. And a pair of comfy espadrilles is always a good idea for a sweet, summery look.
Outfit #2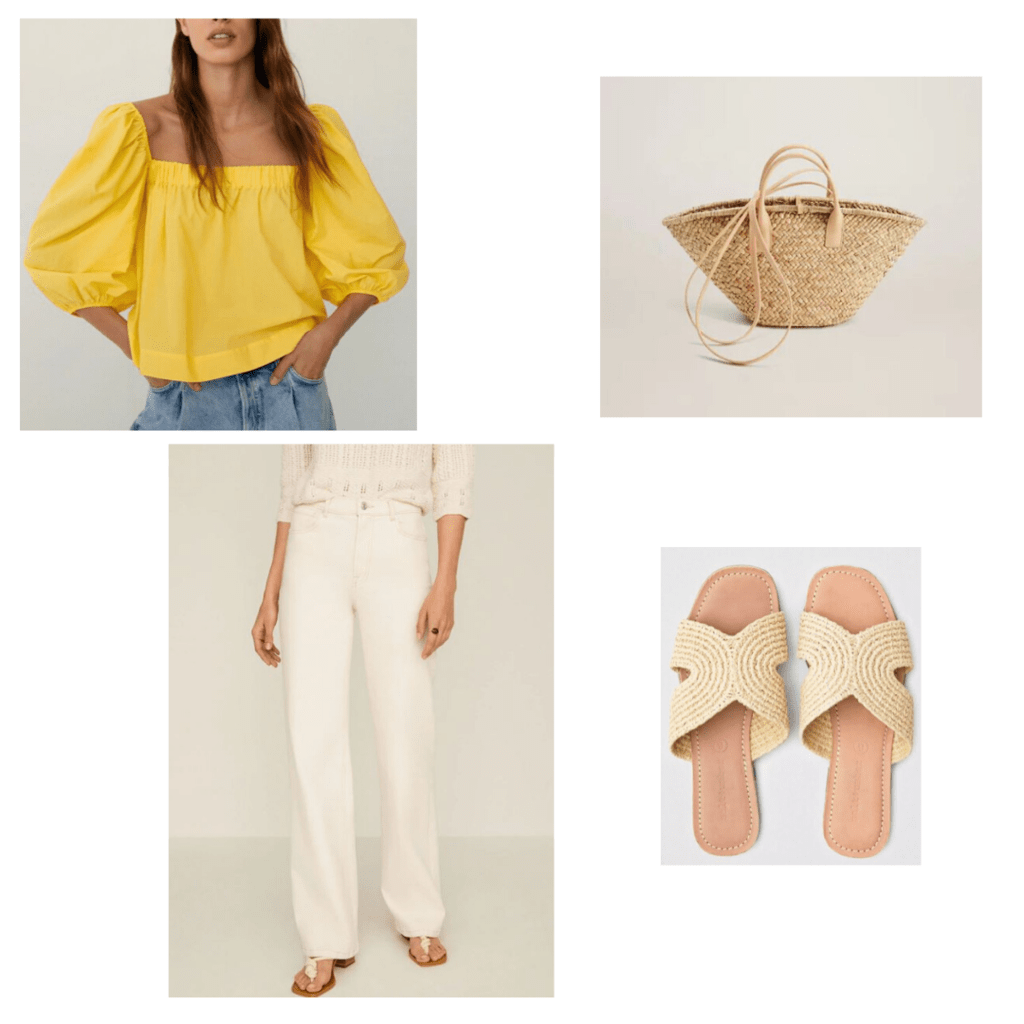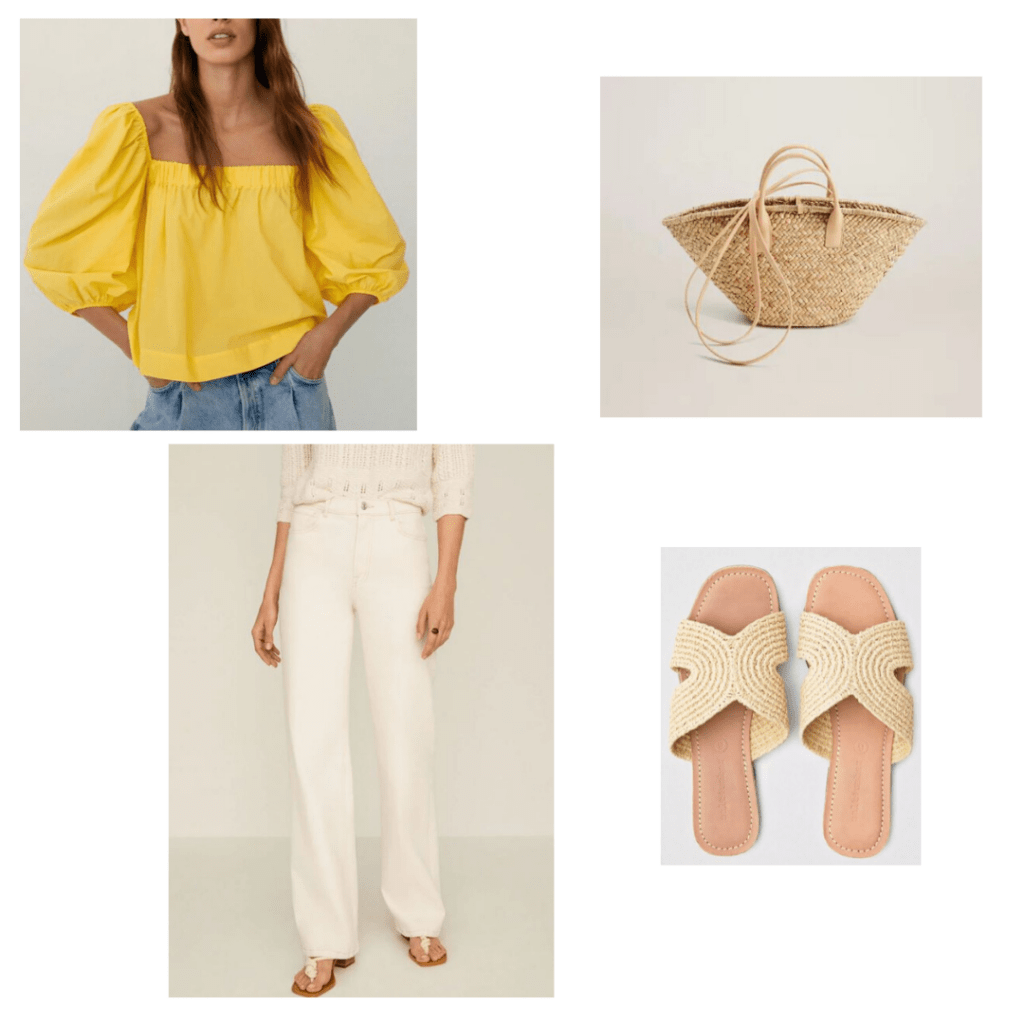 Products: Top – Mango, Jeans – Mango, Purse – Mango, Shoes – American Eagle
For an adventurous look perfect for a vacation (or just summertime in your town), opt for a vibrant top and classic jeans. These high waisted jeans are perfect for a day of window shopping or dinner by the beach. Finish it off with this top and you'll create a show stopping look.
Adding a wicker purse and woven raffia sandals brings a natural, casual vibe to the outfit. Further enhancing the beachy look, these sandals are made for comfort and style. They can be either casual or dressy, depending on how you style them.
Finish off the look with an effortless basket bag, such as this double strapped one from Mango. Carefree yet stunning, this look is perfect for warm days.
Outfit #3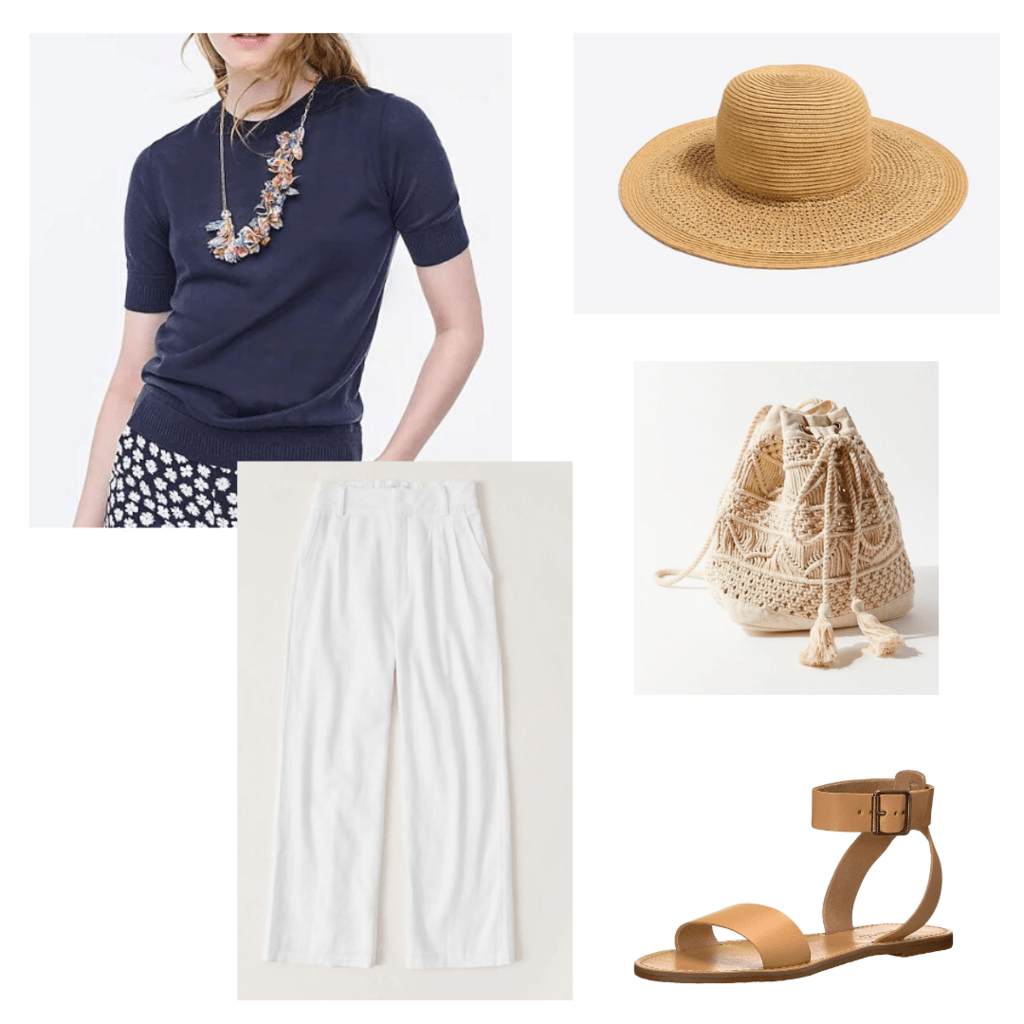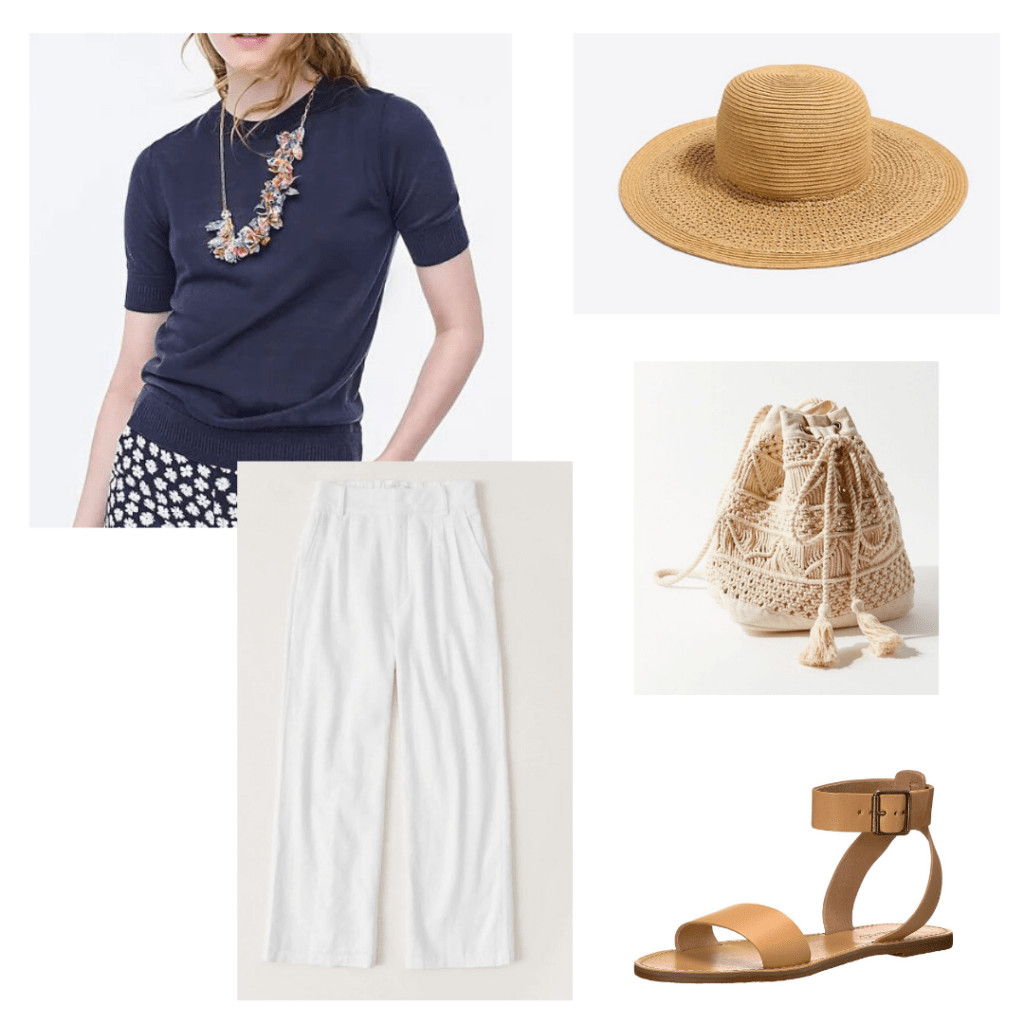 Products: Sweater – J.Crew, Pants – Abercrombie & Fitch, Hat – J.Crew Factory, Purse – Urban Outfitters, Shoes – Madewell
A summer daydream is a day in Nantucket. Think: Taking a stroll around town, eating at cafes, browsing bookstores, and heading off to your boat. While this may be far fetched right now, dressing the part doesn't have to be.
A pair of white linen pants with a navy sweater form the ideal dress code for a dreamy summer day. It's a perfect combo for pretending you're off for a day on your boat when, in reality, you're off to the beach with friends. (Close enough.)
A bohemian woven accessory (in the form of a backpack) brings a sense of reality back to this preppy daydream. And a pair of classic brown sandals make the look even more comfortable.
Also, if the beach is on your to do list, this sunhat is a must have. I love its texture and classic feel. You will have this one for years and it will look amazing with any outfit!
What do you think of woven accessories?
How will be styling these summer accessories? Which of these outfit ideas is your favorite? Tell us in the comments below.