These days, most bloggers and Instagram influencers wouldn't be caught dead wearing the same outfit twice. Most don't even wear the same pieces very often. And, let's be honest, it's hard to relate: Those of us who aren't brand-sponsored just can't afford to go that route.
While a lack of outfit-repeating shouldn't stop you from using these bloggers and influencers as fashion inspiration, it can be discouraging.
That's where today's featured Instagrammer, Jill Wallace of Little Black Boots, comes in. Now, her blog isn't necessarily about getting multiple uses out of pieces, but in each of the outfits I've featured today, at least one piece is repeated from another. It shows you how certain items can be quite versatile.
Jill says that she derives style inspiration from "everything from editorials, to bloggers, to ladies walking down street."  
As a loyal follower, I absolutely had to feature her because not only do I love her trend-based style, but I think she has an awesome personality. And she does repeat pieces quite often!
@LittleBlackBoots Outfit #1:
I love this outfit, mostly because red is such a beautifully bold hue. Many people would shy away from a skirt like this, but not Jill!
This is an easy pairing for those who may not be so bold in their color choices because the T-shirt dresses down the bold midi skirt while the mules still elevate the style.
To recreate this look, I chose a much less expensive skirt option in a similar color and style and paired it with a knotted T-shirt from Miss Selfridge. I love tops like these because while, yes, you could just buy your typical tee and knot it the front, this does the work for you and looks a little more stylish than your basic white tee. I added strappy sandals, a simple belt, and sunglasses for character.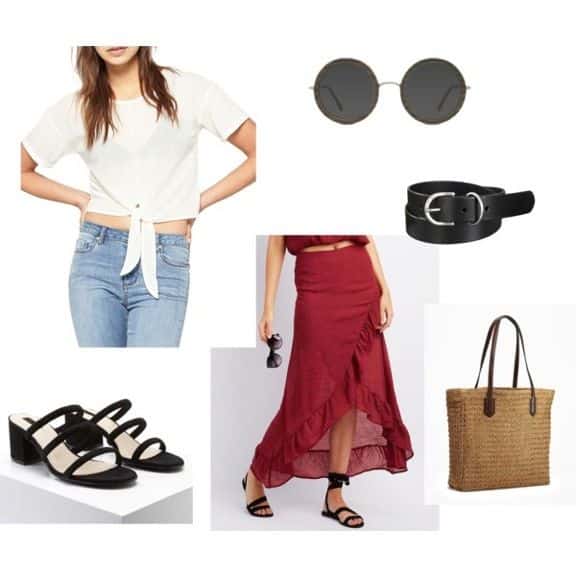 Products: T shirt – Miss Selfridge, Maxi skirt – Charlotte Russe, Bag – Old Navy, Belt – Uniqlo, Shoes – Forever 21, Sunglasses – Eyebuydirect.com
@LittleBlackBoots Outfit #2:
Here's another way you can style that knotted tee. Dress down a trendy gingham ruffled mini by pairing it with your white tee and a cute pair of espadrilles.
This look is absolutely perfect for a casual brunch with the girls.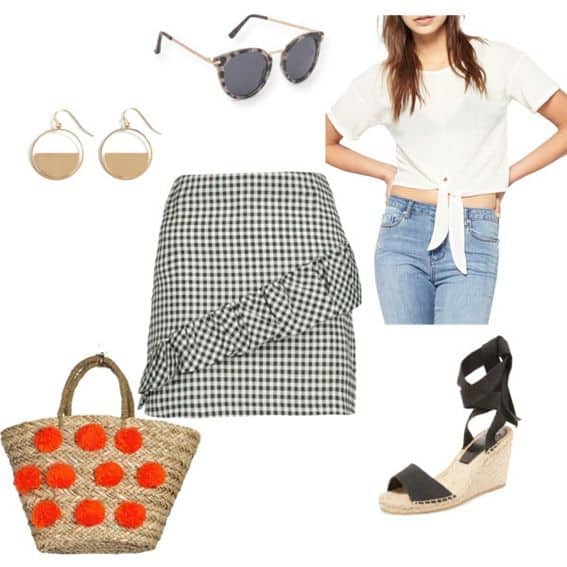 Products: T shirt – Miss Selfridge, Skirt – Boohoo, Shoes – Gilt, Bag – Forever 21, Sunglasses – Aeropostale, Earrings – Shoe Dazzle
@LittleBlackBoots Outfit #3:
Heading out for a girl's night? This is the perfect way to dress up your mini. Just add a trendy off-the-shoulder wrap top (bonus: this trend is oh-so flattering), and finish with a tassel-embellished clutch, long earrings, and lace-up strappy heels.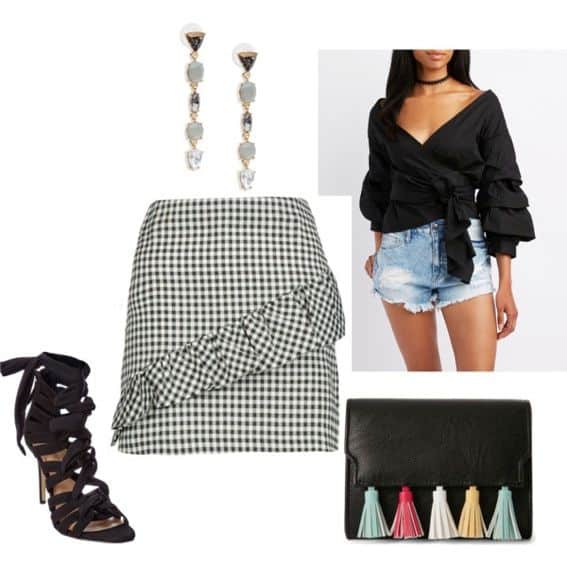 Products: Top – Charlotte Russe, Skirt – Boohoo, Shoes – Amazon.com, Earrings – Baublebar, Clutch – Jessica Mcclintock
@LittleBlackBoots Outfit #4:
Okay, so I realize that this isn't the exact same shirt as the last outfit, but it's close enough for our purposes. Just use the same top I did from the last look to get this dramatic ensemble.
Styled with striped flares and mules, your off-the-shoulder black top looks great for the office (casual Friday, anyone?) and then to transition to drinks with the girls.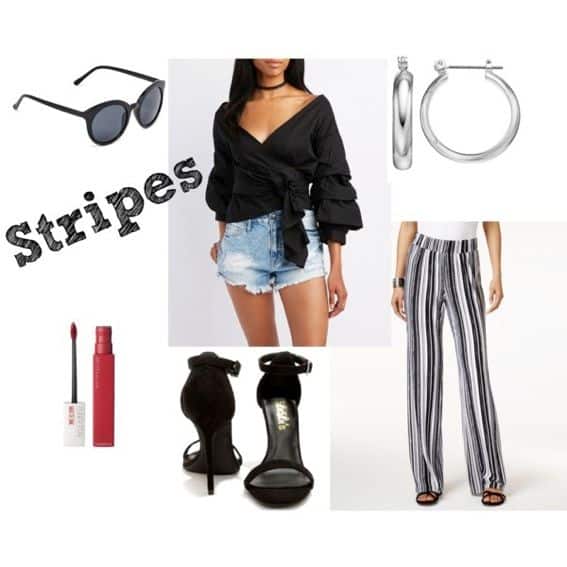 Products: Top – Charlotte Russe, Pants – Macy's, Heels – Lulu's, Earrings – Kohl's, Sunglasses – Sole Society, Lipgloss – Maybelline
How did you like seeing these pieces style in more than one outfit? Are you an outfit repeater? (Cuz same.) Tell me in the comments or send us a tweet.