Instagram serves a lot of purposes. For some, it's a way to show off the fun things they're doing with their lives, for others it's a place to keep up with friends, and still for others, it's to document your life as you live it.
For me, Instagram is my favorite place to get style inspiration. I mean, I can't tell you how many outfits I've seen on Instagram, screenshotted, and attempted to later recreate; those pictures are also why I never have any storage available on my phone.
This is exactly why I've created this Instagram Style Steal series, to share with you all how to recreate these amazing outfits on a smaller budget and possibly with pieces you already had and just didn't realize paired so well together.
Today, we're starting off with @HappilyGrey, Mary Seng.
Mary describes her style as "unplanned and generally a reflection of my mood," according to her website. She further goes on to say:
"I think style encompasses more than just the clothes you see. The way one walks, talks, stands, and most importantly, the confidence all create style. I am no fashion expert. I am learning and evolving more everyday as Happily Grey grows in its own way. Creating unique, original content in an untainted light has never felt more essential."
Inspired yet? Me, too. Let's get into breaking down Mary Seng's style, with some of her best Instagram outfits translated for girls on a budget.
@HappilyGrey Outfit #1:
This outfit incorporates so many huge trends for this summer: one-shoulder tops, cropped flares, mules, tassels and ruffles.
Plus, I'm pretty sure that every single blogger owns this mini bag by this point. It's cute, it's versatile, and it's the perfect summer staple.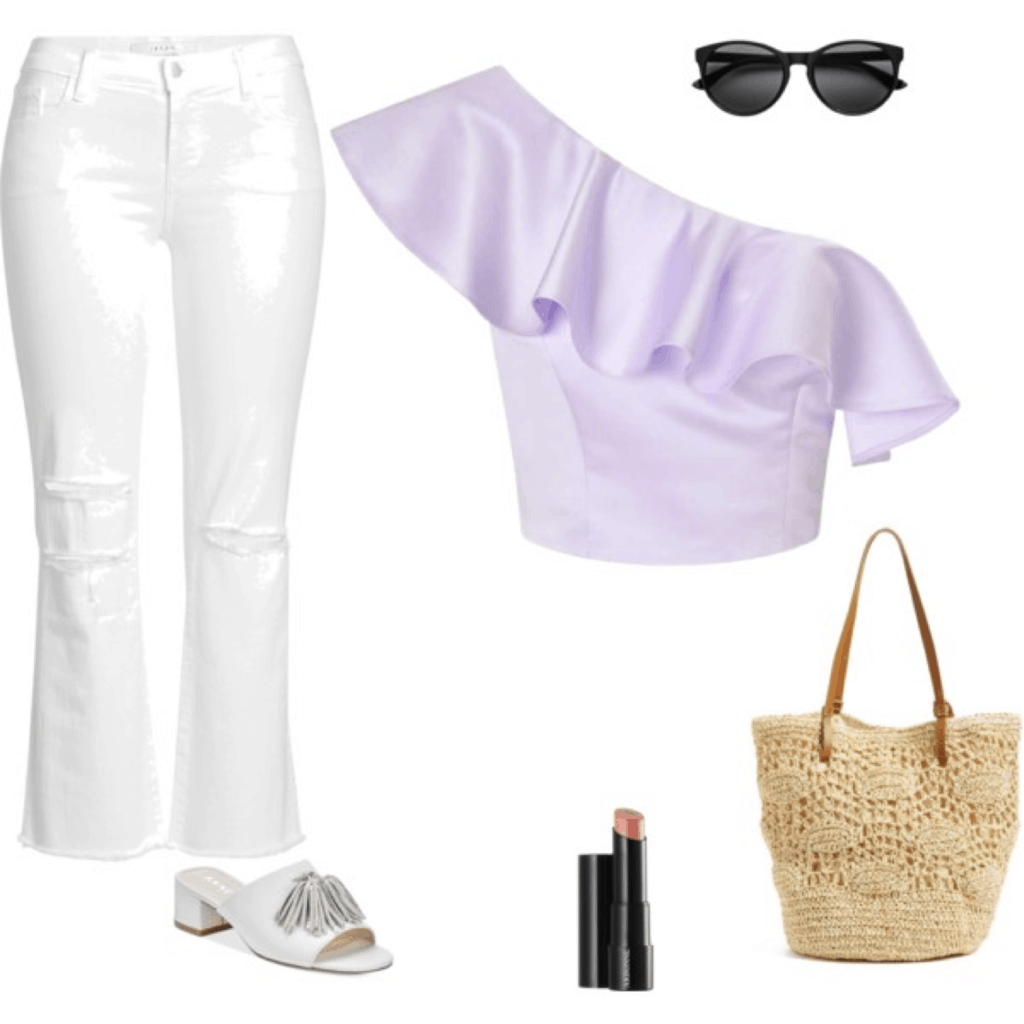 Products: Top – Miss Selfridge, Pants – StyleBop, Shoes – Macy's, Bag – Nordstrom, Sunglasses – H&M, Lipstick – Arbonne
@HappilyGrey Outfit #2:
I absolutely love this pairing: There's just something about the way the square neck trend that's being revived from the '90s is flattering to the neckline. And I love a good pair of vertically striped trousers as well.
This outfit would be wonderful for a day spent exploring a beachside down and maybe going to a few cute shops and a glamorous lunch outside. It's summer perfection!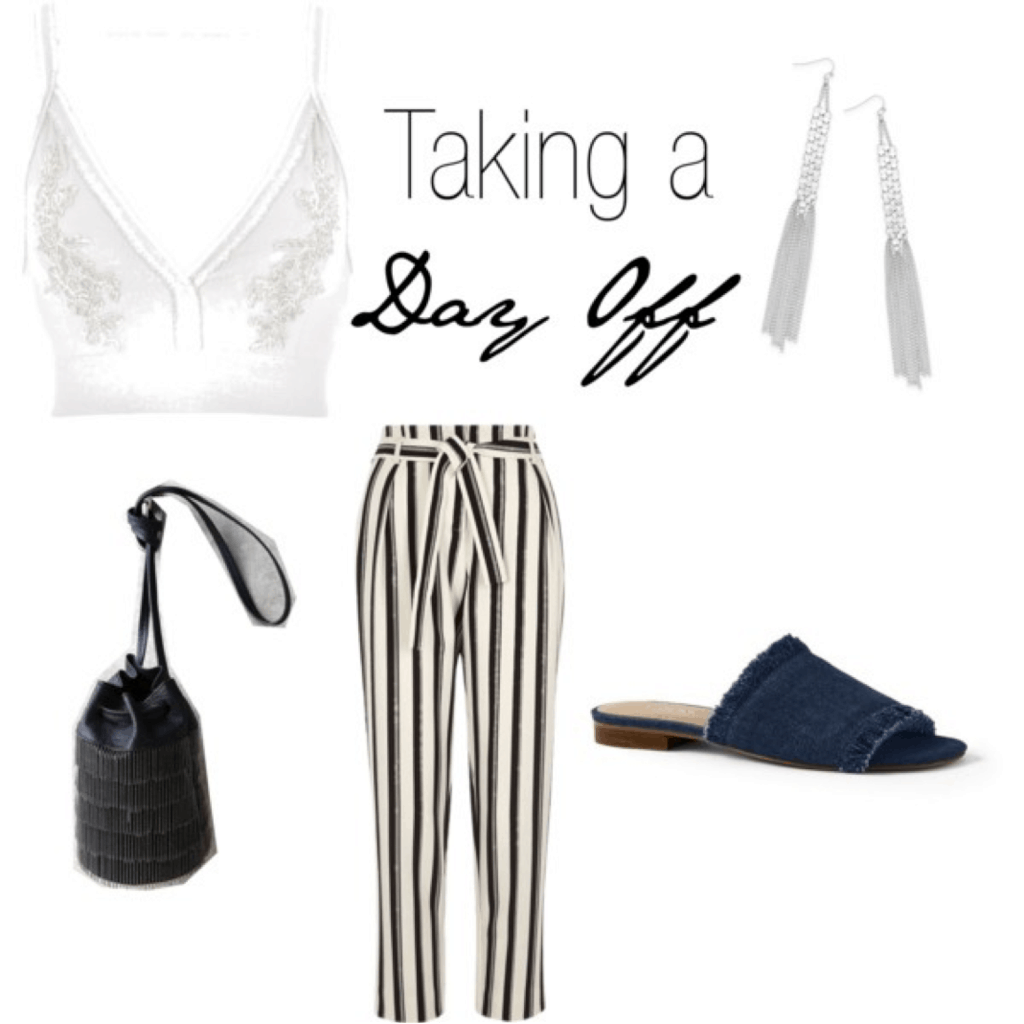 Products: Top – River Island, Pants – River Island, Shoes – Land's End, Bag – Lulu's, Earrings – Macy's
@HappilyGrey Outfit #3:
This is such an easy outfit but it's really perfect for the summer because it incorporates one of the hottest trends: off-the-shoulder tops. They have been absolutely everywhere lately and they're so cute and versatile.
Here's an easy and casual take on this look that's perfect for a beach day or even brunch with the girls: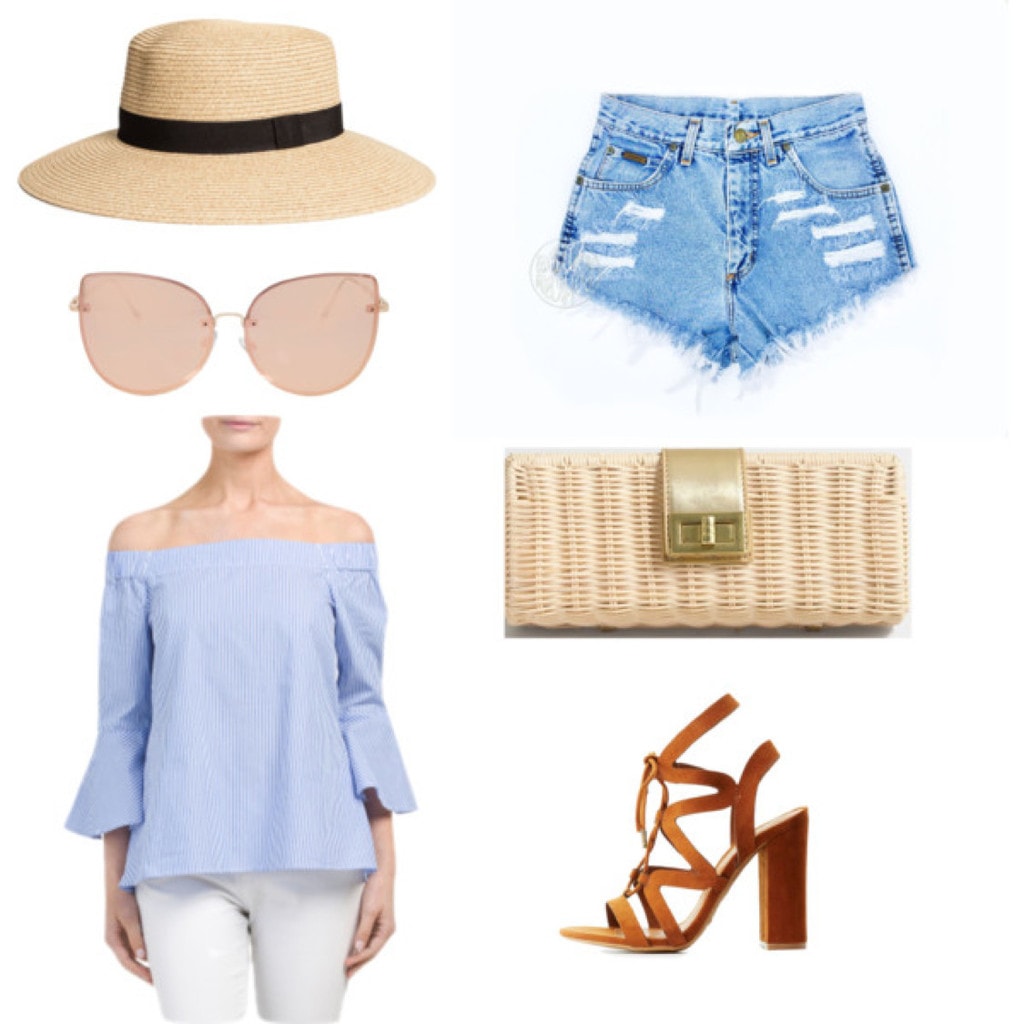 Products: Shirt – TJ Maxx, Shorts – Etsy, Heels – Charlotte Russe, Hat – H&M, Clutch – J.Crew, Sunglasses – Topshop
@HappilyGrey Outfit #4:
If you're anything like me, you have about 10 graphic tees in your closet but no idea how to style them. They're such a casual piece, but also edgy and maybe just a little outside of your box. Which, of course, makes them kinda tricky to style.
I love that Mary dressed her graphic tee up a little with a fringe mini skirt but added that edge with an oversized denim jacket, rocker boots and dark sunglasses. It's the perfect everyday outfit.
Here's how to get this Happily Grey look for less: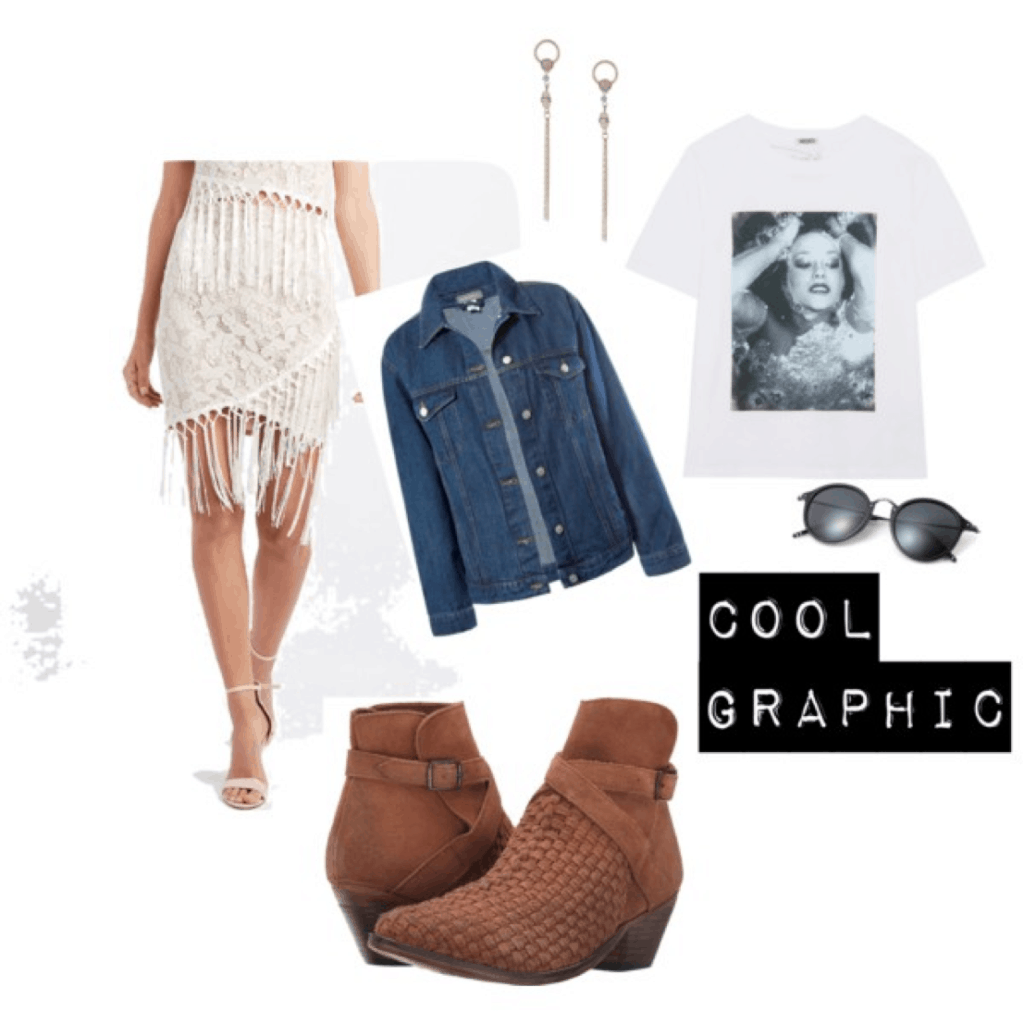 Products: Top – Net-a-Porter, Jacket – Sans Souci, Skirt – Charlotte Russe, Shoes – Free People, Sunglasses – Amazon, Earrings – Miss Selfridge
@HappilyGrey Outfit #5:
This is definitely more of a daring pairing (see what I did there?) than the rest and not for the faint of heart. Ultra flared pants like these are hard to pull off, but with a not-so-simple button down top and a red lip, it's the perfect bold look for a dressier function.
Below, I found some slightly more wearable flares and paired them with an open back ruffle top, high heels, and cool-girl earrings for that Mary Seng vibe.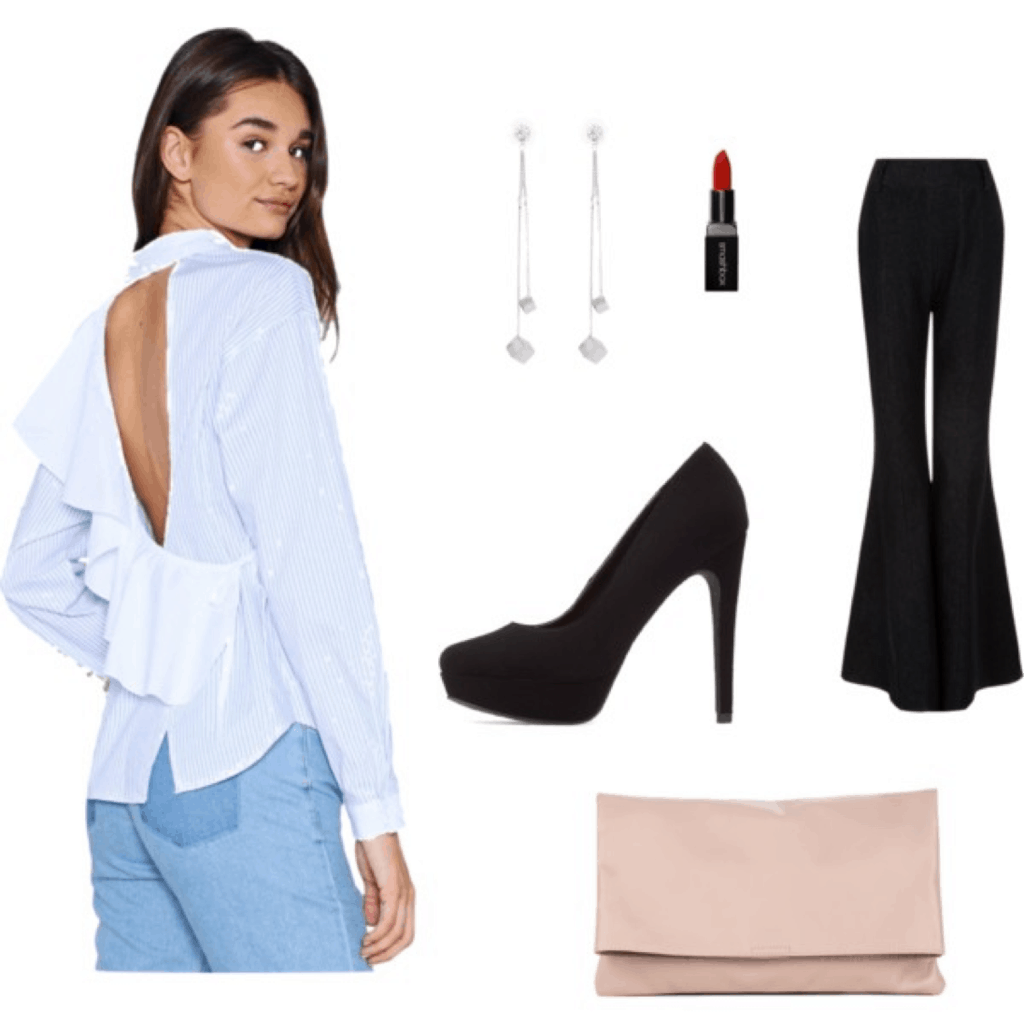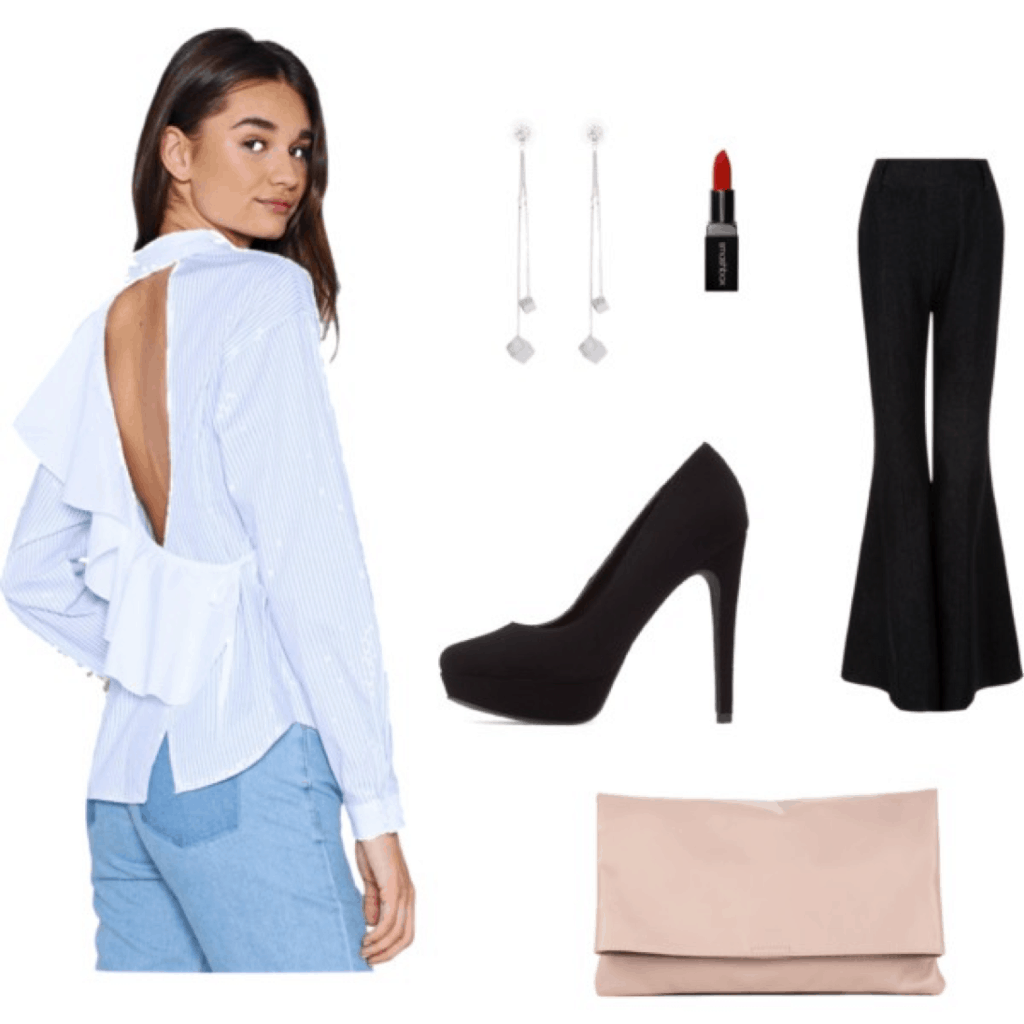 Products: Top – Nasty Gal, Pants – Avenue 32, Shoes – Charlotte Russe, Clutch – Sole Society, Earrings – Gamiss, Lipstick – Smashbox
What do you think?
Do you follow @HappilyGrey on Instagram? Are you a fan of Mary Seng's style? Let's talk in the comments.